Eastern notes: Mazzilli learning his limits
B-Mets second baseman credits his dad for better mental approach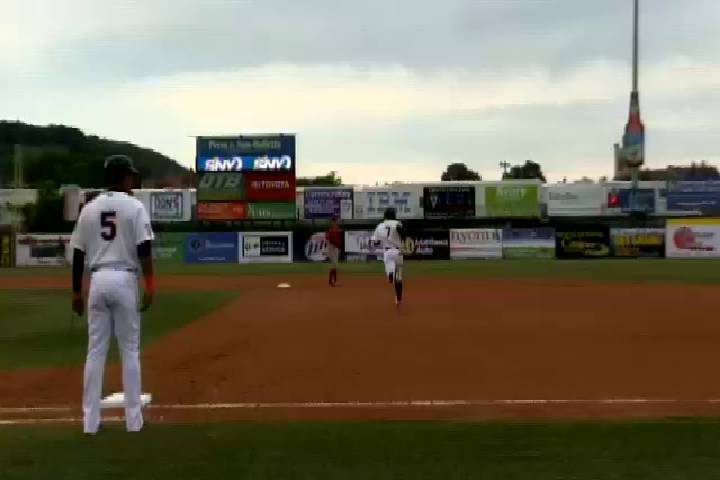 By Craig Forde / Special to MiLB.com | July 19, 2016 10:00 AM
At the beginning of the season L.J. Mazzilli's head was abuzz and the Binghamton second baseman had a tough time calming things down.
In the box he was pressing, trying to prove he was still capable of taking certain pitches for a home run ride, and his numbers suffered as a result.
During the first two months of the season, Mazzilli hit just .248 without a home run, so he began simplifying the process and is now getting back into a comfort zone and turning things around at the plate.
"When I was in the hole, it just seemed like it was so far to get out," said the Mets' No. 24 prospect. "When I started slowing it down and really narrowing down each at-bat, trying to win each pitch, I've been slowly getting to where I want to be."
In June the numbers started tilting in Mazzilli's favor -- he hit .299 for the month with 14 RBIs and 12 runs scored. He collected six extra-base hits, including his first home run of the season, and carried a 10-game hitting streak from the end of June into July.
"Once I got over the hump of trying to prove to myself I can hit homers, I got back to basics of slowing the game down, keeping it simple and hitting the ball hard," said the 25-year-old. "Then I actually ran into a couple when I wasn't thinking about that. So it's kind of ironic."
Overcoming such mental obstacles is no small feat, and Mazzilli is quick to credit the help of B-Mets hitting coach Luis Natera as well as his father, a former Major League All-Star and manager who now plays the role of his son's biggest supporter.
"He's more of a mental coach," said Mazzilli of his dad. "He's always keeping my head right and keeping me as a grinder. He wants me to be a gritty player, so I try to play as hard as I can every time I'm out there. He believes in me, almost more than I do.
"I really just need to stay within and believe what my dad keeps telling me, 'Just be L.J. -- L.J. is good enough.'"
Right now L.J. is good because his mind is clear and his focus has improved since April. He's confident and ready to take advantage of every at-bat the rest of this season has to offer him, one at a time.
"It's been a long road and I've definitely learned a lot about myself and what I need to do to grind," said Mazzilli. "I want to finish strong. I didn't have a full year last year, so I want to see where I'm at after a full season this year. … I'm not looking back. I'm just looking forward and taking it pitch by pitch and at-bat by at-bat."
In brief
Raising the probabilities: Though batting a very respectable .309 entering July, Orioles No. 3 prospect Chance Sisco has raised his game to a new level in July and, in the process, has raised his average another 15 points to .324 through this past weekend. The Bowie backstop is hitting .438 on the month, which included his first four-hit game of the season and fourth of his career. Sisco has hit safely in seven of nine games for the Baysox this month and is second in the league in batting and on-base percentage (.414).
Left-right combo: Reading's Rhys Hoskins and Dylan Cozens are pulling away from the pack in the home run race and seem to only have each other to compete with the rest of the way. If things hold, they will become the first teammates to finish 1-2 in the league in homers since the Bowie duo of Luis Montanez (league leader with 26) and Nolan Reimold (tied for second with 25) accomplished the feat in 2008. Hoskins, Philadelphia's No. 19 prospect, currently holds the top slot with 25 home runs and Cozens, the No. 22 prospect in the organization, sits one back with 24. Both have already surpassed their career highs as well as last season's league best in that department.
A quick study: After getting hooked with the loss in his first start following a mid-June callup from Class A Advanced San Jose, Sam Coonrod has gone 2-0 with a 3.09 ERA over his four starts since for Richmond. The Giants' No. 6 prospect has pitched into the sixth inning in each of his first five Double-A starts, something he has accomplished in 13 straight games dating back to his time with San Jose. For the season Coonrad is holding opponents to a .219 average between two levels.
Craig Forde is a contributor to MiLB.com. This story was not subject to the approval of the National Association of Professional Baseball Leagues or its clubs.
View More