Hader allows one hit in Triple-A debut
Brewers No. 4 prospect fans nine, gives up two runs over six innings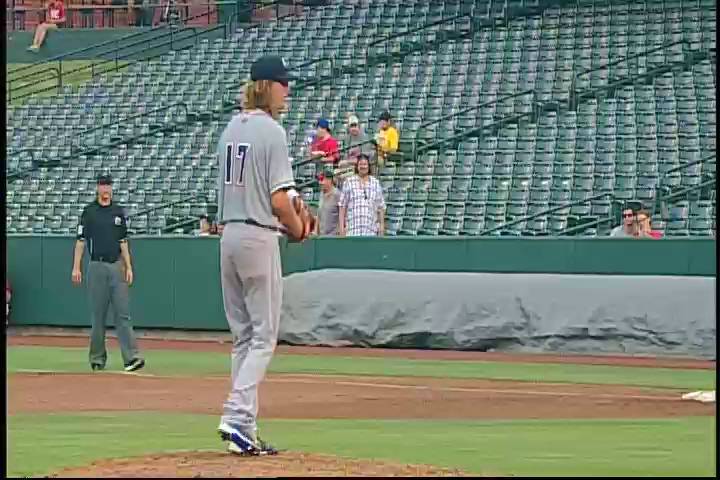 By Michael Peng / MiLB.com | June 13, 2016 12:42 AM
It didn't take long for Josh Hader to learn a lesson about Triple-A competition on Sunday.
"Up here, you can't fall behind too much, that's how you get in trouble," he said. "These guys are smart and know what they are looking for, so the biggest thing is staying ahead."
Hader struggled with that issue briefly but was otherwise dominant in his Pacific Coast League debut. He allowed two runs on one hit and four walks while striking out a season-high nine over six innings in Colorado Springs' 5-0 loss at Memphis.
"The command was a little rough," the Brewers' fourth-ranked prospect said. "The first few innings, I was a little spotty at best. I couldn't command my secondary pitches as well as I wanted to, but luckily, I had my fastball still working for me."
Pitching in front of family and friends that included his mother, Trish, and his uncle, James, the Maryland native fanned five of the first seven batters he faced.
"It's always nice to have family come support me, being able to see me play," Hader said. "We don't get too many opportunities being from Maryland and playing mostly west of Maryland. So when they get a chance, they come out. It's always a great thing to pitch in front of them since I don't get to do that too often."
The 22-year-old left-hander ran into trouble in the third as he walked a batter and hit another before surrendering a two-run double to Tommy Pham.
It turned to be the Redbirds' only threat against Hader.
"After I gave up that double, in the fourth, fifth and sixth, I kind of settled down a little bit," he said. "My command was a little bit better. I was just mostly not trying to do too much and trying to stay within myself. Sometimes you got that adrenaline rush and you try to overpower some stuff, but the biggest thing was just play my game and do what I know I can do."
MLB.com's No. 55 overall prospect retired eight of his final nine batters and exited after throwing 57 of 100 pitches for strikes. But the Sky Sox were unable to figure out Memphis starter and 2010 first-round pick Deck McGuire.
"You kind of have to power through and keep your team within one or two runs so they can come through," Hader said. "[McGuire] threw a pretty good game today, so you want to keep your team within striking distance. He kept our hitters off-balance, but it happens; it happens a lot. You just try to keep your team in the game and let everything else handle itself."
Despite taking the loss, it was the first time this season Hader has surrendered more than one earned run. He was officially promoted Saturday after posting a Southern League-leading 0.95 ERA over 57 innings with Double-A Biloxi.
"I walked in and was kind of wondering when I'd pitch in Double-A because we had six starters, so I was making sure my day was right when I would start," Hader said. "We had a little confusion and [manager Mike Guerrero and pitching coach Chris Hook] were trying to hold it off, and then they let me know that I got called up. It was exciting news."
Hader's first taste of Triple-A may not have gone as well as he'd hoped, but he said he wasn't disappointed.
"It [stinks] not being able to get the win, but that's not the biggest point," he said. "My job is to keep our team close and being able to battle. So I look at it as we battled, we fought and we just didn't come away with the win. It's baseball. It happens."
McGuire (5-6) limited the Sky Sox to two hits and a walk while striking out seven over a season-high eight innings.
Kolten Wong added an RBI triple in the eighth for the Redbirds.
Michael Peng is a contributor to MiLB.com. Follow him on Twitter @MichaelXPeng. This story was not subject to the approval of the National Association of Professional Baseball Leagues or its clubs.
View More