Hannemann debuts with flurry for Smokies
After long trip, Cubs' No. 21 prospect homers in first Double-A at-bat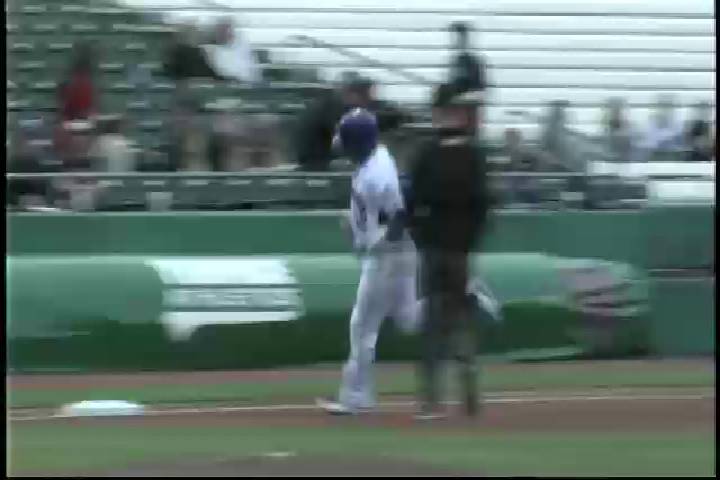 By Tyler Maun / MiLB.com | April 29, 2015 12:26 AM
Jacob Hannemann got the call to Double-A while on a nine-hour Carolina League bus ride. The adrenaline rush that followed carried him through a short night's sleep, a long travel day to Tennessee and along his first trip around the bases after a leadoff home run in the opening inning.
The Cubs' No. 21 prospect introduced himself to his new home fans in impressive fashion, going 3-for-4 with his first long ball of the season as Double-A Tennessee rallied for a 7-6 victory over Chattanooga.
"We were on our nine-hour road trip up to Wilmington, Delaware, when they called us, so I finished that nine-hour trip all through the night," Hannemann said of his odyssey. "A half-hour later, I took a taxi, went to Philadelphia and then flew to Charlotte and flew here and went straight to the field."
The 23-year-old center fielder learned upon his arrival at Smokies Park that he'd been slotted in the leadoff spot in the Tennessee lineup.
"I was pumped, but then in the back of my head I was like, 'Oh, man, I only got like 2 1/2, three hours' sleep maybe,'" he said. "It was a whole lot of adrenaline."
No sleep? No problem.
Hannemann worked his way to a full count in his first Southern League at-bat, then crushed an offering from Chattanooga starter Greg Peavey over the right-field wall.
"When I hit it, I didn't get quite all of it," Hannemann said, "so I started sprinting like I was going to get a double or something because I knew it was going to go over his head. When I saw it go out, all my teammates made fun of me for sprinting around the bases. But they were pretty pumped."
Hannemann singled in his next two at-bats, scoring in the fourth on Kyle Schwarber's sacrifice fly to give the Smokies a two-run lead. Schwarber, the Cubs' fourth-ranked prospect, also homered after Hannemann in the first and added an RBI double in the seventh.
"I got a chance to play with Schwarber, Bijan [Rademacher] last year in (Class A Advanced) Daytona," Hannemann said. "These are fun guys to be around. They already know me and we have a relationship already. That makes the transition a lot easier."
In his fourth and final trip to the plate, Hannemann struck out against reliever Cole Johnson.
"[Johnson] was great," he said. "He pitched me good, got me out on three straight pitches. I could tell a difference [from Class A Advanced]."
Trailing by a run, the Smokies rallied as Schwarber drove in the tying run and Rademacher scoring the go-ahead run in the eighth on Elliott Soto's RBI single.
Steven Perakslis (2-1) earned the win by striking out two in a perfect eighth. P.J. Francescon pitched around a walk in the ninth to earn his second save.
Dallas Gallant (1-1) took the loss after allowing an unearned run in the eighth.
With a victory in his Double-A debut, Hannemann had one mission left.
"I'm already in the hotel room," he joked. "We're just going to go straight to sleep. We've got a day game tomorrow."
Tyler Maun is a contributor to MiLB.com. Follow him on Twitter @TylerMaun. This story was not subject to the approval of the National Association of Professional Baseball Leagues or its clubs.
View More