Jones, Thaiss help Angels build for future
System gets boost from recent Draft picks, Pioneer League crown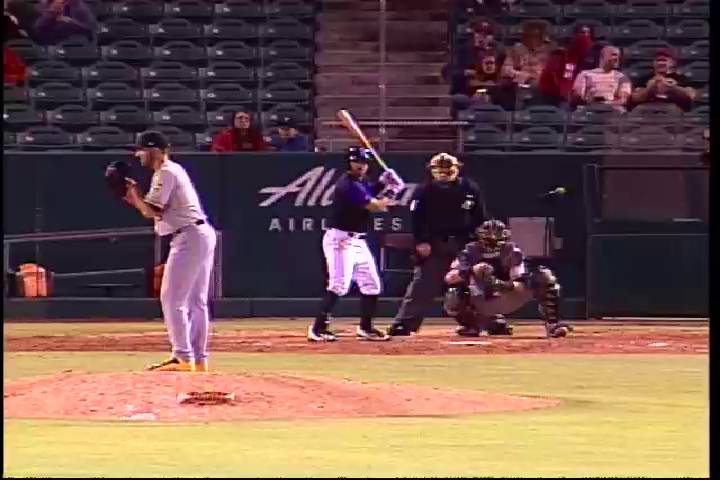 By Alex Kraft / MiLB.com | October 24, 2016 10:00 AM
This offseason, MiLB.com will be honoring the players -- regardless of age or prospect status -- who had the best seasons in their organizations. We're taking a look at each team to determine the outstanding seasons in Minor League Baseball.
On the surface, the Angels system might seem fairly thin. Los Angeles finished last in MiLB.com's preseason farm system rankings, and the organization did not acquire any prospect talent at the trade deadline. But dig deeper and the signs are there that the system is moving in the right direction by building through the Draft.
Angels affiliates finished the season with a combined record of 313-381 (.458). While the upper levels struggled, Rookie-level Orem captured the Pioneer League championship with the help of a breakout campaign by 2015 second-round pick Jahmai Jones. Matt Thaiss, the club's first-round pick in this year's Draft, contributed to that club as well before finishing his solid rookie season at Class A Burlington. And even though Class A Advanced Inland Empire ended up with just 48 wins, 2015 first-round pick Taylor Ward opened a lot of eyes with a strong second half.
Thaiss, Jones and Ward rank as the top three on Los Angeles' Top 30 prospect list. Together with a few other recent draftees, they could form a core that propels the franchise into the future.
Angels Organization All-Stars
Catcher -- Taylor Ward, Inland Empire (123 games): 66ers manager Chad Tracy characterized Ward's season as "a tale of two halves." Offensively, that proved an apt description. The second-year backstop out of Fresno State University finished the first half with a .224/.283/.259 slash line and only one home run. By the end of the season, he raised those numbers to .249/.323/.337 with 10 homers, 56 RBIs and a team-high 48 walks.
"I think the biggest thing was just the constant talks with him about his approach," Tracy said. "Taylor had a tendency to be a little bit passive early in counts and he would get himself into holes. He would get behind in the count rather quickly just by taking. We just kind of encouraged him to be a little more aggressive early in the count."
Ward made his presence felt behind the plate too, where he threw out 48 of 125 (38 percent) would-be base-stealers.
"Obviously, his throwing arm is a standout tool. He's got probably the best throwing arm in the league," Tracy said. "He's still got a lot he needs to work on, a lot that he's learning about game calling -- when to be careful with hitters and when to not be careful with hitters. All the little nuances of the game he's still learning, but all of it was improved as the year went on."
First baseman -- Matt Thaiss, Orem (15 games), Burlington (52 games): The Angels selected Thaiss with the 16th overall pick in this year's Draft out of the University of Virginia, and he immediately became their top-ranked prospect. The 21-year-old did not disappoint in his first season, compiling a .292/.361/.462 slash line with six homers and 43 RBIs across two levels. He also flashed the trademark plate discipline that had made him such an attractive Draft prospect, drawing 26 walks while striking out 32 times.
"Just the zone control he has, the ability to make contact to all fields, the easiness of the swing, his pitch recognition, his plate discipline, his ability to make good decisions at the plate. All these things lead us to believe he's going to be an above-average hitter or better," Angels scouting director Ric Wilson told MLB.com after drafting Thaiss in June.
Second baseman -- Alex Yarbrough, Arkansas (131 games), Salt Lake (four games): The 2012 fourth-round pick returned to Double-A Arkansas after struggling with the Triple-A Bees a season ago and put together a bounceback season. The 25-year-old hit .265 with 55 RBIs and 11 steals, and he finished second in the organization with 33 doubles.
Third baseman -- Zach Houchins, Inland Empire (134 games): Houchins homered in his first four games with the 66ers and continued to show off his power all year. The 2014 13th-round pick led the organization with 18 home runs and 84 RBIs while appearing in all but six of his team's games.
"The beautiful part about him is the guy comes to play every single day," Tracy said. "He 'posts' is what we call it. It doesn't matter if he is 0-for-30. He comes to the field and he's ready to play. The nagging injuries, you don't even know about them because he plays through them. This guy is ready to be in the lineup every day, and there is really nothing that can replace that for a manager."
Shortstop -- David Fletcher, Inland Empire (78 games), Arkansas (20 games): Just 5-foot-10 and 175 pounds, Fletcher doesn't possess tools that grade higher than a 50 on the 20-80 scouting scale. That didn't stop the 2015 sixth-round pick from batting .280/.322/.351 with 16 stolen bases and reaching Double-A in his first full season.
"On any given night, he's one of, if not the smartest player on the field," Tracy said. "If you look at him, his physical stature doesn't stand out. He's not a 6-foot-3 shortstop that puts the fear of God into you, but he is so intelligent on the field. He's always one step ahead of everybody he is playing against."
Outfielders -- Jahmai Jones, Orem (48 games), Burlington (16 games): Jones began his second Minor League season with Orem and performed so well that he forced his way to Burlington by the end of the year. The 19-year-old finished with a combined .302 average, 20 steals and 20 extra-base hits, all career highs.
With Jones at the top of their lineup, the Owlz captured the Pioneer League South Division first-half championship, paving the way to their league title a few months later.
"He's been able to provide a lot of things, a lot of options," Orem manager Dave Stapleton told MiLB.com in July. "He can bunt, he runs well, he hits for some power. … He's done a tremendous job in the outfield of directing and making sure people are moving and shifting. He's extremely mature for his age."
Zach Gibbons, Orem (50 games): Another member of the Owlz outfield, Gibbons tied for sixth in the Pioneer League with a .351 average and ranked second on the circuit with a .441 on-base percentage. The 2016 17th-round pick belted five homers, drove in 30 runs, stole 17 bases and walked more times (29) than he struck out (22).
"He has really good baseball instincts, good angles and good reads in the outfield," Stapleton told MiLB.com in August. "And swinging the bat -- he's done a really good job with us not changing much. We just let him get in there and see strikes and swing hard."
Jared Foster, Burlington (69 games), Inland Empire (40 games): The Angels' No. 21 prospect reached the California League in his first full season and his numbers actually improved after the promotion. Between Inland Empire and Burlington, the 2015 fifth-round pick out of Louisiana State University compiled a career-best .276 average with nine homers, 27 doubles and 56 RBIs.
Utility player -- Hutton Moyer, Burlington (26 games), Inland Empire (98 games): The son of former big league left-hander Jamie Moyer finished second among Angels Minor Leaguers with 17 home runs and 72 RBIs while slashing .276/.341/.466 across two levels. The 23-year-old 2015 seventh-round pick spent time defensively at second base, third base and shortstop.
"You can move him anywhere around the diamond, which in this day and age, you look in the big leagues and there are so many players on every team that are versatile guys," Tracy said. "It makes a manager's job so much easier.
"As he continues to craft his approach at the plate and be able to really hone in on exactly what he knows he can hit and what he can't -- and he showed it in instructional league and he started to get the hang of it -- that's going to be a very dangerous hitter."
Right-handed starter -- Troy Scribner, Arkansas (16 games), Salt Lake (eight games): Los Angeles acquired Scribner in a trade with Houston on April 1, and the 25-year-old gave the Angels a strong return on that investment. The Connecticut native rang up the fifth-most strikeouts (117) in the organization and limited opponents to a .206 average. His final ERA of 3.41 may have been even better if not for a slow stretch in May, when he posted a 5.22 mark in six starts.
Left-handed starting pitcher -- Nate Smith, Salt Lake (26 games): Don't be fooled by Smith's 4.61 ERA in the hitter-friendly Pacific Coast League. Los Angeles' fifth-ranked prospect ranked second in the organization with a career-high 122 strikeouts while issuing 2.6 walks per nine innings, his best rate since debuting in 2013. The Furman University product proved durable too -- his 150 1/3 innings ranked second in the system and fourth in the PCL.
Relief pitcher -- Kevin Grendell, Burlington (eight games), Inland Empire (22 games), Arkansas (11 games): The Angels signed the 23-year-old as a Minor League free agent at the start of the season. Despite coming in without experience above the Class A Short Season level, the left-hander pitched his way through three levels and reached Double-A. Grendell's Texas League numbers proved to be the best of all three stops, he posted a 1.37 ERA and 23 strikeouts while holding opponents to a .111 average over 19 2/3 frames. The native of La Jolla, California totaled 92 whiffs over 61 1/3 innings, marking a system-best 13.5 per nine innings.
Alex Kraft is a contributor to MiLB.com. Follow and chat with him on Twitter @Alex_Kraft21. This story was not subject to the approval of the National Association of Professional Baseball Leagues or its clubs.
View More