Long extends scoreless run on special night
Former Yanks' batboy fans rehabbing Giambi two times for Thunder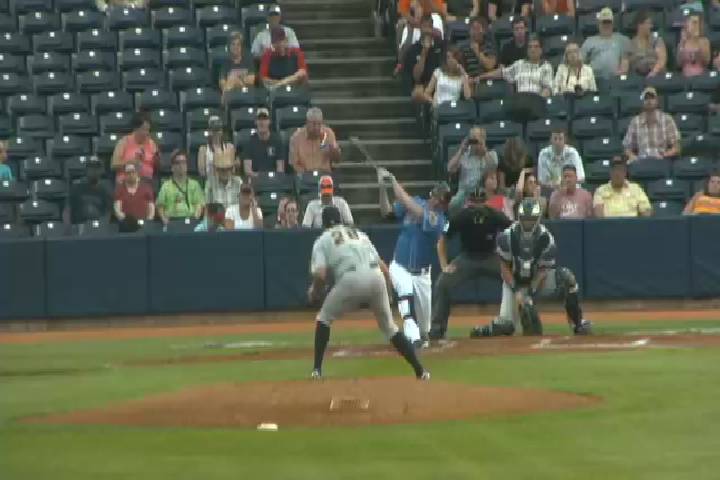 By Jake Seiner / MiLB.com | August 27, 2014 12:41 AM
The first time Jaron Long took a baseball field with Jason Giambi, he was a teenage batboy at the old Yankee Stadium. On Tuesday night, the pair shared the field again, but this time was a little different.
Long struck out the rehabbing 20-year Major League veteran twice in two at-bats and ran his scoreless streak to 18 1/3 innings Tuesday, earning the win as Double-A Trenton downed Akron, 5-0.
The right-hander -- whose father is Yankees hitting coach Kevin Long -- posted six scoreless innings before a rain delay cut his outing short. The 22-year-old struck out six and walked one while limiting the RubberDucks to three hits.
Long (7-1) hasn't allowed a run since the second inning of his Aug. 15 outing against Bowie. His last time out, he carried a perfect game into the sixth and finished with eight scoreless innings against New Hampshire.
The Scottsdale, Arizona native said he wasn't sure whether Giambi would remember or recognize him, and he didn't have a chance to talk to him Tuesday. He added he hoped to say hello at some point during the series, though.
"I know Jason through my dad," Long said. "He's had such an awesome career and he's such a cool guy. It was cool. … He'd seen me running around the clubhouse. Facing guys like that is a cool experience.
"When I found out he was in the lineup, I gave my dad a call. It was one of those things. He's one of the first guys I've gotten to face that I remember being a bat boy for at one point."
In 10 Double-A appearances, Long sports a 2.30 ERA. An undrafted senior out of Ohio State University in 2013, Long has rocketed from the Rookie-level Gulf Coast League to Double-A in just over a year, including a climb from Class A Charleston to Trenton this season.
Overall, Long has a 2.15 ERA across three levels this season, striking out 116 in 138 innings. He's been especially adept at keeping the ball on the ground, with 58 percent of balls in play against him going on the ground entering Tuesday, per MLBFarm.com. The right-hander has below-average fastball velocity, but has controlled the heater well and pairs it with a quality changeup that's been particularly sharp of late.
For Long -- who didn't make his high school varsity team until his senior season and received no Division I college offers -- surpassing expectations has long been part of the process.
"[Going undrafted] put a little chip on my shoulder," he said. "But in the end, it made me better."
Tuesday's start was also special for Long because he had about 10 friends and former coaches from Ohio State at the game. The entire Buckeye baseball coaching staff made the 1 1/2-hour drive north from Columbus, as did some friends.
By coincidence, Akron is hosting Ohio State Night on Wednesday, and Long said the only thing that might've made Tuesday sweeter was if Buckeye Nation had been gathered at Canal Park on Tuesday instead.
"There were already a bunch of Buckeye hats around," Long said. "It had a nice feel. I had people come up to me with old programs from OSU to sign. It's a cool deal anytime you're back. Most of the fans up here are heavy on the Buckeyes, even through they're an hour-and-a-half north or so."
Jake Seiner is a contributor to MiLB.com. Follow him on Twitter at @Jake_Seiner. This story was not subject to the approval of the National Association of Professional Baseball Leagues or its clubs.
View More