Mitchell makes history for Gwinnett
Braves farmhand records franchise's first three-homer game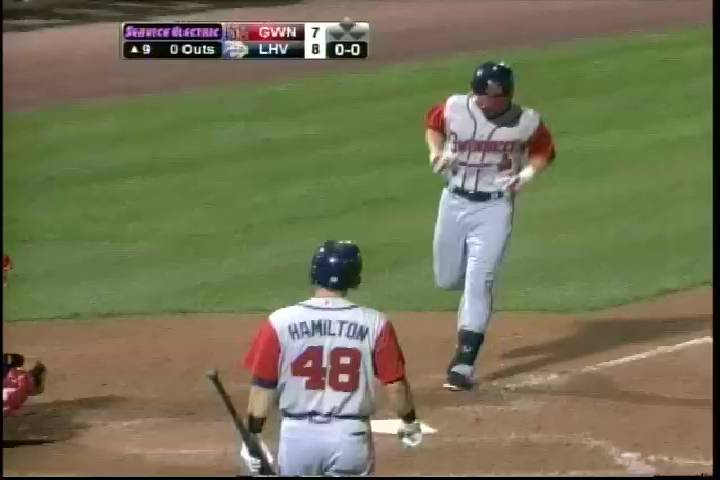 By Robert Emrich / MiLB.com | May 10, 2014 12:27 AM ET
Derrick Mitchell doesn't always break out of a slump, but when he does, he does it in a big way.
The Minor League veteran recorded the first three-homer game in team history Friday night, helping Triple-A Gwinnett rally past Lehigh Valley, 9-8, at Coca-Cola Field.
Mitchell struck early, slugging a solo shot in the top of the second. Two innings later, he smacked a two-run blast that gave the Braves a 6-4 lead. With Gwinnett trailing in the ninth, 8-7, the 27-year-old outfielder tied the game with a leadoff homer.
"Best feeling I've had my whole Minor League career," Mitchell said. "Being able to do it against my former team -- no disrespect to them, they're a great group of guys -- it feels good. I've been struggling a bit lately and to be able to break out of a slump like that, it feels good.
"Being able to do it in the first two at-bats is pretty exciting. I've done it twice before, but I've never hit three. To be able to get that third one, I kinda knew I hit it well off the bat, but the left fielder started to run close to the wall and I wasn't sure if I got all of it. Once it went over the fence, it felt great. To be able to come through in a big situation like that, probably the best feeling I've had my whole career."
Mitchell entered Friday's game with a .143 batting average and no homers in 22 games. The Michigan native has struggled for playing time, filling a role as a reserve outfielder.
"Coming into this season, when I made the Gwinnett club, I knew I was going to be the fourth or fifth outfielder," he said. "Right away, you start knowing that it's probably going to be a while before you get into some games.
"That's been tough, not getting consistent at-bats. I've been trying to stay ready and when I get my opportunities I try to go out there and play hard and play my game. Tonight just happened to be a big game, and I think it will help with my confidence."
Mitchell is the second International League player to homer three times in a game this season. Toledo's J.D. Martinez accomplished the feat in the first game of a doubleheader on April 19. While the Braves have had 21 two-homer games, they had not seen a player complete the home run hat trick.
"I'm still, I still don't know what to think," Mitchell said. "I had a reporter tell me it was the first time it had been done. I feel blessed right now to be able to work through a slump like that and be able to do it in a big way like that."
A season ago, Mitchell totaled 13 homers, including four as a member of the IronPigs. A 2005 23rd-round Draft pick by the Phillies, his third homer on Friday came against Seth Rosin (1-2), a teammate with Double-A Reading last year.
"He's had a big first couple of months," Mitchell said of Rosin, who made history when he was on the Opening Day rosters of both the Dodgers and Rangers this spring. "He's a great pitcher and he just left one up, probably one he'd like back, and I was able to connect on it."
After Mitchell's historic homer, the Braves took the lead when Phillip Gosselin tripled and came home on Todd Cunningham's double.
Ryan Buchter (2-0) earned the win in relief, scattering three hits over two scoreless innings.
Sebastian Valle homered, doubled and drove in five runs for Lehigh Valley, while Phillies top prospect Maikel Franco homered and scored twice.
Robert Emrich is a contributor to MiLB.com. Follow him on Twitter @RobertEmrich. This story was not subject to the approval of the National Association of Professional Baseball Leagues or its clubs.
View More