MWL notes: Toussaint continues to grow
D-backs righty building on momentum from extended spring training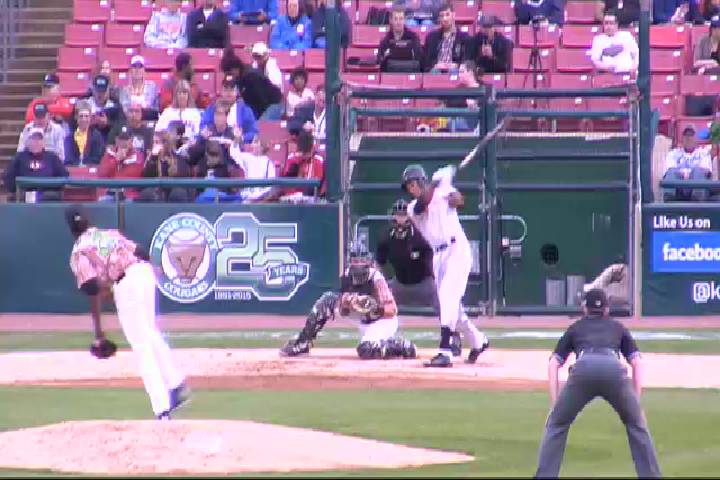 By Curt Rallo / Special to MiLB.com | June 18, 2015 10:00 AM
Kane County's Touki Toussaint was sailing in a June 7 start against Dayton, retiring 11 batters in a row.
He flashed the 97 mph fastball that landed him a first-round selection with the Arizona Diamondbacks last year. He mixed in the curveball that Kane County pitching coach Doug Bochtler calls an "old-fashioned knee-buckler." He kept the Dragons off-balance with a Major League changeup.
Just when the 18-year-old right-hander was unleashing his exceptional potential, reality came crashing in all around him.
Toussaint gave up four runs in a stretch of six pitches.
Mastering consistency is just one of the lessons Toussaint is focused on in his development.
"Fastball command is definitely the key to everything," said Toussaint, the D-backs' No. 4 prospect. "You have to pitch out of your fastball. You can't pitch out of anything else. I throw a changeup and a curveball, but if you have good fastball command, everything else is going to be better.
"The thing I've learned is the quicker you make adjustments, the quicker you're going to be successful. Making adjustments in the game is really the biggest thing," he addded. "I'm learning to throw punches and keep strapping it up. Last year was a struggle, but I got my confidence back, and I'm ready to roll."
Last season, Toussaint was 2-4 with an 8.48 ERA in 12 games. There has been significant progress, though -- Toussaint didn't get past the fifth inning last year, but this season, he's hit the seventh. He's also matured as a student of the game.
"It's been nice to see his progression," Bochtler said. "The coaches in extended spring training did a tremendous job with him. When he came here, he was a much different guy than when we left Spring Training."
Bochtler said Toussaint has a brilliant future ahead of him.
"Touki is a real athletic guy, and he retains information very well," Bochtler said. "You can put something into play, tell him how to do it and it's done. He has a tremendous feel for his body, and he's able to make quick adjustments. Everybody looks at him and says, 'Wow, this kid has a chance to be somebody special.' He had some very successful games in Spring Training, and he was able to carry over the bullpen success.
"With Touki, it's a matter of working in counts and controlling his effort level out there, a less is more kind of mentality. It's harnessing the tools that God has given him, because they are special."
Toussaint said that the pro level has been a learning experience.
"It's been fun, and I'm around a great group of guys," Toussaint said. "There are older guys I try to learn as much from as I can. The challenging part is, the first year, I didn't have the confidence that I wanted to have. Coming from high school ball, I was like, 'Oh, man. These dudes are so good. They're big league hitters. They're really advanced.' I had to realize that I have to attack, and have fun.
"The older guys sit me down and tell me that I need to take notes, I need to do this, I need to do that, because I'm facing people that I will face 100 times, a thousand times in my career. I have to get that advantage, and know who I'm facing, and know everything about them."
In brief
Long day, Part I: Fort Wayne endured rain delays in both games of a doubleheader Sunday before sweeping Clinton, 2-1 and 16-1. The LumberKings suffered their 15th consecutive loss in the nightcap, tying the 1986 Kenosha Twins, 1975 Cedar Rapids Giants and 1958 Clinton Pirates for most losses in a row in Midwest League play. Fort Wayne tied a franchise record with a nine-hit third inning in the second game -- the TinCaps scored eight runs in the frame. Clinton ended its losing streak with a 6-5 win in 11 innings against Quad Cities on Tuesday.
Long day, Part II: Peoria needed rallies in the ninth and 13th innings before finally knocking off South Bend, 7-6, in 16 innings. It was Peoria's longest game since 2008.
Hill sidelined: West Michigan's Derek Hill, the Detroit Tigers' No. 1 selection in the 2014 Draft, was assigned to the seven-day disabled list Monday with a left quad injury. Hill, who is batting .227 for the Whitecaps, suffered the same injury in early April.
Curt Rallo is a contributor to MiLB.com. This story was not subject to the approval of the National Association of Professional Baseball Leagues or its clubs.
View More