Peoria notes: Ervin having fun on the job
After resurgent 2015, relaxed Reds prospect picking brains in AFL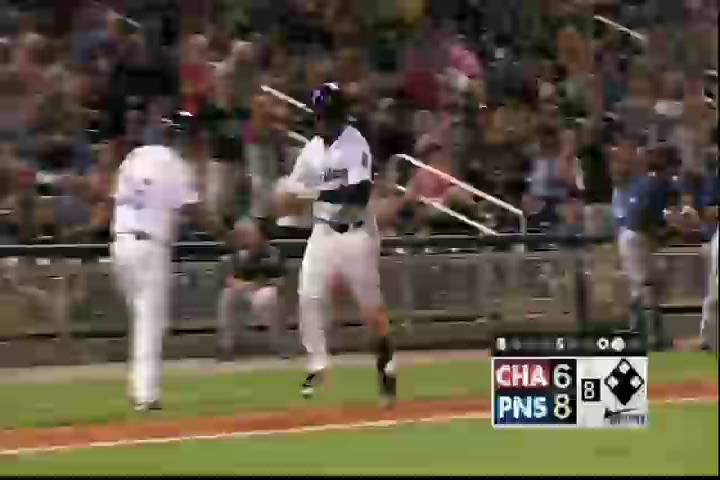 By Josh Jackson / MiLB.com | October 22, 2015 10:00 AM
When Phil Ervin's having fun, chances are he's producing.
In 2015, Ervin had a lot of fun, and he hopes to have even more with Peoria in the Arizona Fall League.
After faltering in 2014, the Reds' No. 11 prospect hit 14 homers and stole 34 bases while slashing .241/.346/.379 over 109 games in the heavy air of the Class A Advanced Florida State League and 17 in the Double-A Southern League.
"I feel like I went out there and tried to have fun," Ervin said. "I tried to forget about that first full season, when I went out and tried to do too much and got behind. This year, I wanted to go out and have fun no matter what. I remembered this is the game I love, and it helped me a lot to stay relaxed."
In that first season he'd like to forget, the 23-year-old outfielder still managed to steal 30 bases and collect 46 extra-base hits, although his OBP was .305. He underwent surgery on his wrist before the campaign began but has been vocal about not blaming his '14 numbers on any physical problem.
In his first two games for the Javelinas, Ervin doubled, singled, scored twice, knocked in a run and stole two bags. He's also had a good time doing it.
"It's been exciting. It's been great to come out and meet a lot of new people and get to know a lot of other players," the 2013 first-rounder said. "I came out to showcase what I have, and it's a chance to play some more baseball with a lot of good people. You get to learn from a lot of the other players, and that's a great opportunity."
Mingling with prospects and coaches from other organizations fits right in with the mentality Ervin's trying to stick to -- it's been both fun and productive.
"Pretty much everybody on my team, this is the first time I've played with them. I'm still getting to know guys, and it's great to talk baseball and make some new friends," he said. "I've been talking to the hitting coach [Sean Berry of the Orioles] about approach a lot, and actually to a lot of players, too, about that. It's really nice to see how people have different approaches, and to kind of pick as many brains as you can."
He's also had an ongoing conversation with a more familiar face -- Alex Blandino, one of Cincinnati's two 2014 first-round picks, who like Ervin spent the bulk of the year with Daytona and finished the regular season with Pensacola before coming out to the AFL.
"We're roommates right now, so I've talked to him a lot," Ervin said. "We talk a lot about hitting, and he's a really good hitter, so whatever he wants to talk to me about, I'm excited to listen. There's maybe been a few things I've been able to give him some advice about, too. With whatever free time we have, we're always talking baseball."
The native of Mobile, Alabama, hasn't yet had the chance to work extensively on his defense with the Javelinas coaching staff, but developing on that side of the ball was a major part of his focus this season. He notched 13 outfield assists with Daytona and two more with Pensacola, and his defensive play earned praise from Reds director of player development Jeff Graupe in MiLB.com's Organization All-Stars feature.
"[My defense is] coming along a lot," Ervin said. "My defense can still get better -- I'm working on taking better routes and things like that. But I go out there and play hard and listen to the [roving instructors], and that's really helped me."
In brief
Making it count: Through Tuesday, D.J. Peterson had played in just two games for Peoria, but he'd tallied 11 total bases. The No. 3 Mariners prospect, who was limited to 97 games by an Achilles strain during a trying 2015 regular season, started out in the AFL 4-for-8 with two homers, a double, six RBIs and two runs scored.
The rain kings: Through the first seven days of the AFL season, the Javelinas (1-3) were rained out twice. Tuesday's postponement against Glendale (3-1) was also the Desert Dogs' second washout, meaning the only other team in the West -- Surprise (4-2) -- came into Wednesday having played six games compared to Glendale and Peoria's four.
Don't blame them: Although the Javelinas won just one of their first four games, four pitchers have made a scoreless appearance of two innings or more -- no easy feat in the AFL -- in one of those four games. They are Donnie Hart and Jason Garcia of the Orioles, Ryan Butler of the Padres and James Paxton of the Mariners. The Reds' Zach Weiss has made two perfect appearances of an inning apiece, notching five strikeouts and a save.
Josh Jackson is a contributor to MiLB.com. This story was not subject to the approval of the National Association of Professional Baseball Leagues or its clubs.
View More