Pitchers of the Week
For the week ending July 6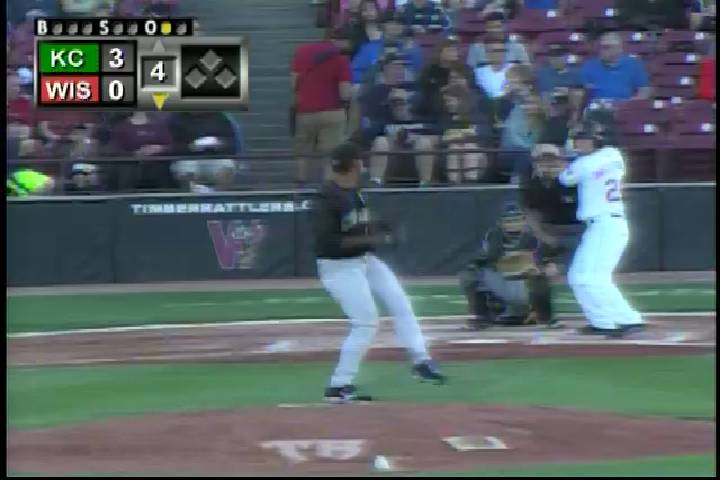 By John Parker / MiLB.com | July 7, 2014 5:00 PM
Here's a look at the top pitching performers in each league for the week ending July 6:
International League
Adam Wilk, Indianapolis
(1-1, 1.20 ERA, 2 G, 2 GS, 1 CG, 1 SHO, 15 IP, 13 H, 4 R, 2 ER, 1 HR, 0 HBP, 3 BB, 12 K)
An 11th-round pick out of Long Beach State in 2009, Wilk made eight big league appearances with the Tigers in 2011 and 2012 before spending the 2013 season in Korea. The 26-year-old southpaw has been a workhorse for the Indians in his return to affiliated ball this season, posting a 7-7 record with a 4.19 ERA. He bounced back from a loss last Tuesday to toss a five-hit shutout of Lehigh Valley on Sunday, fanning four and walking one. The gem made Wilk one of five pitchers in the Minors to record both a shutout and a save this year.
Pacific Coast League
Jose De Paula, Fresno
1-0, 0.00 ERA, 2 G, 2 GS, 9 IP, 3 H, 1 R, 0 ER, 0 HR, 0 HBP, 3 BB, 4 K)
De Paula has done a little bit of everything for the Grizzlies this year, making seven starts and six relief appearances. (He also has eight plate appearances as a hitter, about which the less said, the better.) After working out of the bullpen in June, the 26-year-old lefty was called upon to start at first-place Sacramento last Monday, where he responded by tossing four no-hit innings. On Saturday he held Tacoma to an unearned run in five frames and earned his first win since May 17. De Paula threw 439 1/3 innings in the Padres organization from 2007-13; this is his first Pitcher of the Week award.
Eastern League
Tommy Collier, Erie
(1-0, 0.00 ERA, 1 G, 1 GS, 1 CG, 1 SHO, 7 IP, 1 H, 0 R, 0 ER, 0 HR, 0 HBP, 4 BB, 4 K)
It hasn't been a great season for Collier -- only one qualified Eastern League pitcher has allowed more homers and only two have a higher ERA -- but he's off to a great start in the second half of the season after firing a one-hit, seven-inning shutout in the first game of a doubleheader Saturday. He was just one out away from a no-hitter. The strong outing earned him his first victory since May 30.
Southern League
Dylan Floro, Montgomery
(1-0, 0.00 ERA, 1 G, 1 GS, 1 CG, 1 SHO, 9 IP, 8 H, 0 R, 0 ER, 0 HR, 0 HBP, 0 BB, 3 K)
Floro was the Rays' Minor League Pitcher of the Year in 2013, and this season is turning out to be similarly impressive. He's captured Southern League weekly honors three times this year after tossing an eight-hit shutout of Mississippi on Friday. The 23-year-old Cal State Fullerton product doesn't strike out a ton of batters -- he has 73 punchouts in 118 1/3 innings -- but he's walked just 13 and allowed only two home runs while inducing a lot of groundouts. In his win over the M-Braves, Floro racked up 16 groundouts against three flyouts and needed just 88 pitches.
Texas League
Edwar Cabrera, Frisco
(1-0, 0.00 ERA, 1 G, 1 GS, 8 IP, 3 H, 0 R, 0 ER, 0 HR, 0 HBP, 1 BB, 7 K)
Cabrera led the Minor Leagues in strikeouts in 2011 was a two-time Texas League Pitcher of the Week and Futures Game selection the following season but missed all of 2013 with a shoulder injury that required surgery. Claimed off waivers by the Rangers from the Rockies last offseason, the left-hander, now 26, has been working his way back with the RoughRiders. Thursday saw his longest and best outing of the season: eight scoreless frames with a season-high seven strikeouts. Cabrera is now 4-6 with a 3.07 ERA in 19 appearances.
California League
Chris Devenski, Lancaster
(1-0, 0.00 ERA, 1 G, 1 GS, 7 IP, 2 H, 0 R, 0 ER, 0 HR, 0 HBP, 0 BB, 8 K)
In 2012, Devenski produced one of the finest performances of the Minor League season: a 16-strikeout no-hitter in which he allowed one base runner. That's a difficult feat to reproduce, and the 23-year-old right-hander had a tough 2013 season in which he posted a 6.60 ERA. After firing seven scoreless innings at Stockton on Wednesday, Devenski is rebounding nicely and has won his last four decisions. The parent Astros are also impressed -- they promoted him to Double-A Corpus Christi yesterday.
Carolina League
Glenn Sparkman, Wilmington
(1-0, 0.00 ERA, 1 G, 1 GS, 7 IP, 1 H, 0 R, 0 ER, 0 HR, 0 HBP, 0 BB, 9 K)
Sparkman began the season in the Blue Rocks bullpen, posting a 2.28 ERA in 11 appearances. He's been even better since switching to the rotation in late May. After taking a no-hitter into the seventh inning Friday -- and ultimately allowing one hit while fanning nine over seven scoreless innings -- the 22-year-old right-hander owns a 1.13 ERA as a starter while holding Carolina League hitters to a .190 average. In exactly 100 innings as a pro, Sparkman has allowed one home run, which came in 2013 while with Idaho Falls.
Florida State League
Josh Turley, Lakeland
(0-0, 0.00 ERA, 1 G, 1 GS, 8 IP, 2 H, 0 R, 0 ER, 0 HR, 0 HBP, 3 BB, 8 K)
The Florida State League is known as a pitchers' circuit, but that doesn't entirely account for Turley's dominance this season. The 23-year-old southpaw, a 16th-round pick out of Baylor in 2012, is 7-0 with a league-leading 1.69 ERA and has held opposing hitters to a .199 average. In his last six starts, Turley has gone at least six innings without giving up a run four times, most recently on Friday, when he took a no-hitter into the seventh inning. Still relatively new to the starting role -- he made 51 relief appearances with West Michigan last year -- Turley has begun mixing in a knuckleball five or 10 times a game. He doesn't seem to need much help keeping hitters off balance, but a left-handed knuckler is certainly one way to do it.
Midwest League
Duane Underwood, Kane County
(1-0, 0.00 ERA, 1 G, 1 GS, 6 IP, 3 H, 0 R, 0 ER, 0 HR, 0 HBP, 0 BB, 6 K)
A second-round pick out of high school in 2012, the 19-year-old Underwood has taken a big step forward with Kane County this season after short-season efforts the last two years. He posted a 4.97 ERA with Boise last summer, but the right-hander has a 2.54 mark in the Midwest League in 2014 and had his finest outing of the year on Saturday, allowing just three hits over six scoreless innings. Underwood has allowed no more than two earned runs in any of his last nine starts.
South Atlantic League
Dario Alvarez, Savannah
(2-0, 0.00 ERA, 2 G, 2 GS, 10 1/3 IP, 5 H, 1 R, 0 ER, 0 HR, 0 HBP, 2 BB, 16 K)
While this column doesn't necessarily want to question Mets management, it is hard to fathom why Alvarez remains in Class A. He is 6-0 with a 0.87 ERA. He has struck out 86 batters and walked 13 in 52 innings. He is holding South Atlantic League hitters to a .199 average. And he is 25 years old. Last week he struck out 16 while allowing five hits over 10 1/3 frames. Unless the point is to teach Sally League batters how not to hit left-handed pitching, it would seem that Alvarez (who also won this award three weeks ago) is ready to take on greater challenges.
New York-Penn League
Kieran Lovegrove, Mahoning Valley
(1-0, 0.00 ERA, 1 G, 1 GS, 5 IP, 0 H, 0 ER, 0 R, 0 HR, 0 HBP, 2 BB, 5 K)
Lovegrove struggled in his first three appearances for the Scrappers this season, allowing 10 runs (and 10 walks) in 8 2/3 innings. Tossing five no-hit frames is a nice way to bounce back, which is exactly what the 19-year-old righty did at Auburn on Thursday. Command remains an issue for the young Indians prospect, but he walked only two Doubledays while fanning five for his strongest outing of the season.
Northwest League
Miguel Castro, Vancouver
(2-0, 0.90 ERA, 2 G, 2 GS, 10 IP, 5 H, 2 R, 1 ER, 1 HR, 0 HBP, 3 BB, 13 K)
Signed by the Blue Jays for $180,000 in the summer of 2011, Castro tore up the Dominican Summer League last summer before making a handful of late appearances in the Gulf Coast and Appalachian Leagues. He's off to a strong start in Vancouver, and after fanning 13 batters over 10 innings last week, he's holding Northwest League hitters to a .193 average. The 19-year-old righty had command issues early on in the Dominican, but that seems to be a problem of the past -- he has 27 strikeouts and nine walks over 23 1/3 innings with the Canadians thus far.
Appalachian League
Ian McKinney, Johnson City
(1-0, 0.00 ERA, 1 G, 1 GS, 8 IP, 2 H, 0 R, 0 ER, 0 HR, 1 HBP, 1 BB, 10 K)
It's only three appearances over three weeks, but it's fair to say McKinney is dominating the Appy League. He was the circuit's first Pitcher of the Week on June 23 after tossing seven scoreless two-hit innings; he topped that effort on Friday by fanning 10 over eight two-hit frames. In 18 Appy League innings, the 19-year-old left-hander has yielded six hits and two walks while striking out 18.
Pioneer League
Michael Bolaski, Orem
(1-0, 0.00 ERA, 1 G, 1 GS, 6 IP, 1 H, 0 R, 0 ER, 0 HR, 1 HBP, 0 BB, 5 K)
Bolaski batted .286/.356/.455 for the Owlz in 2012, but after hitting just .203 in 77 games for Class A Burlington last year, the 2010 23rd-round pick decided to make a change. Now 22, Bolaski has turned to the mound and had solid results. He went 1-1 in his first three Pioneer League starts before making his finest start last Thursday: six scoreless innings, one hit, five strikeouts. It was his first outing without issuing a walk. The former corner infielder has held opposing hitters to a .192 average in 22 innings this season.
John Parker is an editor for MiLB.com. This story was not subject to the approval of the National Association of Professional Baseball Leagues or its clubs.
View More