RubberDucks' Smith cycles in clutch
Indians prospect completes feat with go-ahead triple in ninth inning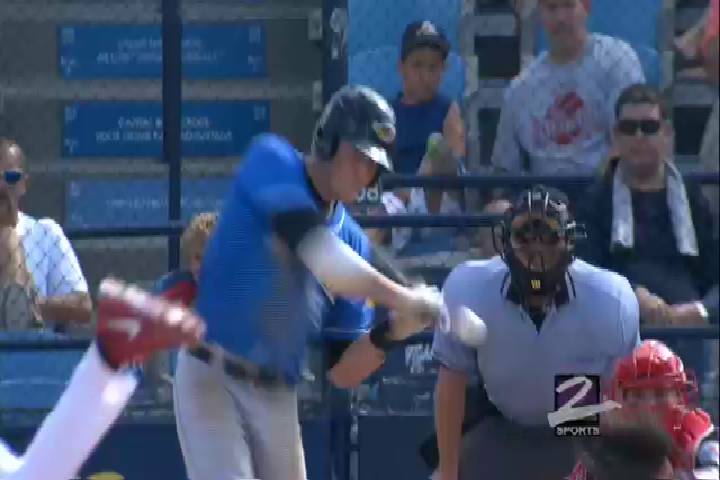 By Sam Dykstra / MiLB.com | July 27, 2014 8:14 PM ET
It sounds like the start to a riddle.
When is a single better than a double? Better yet, when is it better to get thrown out at second while going for a double and instead end up with only a single?
Jordan Smith provided the solution on Sunday afternoon.
After hitting an actual double in the second inning, the Akron outfielder slugged his second homer of the season in the sixth. An inning later, he tried to stretch his third hit of the day into another double but was thrown out at second and settled for a single.
That proved to be perfectly OK. Because of the baserunning mishap, Smith needed only a triple for the cycle when he stepped to the plate in a 4-4 game with two runners on and two outs in the top of the ninth. The left-handed hitter laced a line drive down the right-field line and landed at third base for the first cycle of his career.
The two-run triple gave the RubberDucks a 6-4 win over Reading at FirstEnergy Stadium.
"Nah, I'm glad I got the single, really," Smith said. "Everything happens for a reason, and I'm sure looking back at the time, I would've rather had the double. But when you can have a cycle in a game, that's a really big cherry on top for your career."
Smith's last two knocks did more than just help him complete one of the cooler individual feats in sports. His homer off a 2-1 cut fastball from Fightin Phils starter Chris Bootcheck tied the game at 4-4 in the sixth and his two-out triple in the ninth gave the RubberDucks their only lead of the game.
"The triple wasn't really anything on my mind, actually," he said. "We had runners at first and third, and I just tried to get them in with a single or something. It wasn't until I got to second that I really knew the triple was there to take.
"Obviously, that wouldn't have happened without my teammates setting me up there [in the ninth]. It's always fun to come up in a big spot and when they're on in front of you, you're feeling extra comfortable and that makes it even better."
Even after reaching third to complete Akron's first cycle in 11 years, Smith didn't get the celebration usually reserved for such feats.
"Everyone forgot about my double," he said. "Everybody was coming up to me and saying, 'Oh, that's too bad you got thrown out at second, you could have had a cycle.' Actually, [Akron outfielder] Ollie Linton asked me about it and I had to tell him, 'No, I actually did it.' And then everyone thought, 'Oh, crap,' and there was kind of a late celebration."
The four-hit effort was Smith's second of the season and represented the latest in a series of strong showings by the 2011 ninth-round pick out of St. Cloud State. He's 16-for-41 (.390) in his last 10 games and owns a .326/.351/.467 line in 24 games this month. Of his 22 extra-base hits this season, 15 have come since July 1. That's a marked improvement for an outfielder who was batting .201 with a .493 OPS through the first two months of the season.
The rough introduction to the Eastern League weighed on Smith, and the added mental toll dug his struggles even deeper. He credited a recent visitor to the RubberDucks clubhouse with the turnaround.
"We had a [mental coach] come to see us over the last homestand, and that was a big help for me," said the 23-year-old, who is batting .251/.298/.333. "The biggest thing she stressed is that you have to be confident. I know I can do damage, I just need to look for my pitch and when I get it, that's when the hits will come."
With his confidence at a season high, Smith admitted he'll look more at Sunday's hit count for inspiration than the cycle itself, as cool as it was.
"The cycle's just one of those weird baseball things," he said. "But you can't be much more confident than you are after a four-hit game, so hopefully I can carry some of that going forward here."
As a team, the RubberDucks collected a season-high 19 hits on Sunday. Shortstop Erik Gonzalez and first baseman Bryan LaHair each went 3-for-4, while right fielder Bryson Myles also homered.
Sam Dykstra is a contributor to MiLB.com. This story was not subject to the approval of the National Association of Professional Baseball Leagues or its clubs.
View More