Southern notes: Peterson packs punch
Generals slugger 'excited' to bring talents to All-Star Futures Game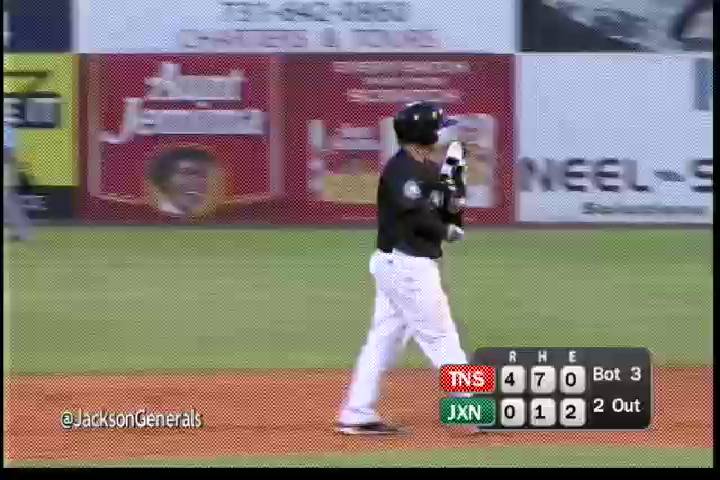 By Guy Curtright / Special to MiLB.com | July 8, 2014 10:00 AM ET
D.J. Peterson realized a short-term goal when he was named to the All-Star Futures Game shortly after being promoted by the Seattle Mariners to Double-A Jackson.
"I'm very excited," the third baseman said of the chance to play July 13 at Target Field in Minneapolis. "It's every Minor Leaguer's dream to play in the Futures Game."
The 12th overall pick in the 2013 Draft obviously has much greater aspirations, though.
The Mariners grabbed Peterson because of their need for an offensive boost, and the 22-year-old hopes to fill the void as soon as possible.
"I thought it was a great fit when they drafted me," said Seattle's No. 2 prospect. "I'm hoping to fill that need for right-handed power whether it is next year or whenever."
Peterson was viewed as the second-best college power hitter in the Draft last year after No. 1 pick Kris Bryant and has done nothing to diminish that in a little over a full Minor League season.
Ranked No. 80 among MLB.com's Top 100 Prospects, Peterson batted .303 with 13 homers and 47 RBIs in 55 games at two Class A stops last season before suffering a broken jaw when hit by a pitch. He has certainly not been gun-shy this season.
The product of Gilbert, Ariz., hit .326 with 18 homers and 73 RBIs over 65 games in the Class A Advanced California League before being promoted to the Southern League. Then he had a hit in all except one of his first 11 games with Jackson and smacked homers in back-to-back contests July 5-6 at Huntsville.
Peterson still led the California League in RBIs despite being promoted two weeks ago, and he had an overall OPS of .964 thanks to an on-base percentage of .372 and a slugging mark .592.
Who said there was a big adjustment from college baseball to the Minors for power hitters?
"You don't get as many cheap hits with wood bats, but I actually think the ball flies farther with wood," the slugger said.
Peterson hit .408 with 18 homers as a junior at the University of New Mexico, and the Mariners weren't about to let him get away this time. They had taken him previously in the 33rd round out of high school in 2010.
"It wasn't the right time then," he said. "I needed the time in college to mature."
Originally headed to the University of Arizona, Peterson ended up at New Mexico instead and smashed 35 homers in his last two seasons.
Peterson, though, isn't an all-or-nothing hitter. He had more walks than strikeouts his final season with the Lobos and has shown solid plate discipline in the Minors.
One question about Peterson is where he'll end up defensively. He also played first base in college and for a few games with High Desert this season. A move to the outfield is also possible.
"I think I'll end up at a corner infield spot," he said. "But if the Mariners want to try me in the outfield, I'm up for the challenge."
Peterson, who signed for the slot value of $2,759,100, was taken in the same Draft as younger brother Dustin, who went in the second round to San Diego out of high school, turning down a scholarship to Arizona State to sign for $1.4 million.
The Padres' No. 15 prospect is also a third baseman, and the 19-year-old had 66 RBIs in 82 games for Class A Fort Wayne to tie for the Midwest League lead.
"We talk two or three times a week and share our Minor League stories," D.J. said. "I'll always be his big brother, so I try to give him advice when I can. We're real close."
How close Peterson is to Seattle remains to be seen. But the Mariners could sure use a power bat.
"I'd obviously like to get up there as soon as I can to help out," he said.
In brief
Red-hot start: Center fielder Kyle Wren hit .433 in his first eight games for Mississippi after being promoted from Class A Advanced Lynchburg. The son of Atlanta Braves general manager Frank Wren had four multi-hit games, including a pair of three-hit performances. Wren, an eighth-round pick in the 2012 Draft out of Georgia Tech, hit .296 in 73 games in the Carolina League before being promoted and had a .359 on-base percentage. The Braves' No. 16 prospect batted .335 in 55 games last season, mostly with Class A Rome.
Going ice cold: Mobile first baseman Jon Griffin has struggled since tying the Minor League record with homers in five consecutive at-bats at Tennessee in May. The outburst, including a four-homer game with seven RBIs, gave him 10 homers, but he has just four in 36 games since. Griffin batted .200 in June and was hitting .211 through his first six games in July, dropping his overall average to .237. He had just two extra-base hits and three RBIs in 15 second-half games.
Shutout man: Montgomery right-hander Dylan Floro recorded his fourth scoreless performance in his past 10 outings, blanking Mississippi in a nine-inning complete game July 4. He also had a seven-inning shutout during the streak. Floro, 23, is 8-6 with a 2.81 ERA and had walked just 13 in 118 1/3 innings over his 18 starts. Tampa Bay took him in the 13th round of the 2012 Draft out of Cal State Fullerton, and he was 11-2 with a 1.77 ERA last season for Class A Bowling Green and then Class A Advanced Charlotte. He won his third Pitcher of the Week honor of the season Monday.
Guy Curtright is a contributor to MiLB.com. This story was not subject to the approval of the National Association of Professional Baseball Leagues or its clubs.
View More