Southern notes: Smith earns high praise
M-Braves outfielder drawing lofty comparisons from new organization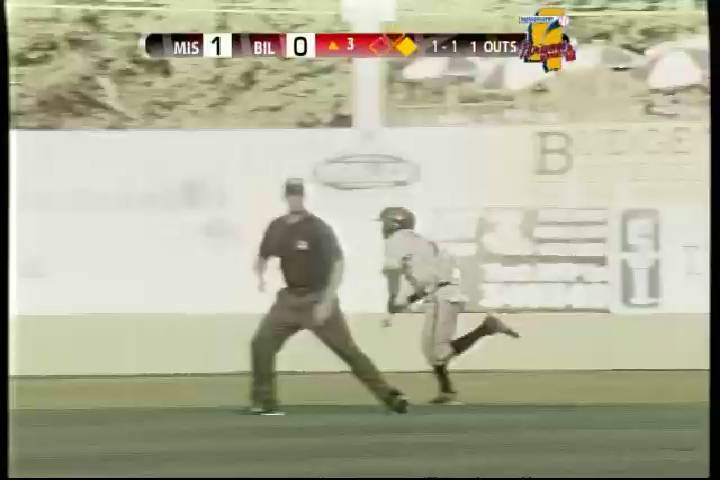 By Guy Curtright / Special to MiLB.com | May 26, 2015 10:00 AM
Mallex Smith, acquired from San Diego in the Justin Upton trade over the winter, got some high praise during Spring Training with the Atlanta Braves.
Hitting coach Kevin Seitzer likened the young center fielder to former Major League standout Kenny Lofton after seeing him lay down some bunts, and Braves director of baseball operations John Hart seconded that thought.
As lofty as those comparisons were, though, it may have shortchanged Smith a little in the speed department.
Asked to compare the now 22-year-old Mississippi Braves player to the top Major League speedsters of today, Fredi Gonzalez put him at or near the top.
"Oh, it's right up there," the Braves manager said of the organization's No. 15 prospect. "Billy Hamilton-type speed, maybe just a tad below. I was really impressed. His speed is there with Hamilton, Dee Gordon."
Smith, who led the Minors with 88 stolen bases last year in Class A, has had to go through a bit of a learning curve on the bases in Double-A. That doesn't mean, though, that his speed isn't paying off.
Taking advantage of the bunting ability that impressed Seitzer and Hart, Smith went into Memorial Day leading the Southern League with a .348 batting average.
"I lay down at least one bunt every series," the left-handed batter said. "It works two ways. It's hard to throw me out, so they have to play in. Then when they do, I can hit it by them."
Smith, who took over the Southern League batting lead by going 9-for-15 in a five-game stretch, has only seven extra-base hits, but a single or walk can quickly turn into much more. His on-base percentage was .395 and he had scored 23 runs and driven in 16.
Maybe too eager to match last season's steals total, Smith in the first four weeks of the season was picked off six times -- twice on Opening Night.
Catchers, though, have caught him stealing just twice in 17 attempts. He is 8-for-10 on steals of second base and 7-for-7 going to third.
"I'm getting back in the groove now," said Smith, who had seven stolen bases in his past five games. "The pickoffs affected me for a while. I lost my confidence a little bit, but now it's back."
Confidence is something in which the 5-foo-9 native of Tallahassee, Florida, isn't usually lacking.
A defensive back in high school, Smith once thought his future was in football. But the college offers he had hoped for didn't materialize, and he headed to Santa Fe Community College to play baseball.
"I didn't choose baseball -- baseball chose me," said Smith, who was taken in the fifth round of the 2012 Draft by the Padres after stealing 37 bases as a freshman and was given an over-slot bonus of $375,000.
Smith hit a combined .310 last season for Class A Fort Wayne and Class A Advanced Lancaster while running wild on the bases, then hit .305 in the Arizona Fall League. The Braves loved his speed and made sure he was included as part of the Upton deal.
"To be traded by the Padres was a surprise," he said. "But I grew up a Braves fan, and the more I thought about everything, it seemed like a good opportunity."
Smith was 4-for-11 with a triple and stole two bases in three attempts during eight Grapefruit League games with the Braves, putting his speed on display of the whole organization.
"He just needs games to kind of polish him off," Gonzalez said. "The tools are there, and he's certainly not shy to go get balls in center field. We saw that in Spring Training. We had to tell him he's not the only one out there. There are two more guys, one to his right and one to his left."
Unless he is sidetracked, one day Smith will become the first Major Leaguer named Mallex. Where did that name come from anyway?
"Everyone in my family has a first name starting with 'M'," Smith said. "But there was a smart kid in our apartments named Alex. My mom liked his name. So I became Mallex. I'm Alex with an 'M'."
In brief
On the go: Birmingham center fielder Jacob May stole 17 bases in his first 22 games during the month bearing his name and went into Memorial Day leading the Southern League with 23 steals. He had been caught nine times. May, a third-round pick by the White Sox in the 2013 Draft out of Coastal Carolina University, was batting .307 and had an on-base percentage of .364. Ten doubles were May's only extra-base hits, but he had scored 20 runs and driven in 15. The White Sox's No. 15 prospect had 37 steals last season for Class A Advanced Winston-Salem.
Moving up: Right-hander Tyler Duffey, who had been second in the league to Chattanooga teammate Jose Berrios in strikeouts, has been promoted to Triple-A Rochester. Duffey, who was 2-2 with a 2.56 ERA, fanned 12 over seven innings in his final start for the Lookouts against Montgomery on May 17. That gave him 54 strikeouts to 12 walks in 52 2/3 innings. Duffy, 24, had struck out 10 at Montgomery on Opening Night, also in a no-decision. The Minnesota Twins' No. 18 prospect made three starts with Rochester in 2014, going 2-0 with a 3.94 ERA.
Still struggling: Jackson's D.J. Peterson went 1-for-24 over a six-game stretch in mid-May and went into Memorial Day hitting just .212. Worse yet for someone who hit 31 homers at two levels a year ago, the first-round pick by Seattle in the 2013 Draft had gone deep just once in 39 games. Peterson, who is playing first and third base, did have 17 RBIs, but his slugging average was just .286. Seattle's No. 2 prospect is ranked No. 46 on MLB.com's Top 100 list.
Guy Curtright is a contributor to MiLB.com. This story was not subject to the approval of the National Association of Professional Baseball Leagues or its clubs.
View More