Ruiz headlines Dodgers' Spring Training invitees
No. 52 overall prospect leads impressive list of non-roster players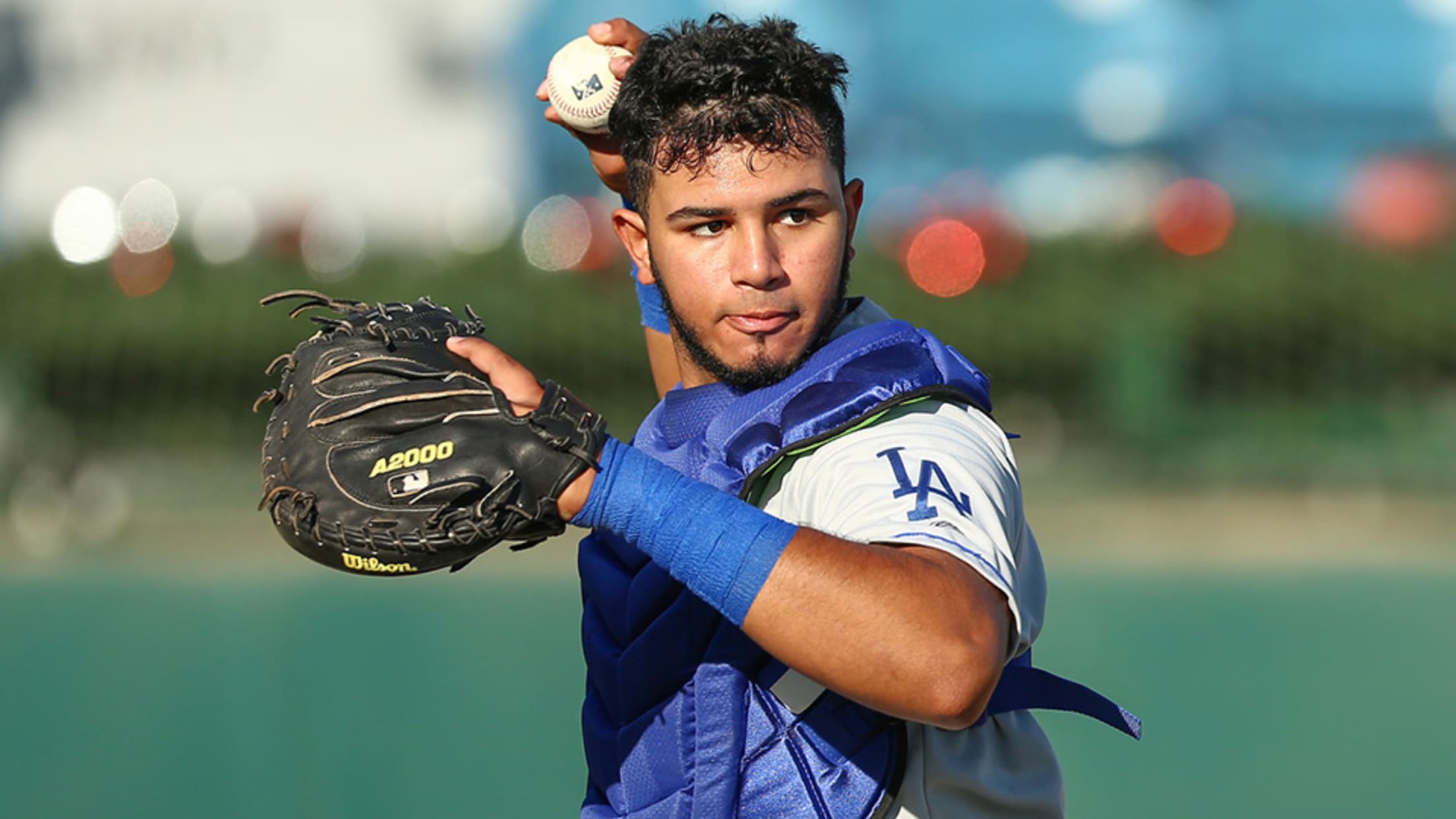 Still 19, catcher Keibert Ruiz is a career .330 hitter over three seasons in the Minor Leagues. (Tim Cattera/MiLB.com)
Keibert Ruiz doesn't turn 20 until July, but he's already turning heads in the Los Angeles organization.Ranked as the No. 52 prospect in baseball by MLB.com, the switch-hitting catcher was one of several highly ranked Dodgers prospects invited to big league Spring Training next month. Outfielder Yusniel Díaz and fellow backstop
Keibert Ruiz doesn't turn 20 until July, but he's already turning heads in the Los Angeles organization.
Ranked as the No. 52 prospect in baseball by MLB.com, the switch-hitting catcher was one of several highly ranked Dodgers prospects invited to big league Spring Training next month. Outfielder Yusniel Díaz and fellow backstop Will Smith -- ranked No. 5 and 8, respectively, on the organization's list at season's end -- were also among the non-roster players asked to join the Major League squad this spring.
Ruiz's first full season in the Minors was a rousing success as the six-foot, 200-pound Venezuela native hit .316/.361/.452 with eight homers and 51 RBIs over 101 games between Class A Great Lakes and Class A Advanced Rancho Cucamonga. His arm rates out as average with a 22 percent caught-stealing rate last season.
Diaz posted a .757 OPS in 83 games with the Quakes before a promotion to Double-A Tulsa, where he hit .333/.390/.491 with three home runs in 31 games. Despite 60-grade speed, the 21-year-old Cuban has been thrown out on 22 of 38 career steal attempts, but he projects as an option at all three outfield positions thanks to that athleticism.
Smith hit .231 last season but showed impressive patience and power, walking 37 times in 73 games with 29 extra-base hits, including 11 home runs. Where Smith really stands out is behind the plate -- he threw out nearly 48.4 percent of runners trying to steal last season (30 of 62) after nailing 25 of 60 would-be basestealers the season before. His speed is also above-average, and he stole seven bases in nine attempts last season.
Other notable prospects to receive an invite were Edwin Ríos (No. 15), DJ Peters (No. 16), Drew Jackson (No. 17) and Jake Peter (No. 30). Peters may be best known for his MiLBy-worthy performance last season, when he hit two homers off Giants ace Madison Bumgarner in the same inning, along with his awards for California League MVP and Rookie of the Year.