Cruz doubling down for West Virginia
Pittsburgh's No. 13 prospect tallies three two-baggers in rout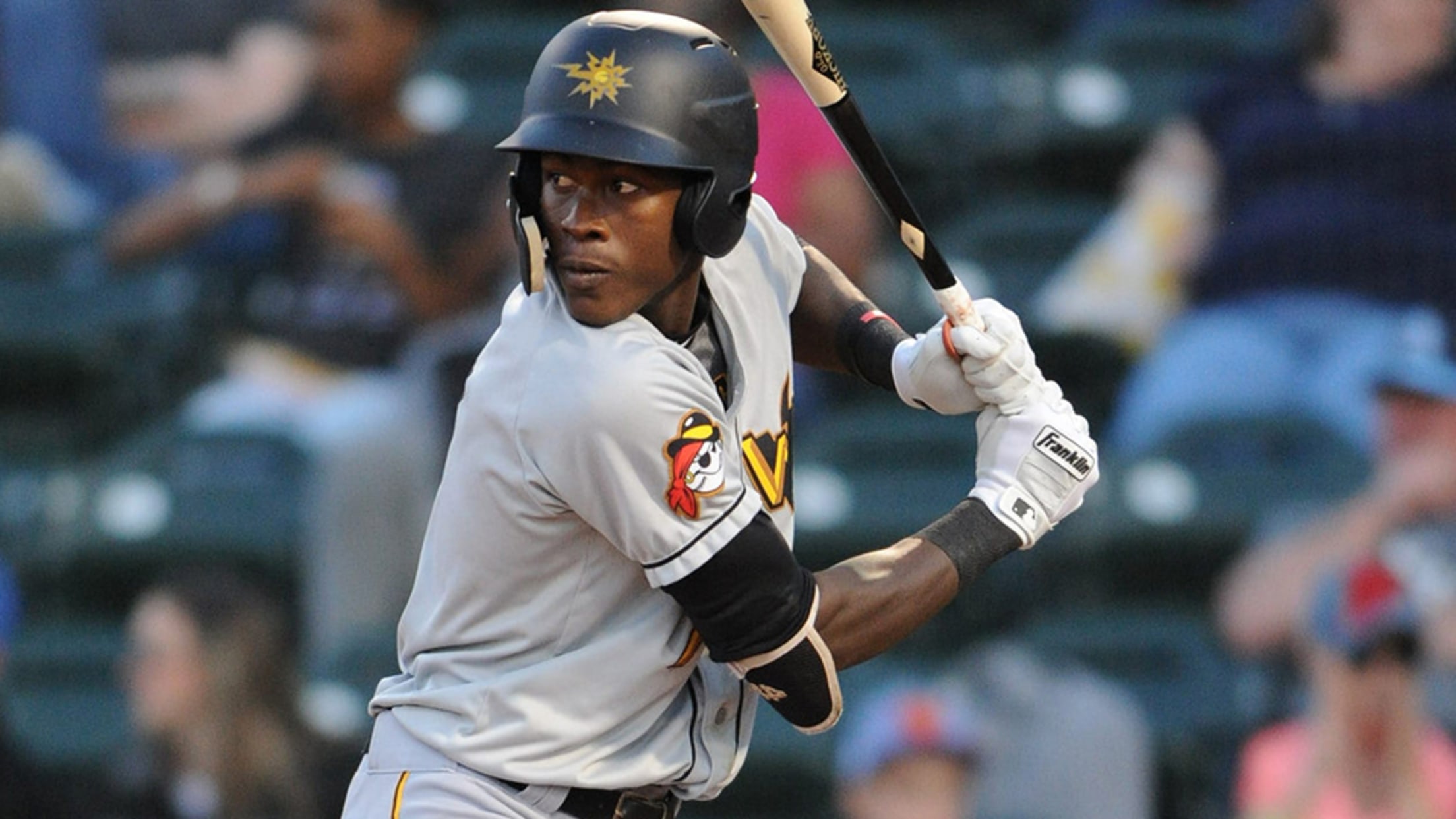 Oneil Cruz raised his average 23 points to .257 after collecting four hits. (Tracy Proffitt/Hickory Crawdads)
You might not be able to tell from his serious mugshot on the team website, but Class A Power manager Wyatt Toregas says Oneil Cruz plays the game with a perpetual smile on his face. "He's just a great kid," Toregas said. "Just a very outgoing, extraverted kid. The kid has
You might not be able to tell from his serious mugshot on the team website, but Class A Power manager Wyatt Toregas says Oneil Cruz plays the game with a perpetual smile on his face.
"He's just a great kid," Toregas said. "Just a very outgoing, extraverted kid. The kid has fun playing every day and plays hard. ... I think he just wanted to look tough [in the team picture]."
The No. 13 Pittsburgh prospect's smile probably stretched even wider Thursday after lacing three doubles on a four-hit night and extending his hitting streak to 11 games in West Virginia's 13-2 rout of Hagerstown at Municipal Stadium. His average shot up 23 points to .257.
Gameday box score
Cruz entered Thursday with just two doubles on the season, but Toregas said the team recently made some minor swing changes which worked to perfection against the Suns.
"We've been working on him with shortening his swing just a little bit and seeing the ball a little better. Kind of just some basic things for this level," Toregas said. "We've been trying to get him to be aggressive to his pitch and laying off stuff he doesn't want to swing at. He can get really aggressive at times, and tonight, he did that. He swung at pitches he could hit and he took pitches he couldn't hit.
"I think for him, it's a pretty easy recipe. If he swings at good pitches, he's going to have success."
Cruz was 6-foot-1 when was first being scouted by big league teams, but a growth spurt shot him all the way up to 6-6. The left-handed hitter is long and gangly, but according to Toregas, also boasts eye-popping power.
"It's power to all fields," said the former Major League catcher. "I've seen him hit balls the other way that are hit further than a lot of righties can pull 'em. He's got raw power. I mean, his singles are impressive. He has the speed tool to go with it, so he doesn't have to hit the ball good to get a hit. He's got a lot of good things on his side, but he can hit a home run to any part of the yard, anywhere he goes.
"It's the most power I've seen since my big league time."
Hitting from the leadoff spot, two of the Nizao, Dominican Republic native's doubles went to right field and his third hit to deep center plated Lolo Sanchez in the fourth.
Toregas said Cruz's skill set is functional in just about any spot in the lineup, but he'll continue to write his name at the top of the order for the Power.
"I kind of like him there and it gets us going," the skipper said. "I think he's going to get more fastballs, I like his speed and his ability to get on base and steal a bag. He can also take you out of the yard on the first pitch of the game, so we're putting pressure on the pitcher immediately. There's a number of different things he can do at that spot. He can also bunt for a base hit, he's very talented at that. As he gets to the big league level, I could see him as a leadoff hitter."
Cruz played 16 games with the Power last season and posted a .218/.317/.400 slash line after being traded from Los Angeles to Pittsburgh in a deadline deal that sent Tony Watson to the Dodgers. He started 2018 back in the South Atlantic League and leads his club in home runs with five, stands tied for the lead in triples with three and is second with 22 RBIs.
The 19-year-old manned both third base and shortstop for the Dodgers, but this season, he's played exclusively in the middle of the infield in 30 games thus far. Toregas said the decision to move Cruz over to short wasn't a difficult one.
"I think he's more of a shortstop than a third baseman," Toregas said. "I'd hate to waste his range at third base. … When you watch the kid play, you're kind of wasting his ability at third base. He's got plus arm strength and he's got plus range."
Cruz has committed 14 errors at the position this season, but it's no cause for concern, according to Toregas.
"We have to work with him on his timing on fielding ground balls, but he's 19 years old. He's right where he's supposed to be with that," the manager said. "A lot of the mistakes he makes are just young kid mistakes. He can also really surprise you over there and make some unbelievable plays. That's what we're looking for, is just the flashes of big league-type plays."
Dylan Busby launched a grand slam to right-center on a 3-for-5 night after slugging a pair of homers Wednesday and Pittsburgh's No. 15 prospect Calvin Mitchell lofted his fourth homer of the season.
"He's probably the hottest guy in our lineup right now," Toregas said of Busby.
Josh Horton is a contributor to MiLB.com. Follow him on Twitter @joshhortonMiLB