Loons Dominate Lake County to Open Playoffs
EASTLAKE, Ohio – The Great Lakes Loons were hobbling at the end of the regular season, losers of eight of their final 11 games. Rolling into Classic Park on Tuesday night, the Loons looked a lot more like the team that won the first half title. The Loons dominated the
Whitecaps Walk Off Loons in Crazy 10-Inning Comeback
Loons had a 4-0 lead in the bottom of the ninth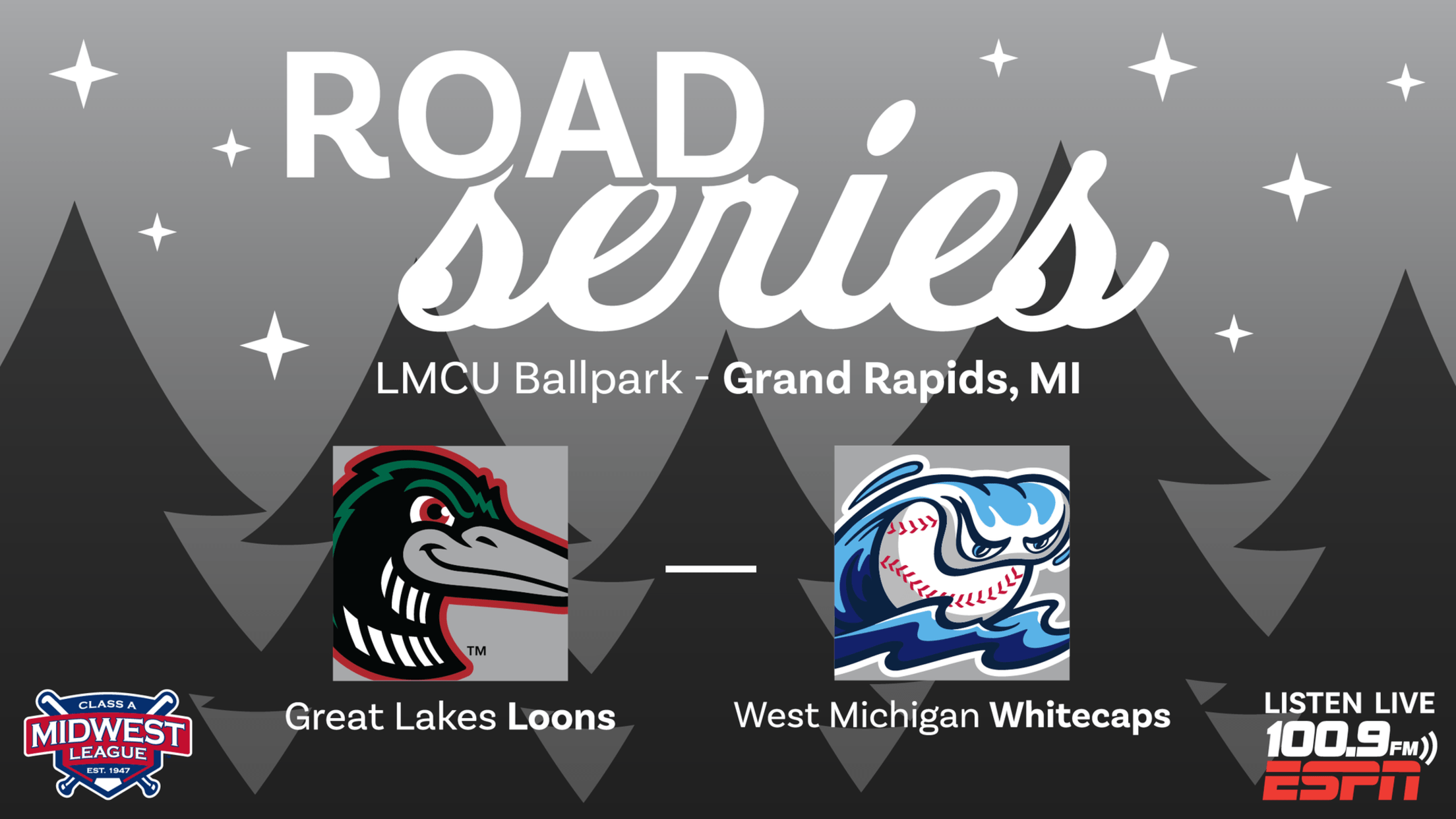 COMSTOCK PARK, Mich. – The Great Lakes Loons felt like they had something figured out Saturday night. In nine innings of offense, they collected four runs on nine hits and took a 4-0 lead into the bottom of the ninth inning. And when the West Michigan Whitecaps came to the
Whitecaps Ride Waves in Back-and-Forth Contest, Defeat Loons
West Michigan gave up and reclaimed the lead in sixth inning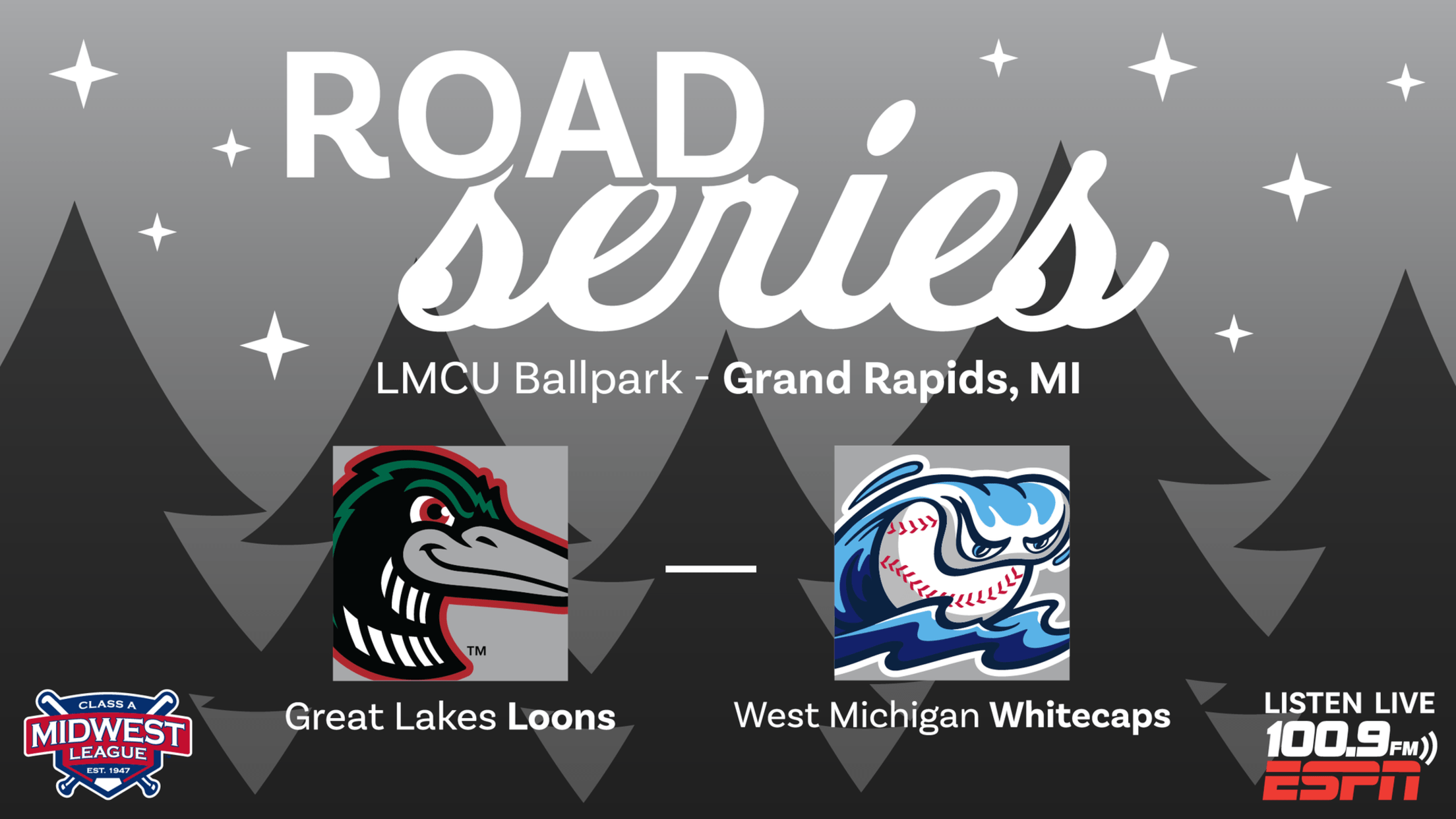 COMSTOCK PARK, Mich. – After the West Michigan Whitecaps held them hitless in the first five innings, the Great Lakes Loons exploded for four runs on four hits in the sixth frame Thursday to take a 5-4 lead. In the bottom of the sixth inning at LMCU Ballpark, West Michigan
Offensive Woes Continue in Series-Opening Loss to West Michigan
Loons collect six hits but are shutout for fourth game in last nine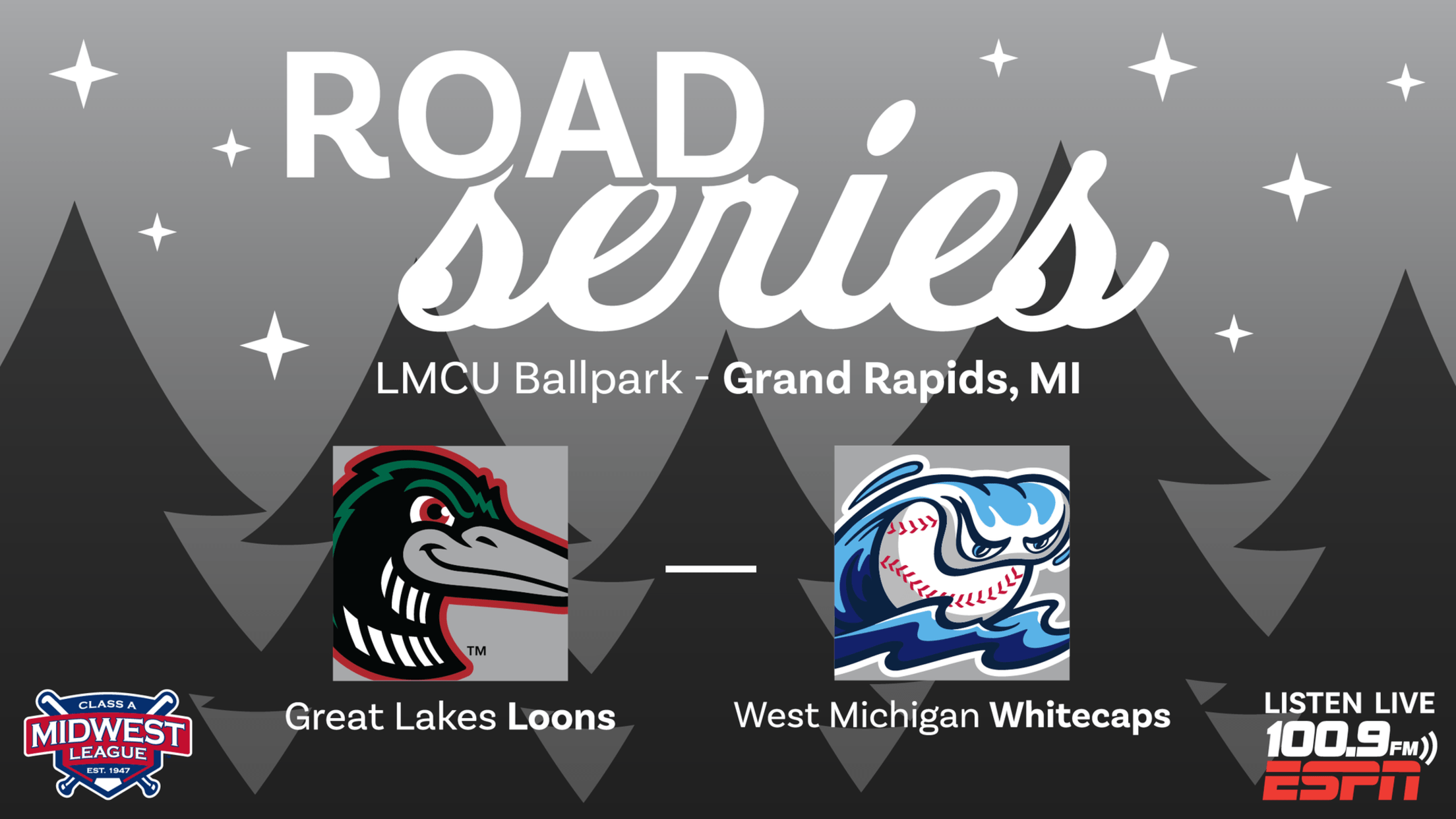 COMSTOCK PARK, Mich. – After mustering seven hits across 14 innings in a doubleheader Sunday, six hits in nine frames Tuesday is certainly an improvement for the Great Lakes Loons. Plus, it bested the five hits collected by the West Michigan Whitecaps. The Loons continued to lack in the run
Walk-off Homer Caps Doubleheader Split in Home Finale
Austin Gauthier's first homer for Great Lakes walks it off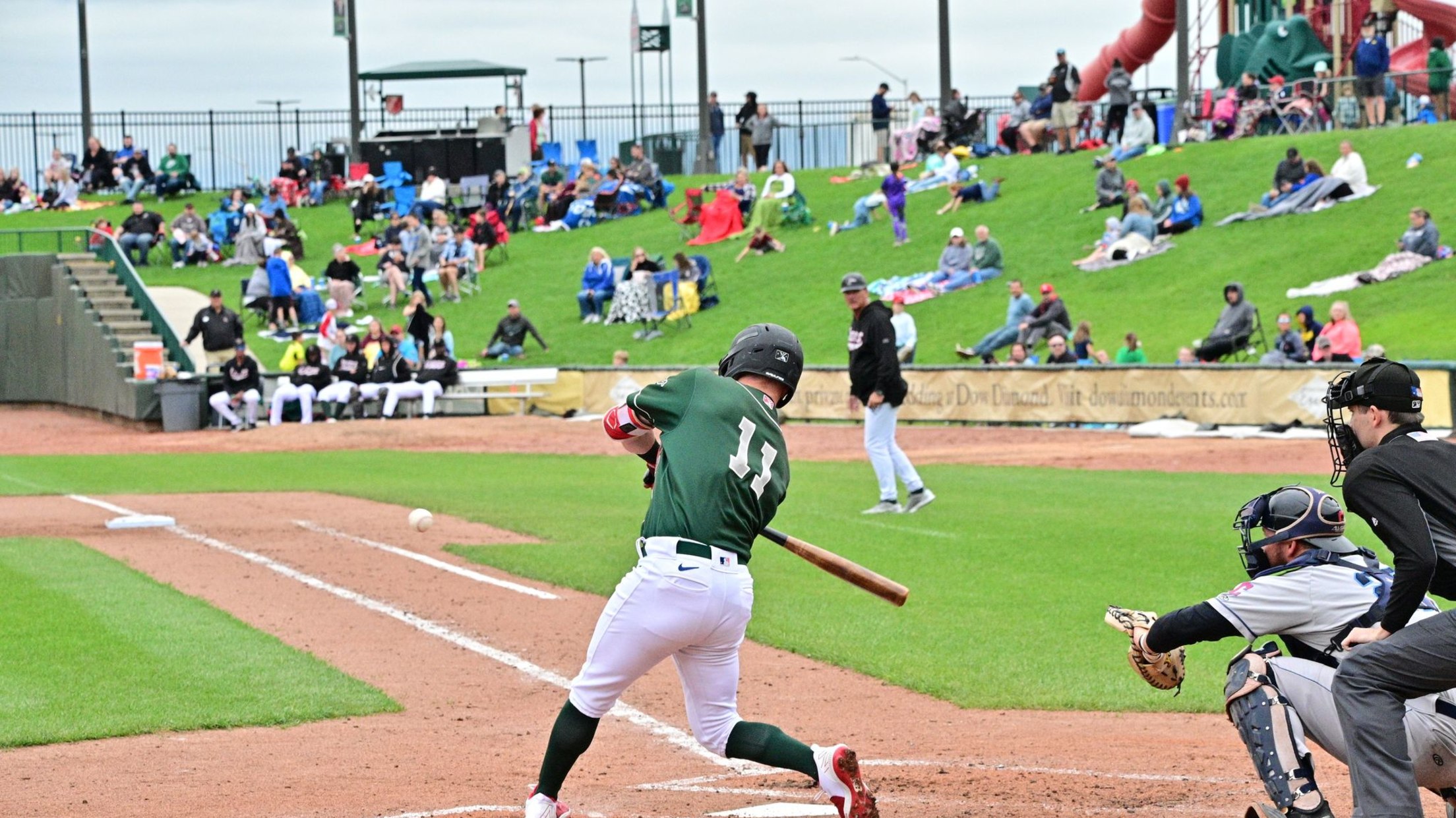 MIDLAND, Mich. – After dropping the first game of a doubleheader against the Lake County Captains, the Great Lakes Loons had lost four of five to Lake County and had been shut out in four of their last nine contests. A slumping offense was looking for a spark. When Austin
Garcia cranks three roundtrippers for Quakes
Dodgers prospect plates six in first career multihomer game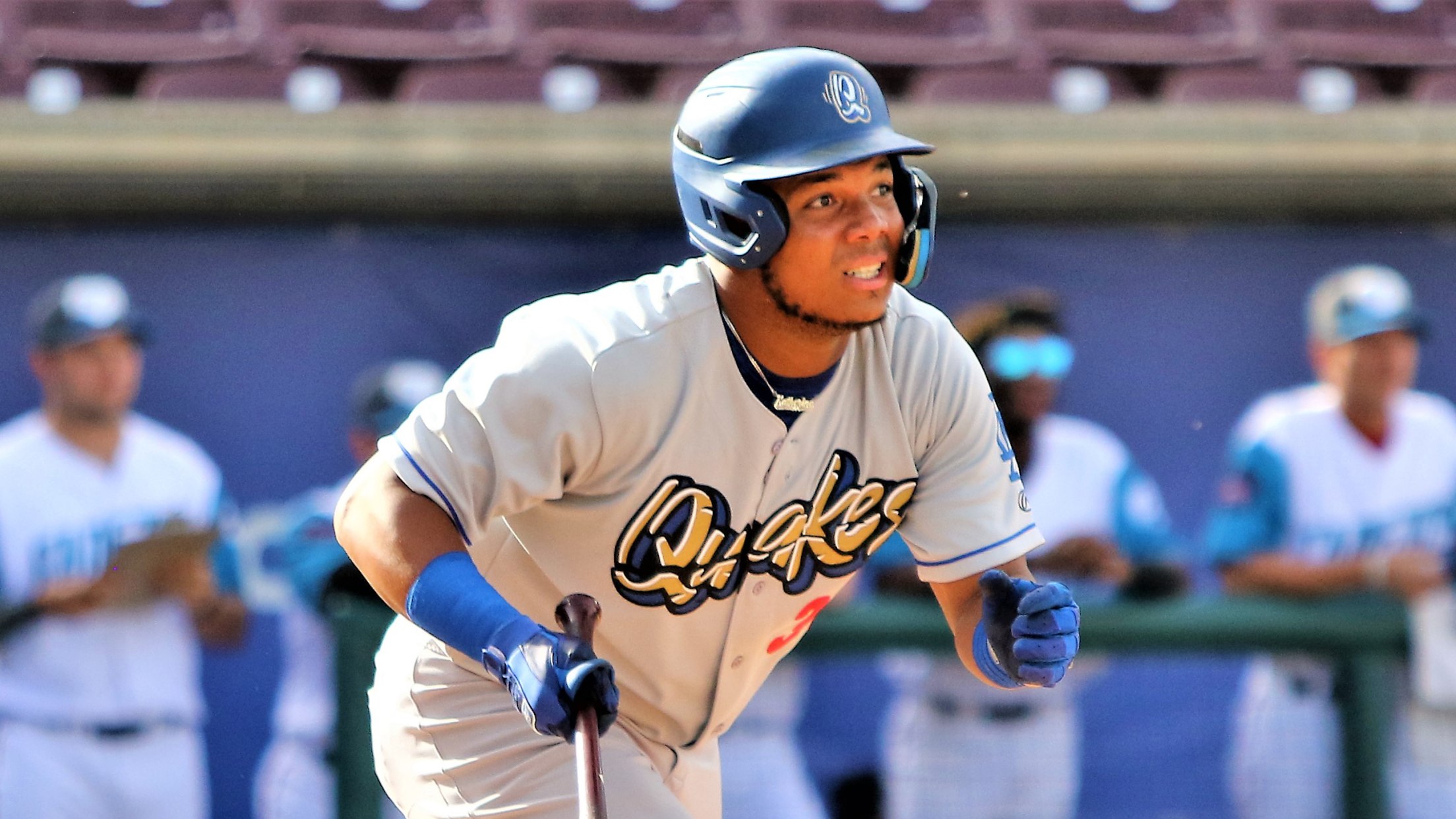 If there were an offensive performance worthy of a curtain call, Yunior Garcia certainly cleared the bar during Rancho Cucamonga's 12-8 victory over Modesto on Friday. Five hits, three of which were home runs. Six RBIs. Four runs scored. Garcia delivered the textbook definition of what a manager envisions when
Garcia Carries Quakes to Friday Win
Rancho Cucamonga, CA – Yunior Garcia's career-night rescued the Quakes on Friday evening, as Rancho Cucamonga rallied to defeat Modesto by a final of 12-8 at LoanMart Field. Garcia's night included a 5-for-5 performance with six RBIs. In addition, he tied the Quakes' franchise record of three home runs, becoming
Quakes Survive the Storm on Wednesday
Lake Elsinore, CA – The Quakes overcame five errors on Wednesday night, hanging on for a 9-7 win over the first-place Storm at The Lake Elsinore Diamond. Kyle Nevin had two hits, two RBIs and three runs scored and shortstop Sean McLain had two hits an RBI and a game-saving
Quakes Come Up Short on Tuesday
Lake Elsinore, CA – The Lake Elsinore Storm rallied on multiple occasions, taking down the Quakes on Tuesday night for a 5-4 win at The Diamond. A sac fly by Marcos Castanon broke a 4-4 tie in the seventh and put the Storm in the lead for good. Rancho left
New Guys Come Up Big Again for Quakes
Rancho Cucamonga, CA – The Rancho Cucamonga Quakes got solid production from some recent newcomers, defeating the Inland Empire 66ers by a final of 9-4 on Saturday night at LoanMart Field. The Rancho pitching staff held to Inland Empire to just three hits, overcoming a 14-walk performance to secure their
Rancho Slips Late on Friday
Rancho Cucamonga, CA – A three-run eighth for Inland Empire pushed the 66ers to an 8-5 victory over the Quakes on Friday night at LoanMart Field. Adrian Placencia's RBI single broke a 5-5 tie against reliever Huei-Sheng Lin (1-2), as the 66ers took the lead for good and won for
Late Homer Trips Quakes on Saturday
San Jose, CA – A solo home run in the last of the eighth inning by San Jose's Yorlis Rodriguez put the Giants ahead to stay on Saturday, as San Jose edged Rancho Cucamonga, 3-2 at Excite Ballpark. One inning after Luis Rodriguez of the Quakes tied the score, San
Quakes Win Again, Down Giants Friday
San Jose, CA – The Rancho Cucamonga Quakes held on for a second straight win on Friday night, knocking off the San Jose Giants by a final of 4-1 at Excite Ballpark. The Rancho pitching staff enjoyed one of their best nights of the year, as River Ryan, Benony Robles
Quakes Blasted in Series-Opener
San Jose, CA – The San Jose Giants hammered out 18 hits and capitalized on five Rancho errors, defeating the Quakes in Tuesday's series-opener, 18-4 at Excite Ballpark. San Jose's Grant McCray homered and collected five hits, helping the Giants win in their first head-to-head meeting with the Quakes in
Rancho Takes Series with Convincing Win
Visalia, CA – The Quakes earned their second straight series-win, thanks to Sunday's 11-2 victory over the Visalia Rawhide at Valley Strong Ballpark. Yeiner Fernandez capped an incredible series with a four-hit day and three more RBIs, as the Quakes won two of three from Visalia and have now won
Fernandez Returns to Lead Quakes to Romp
Visalia, CA – A four-day break couldn't slow a four-game winning streak, as the Rancho Cucamonga Quakes won their fifth straight game, defeating Visalia on Friday night by a final of 12-0 at Valley Strong Ballpark in Visalia.. Yeiner Fernandez returned from the Injured List to drive in a career-high
Quakes enter All-Star Break on Fire!
Rancho Cucamonga, CA – After dropping five of six at Fresno in mid-May, the Quakes returned the favor on Sunday, winning for the fifth time in the six-game set at LoanMart Field, defeating the Grizzlies in convincing fashion, 12-3. The win gives Rancho four straight and six of their last
Quakes Clinch Series-Win over Fresno
Rancho Cucamonga, CA – The Rancho Cucamonga Quakes clinched their first series-win since early-June, as they defeated the Fresno Grizzlies on Saturday night, by a final of 10-5 at LoanMart Field. The come-from-behind victory gives the Quakes four of five in the current series and gives them a shot at
Stellar Pitching for Rancho on Sunday.
San Bernardino, CA – Rancho put together a solid effort on Sunday and cruised to a 7-2 victory over the Inland Empire 66ers, in the final game of the six-game set at San Manuel Stadium. Luis Rodriguez and Yunior Garcia belted back-to-back homers and the Quakes' pitching staff tossed their
Rawhide Hold Off Quakes on Saturday
Rancho Cucamonga, CA – The Quakes left a total of 16 men on base on Saturday night, falling short of a second straight win by dropping a 7-5 decision to the Visalia Rawhide. The Quakes left at least one man on base in eight of the nine innings and left
Late Visalia Rally Dooms Quakes
Rancho Cucamonga, CA – The Rawhide tallied two in the eighth and got an insurance run in the ninth, coming from behind to defeat the Quakes on Thursday night, 4-2 at LoanMart Field. Hector Martinez and Yunior Garcia each swatted a solo homer, but Rancho couldn't muster any late offense,
Quakes Drop Series to Storm
Lake Elsinore, CA – After several blow-outs this week, Sunday's series-finale in Lake Elsinore finally saw a good game come down to the wire, but Rancho Cucamonga fell a run shy in their bid to split the six-game set, as the Storm held on for an 8-7 win over the
Quakes Stumble in Ninth on Tuesday
Rancho Cucamonga, CA – After rallying from a six-run deficit, the Quakes let a ninth-inning lead slip away on Tuesday night, as the Inland Empire 66ers picked up a 9-8 win at LoanMart Field in the opening game of a six-game set. Kevin Watson's misplayed triple tied the game and
Howard, Garcia Dock Ports on Friday
Stockton, CA – Gaige Howard had a strong night and Yunior Garcia continued his torrid hot streak, as the Rancho Cucamonga Quakes held on to defeat Stockton for a second straight night, winning 10-6 on Friday evening at Banner Island Ballpark. Howard had a three-run triple and an RBI single,
Quakes Hold on for Wild Win in Stockton
Stockton, CA – Yunior Garcia had a career-high five hits and the Quakes rallied on multiple occasions, holding on to defeat the Stockton Ports by a final of 13-12. The win for Rancho pulls them back to within one game of the first-place Lake Elsinore Storm in the South Division,