6/23/21 Game Recap Bees 13 Sea Unicorns 6
Sea Unicorns Fall to Bees 13-6
(Norwich, CT) –The Norwich Sea Unicorns fell to the New Britain Bees 13-6 at Dodd Stadium Wednesday night. Michael Torniero (East Haven, CT/Central CT State University) went 3-4 with two runs and an RBI to lead the Sea Unicorns. Tremayne Cobb (Huntington, MD/University of Hartford) hit his team-leading third home
6/22/21 - Sea Unicorns Game at Brockton Postponed Due to Impending Rain
Sea Unicorns Game at Brockton Postponed Due to Impending Rain
(Brockton, MA) – The Norwich Sea Unicorns game at the Brockton Rox, originally scheduled for Tuesday, June 22 at 5:0 0 pm, has been postponed due to impending rain. The game has been rescheduled as part of a doubleheader in Brockton on July 28 beginning at 2:00 pm. The Sea
6/20/21 Game Recap Sea Unicorns 3 Silver Knights 0
Sea Unicorns Shut Out Silver Knights on Road 3-0
(Nashua, NH) –The Norwich Sea Unicorns shut out the Nashua Silver Knights 3-0 on the road Sunday afternoon for their 10th win in the last 12 games. Cameron Varney (Manchester, NH)/Mitchell College) lead the way in his return to his home state with five shutout innings, allowing three hits with
Norwich Sea Unicorns Announce Upcoming Promotions for 2021 Season
Fireworks, special appearances, giveaways and more highlight promotional calendar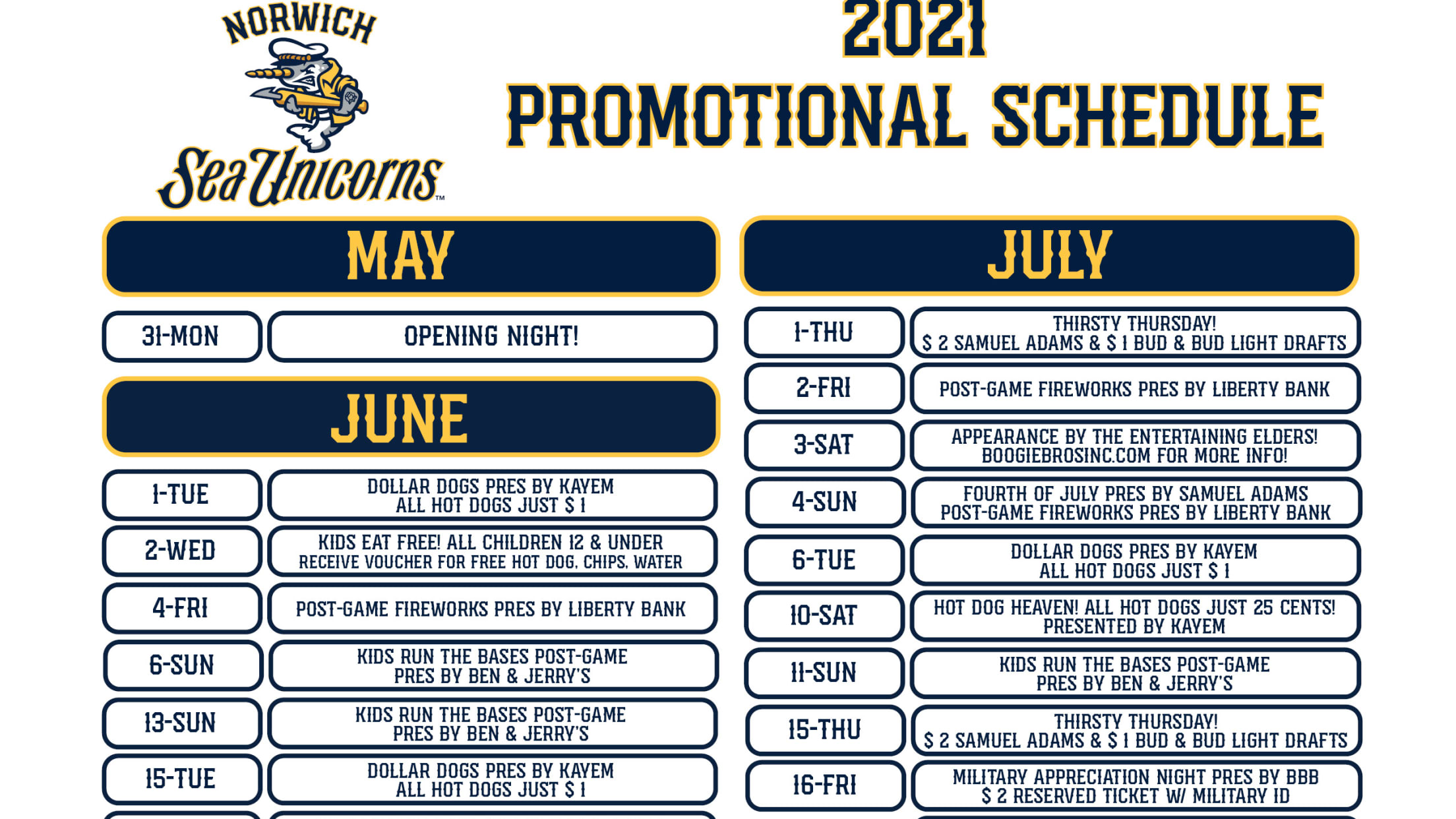 NORWICH, CT- The Norwich Sea Unicorns announce the promotional schedule for the remainder of the 2021 season at Dodd Stadium. The Sea Unicorns have won 9 out of their last 10 games on the field and will offer fireworks, special appearances, giveaways and more to fans throughout the summer. There
Sea Unicorns Game on 6/19/21 vs. Silver Knights Suspended Due to Rain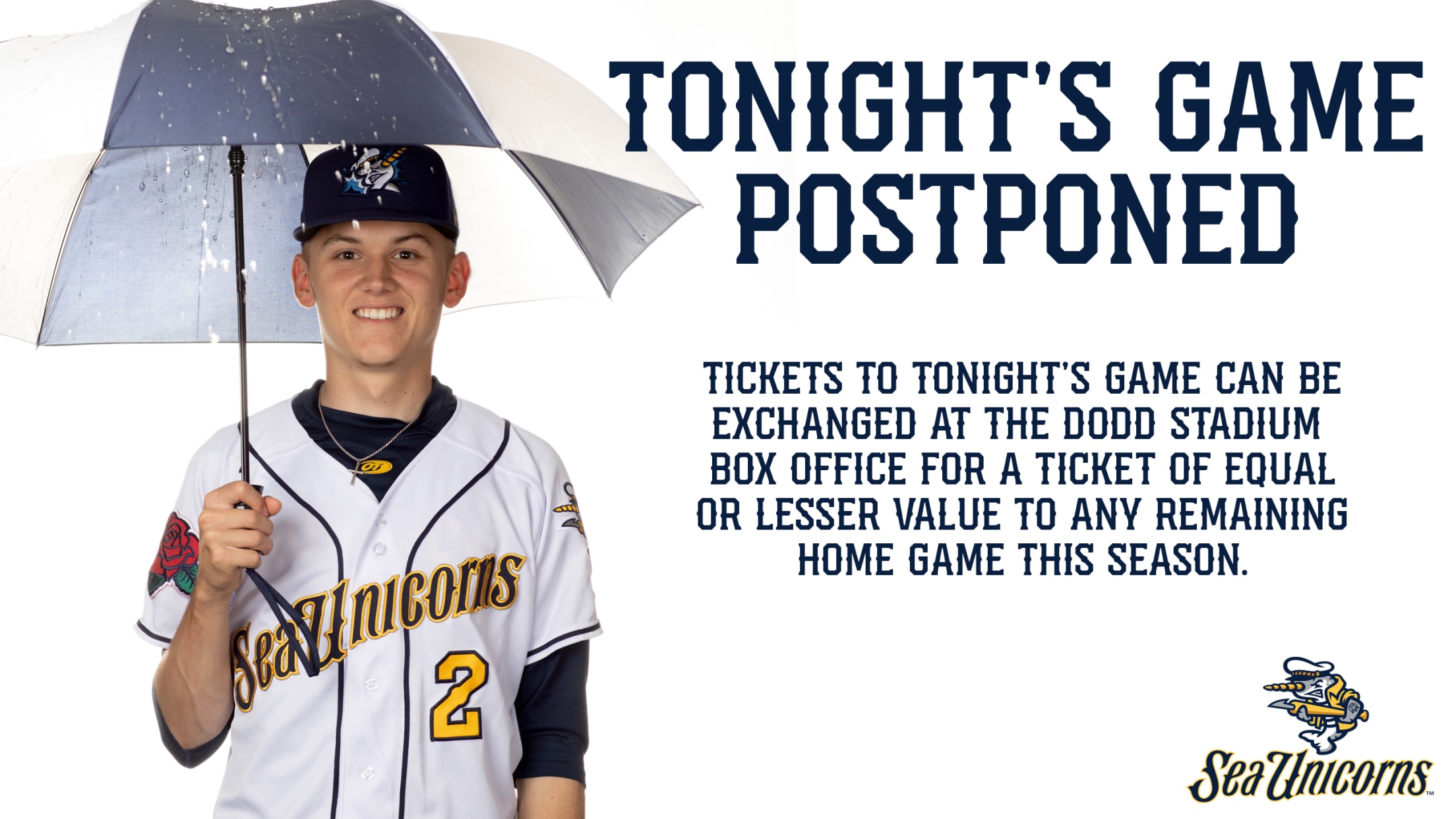 The Norwich Sea Unicorns game vs. the Nashua Silver Knights on Saturday, June 19 has been suspended due to rain. The game will be picked up as a nine-inning game at Dodd Stadium on Friday June 25 at 5:00 pm in the top of the 4th, with Norwich leading 2-1.
Sea Unicorns vs. Starfires to Air Live on NESN on July 24 at 12:00 pm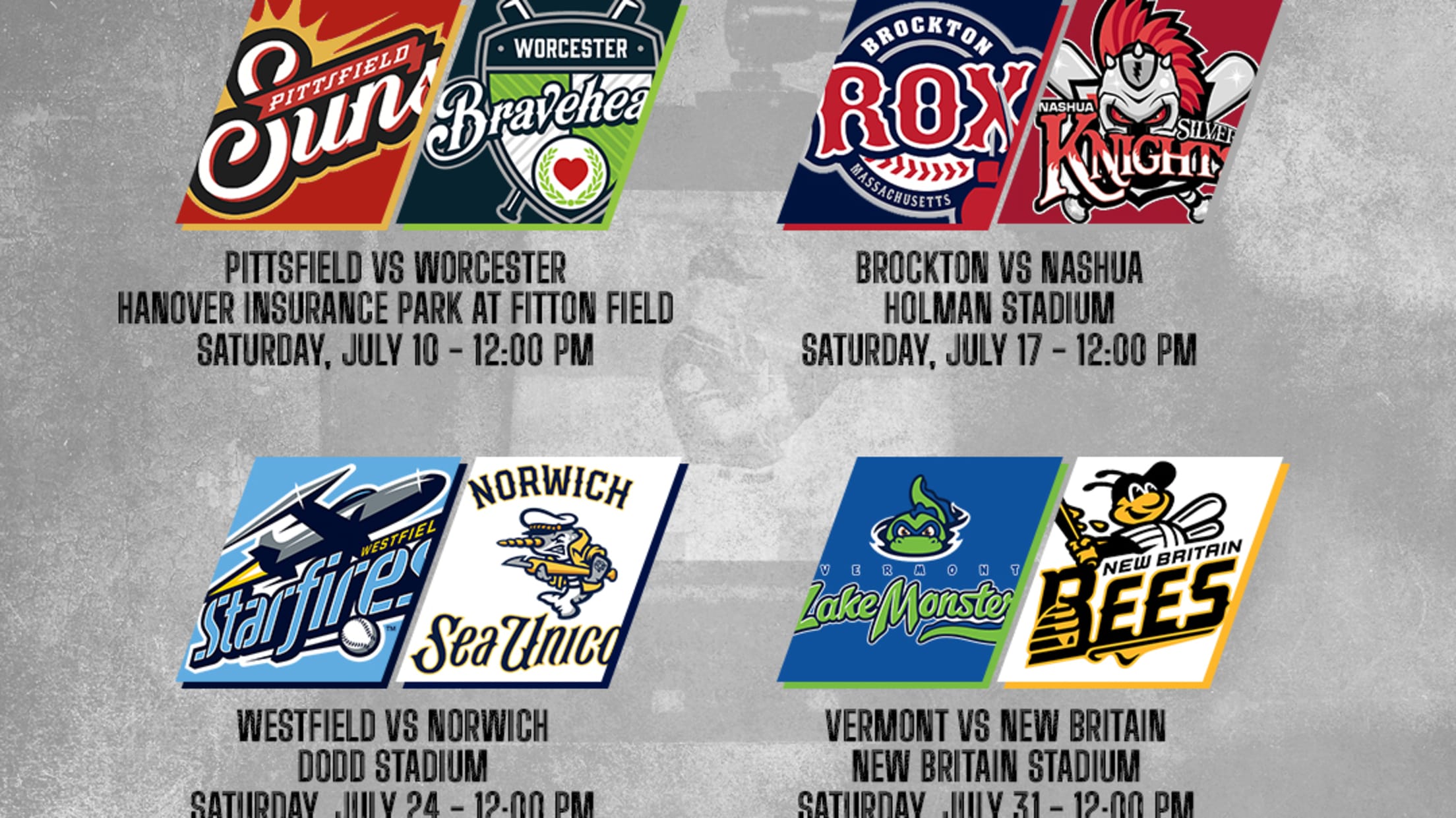 (Norwich, CT) - The Norwich Sea Unicorns' game against the Westfield Starfires on July 24 at 12:00 pm will air live on the New England Sports Network (NESN) as part the "Futures League Saturdays on NESN" four-game slate featuring all eight teams in the Futures Collegiate Baseball League of New
6/18/21 Game Recap Bravehearts 8 Sea Unicorns 5
Sea Unicorns Rally in the 9th But Fall Short 8-5 to Bravehearts
(Norwich, CT) – The Norwich Sea Unicorns rallied in the ninth but fell to the Worcester Bravehearts 8-5 Friday night at Dodd Stadium to see their five-game winning streak end. John Mesagno (Tappan, NY/Easter CT State University) went 3-4 with a double and three RBIs to lead the Sea Unicorns.
6/17/21 Game Recap Sea Unicorns 8 Bees 2
Sea Unicorns Beat Bees 8-2 for 5th Straight Win and 9th in Last 10 Games
(Norwich, CT) - The Norwich Sea Unicorns won their fifth straight game and ninth in the last 10 games, beating the New Britain Bees 8-2 Thursday night at Dodd Stadium. Ian Battipaglia (Chesire, CT/Franklin Pierce University) went 2-2 with two RBIs and a run scored off the bench and the
6/16/21 Game Recap Sea Unicorns 6 Silver Knights 1
Sea Unicorns Beat Silver Knights 6-1 for 8th Win in Last 9 Games
(Norwich, CT) –The Norwich Sea Unicorns won for the fourth straight game and eighth time in their last nine games, beating the Nashua Silver Nights 6-1 Wednesday night at Dodd Stadium. Matt Malcom (East Lyme, CT/Eastern CT State University) hit a home run and scored twice and Payton Sutman (Waterford,
6/15/21 Game Recap Sea Unicorns 9 Starfires 1
Sea Unicorns Beat Starfires 9-1 for 7th Win in Last 8 Games
(Norwich, CT) –The Norwich Sea Unicorns won for the seventh time in their last eight games, beating the Westfield Starfires 9-1 Tuesday night at Dodd Stadium behind two home runs from Tremayne Cobb (Huntington, MD/University of Hartford) and seven dominant innings by Bryan Albee (Killingly, CT/Eastern CT State University). Cobb
6/13/21 Game Recap Sea Unicorns 3 Suns 2
Sea Unicorns Start Home Stand with Sixth Win in Last Seven Games Over Suns 3-2
(Norwich, CT) – The Norwich Sea Unicorns won for the sixth time in their last seven games, closing out a 3-2 win over the Pittsfield Suns Sunday evening at Dodd Stadium. John Mesagno (Tappan, NY/Eastern CT State University) led off the seventh with a tie-breaking home run to left, and
6/12/21 Game Recap Sea Unicorns 9 Silver Knights 4
Sea Unicorns Beat Silver Knights 9-4 Behind 17 Hits
(Nashua, NH) - The Norwich Sea Unicorns pounded out 17 hits, led by Kaelen Culpepper (Memphis, TN/Kansas State) and Bryan Loriga (Hialeah, FL/Elite Squad Academy) in a 9-4 win over the Nashua Silver Knights in the finale of a successful five-game road swing Saturday night. Culpepper went 5-6 with two
(Worcester, MA) - The Norwich Sea Unicorns saw their season-best four-game winning streak come to end, as the Worcester Bravehearts took the Friday night game 10-0 in seven innings. Kaelen Culpepper, Tyler Wells, and Jared Zimbardo each had hits for Norwich. The Sea Unicorns close their road swing Saturday 6/12
6/10/21 Game Recap Sea Unicorns 4 Bees 3
Sea Unicorns Win Fourth in a Row 4-3 over Bees
(New Britain, CT) - The Norwich Sea Unicorns won their season-best fourth in a row, taking the lead in the eighth on a two-run home run by Colton Bender (Lebanon, CT/Quinnipiac University) to beat the New Britain Bees 4-3 Thursday night on the road. Bender gave the Sea Unicorns the
Sea Unicorns Pitcher Jayvien Sandridge Signs with Cincinnati Reds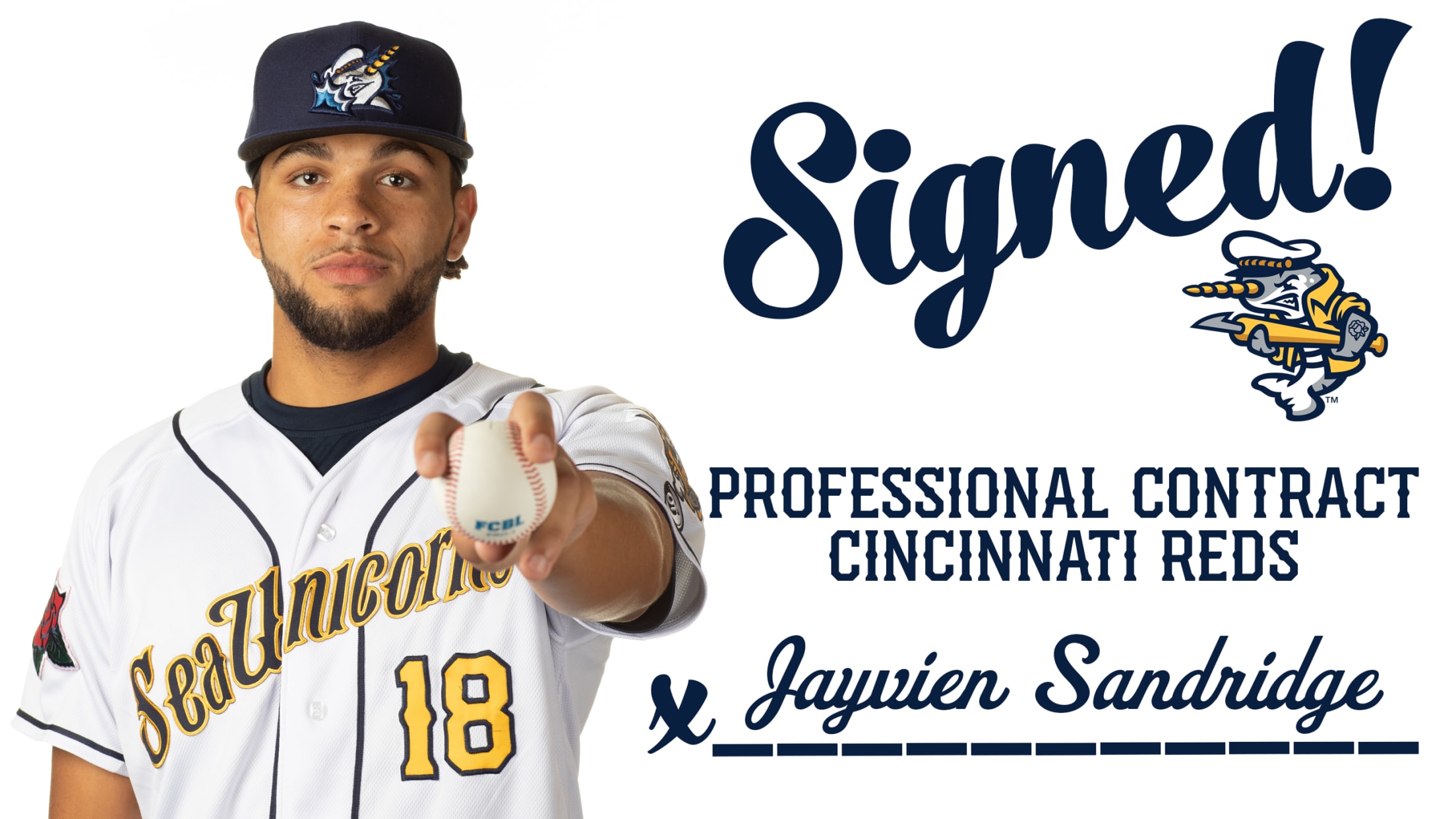 SEA UNICORNS PITCHER JAYVIEN SANDRIDGE SIGNS WITH CINCINNATI REDS Lefty from Maryland Becomes First Norwich Player to Sign Professional Contract NORWICH, CT- The Norwich Sea Unicorns are proud to announce that pitcher Jayvien Sandridge has signed a professional contract with the Cincinnati Reds. The 6'5" lefty from Hagerstown, MD most
6/9/21 Game Recap Sea Unicorns 8 Silver Knights 4 
Sea Unicorns Win Third Straight 8-4 in Nashua on Big Night by Bender
(Nashua, NH) - Colton Bender (Lebanon, CT) hit a three-run home run in the first inning, leading the Norwich Sea Unicorns to their third straight win with three hits, three runs, and three RBI in an 8-4 victory over the Nashua Silver Knights on the road Wednesday night. Bender, who
6/8/21 Game Recap Sea Unicorns 6 Bravehearts 6 (NOR - HR Derby 7-3)
Sea Unicorns Win Wild One in Worcester Behind Seven Bender Blasts in Home Run Derby
(Worcester, MA) - Colton Bender (Lebanon, CT/Quinnipiac University) hit seven home runs in the extra-inning home run derby and Bryan Loriga (Hialeah, FL) and Kyan Lodice (Omaha, NE/Kansas State) both hit two-run home runs in the early innings to lead the Norwich Sea Unicorns to a power-driven victory over the
6/6/21 Game Recap Sea Unicorns 11 Suns 1 Gm 2, Suns 7 Sea Unicorns 3 Gm 1
(Norwich, CT) – The Norwich Sea Unicorns bounced back with a convincing 11-1 win over the Pittsfield Suns, earning a doubleheader split after dropping the opener 7-3 Sunday at Dodd Stadium. Matt Malcom (East Lyme, CT/Eastern CT State University) went 2-3 with a run and two RBI and Bryan Loriga
6/5/21 Recap Silver Knights 12 Sea Unicorns 3
6/5/21 Sea Unicorns Fall in Nashua 12-3 to Silver Knights
(Manchester, NH) – The Norwich Sea Unicorns fell to the Nashua Silver Knights 12-3 Saturday night on the road at Holman Stadium. Tremayne Cobb (Huntington, MD/University of Hartford) led the way for the Sea Unicorns, going 3-4 with two runs and an RBI. Jared Zimbardo (Middlesex, NJ/Quinnipiac University) gave Norwich
6/3/21 Recap Silver Kings 4 Sea Unicorns 3 (10 Innings)
6/3/21 Recap Silver Kings 4 Sea Unicorns 3 (10 IN)
(Nashua, NH) - The Norwich Sea Unicorns scored twice in the 10th inning, but fell in a wild walk off win for the Nashua Silver Kings Thursday night. The Sea Unicorns strung together three consecutive two-out hits when Matt Malcom (East Lyme, CT/Eastern CT State University) doubled to right to
6/2/21 Recap Sea Unicorns 7 Bees 2
Sea Unicorns Beat Bees 7-2 for Second Straight Win
(Norwich, CT) – The Norwich Sea Unicorns beat the New Britain Bees 7-2 Wednesday night for their second consecutive win at Dodd Stadium. Colton Bender (Lebanon, CT/Quinnipiac University) drove in the game-winning runs with a two-run single in the fifth. Tyler Wells (Danville, VT/University of New Haven) followed with a
6/1/21 Recap Sea Unicorns 14 Starfires 2 (7 IN)
Sea Unicorns Beat Starfires 14-2 in 7 Innings
(Norwich, CT) – The Norwich Sea Unicorns batted around twice in the first two innings en route to a 14-2 7-inning mercy rule victory over the Westfield Starfires. Norwich catcher Colton Bender (Lebanon, CT/Quinnipiac University) went 3-5 with three runs and two RBI and Matt Malcom (East Lyme, CT/Eastern CT
5/31/21 Recap Rox 8 Sea Unicorns 6
SEA UNICORNS RALLY FALLS SHORT TO ROX 8-6 IN FCBL DODD STADIUM DEBUT
(Norwich, CT) - The Norwich Sea Unicorns rallied in the ninth in front of their home fans for the first time in 2021, but the Brockton Rox held on for an 8-6 victory in the first game Futures Collegiate Baseball League game played at Dodd Stadium. Down 8-2 in the
5/30/21 Recap Sea Unicorns 6 Lake Monsters 2
Sea Unicorns Win First Game in FCBL 6-2 at Vermont
(Burlington, VT) - The Norwich Sea Unicorns won their first game in the Futures Collegiate Baseball League (FCBL) Sunday evening with a 6-2 victory on the road against the Vermont Lake Monsters. Local product Colton Bender (Lebanon, CT/Quinnipiac University) scored three runs, going 1-2 with three walks. Tremayne Cobb (Huntington,
5/29/21 Recap Lake Monsters 6 Sea Unicorns 3
Sea Unicorns Fall to Lake Monsters 6-3 on the Road
(Burlington, VT) - The Norwich Sea Unicorns fell to the Vermont Lake Monsters 6-3 on the road Saturday night. Andy Martin and Bryan Loriga both had two hits for Norwich. Martin came home on Loriga's double to left to grab an early lead in the first. Loriga drove in his