Norwich Sea Unicorns hire Eric Campbell as manager
Norwich native begins coaching career after 12-year professional playing career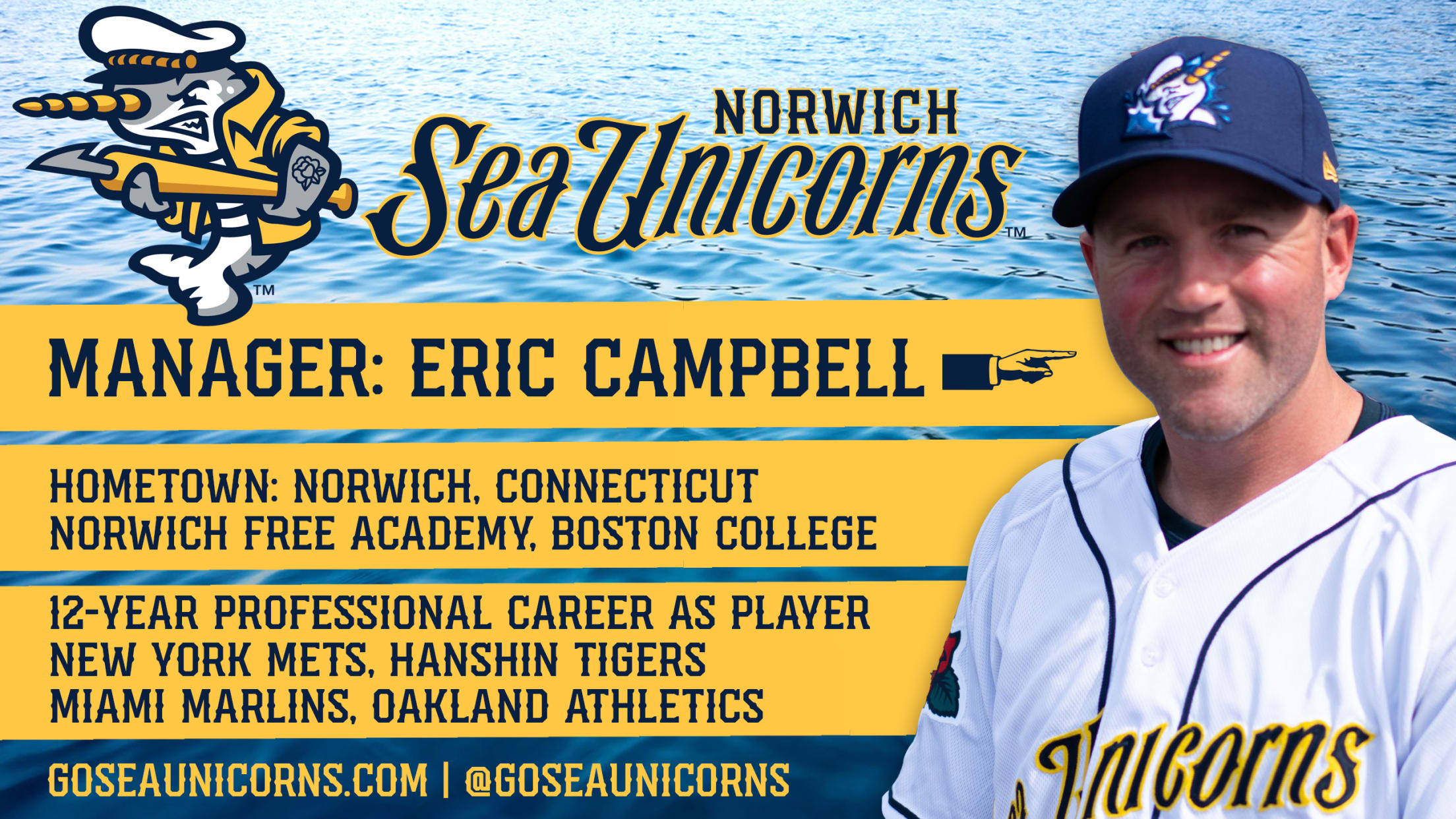 NORWICH, CT -- The Norwich Sea Unicorns announce the hiring of Norwich native Eric Campbell to serve as the team's on-field manager. Campbell recently finished a 12-year professional career as a player within the New York Mets, Miami Marlins and Oakland Athletics organizations. His career included the 2014-2016 seasons in
NORWICH, CT -- The Norwich Sea Unicorns announce the hiring of Norwich native Eric Campbell to serve as the team's on-field manager. Campbell recently finished a 12-year professional career as a player within the New York Mets, Miami Marlins and Oakland Athletics organizations.
His career included the 2014-2016 seasons in Major League Baseball with the New York Mets and the 2017 season with the Hanshin Tigers of Japan's Nippon Professional Baseball League. Campbell was drafted by the Mets in the eighth round of the 2008 MLB Draft following a standout career at Boston College. A 2005 graduate of Norwich Free Academy, Campbell was a member of the 2003 state championship baseball team alongside Sea Unicorns general manager Dave Schermerhorn.
"We are thrilled to have Eric lead our team on the field in 2021," said Sea Unicorns general manager Dave Schermerhorn. "His name is one that is very familiar to baseball fans in eastern Connecticut with good reason. His impressive experience as a collegiate and professional player paired with his incredible 'baseball IQ' made him our top choice to serve as manager from the start of this process. He will be a great influence on our players both on and off the field as they prepare for the next steps in their careers."
"I am excited to begin my second career in baseball as a coach," said Campbell. "To begin that career in Norwich and help grow the game in my hometown is an incredible opportunity. I was very fortunate to play for some of the best managers and coaches in baseball, and I look forward to teaching our young players the lessons I've learned along the way. We will be focused on putting together a talented and hard-working team that Norwich and all of southeastern Connecticut can be proud to come out and support".
The rest of the 2021 Sea Unicorns coaching staff will be announced in the coming weeks as it is finalized.
Founded in 2011, the Futures League is a wood-bat league featuring top collegiate baseball players from New England and throughout the country. On the field, over 200 FCBL alumni have been drafted by or signed with Major League Baseball organizations. The eight team league also includes the New Britain Bees (New Britain, CT), former New York-Penn League rival Vermont Lake Monsters (Burlington, VT), Brockton Rox (Brockton, MA), Nashua Silver Knights (Nashua, NH), Pittsfield Suns (Pittsfield, MA), Westfield Starfires (Westfield, MA) and Worcester Bravehearts (Worcester, MA).
The Norwich Sea Unicorns are located at Dodd Stadium in Norwich, Connecticut. The front office and box office are open daily from 9 a.m. to 5 p.m. Monday through Friday and can be accessed in person or by calling 860-887-7962. Sea Unicorns merchandise is available anytime by visiting goseaunicorns.com.