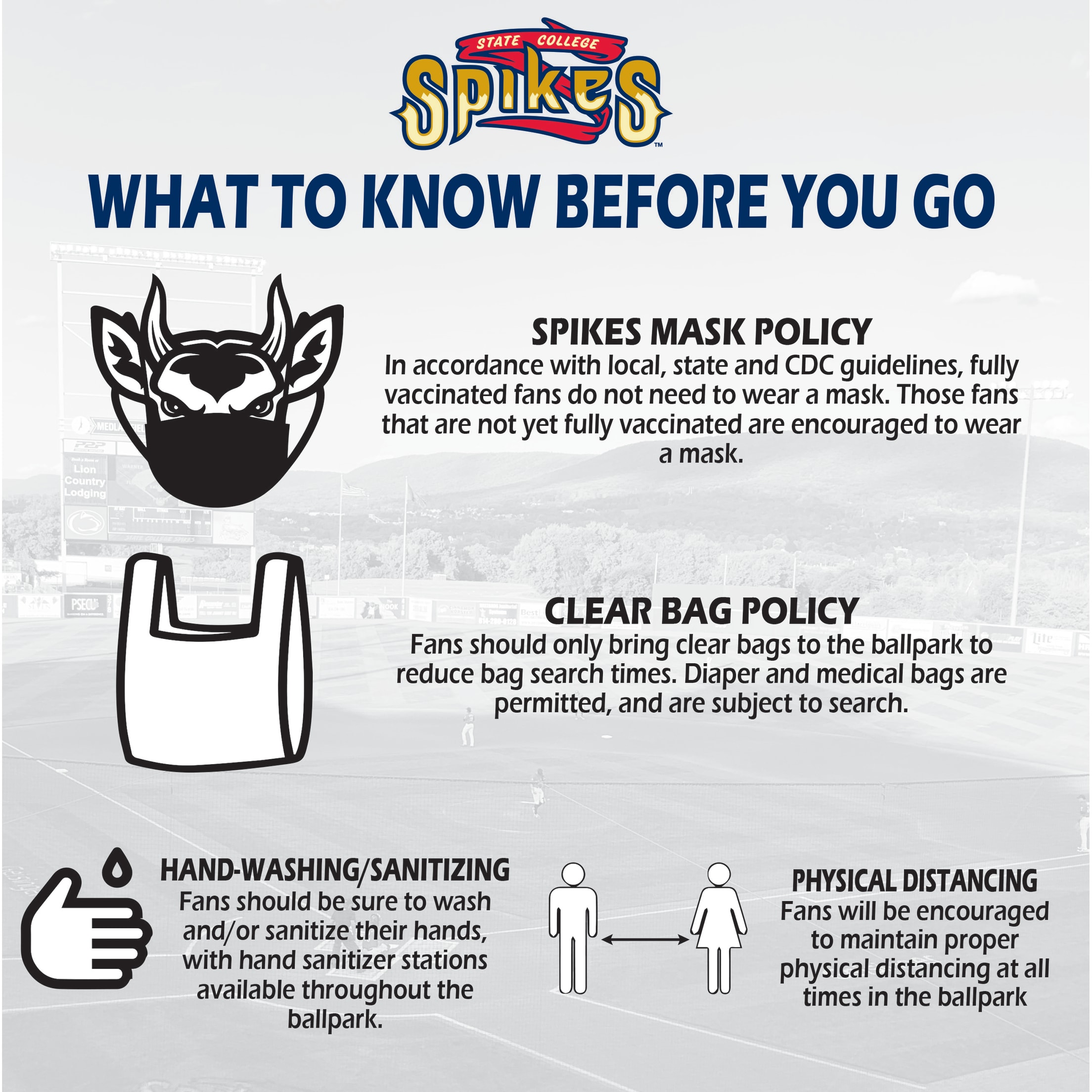 Know Before You Go
Spikes baseball is back! We're thrilled to invite you back for baseball and special events. In order to maximize the fun of Medlar Field at Lubrano Park, we're asking all visitors to help one another enjoy the experience together.
In accordance with guidance from the Commonwealth of Pennsylvania, local authorities, and the Centers for Disease Control (CDC), fans can expect the following when preparing to make their return to the ballpark.
Masks
Fully vaccinated fans do not need to wear a mask while at Medlar Field at Lubrano Park. Those fans who are not yet fully vaccinated are encouraged to wear a mask during their time at Medlar Field at Lubrano Park, unless eating or drinking.
Distanced Seating
For the first four home games of the 2021 season from May 24-30, the Spikes will have distanced seating at Medlar Field at Lubrano Park in accordance with current capacity restrictions. For the May 31 home game, and all others afterward, capacity will increase to 100% in all ballpark areas.
Clear Bag Policy
All bags brought into Medlar Field at Lubrano Park should be clear bags that can be seen through easily, reducing times for bag searches at entrance gates. Diaper and medical bags are not subject to this policy.
Player/Fan Interaction
Per Major League Baseball policy, players and coaches will not be allowed contact with fans, including autographs. Fans can purchase items at the Off the Rack Outfitters team store that can be given to Spikes personnel to have autographed by players and/or coaching staff members.
Parking/Traffic Changes
Due to ongoing construction, traffic is now one-way on Porter Road from the entrance of the ballpark's Porter North lot to the entrance of the Porter South lot, with only southbound traffic able drive through. Fans with VIP parking or ADA parking passes that plan to use the Porter North lot should enter Porter Road from Park Avenue.
Fans parking in Lot 44 (Jordan East) may use either College Avenue or Park Avenue to access Porter Road, and will enter the lot through Dauer Drive as is the usual procedure.
For more information on Spikes game day parking, fans can call 814-272-1711.
All protocols are subject to change as the season progresses, and the Spikes will notify fans of these changes if and when they occur.