Dust Devils Denied by Spokane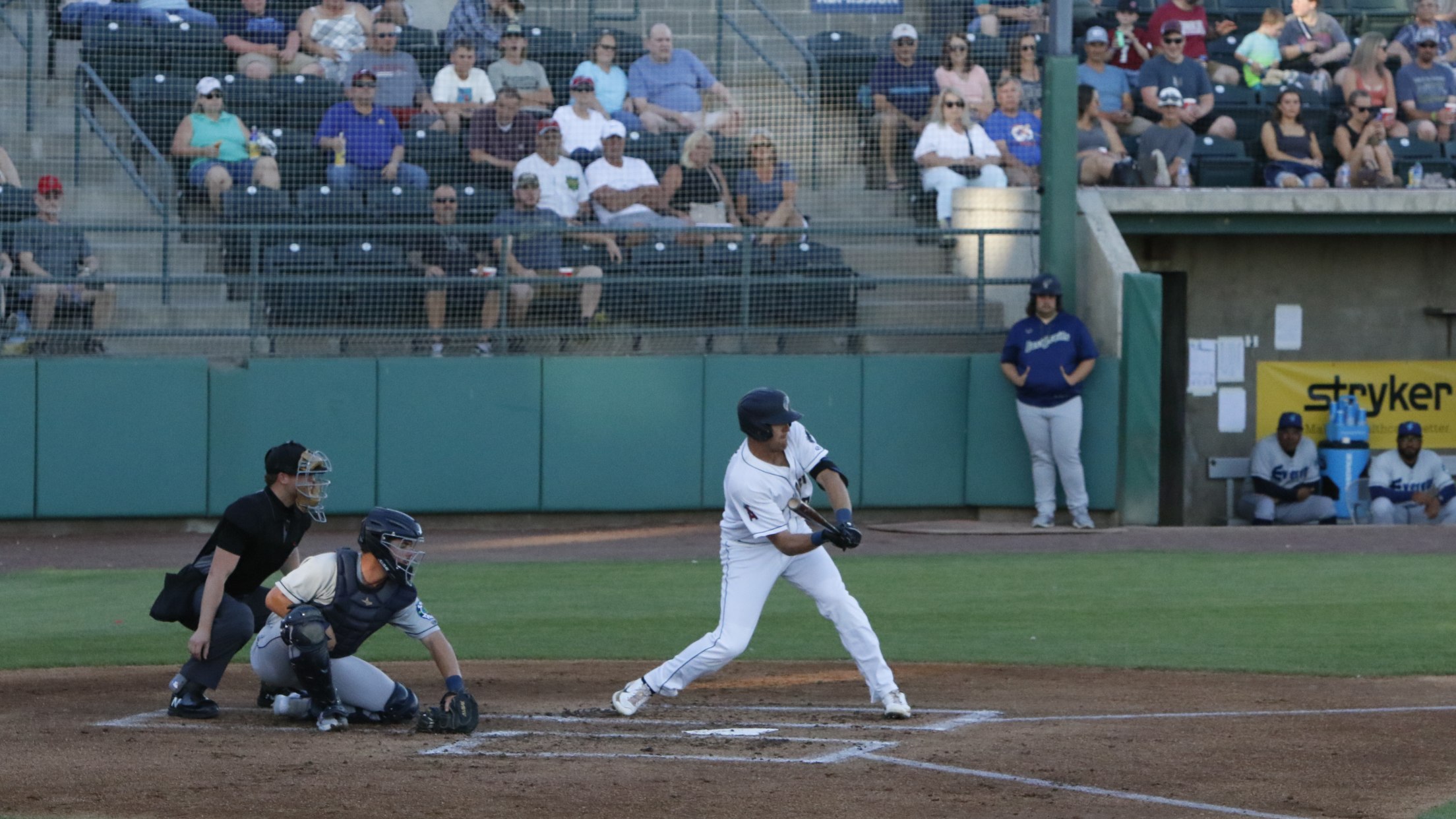 The visiting Spokane Indians (12-13 2H, 46-43) scored twice in their first at-bat and, despite getting close, the Tri-City Dust Devils (9-17 2H, 38-51) could not catch up in a 5-2 loss Wednesday night at Gesa Stadium. The Indians got both 1st inning runs off Robinson Piña (6-5) with two
The visiting Spokane Indians (12-13 2H, 46-43) scored twice in their first at-bat and, despite getting close, the Tri-City Dust Devils (9-17 2H, 38-51) could not catch up in a 5-2 loss Wednesday night at Gesa Stadium.
The Indians got both 1st inning runs off Robinson Piña (6-5) with two outs, leading wire-to-wire. Spokane added a run in the top of the 3rd inning via a wild pitch to push the lead to 3-0.
The Dust Devils got a run back in the bottom of the 3rd inning. Straton Podaras and Kyren Paris both drew walks, with Podaras reaching third on a force out. Osmy Gregorio then singled Podaras in with two outs, making it a 3-1 game.
Tri-City would get closer in the 4th inning, with Mitch Nay scoring a run on a double play grounder to get within a run at 3-2. Nay and Jose Guzman both had multi-hit games, with Guzman now with five hits in his last two games.
The Indians scored runs in the 5th and the 8th innings to extend the lead back to three runs, with the Dust Devils getting no closer.
Anderson Pilar (4-2) got the win in relief in Spokane, pitching the 5th and 6th innings. Tyler Ahearn closed out the game for his second save at the High-A level.
Offensively, Paris and Podaras both walked twice, and Paris reached base three times by adding an infield single.
Bullpen-wise, Tri-City got strong performances from Dylan King and Glenn Albanese. King threw two scoreless innings and Albanese pitched the 9th without giving up a run.
The Dust Devils and Indians face off in game three of their six-game series at 7:05 p.m. Thursday night at Gesa Stadium. Two righties will start, as Zac Kristofak (1-2, 2.93 ERA) will go for Tri-City and Andrew Quezada (6-0, 3.88 ERA) for Spokane.
The game broadcast begins with the King Beverage Budweiser Pregame Show at 6:50 p.m. at dustdevilsbaseball.com and the MiLB First Pitch app.
Tickets for the series, including the return of the Columbia River Rooster Tails Friday-Sunday, and all games are on sale now. Ticket packages are also available and start at just $99, and special ticket rates are available for groups of 20 or more. For more information on Dust Devils single game, season, mini-plan (11, 22, 33) and group tickets, visit dustdevilsbaseball.com or call 509-544-8789.