Dust Devils Shut Out Canadians, Swat Ball All Over Yard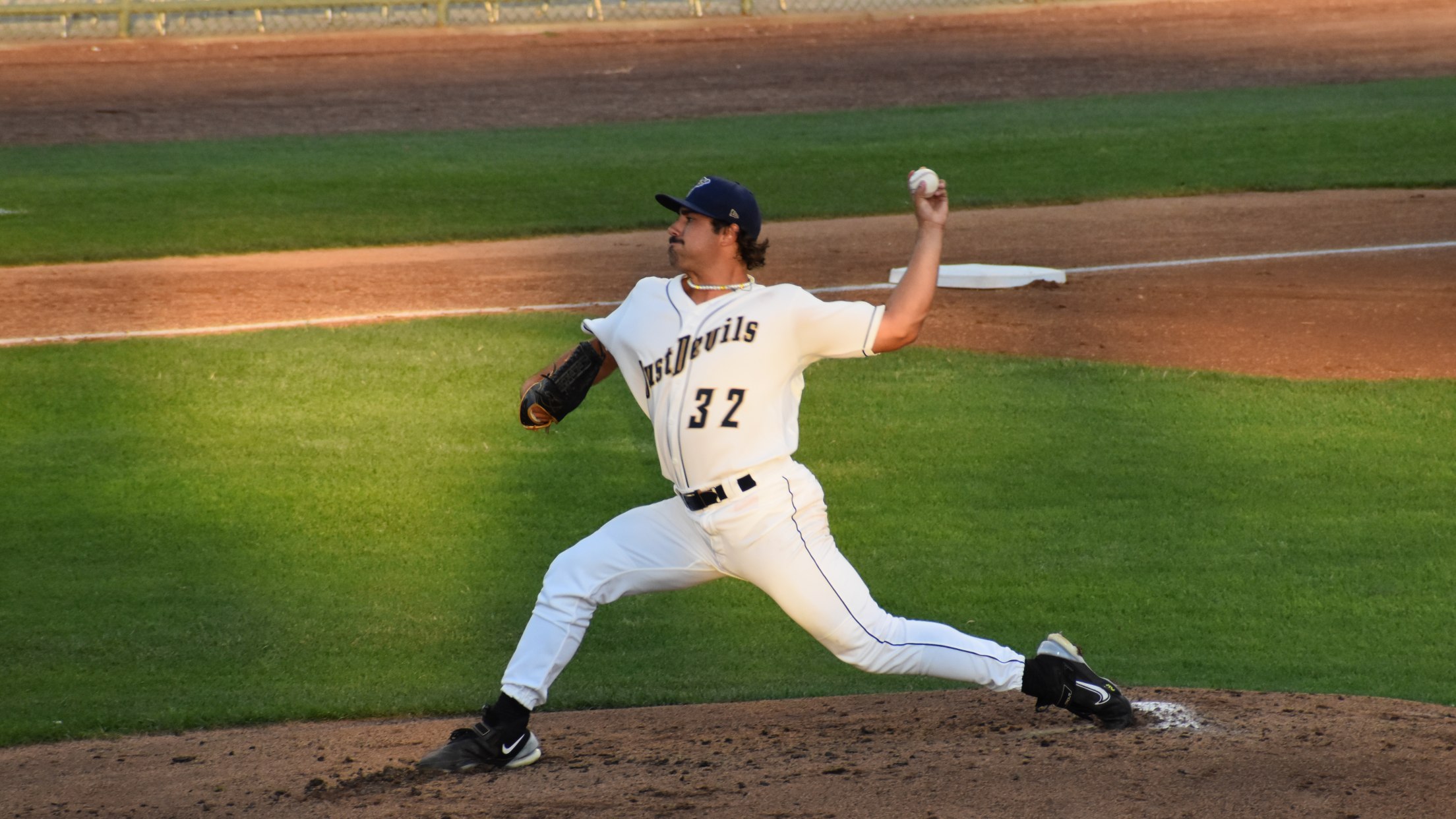 The Tri-City Dust Devils (23-38 2H, 57-70) backed a triumvirate of pitchers with six extra-base hits Thursday night on the way to a 4-0 shutout win over the Vancouver Canadians (37-26 2H, 75-53) at Gesa Stadium. Tri-City starter Nick Horvath and relievers Alex Martinez (1-0) and Glenn Albanese, Jr., combined
The Tri-City Dust Devils (23-38 2H, 57-70) backed a triumvirate of pitchers with six extra-base hits Thursday night on the way to a 4-0 shutout win over the Vancouver Canadians (37-26 2H, 75-53) at Gesa Stadium.
Tri-City starter Nick Horvath and relievers Alex Martinez (1-0) and Glenn Albanese, Jr., combined to strike out 11 Vancouver batters on the night. Horvath gave up three hits in his four innings of work, striking out seven and escaping a bases-loaded situation in the top of the 3rd. Martinez took on the middle innings, throwing 2.1 innings of two-hit ball, and Albanese, Jr., struck out three in his 2.2 innings that closed out the game, getting his first save of 2023.
At the plate the Dust Devils wasted no time, scoring their first run two batters into their night. Leadoff man SS Caleb Ketchup drilled a line drive over Canadians CF Garrett Spain and raced to third for a triple. DH Joe Redfield followed with a groundball to the right side deep enough to score Ketchup for a 1-0 1st inning lead.
The home nine were back on the board an inning later, this time via a two-out rally. C Caleb Pendleton doubled down the left field line to get in scoring position, and LF Casey Dana dropped a pitch from starter Kevin Miranda (2-5) into shallow center just out of the reach of a diving Spain for an RBI single and 2-0 advantage through two.
The game settled in from there for five innings, with Dust Devils pitching escaping threats with strikeouts and Vancouver pitching matching. That changed in the bottom of the 7th, where Tri-City scored twice to again double their lead. Pendleton led off with a single as part of a 2 for 3 night, remaining at first with one out. Redfield returned to the plate and pulled a double down the right field line, scoring Pendleton for his second RBI and a 3-0 advantage.
That brought up CF Joe Stewart, Wednesday's walk-off hero. He helped put the need for a walk-off further out of range by following his teammate down the right field line for an RBI triple, plating Redfield for the final 4-0 margin. The visitors continued to try to mount a charge but came up empty, leaving 13 runners on base for the evening.
RF Alexander Ramirez had another great night for his team, going 2 for 3 with a double and making a diving catch early to take a hit away. The outfielder from Santo Domingo, the Dominican Republic has hit .317 in his last 15 games to finish out the season strongly. 2B Will McGillis added a double in the bottom of the 4th inning, his fifth in just ten games at the High-A level.
The Dust Devils now lead the series two games to one and are 7-3 against the Canadians in 2023 at Gesa Stadium. The two teams will square off in game four of their six-game set at 6:30 p.m., with Tri-City playing as the Columbia River Rooster Tails for the final time this season. It will be Rooster Tails Jersey Auction Night at the ballpark, presented by BNSF, with fans getting the chance to bid on their favorite Rooster Tails jersey and possibly take it home after the game.
It's also a Family Feast Night presented by Atomic Dermatology, with $2 hot dogs, 12 oz. Coca-Cola products, bags of chips, ice cream sandwiches and Laffy Taffy ropes available for all to enjoy.
Tri-City has announced left-hander C.J. Mayhue (1-0, 2.61 ERA) will go to the mound, and right-hander Hunter Gregory (0-6, 4.25 ERA) the same for Vancouver. Broadcast coverage will begin with the pregame show at 6:10 p.m., both here and at the MiLB First Pitch app.
Tickets for both Friday's Rooster Tails return and the weekend's fireworks nights to close out 2023 are on sale now, with special ticket rates available for groups of 20 or more. For more information on Dust Devils single game, season, mini-plan (11, 22, 33) and group tickets, visit dustdevilsbaseball.com, call the team office at (509) 544-8789, or visit the team office (10 a.m. to 5 p.m. on game nights, or Monday-Friday 9 a.m. to 5 p.m. otherwise).