Tri-City Bested by Spokane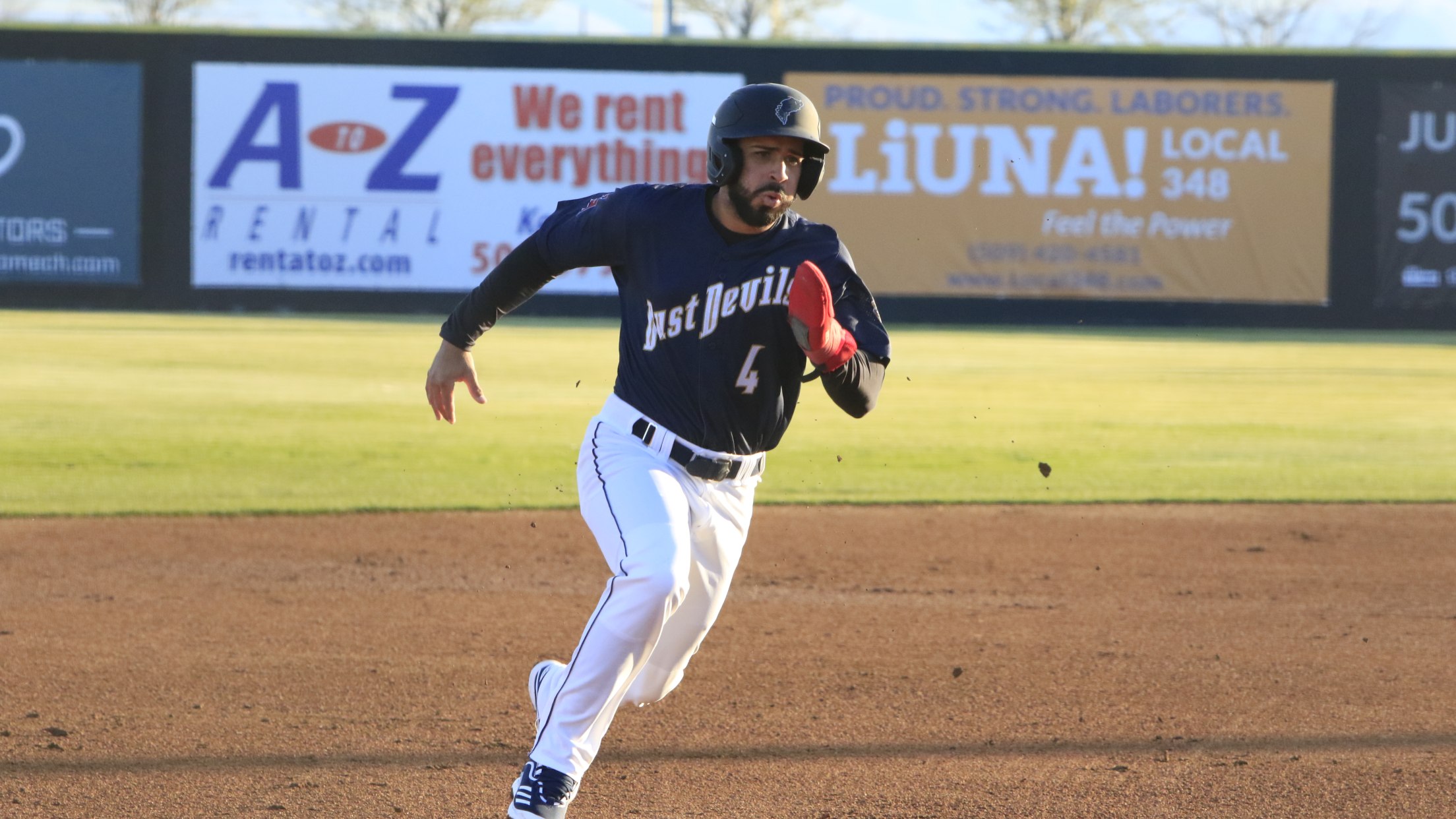 The Tri-City Dust Devils (9-16 2H, 38-50) and Spokane Indians (11-13 2H, 45-43) played a scoreless ballgame through the first four innings, but the visitors ramped up the offense the rest of the way and took a 9-3 victory over the Dust Devils Tuesday night at Gesa Stadium. The Dust
The Tri-City Dust Devils (9-16 2H, 38-50) and Spokane Indians (11-13 2H, 45-43) played a scoreless ballgame through the first four innings, but the visitors ramped up the offense the rest of the way and took a 9-3 victory over the Dust Devils Tuesday night at Gesa Stadium.
The Dust Devils scored their runs in the 8th inning, putting a threat together that gave the home nine a chance to get back in the ballgame after trailing 7-0. Kyle Lovelace led off the inning with a walk, and Jose Guzman followed with a double to put two runners in scoring position with no one out.
Guzman had a big night at the plate for Tri-City, going 3 for 4 with two singles and the double.
Kyren Paris then hit a groundball to third base, scoring Lovelace, but a low throw allowed Paris to reach and keep the pressure on. D'Shawn Knowles then grounded out to the right side, scoring Guzman from third to make it a 7-2 game. Mike Peabody then hit a two-out single the opposite way to score Paris and bring the Dust Devils within a 7-3 margin.
The Indians answered in the 9th, though, scoring two runs to push the lead to 9-3. Spokane scored two in the 5th off starter Jose Salvador (1-6) to open the scoring.
Salvador finished his outing pitching five innings, striking out six and walking one in just 73 pitches. Nathan Burns added a scoreless inning of relief in the 8th, but Spokane otherwise got to the Tri-City bullpen, scoring twice in the 6th, three times in the 7th and two more runs in the 9th.
The Indians' Will Ethridge (5-5) went six scoreless innings for the win, his second win over the Dust Devils in 2022.
Tri-City will look to rebound Wednesday night in game two of the six-game series with Spokane, scheduled for a 7:05 p.m. first pitch. Two of the winningest pitchers in the Northwest League will face off, as righty Robinson Piña (6-4, 2.76 ERA) starts for the Dust Devils and lefty Joe Rock (7-6, 3.54 ERA) going for the Indians.
The game broadcast begins with the King Beverage Budweiser Pregame Show at 6:50 p.m. at dustdevilsbaseball.com and the MiLB First Pitch app.
Tickets for the series, including the return of the Columbia River Rooster Tails Friday-Sunday, and all games are on sale now. Ticket packages are also available and start at just $99, and special ticket rates are available for groups of 20 or more. For more information on Dust Devils single game, season, mini-plan (11, 22, 33) and group tickets, visit dustdevilsbaseball.com or call 509-544-8789.