'Birds Look to Cool the "Hot" Hot Rods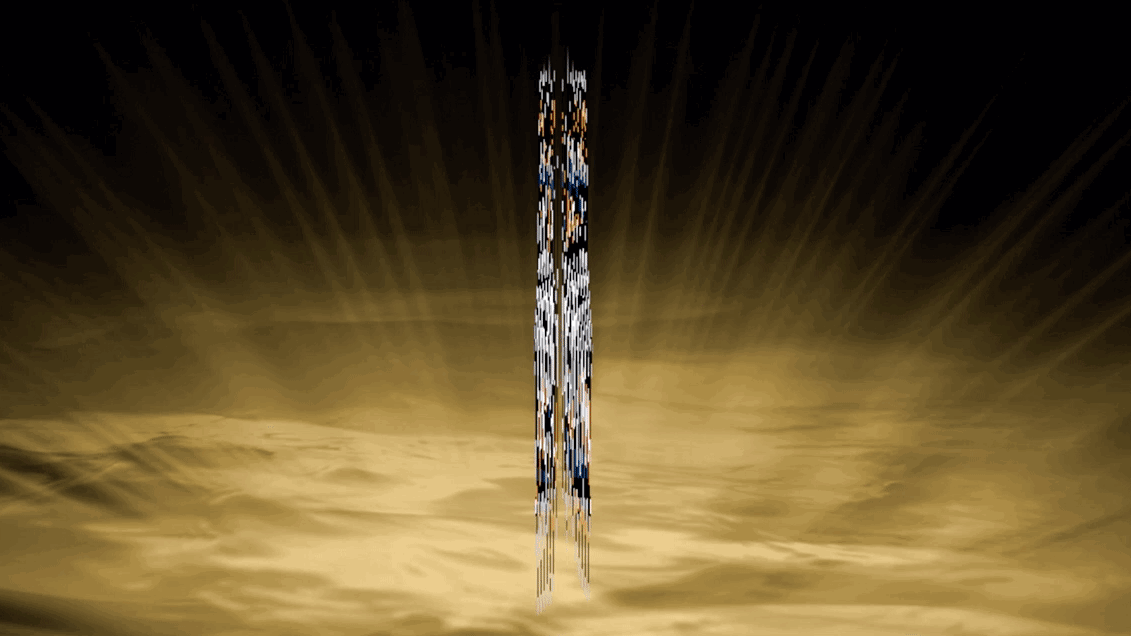 The IronBirds are heading into the second part of arguably their most difficult run of home games. With the departure of Hudson Valley, the Bowling Green Hot Rods will be making their way to Leidos Field at Ripken Stadium for the first time in their club's history. Bowling Green currently
Hudson Valley Renegades make their return to Leidos Field at Ripken Stadium.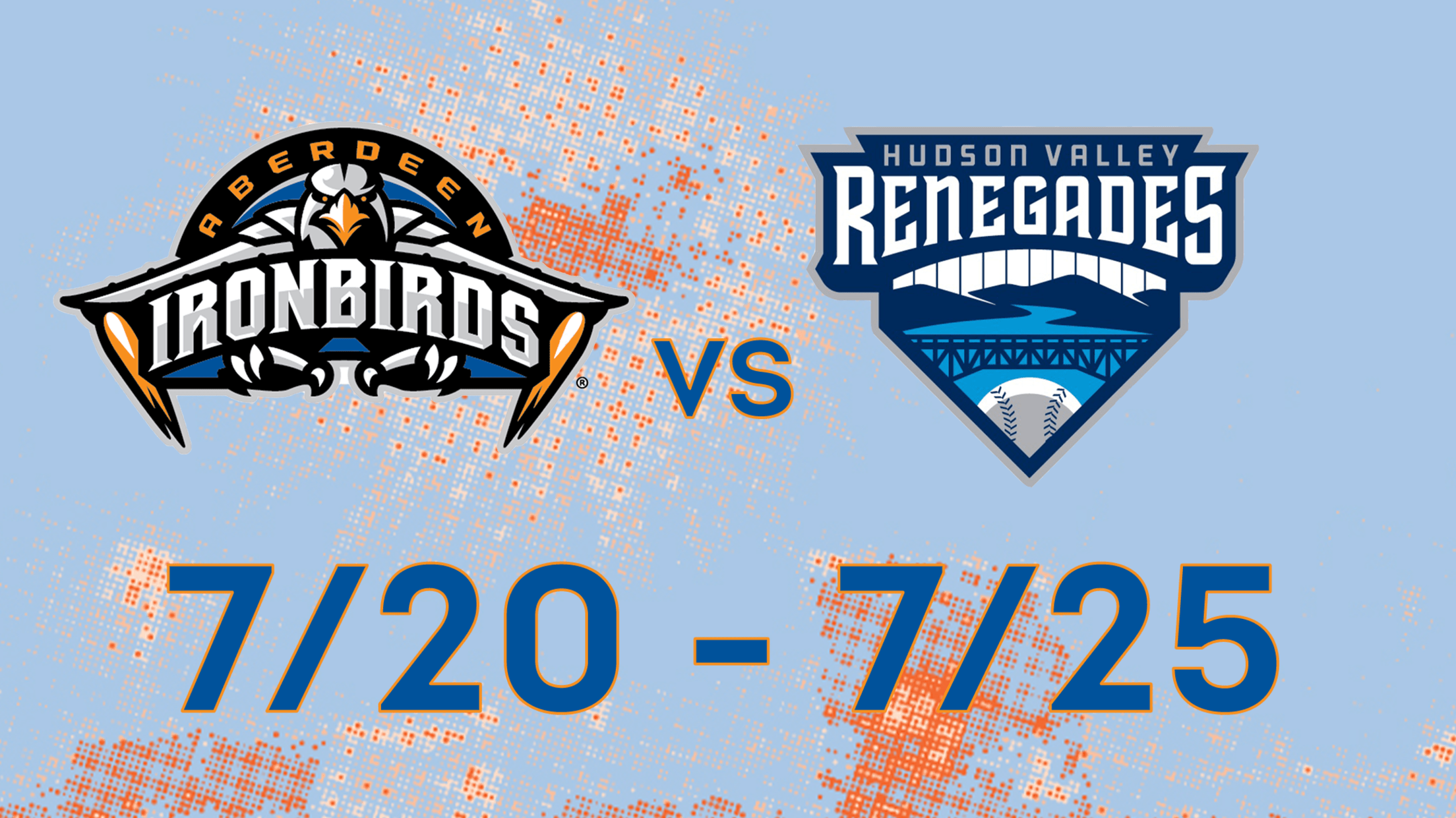 We've made it to mid-July baseball, the Birds are back in Aberdeen and they're ready to start another two-series homestand! First up on this homestand are the The Hudson Valley Renegades, High A affiliate of the New York Yankees. They are making their way to Aberdeen sitting at first place
Three Crab Feast dates have been announced for the 2021 season!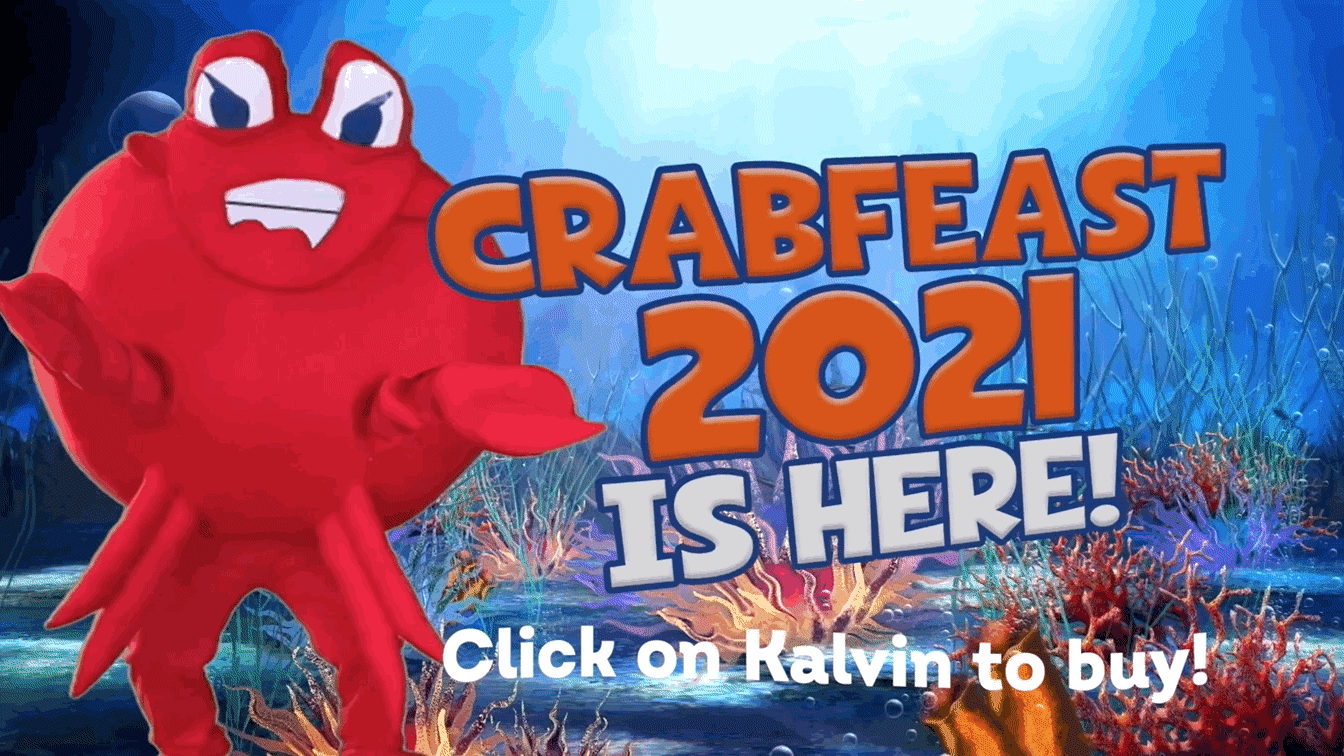 The Aberdeen IronBirds are happy to announce the much anticipated (and wildly popular) Crab Feast dates for the 2021 season! Fans will be able to purchase tickets today, Tuesday, July 6th 2021 at 3 p.m. Just below you can find all the information pertaining to 2021 Crab Feasts Dates: Sunday,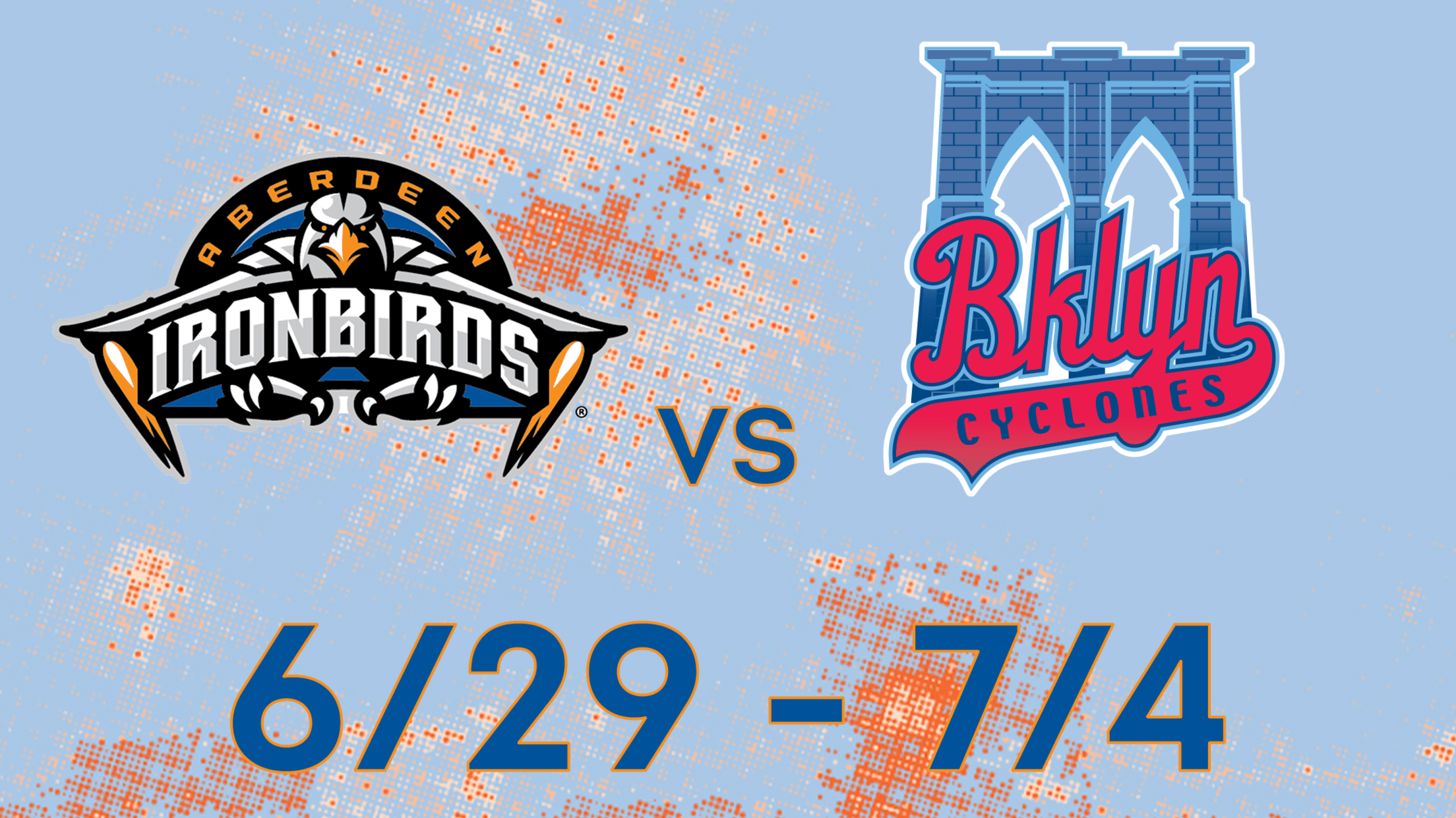 As the IronBirds enter their fourth homestand of the 2021 season, it is no secret that wins have become hard earned and hard to come by. After a meteoric start to the season, the IronBirds have slid to 2nd place in the North division and are currently 4.5 behind New
IronBirds look to return to winning ways in third home series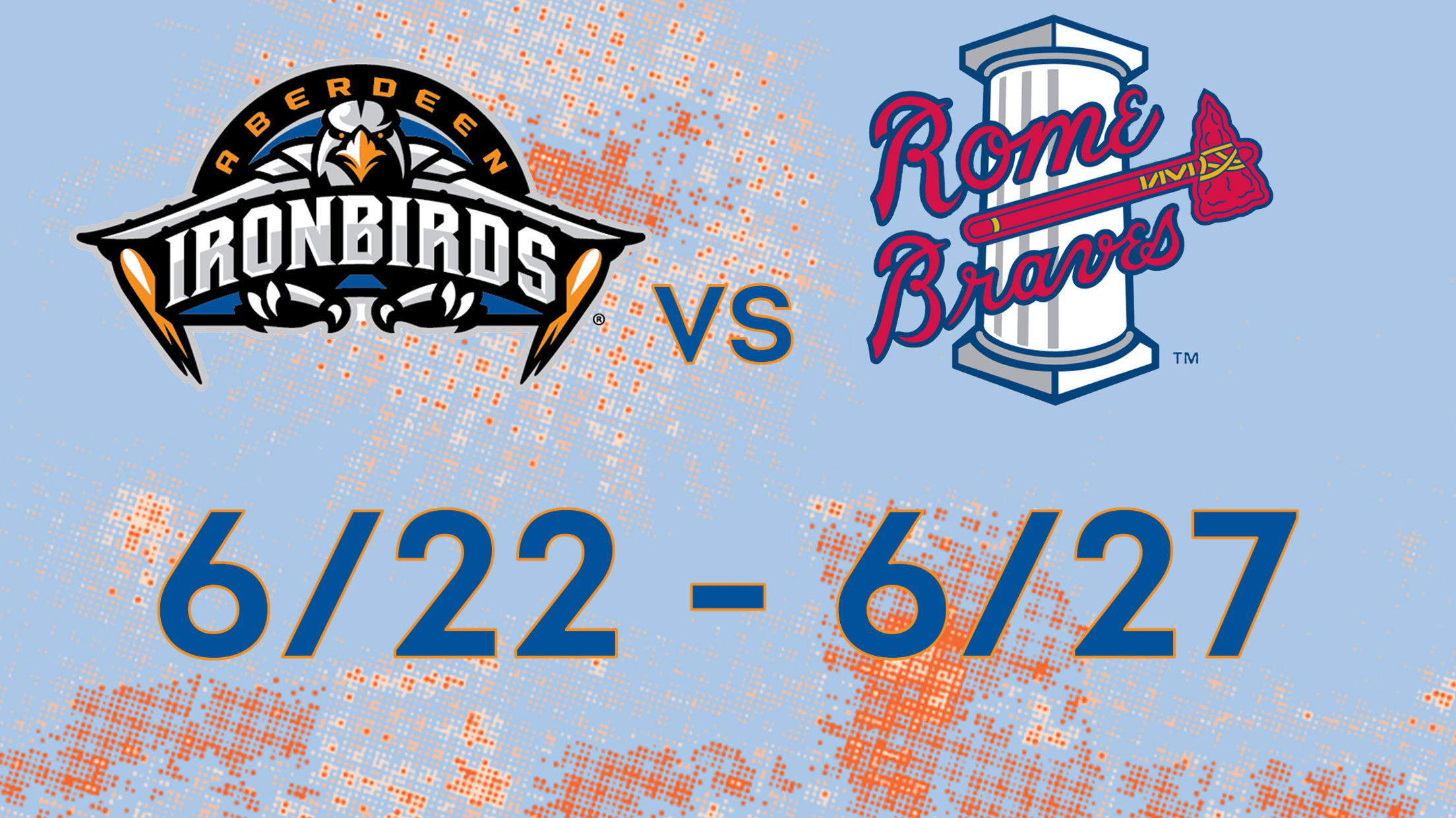 When in Aberdeen... It has been two weeks too long since we've had a 'Birds home game. But, we have good news! The 'Birds are back in action against the Rome Braves, tomorrow, June 22nd, as they look to get back to their winning ways here at Leidos Field. The
Aberdeen is latest stop added to Team Israel tour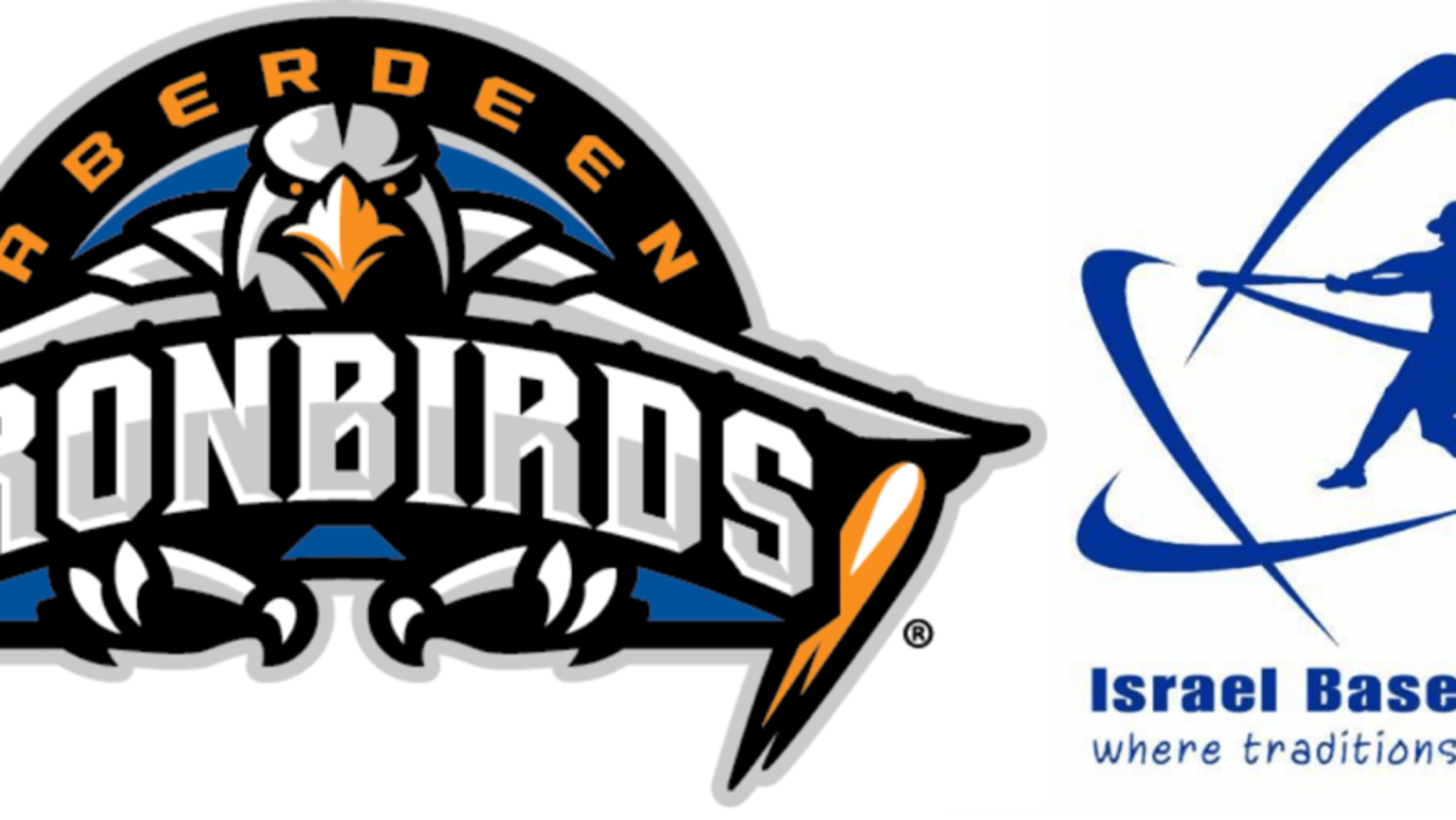 TEL AVIV – Israel's national baseball team will continue its pre-Olympic tour of the Northeastern United States when it plays the Cal Ripken League All-Stars in an exhibition game at Leidos Field at Ripken Stadium in Aberdeen, Maryland, on Monday, July 19. The first pitch is scheduled for 6:00 p.m.
IronBirds ASSEMBLE! Movie Night Tickets HERE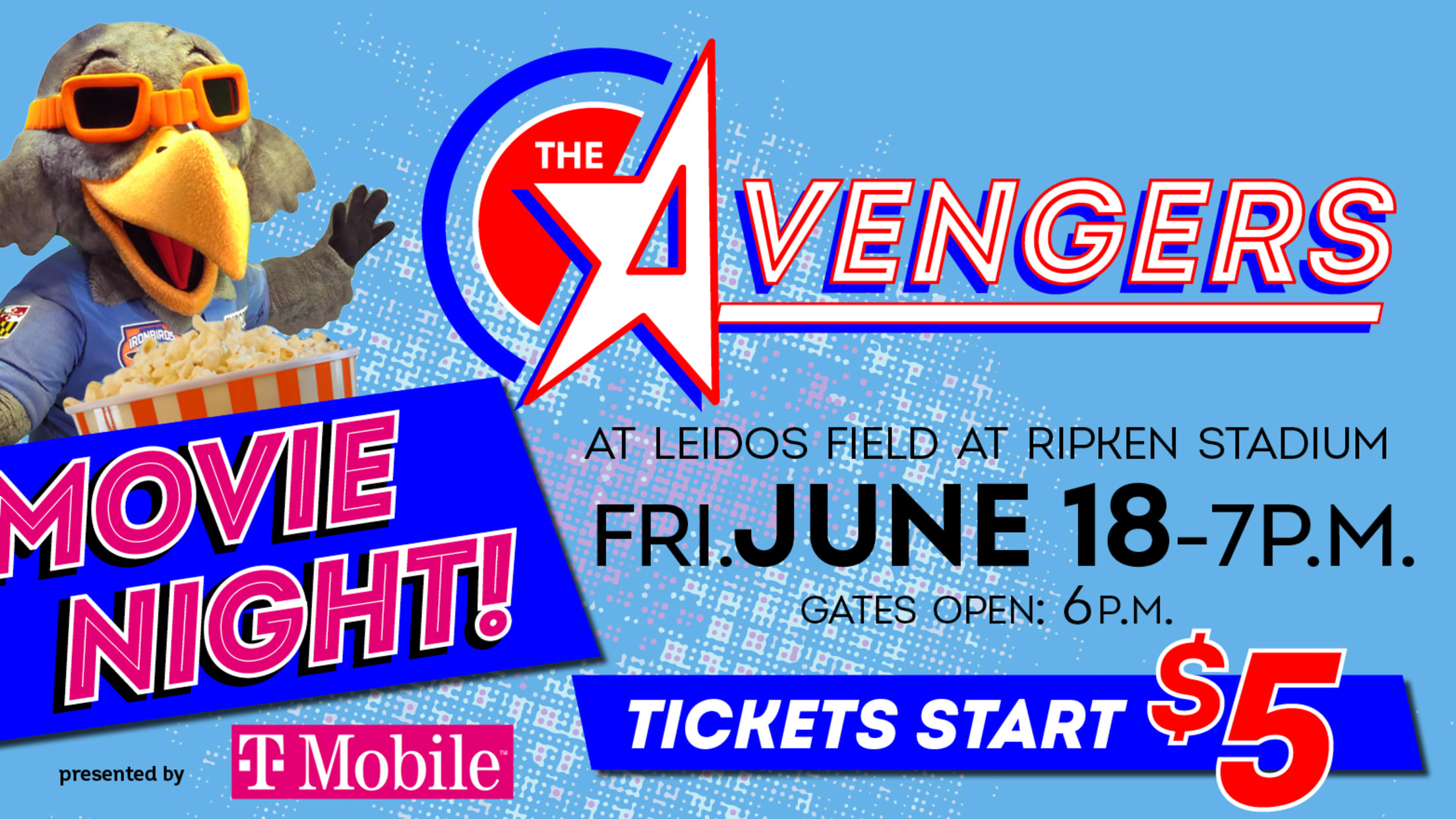 Movie Night #3 is quickly approaching and will feature The Avengers! Click Here to Purchase Tickets!
A New Challenger Approaches...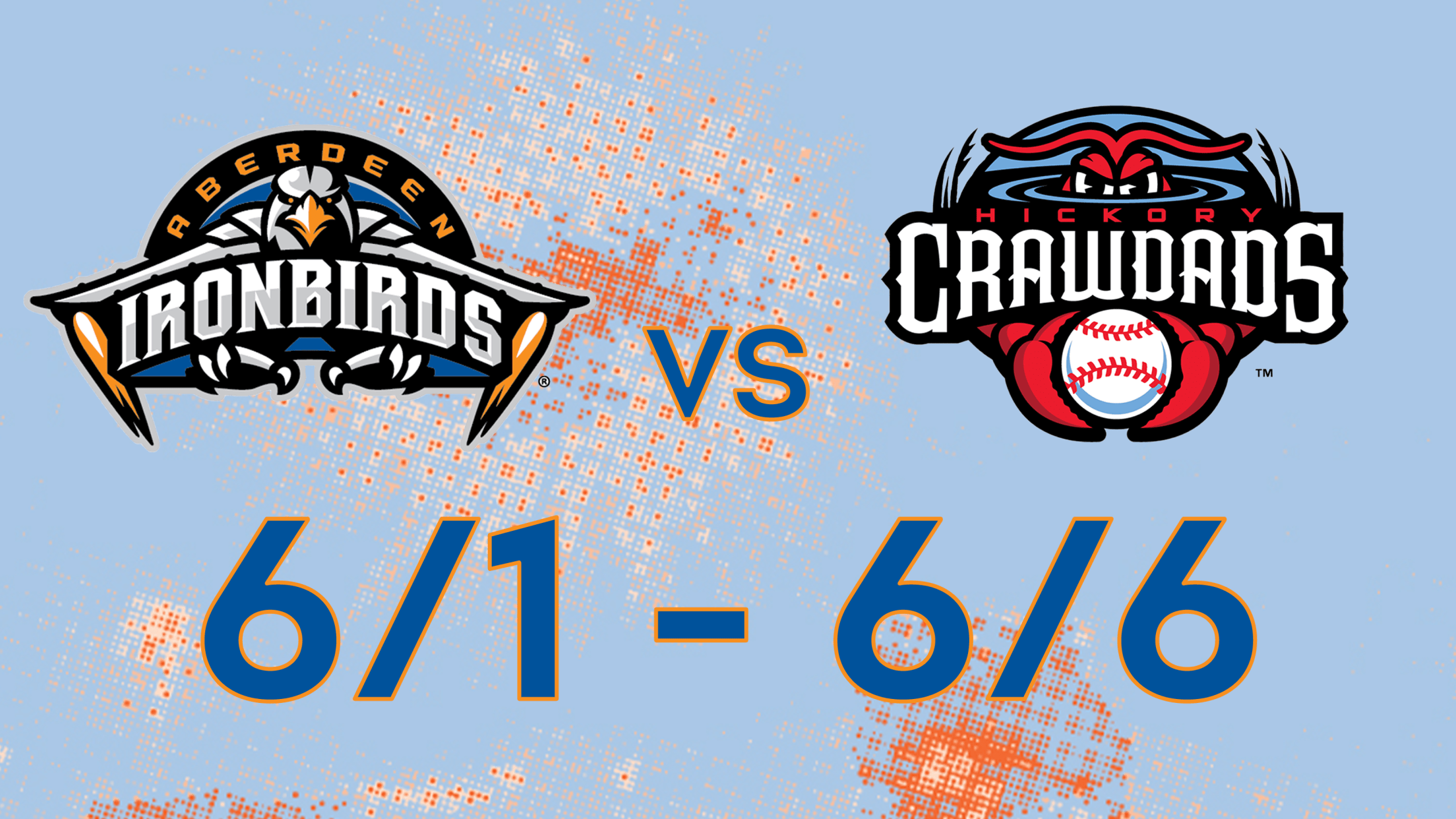 Baseball is back and in full swing. As the IronBirds make their way through the scheduled early few series (three being away and one at home) The 'Birds will be returning to Leidos Field on Tuesday, June 1st. The team they will be greeted by when they return is an
Future Tickets Still available for IronBirds games!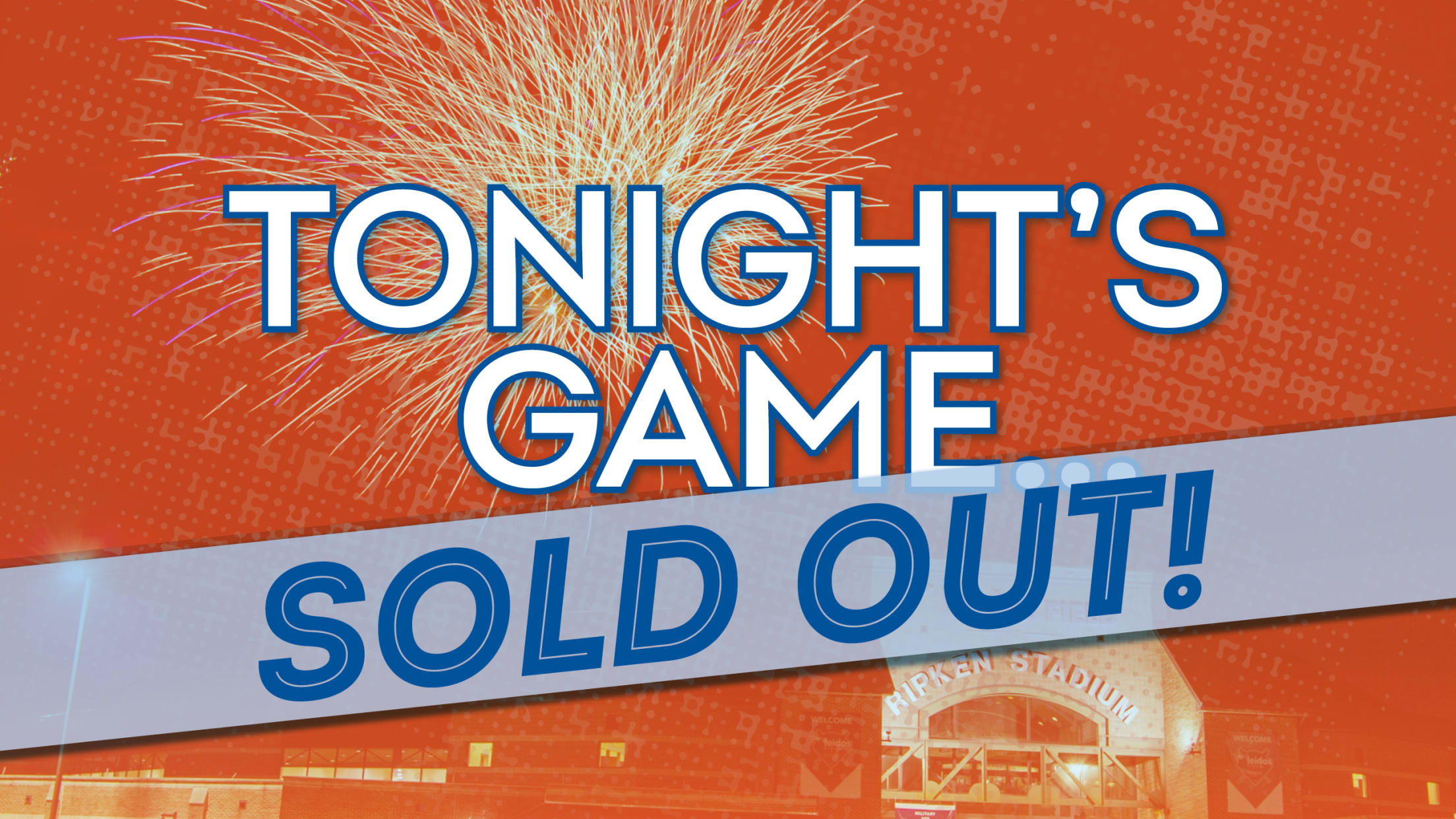 The game for today, Sunday, May 23rd at 2:00pm against the Wilmington Blue Rocks is sold out! The IronBirds have a limited capacity due to the mass-vaccination site occupying 50% of the parking lot at Leidos Field at Ripken Stadium. Face coverings and social distancing are NOT required at IronBirds
Movie Night #2 Tickets Now Available!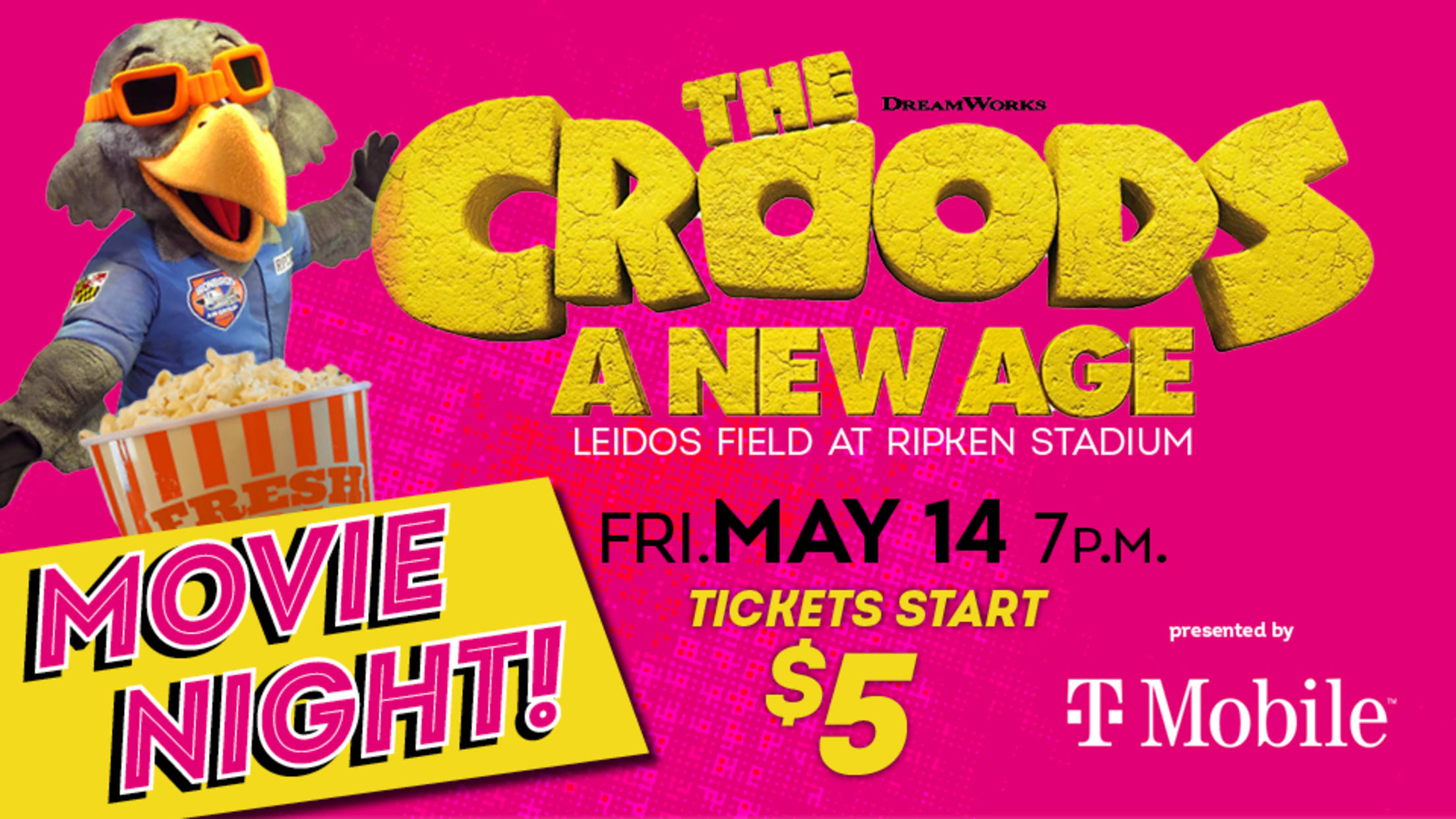 Click here to purchase tickets!
Click to learn more about the return of baseball to Aberdeen and view the official Fan Guide for the 2021 season.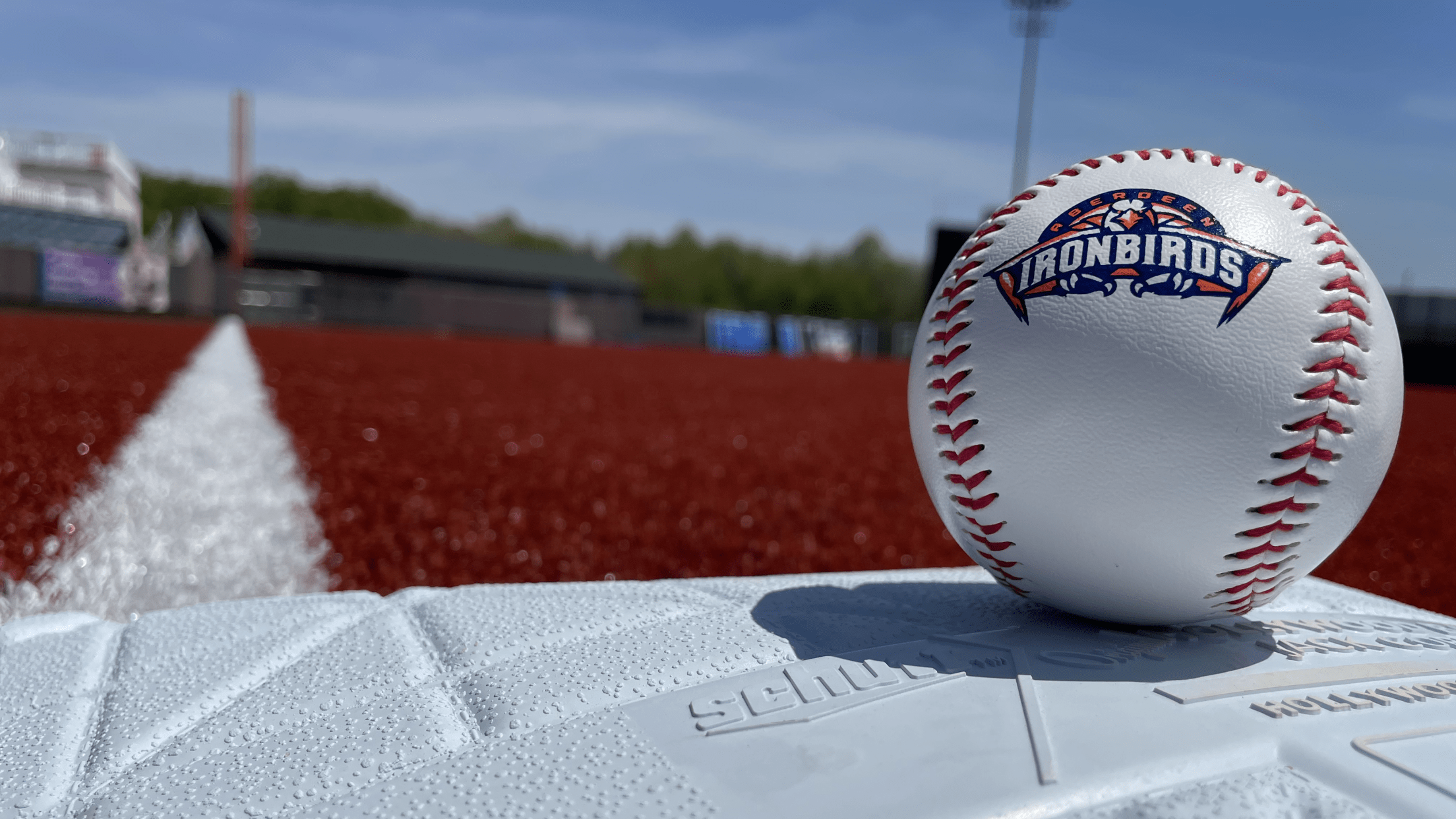 Baseball is Back in Aberdeen After a the longest offseason in club history, baseball will finally be played again at Leidos Field at Ripken Stadium on Tuesday May 18th , 2021. ABERDEEN, Md., April 28, 2021 The Aberdeen IronBirds, Advanced-A affiliate of the Baltimore Orioles, are proud to announce their
The Aberdeen IronBirds and presenting sponsor T-Mobile will feature "A League of Their Own" with the first of a three movie night series throughout the Spring.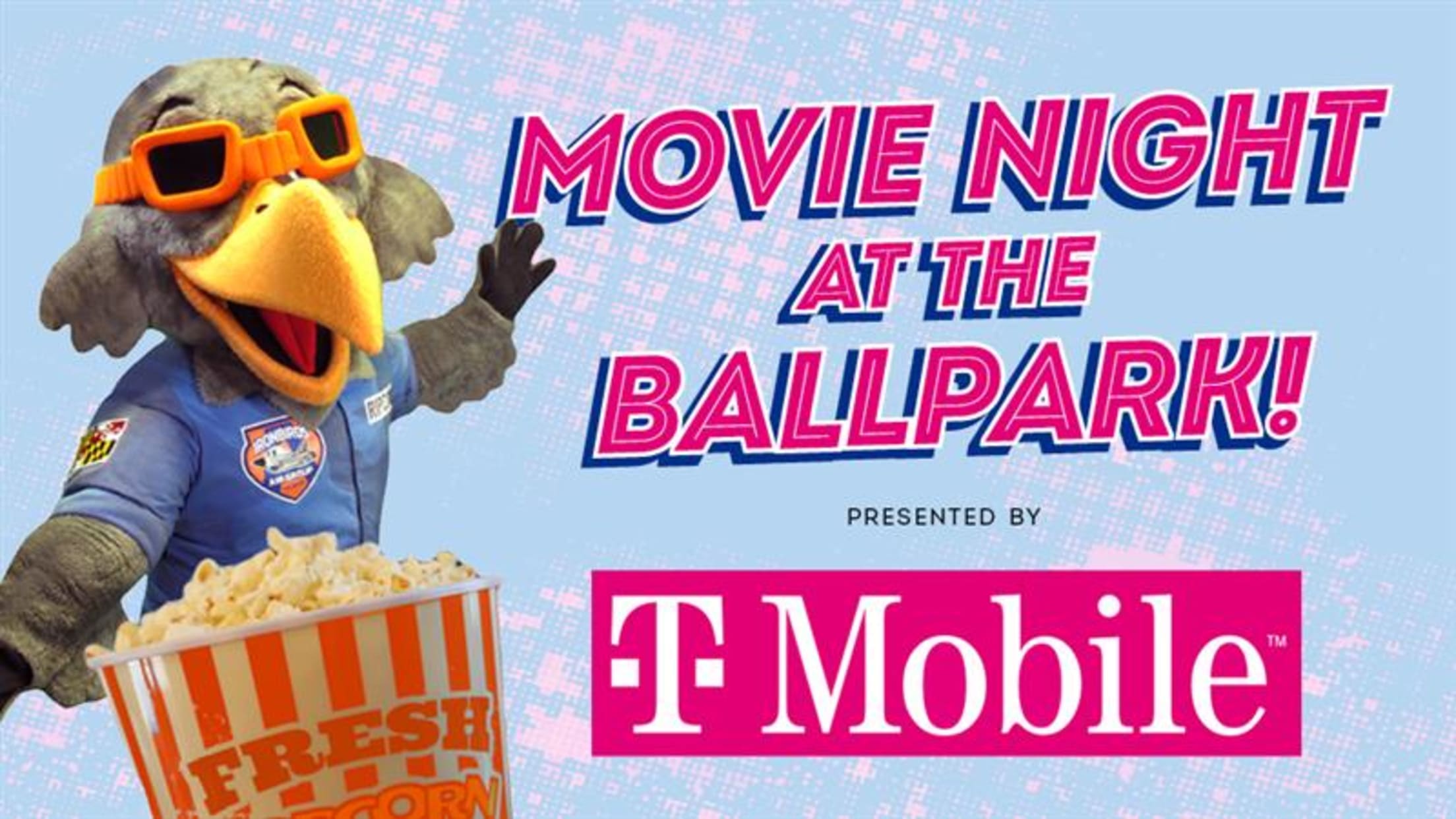 The first movie night at Leidos Field at Ripken Stadium in 2021 will be taking place on Friday, April 23rd with a baseball classic, "A League of Their Own". Gates will open at 6 p.m. with the movie beginning at 7 p.m. Attendees can come hungry as concession stands will
2021 IronBirds Coaching Staff Announced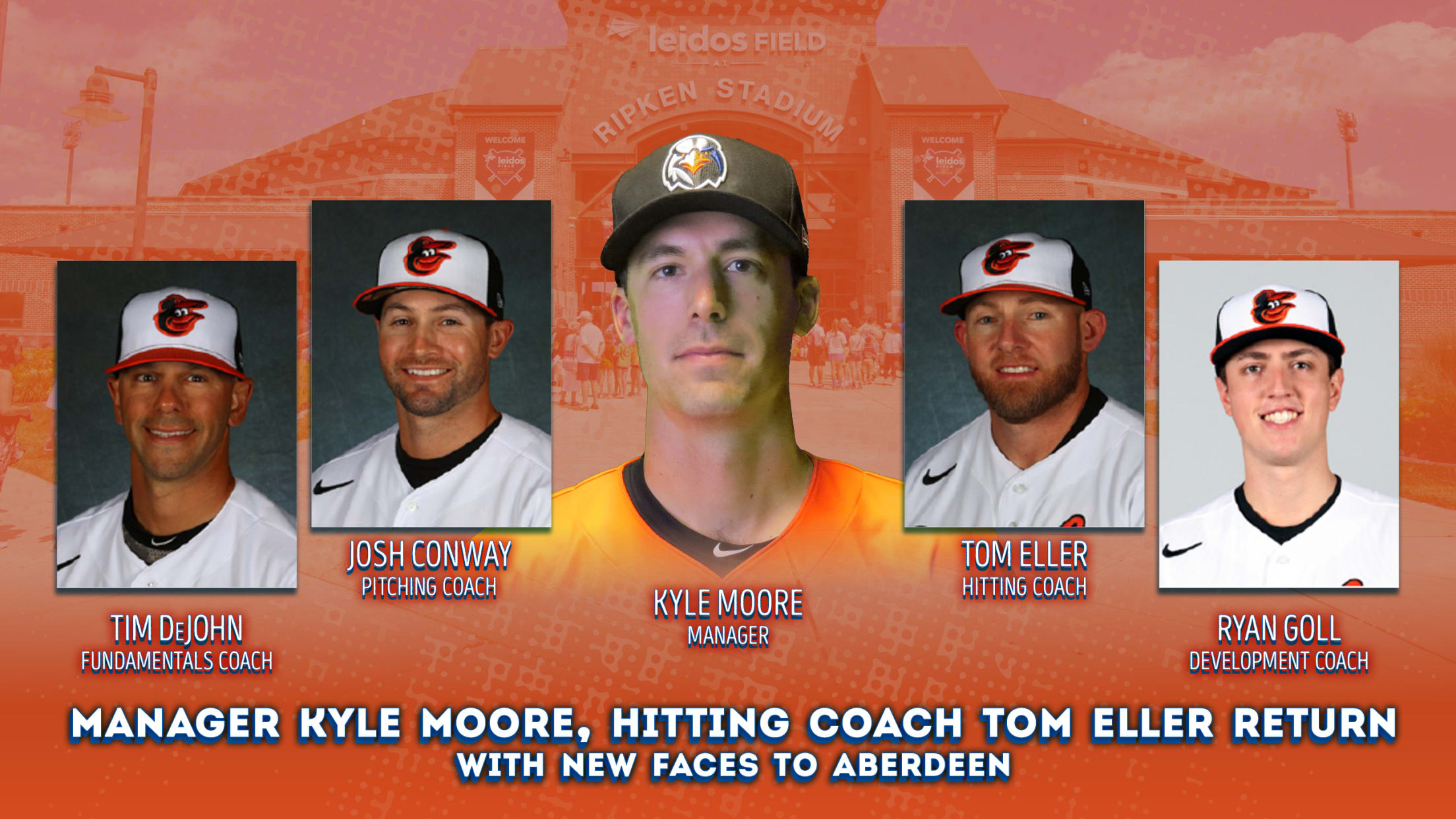 ABERDEEN, Maryland - Kyle Moore returns to manage the IronBirds, his first at the Advanced-A level, after also managing Aberdeen in 2018 when they were a Short-Season A club. It is Moore's fourth managerial season in the Orioles organization. He was named the manager of the Class A-Advanced Frederick Keys
2021 IronBirds Schedule Released!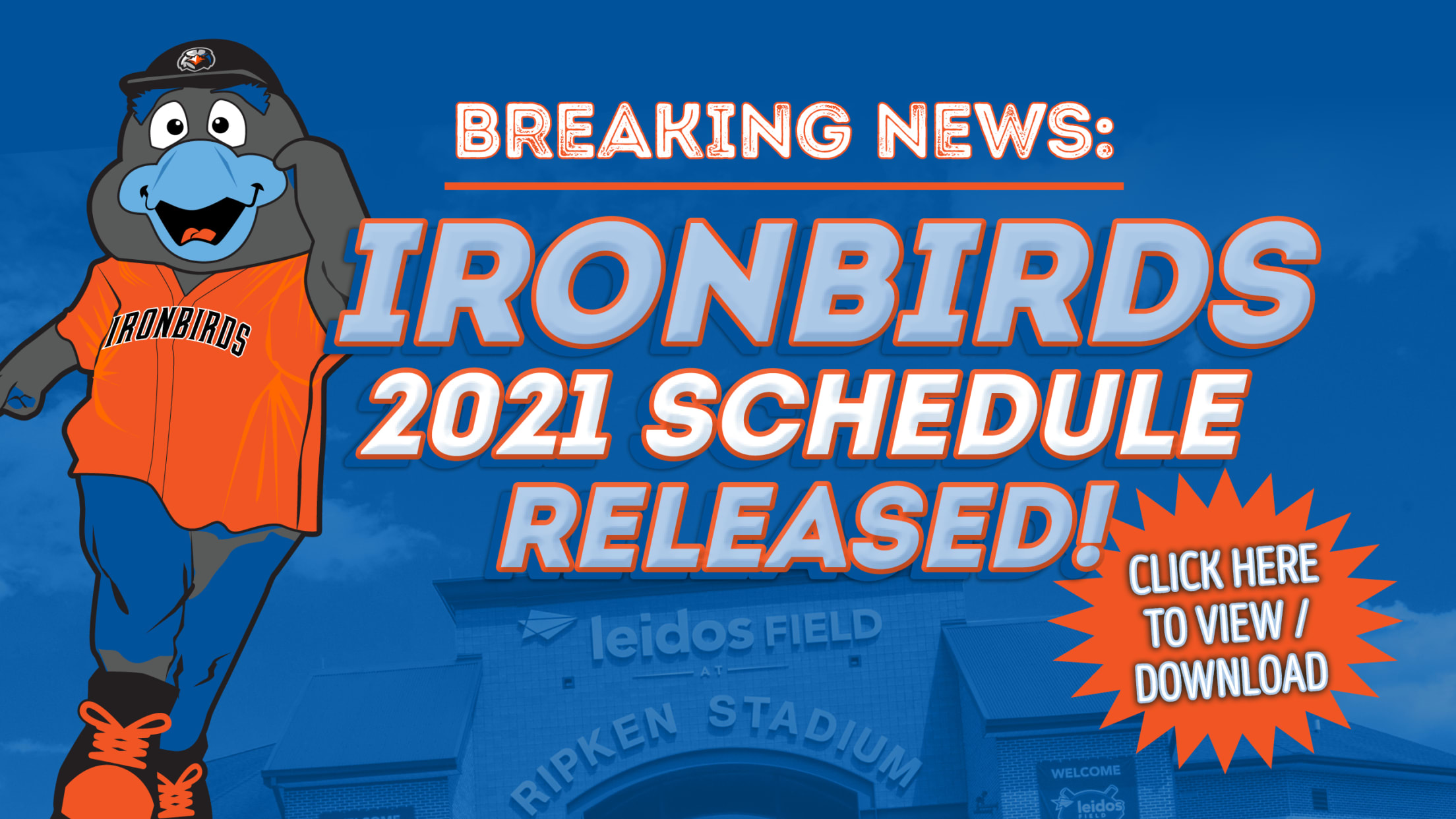 Click HERE to download a printable 2021 IronBirds schedule! ABERDEEN, Maryland - This is an incredibly exciting day for our team. We are very proud to be a part of the Baltimore Orioles system and continue to do what we do best – create a best-in-class fan experience, develop big
IronBirds receive notice of invitation to retain affiliation with Orioles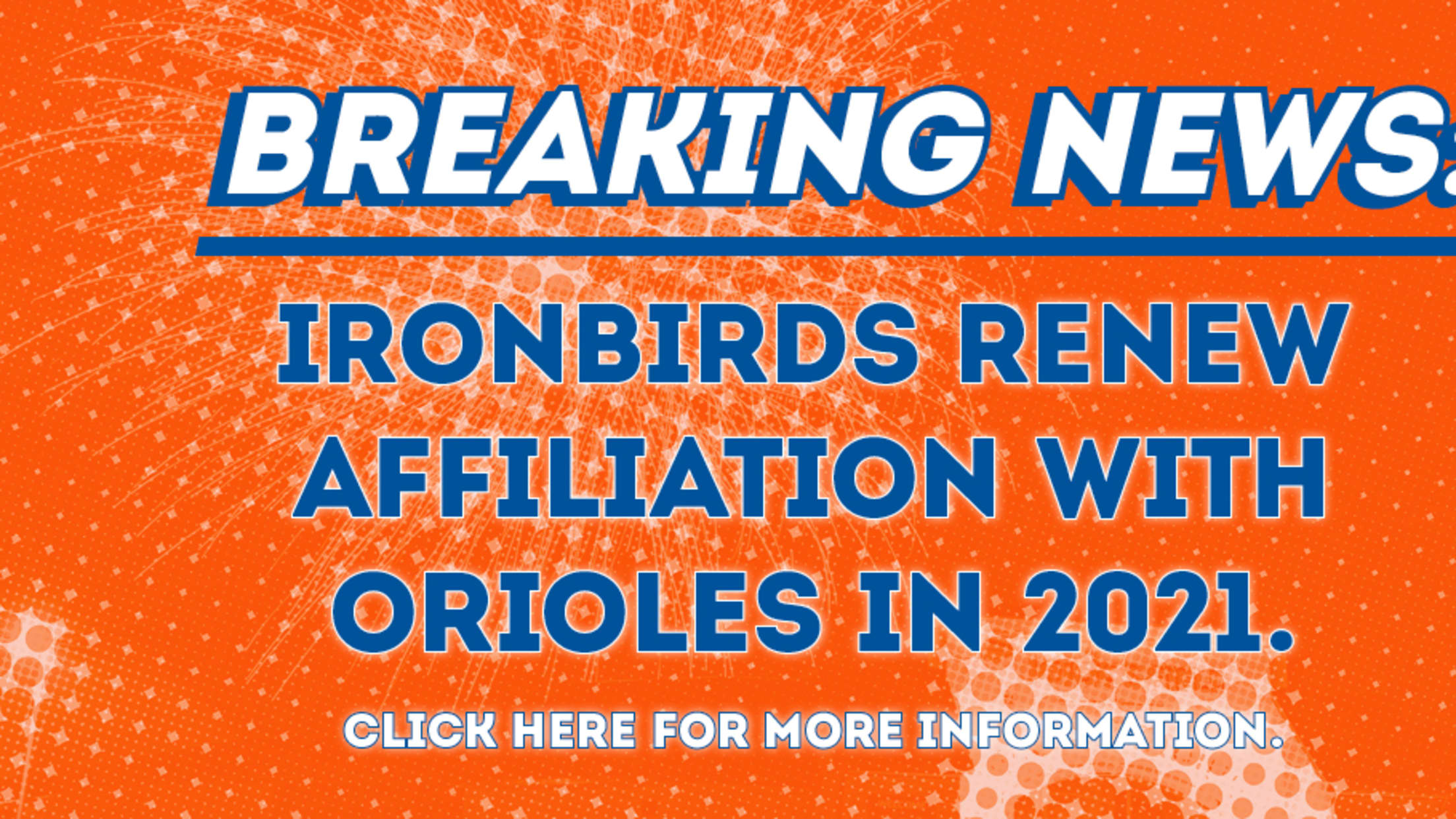 ABERDEEN, Maryland—The Aberdeen IronBirds, formerly short-season Single A New York-Penn League affiliate of the Baltimore Orioles, are proud to announce their retention of affiliation with the Baltimore Orioles as Advanced A affiliate. More information about the IronBirds' league, opponents, and schedule are still yet to be announced.. The Orioles' press
IronBirds invited to become Class A-Advanced level affiliate of the Baltimore Orioles, Orange Friday Blowout Sale, and 2021 Flex Packs ON-SALE NOW!
The IronBirds are proud to announce we have been invited to be the Class A-Advanced level affiliate of the Orioles starting in 2021! While we are still waiting to hear with excitement exactly what league we will be in, who are opponents will be and what our schedule will look
2020 IronBirds Brews & Boos at Leidos Field at Ripken Stadium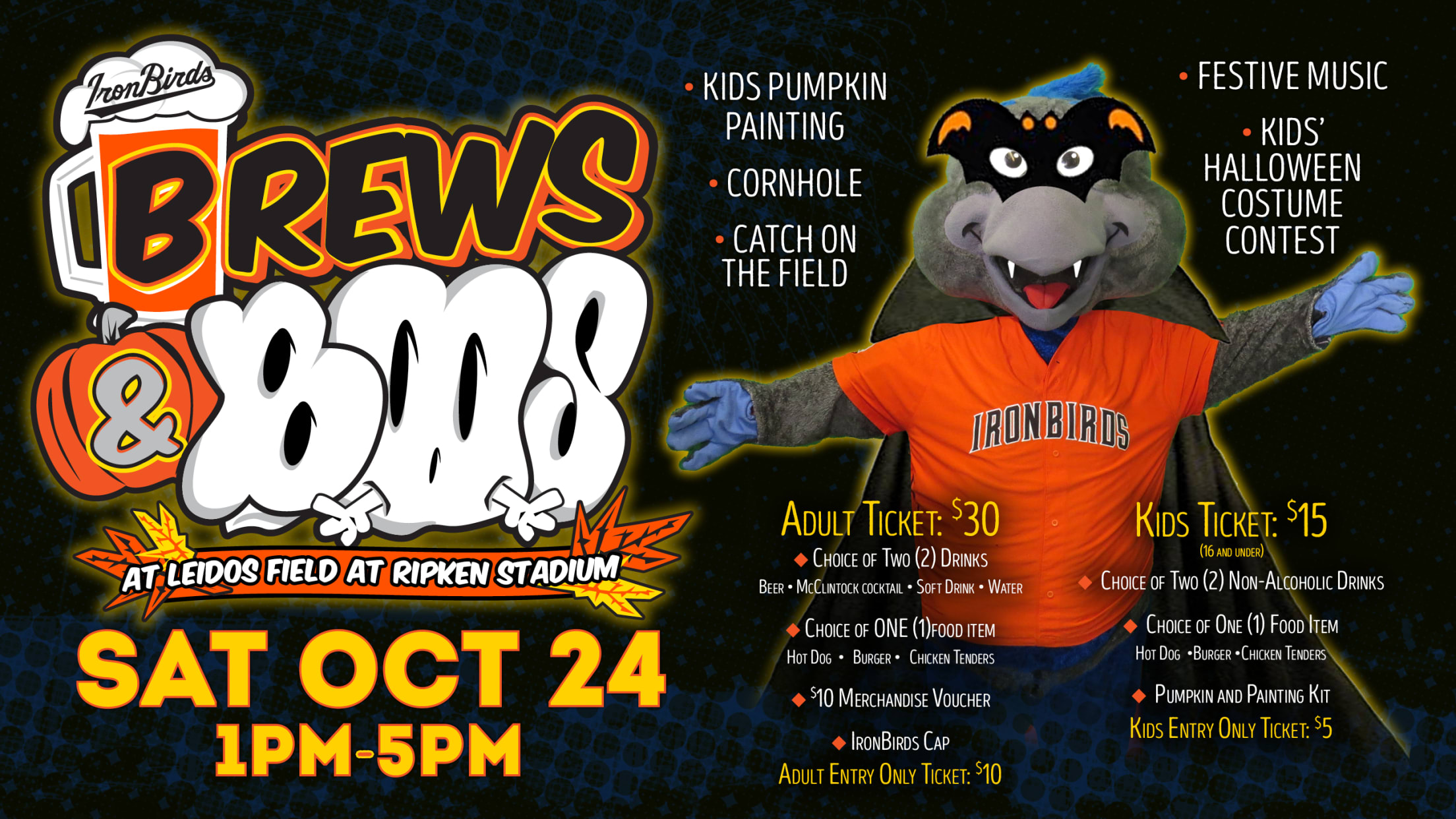 The 2020 IronBirds Brews & Boos event is coming to Leidos Field at Ripken Stadium on Saturday, October 24. The event runs from 1pm to 5pm with plenty of fall full for the whole family! Click here to order your tickets!
Aberdeen IronBirds to host fans for Crabs and a game of catch!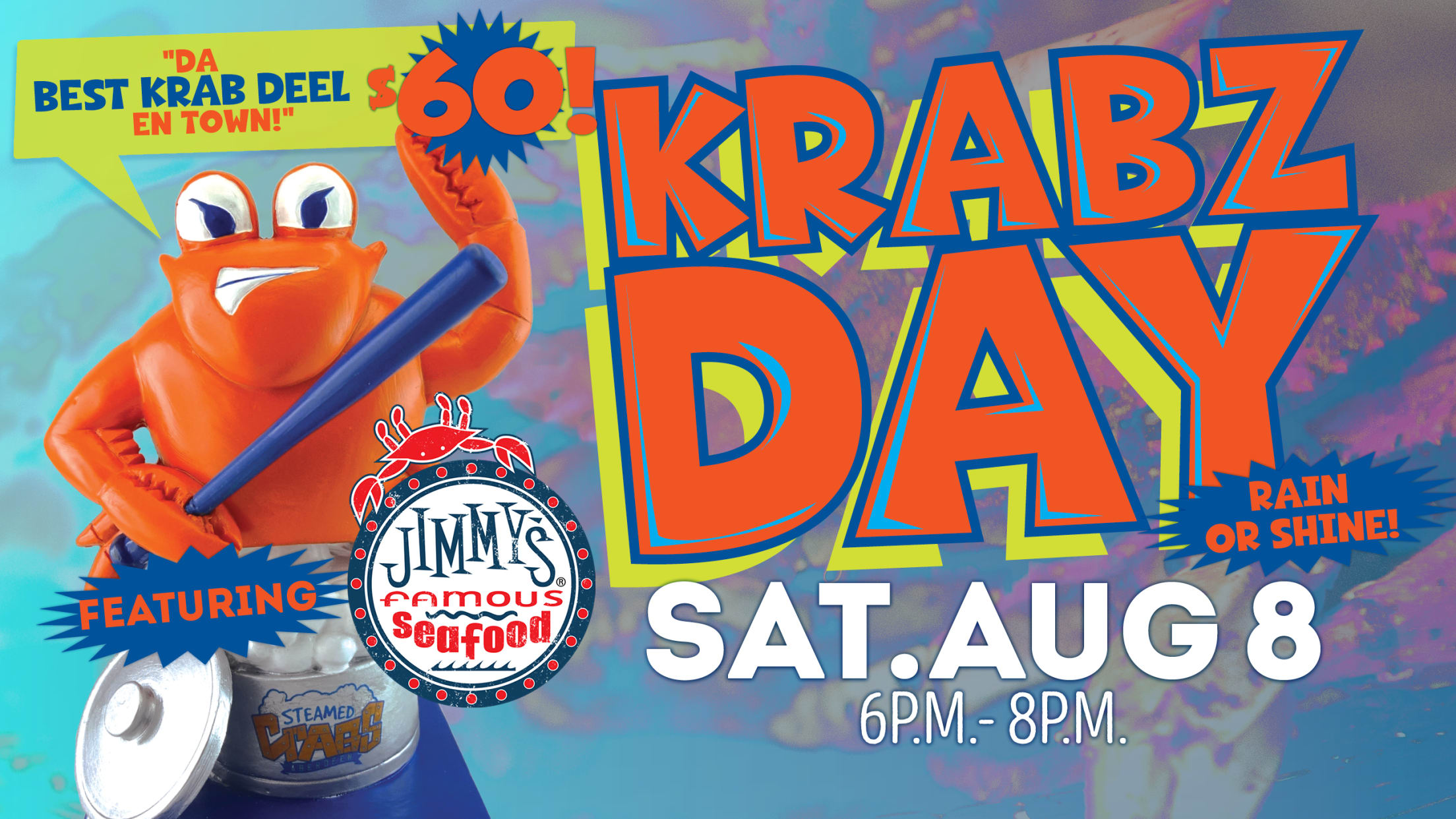 Come join the IronBirds on Saturday August 8th from 6pm to 8pm! The Krabz Day Crab Feast will includes 12 Jimmy's Famous Seafood Medium Steamed Crabs, 1 Jumbo Cookie and All You Can Eat hot dogs, hamburgers, baked beans, potato salad, canned soda and bottled water for 2 hours. Each
MLB and MiLB 2020 Season Decision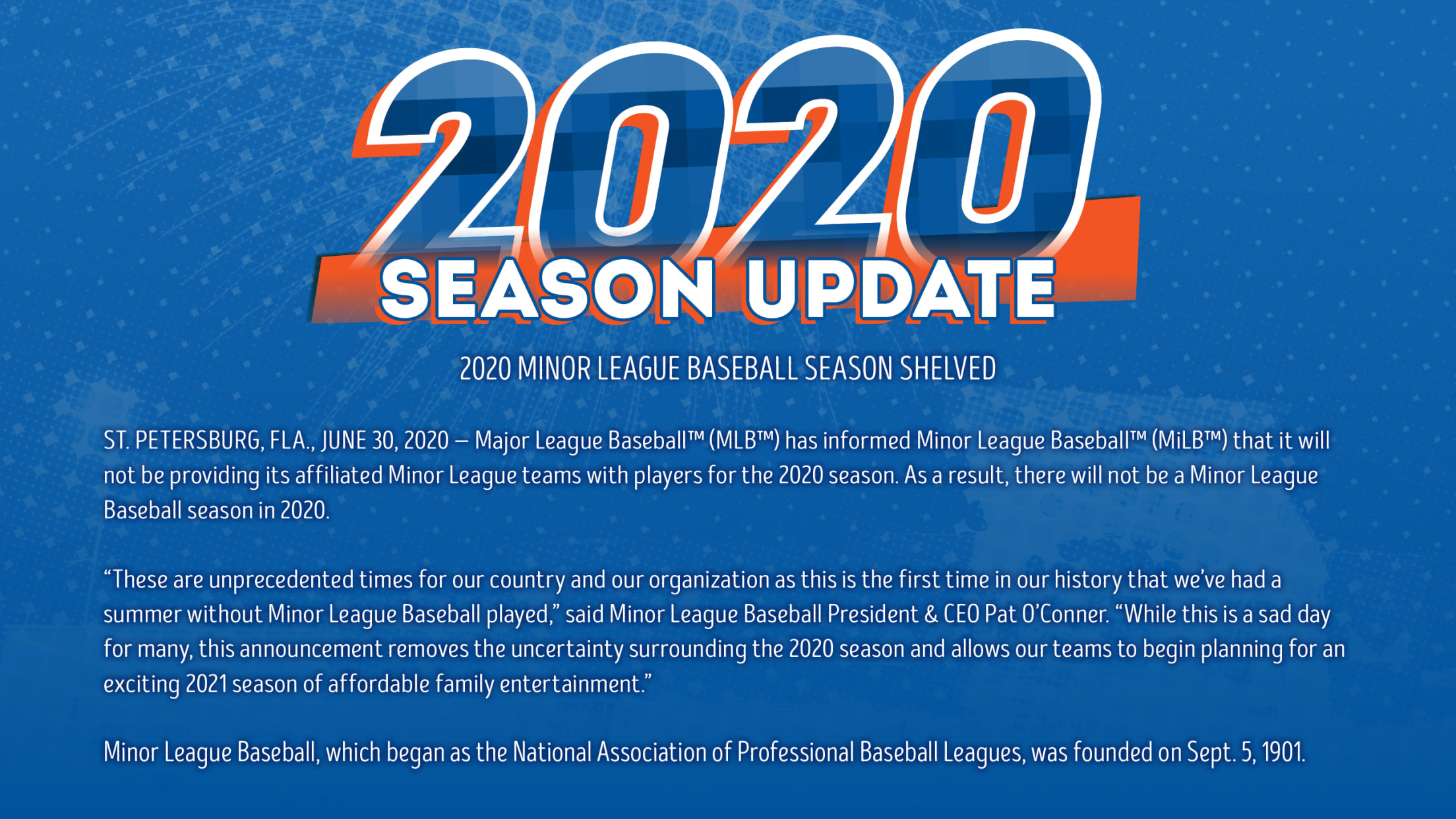 In light of this announcement from Minor League Baseball and Major League Baseball, the Aberdeen IronBirds would like to thank fans and sponsors for their patience during these difficult times. When the time comes to welcome fans back to Leidos Field at Ripken Stadium, we will be here to help
The IronBirds and local sponsors to hold Fireworks show for the 4th of July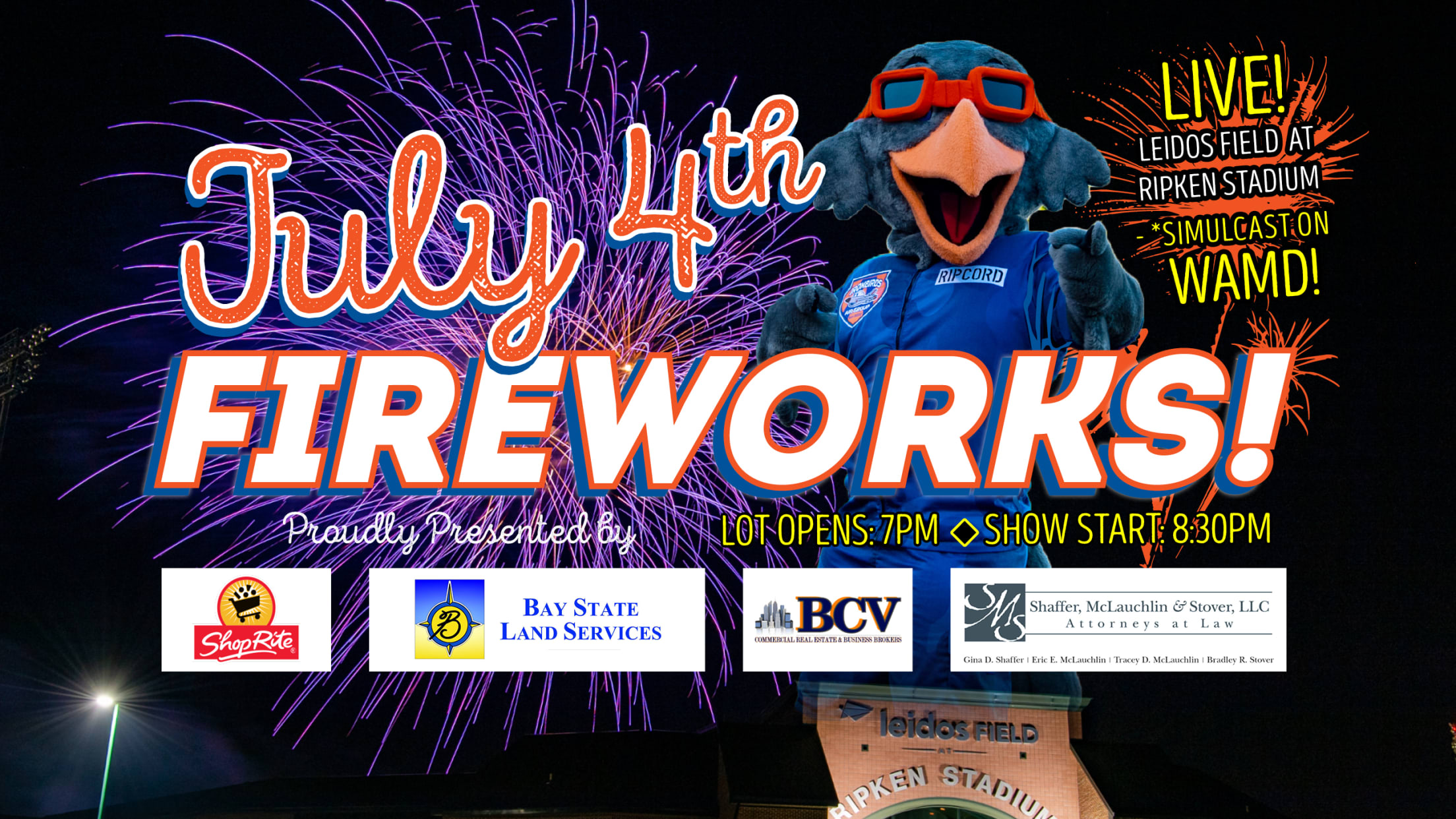 ABERDEEN, MD – June 29, 2020 The Aberdeen IronBirds are excited to announce that on Saturday, July 4th, the parking lot of Leidos Field at Ripken Stadium will be hosting a drive-in Independence Day Fireworks display! With support from sponsors Klein's ShopRite, Bay State Land Services, BCV Commercial Realty, and
Liz Pardo Appointed as Head Strength and Conditioning Coach for the 'Birds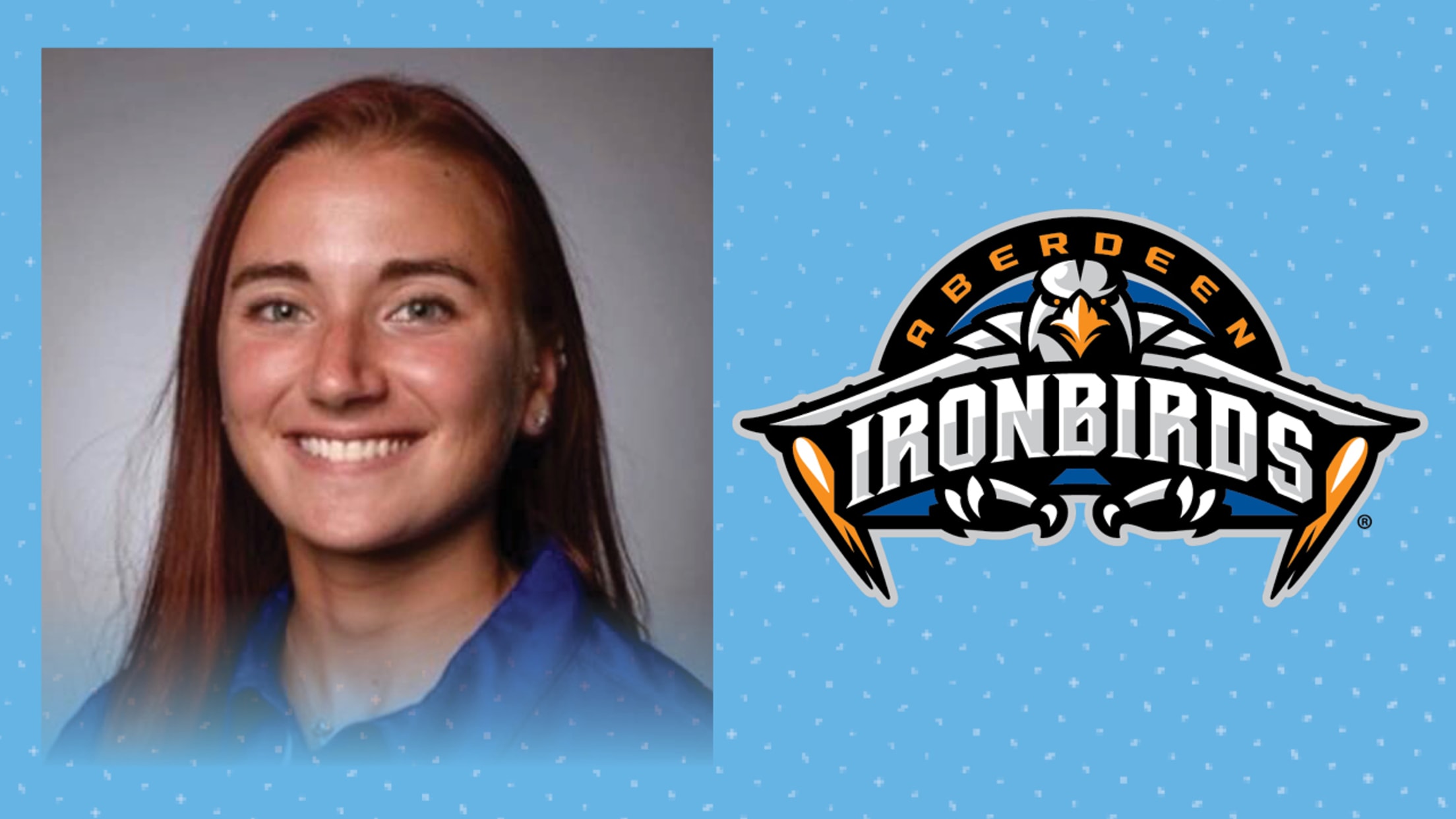 Maryland Woman to be First Female Strength and Conditioning Coach in the Baltimore Orioles Minor League Coaching StaffLiz Pardo, from Walkersville, Maryland named Aberdeen's Strength and Conditioning Coach for the quickly approaching 2020 seasonAberdeen, Md. (February 14, 2020) - The Aberdeen IronBirds, Class A short-season affiliate of the Baltimore Orioles,
2020 Aberdeen IronBirds Season Schedule Released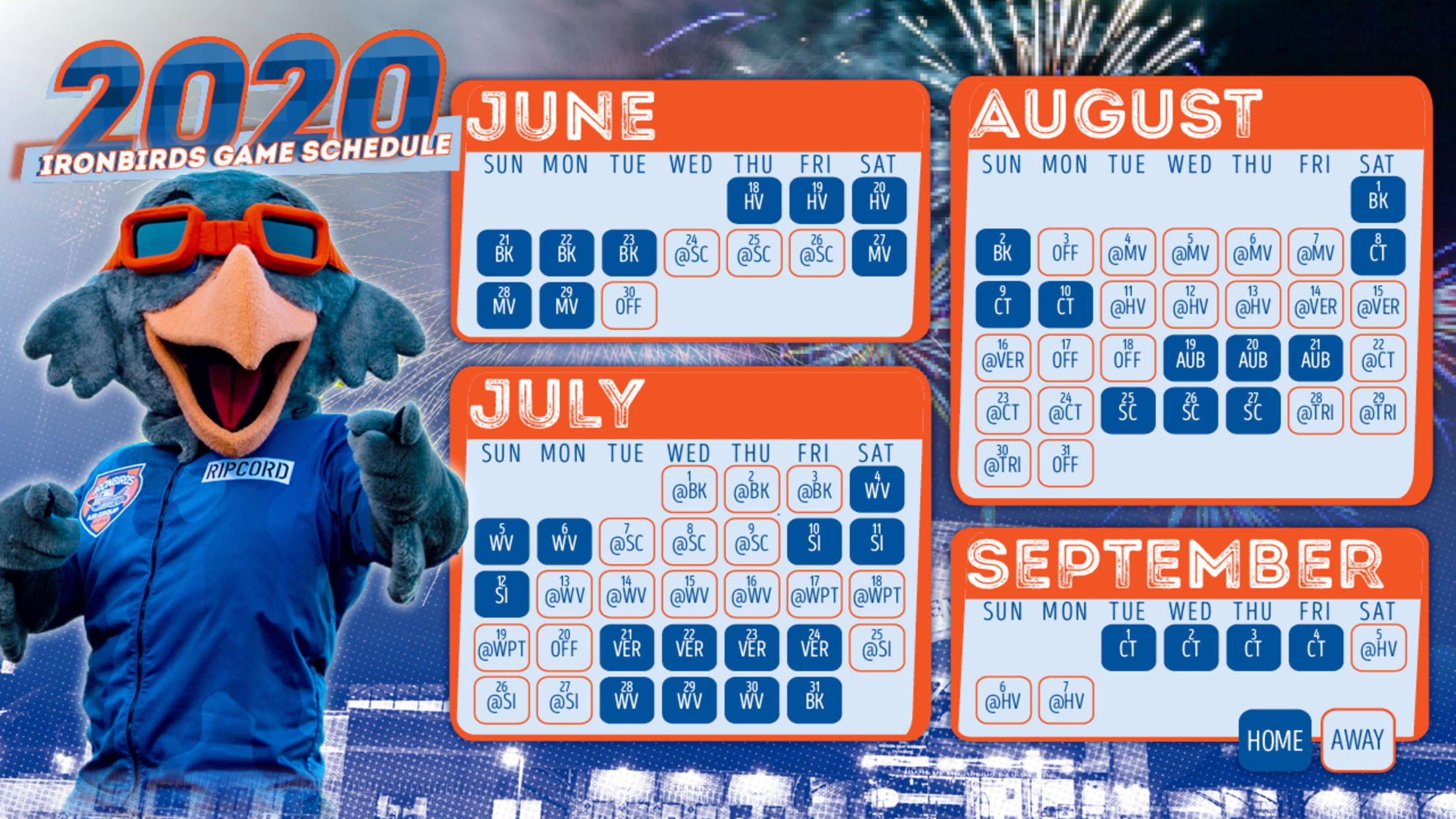 The 2020 Aberdeen IronBirds season schedule is here! Fans can look forward to six Friday and Saturday games for the upcoming season as well as a game against the West Virginia Black Bears taking place on July 4th at Leidos Field at Ripken Stadium. All the action starts off on
Aberdeen Walks Off Series Finale with Brooklyn
Two run ninth fuels victory for the 'Birds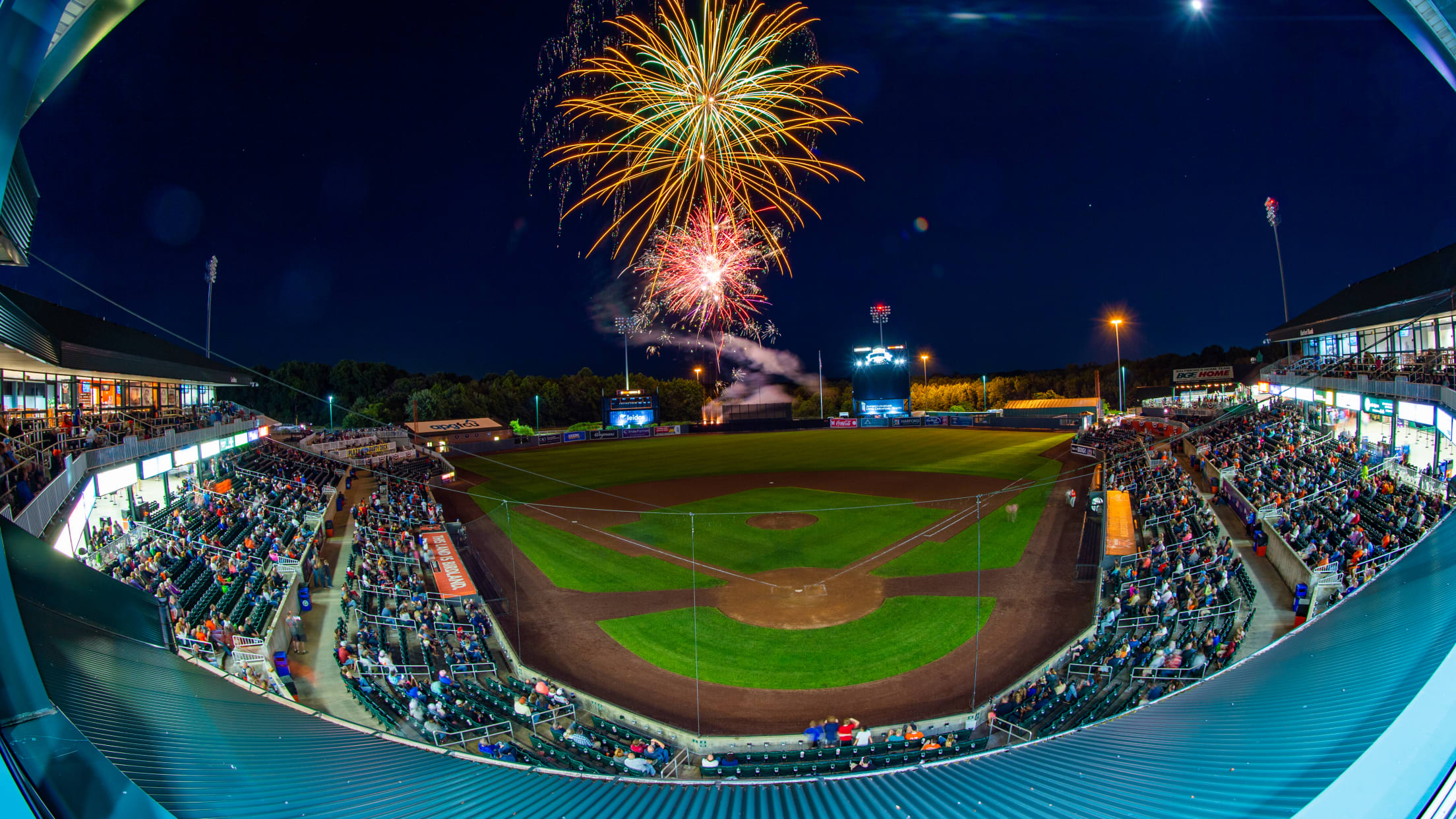 Aberdeen, M.D. (August 30th, 2019) - It was only fitting that Aberdeen and Brooklyn exchanged blows in the series finale. In the 9th down one, Jaylen Ferguson's solo homer tied the game. Andrew Daschbach would later walk it off in a 5-4 victory. Aberdeen and Hudson Valley are now tied for
IronBirds Offense Explodes in Win
17 hits lead to 12-3 victory over Brooklyn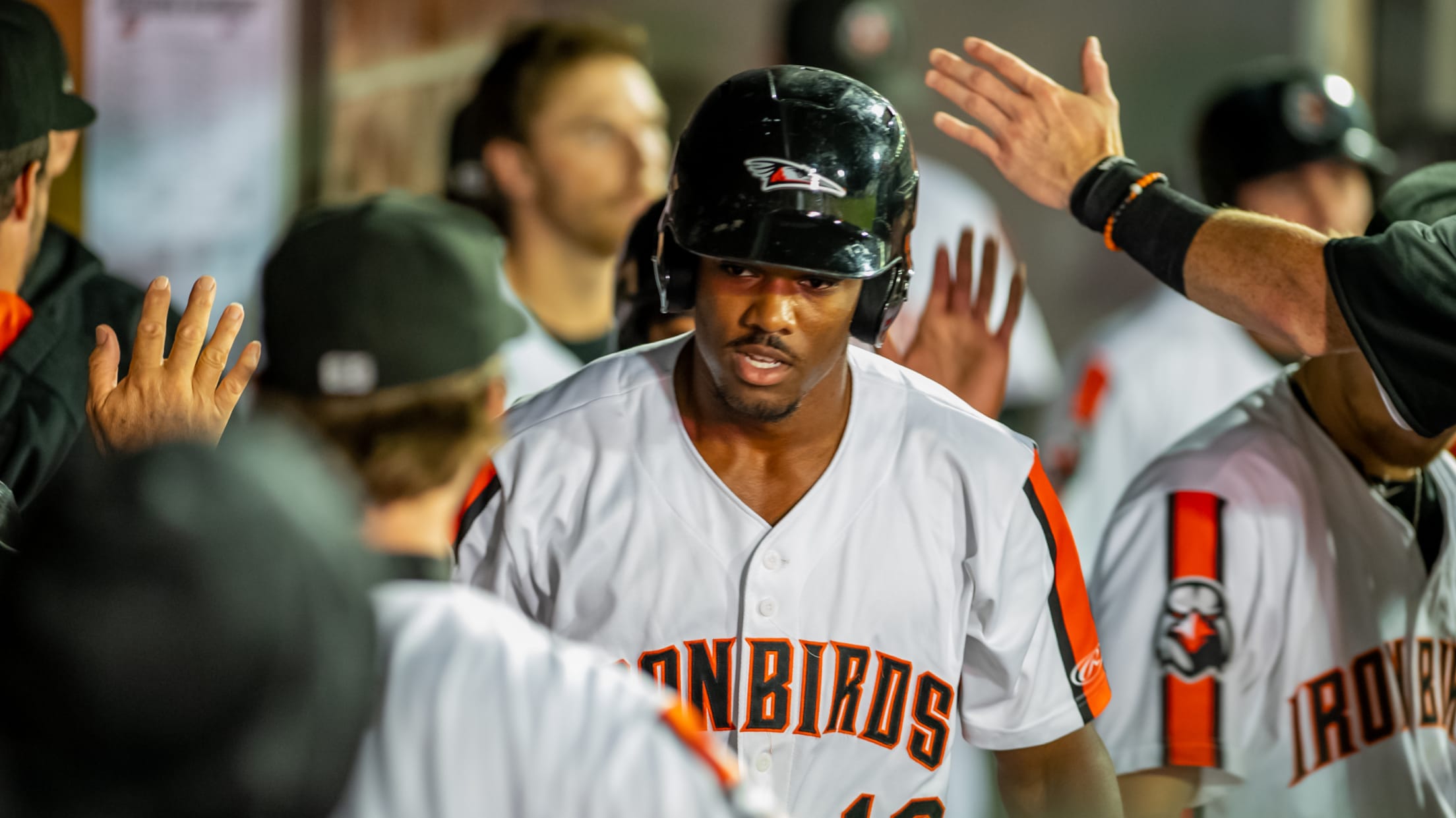 Aberdeen, M.D. (August 29th, 2019) - After a dogfight in game one with Brooklyn, Aberdeen's offense came to play on Thursday night. Helped by a 17 hit day, the IronBirds took a 12-3 victory to set the table for a rubbermatch on Friday.W: Dan HammerL: Nate JonesBIG MOMENTS: 1st inning: Aberdeen
Aberdeen Drops Series Finale
IronBirds finish road trip 4-2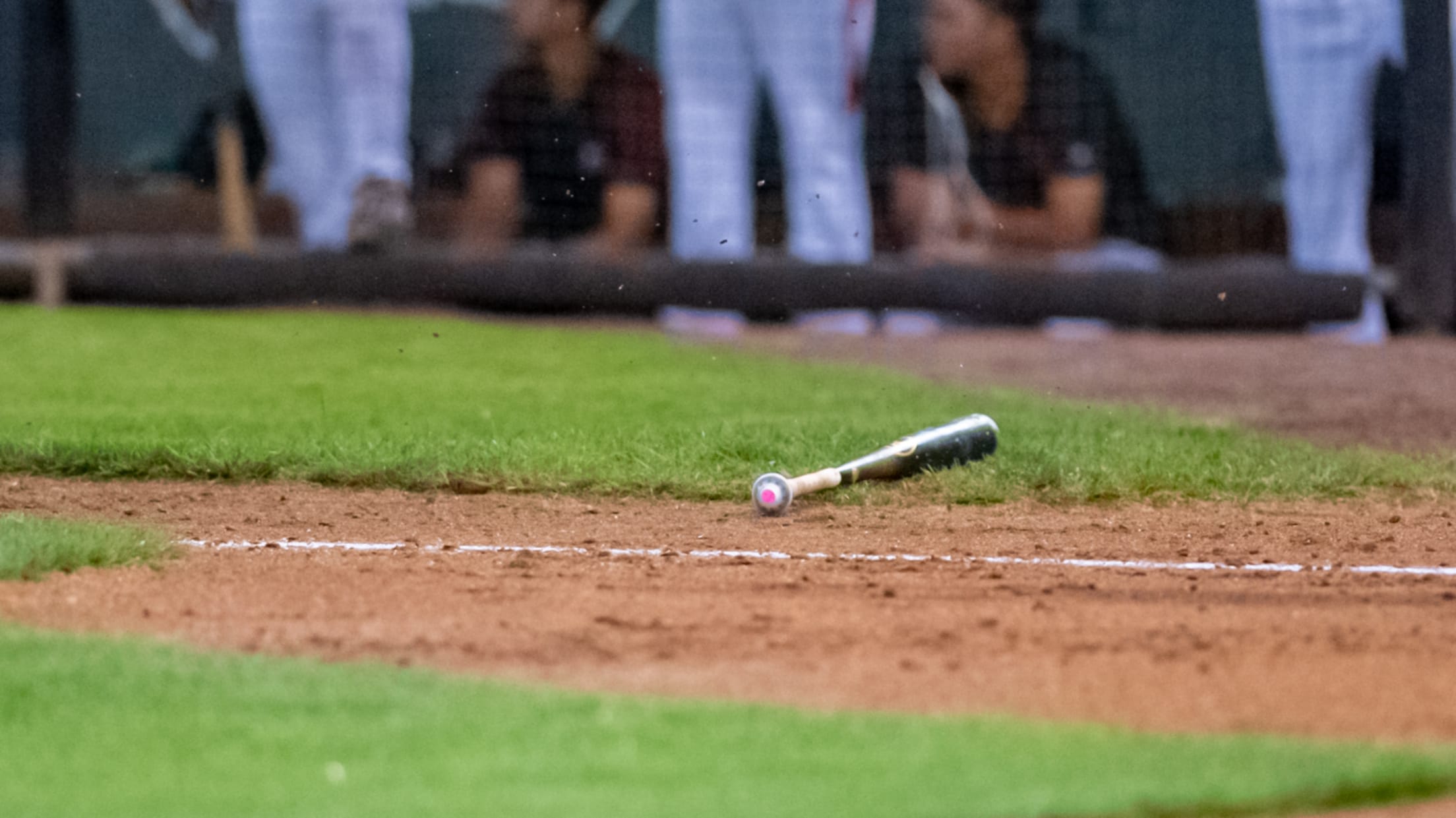 Lowell, M.A. (August 26th, 2019) - Aberdeen's offense struggled once again in game three with the Lowell Spinners. They found just three hits in the 2-0 loss on Tuesday night.W: Kelvin SanchesL: Kevin MageeBIG MOMENTS: 5th inning: Lowell got all the runs they needed. Wil Dalton reached on an error. He