Franco (Princeton 2018) tops Rays' deep prospect pool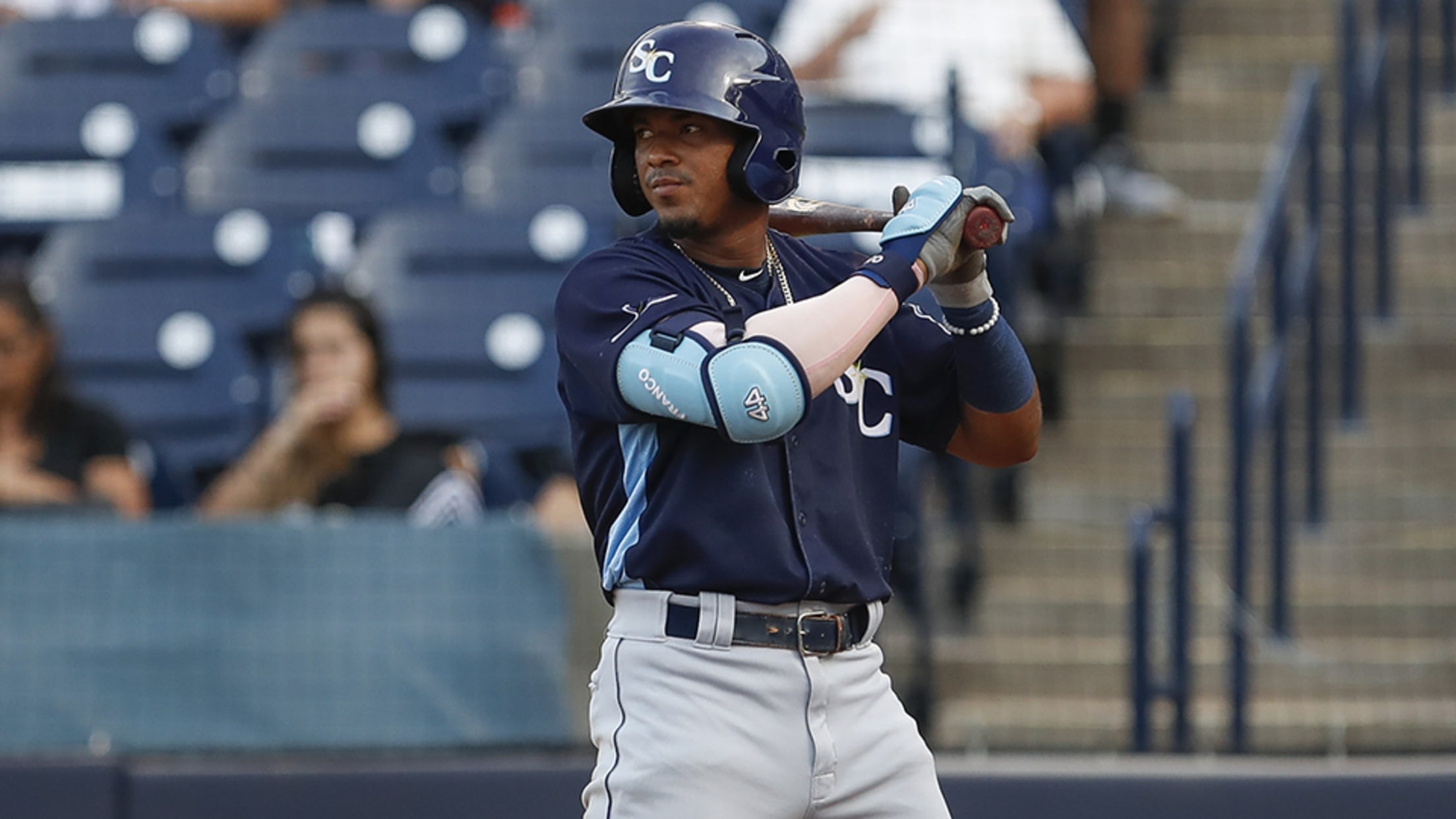 TAMPA, FL. AUG 09: Charlotte Stone Crabs shortstop Wander Franco (1) during the Florida State League game between the Charlotte Stone Crabs (Rays) and Tampa Tarpons (Yankees) on August 09, 2019 at George M. Steinbrenner Field in Tampa, FL. (Mark LoMoglio / Tampa Tarpons) (Mark LoMoglio)
Plain and simple, all Tampa Bay's system did in 2019 was win, win, win. So much so that the organization earned the nod as MiLB.com's Farm System of the Year.
Plain and simple, all Tampa Bay's system did in 2019 was win, win, win. So much so that the organization earned the nod as MiLB.com's Farm System of the Year.
The Rays' domestic affiliates combined for a .573 winning percentage. Every squad that could qualify for the playoffs -- the Florida State League and Gulf Coast League playoffs were suspended due to Hurricane Dorian -- did. Triple-A Durham made it to the Governors' Cup Finals, while Double-A Montgomery and Class A Short Season Hudson Valley exited in their respective semifinals. Class A Bowling Green was ousted in its opening round.
Rays Organization All-Stars
Catcher -- Luis Leon (Princeton 2018, 2019), Princeton (43 games), Hudson Valley (three games): In his fourth professional season, the 21-year-old appears to have found his way not only at the plate, but also at a new position in the field. Mainly a middle infielder through his first three years, Leon got behind the dish for the first time this season and showed promise while his offensive numbers took off. The Venezuela native put together a career-best slash line of .331/.374/.497 while setting personal high-water marks in homers (five), doubles (13), hits (60), RBIs (30) and runs (29).
"We've tried conversions in the past and it is a difficult journey, but he really took to it," said recently appointed Tampa Bay director of Minor League operations Jeff McLerran. "And just making the switch from infielder to backstop, you really don't know how the tools are going to play or how the body is going to hold up. And he was a guy that actually got healthier and stayed stronger, and a lot of his at-bats played better as well. I think it made him more in tune with what pitchers were doing and helped his education and made him a better overall player."
Shortstop -- Wander Franco (Princeton 2018), Bowling Green (62 games), Charlotte (52 games): There's not much left to be said about baseball's top overall prospect. Franco is still only 18, finished the year at Class A Advanced Charlotte and has excelled at every level in the organization's system. The top Rays prospect opened the season with the Hot Rods, batting .318 over 62 games, and then found a new gear in the Florida State League, where he hit .339 in 52 games for Charlotte. His 60-run grade was also on display as he swiped 18 bags. There were no shortage of accolades for Franco this season -- he was a Futures Game selection, and end-of-the-season All-Star in both the Florida State League and the Midwest League and the organization's Player of the Year.
"Wander has skills that are well beyond his years," McLerran said. "A lot of young prospects, you know, we talk about tools and physical ability and he has all of that, but the way he's able to put it into action is just a much more mature approach than typical guys at that stage. Still, obviously, some things to work on. He is still 18. And that's all going to be part of the development process. But it's an incredibly exciting package in the way he uses it."
Outfielders
Brett Sullivan (Princeton 2015), Montgomery (102 games): Another jack-of-all-trades prospect, Sullivan spent the bulk of his time this season in the outfield, but he also had some action behind the plate and tossed a pair of innings. The 25-year-old was a force in the middle of the lineup for the Biscuits all season, batting .280 with 40 extra-base hits, 10 homers, 53 runs and 51 RBIs. In left field, the 2015 17th-rounder committed two errors in 122 total chances. In 14 games behind the dish, Sullivan was perfect over 95 total chances, and in a pair of relief appearances, the right-hander allowed a run on one hit.
"Brett is another guy that can bounce around the field," McLerran said. "But really anything that can get his bat in the lineup. Another guy with good bat-to-ball skill, and he started to show some power this year. And that obviously opens up a few more avenues for him. Being able to move around is something that we value as an organization, and both he and Miles really took to that especially."
Josh Lowe (Princeton 2016), Montgomery (121 games): The 12th-ranked Rays prospect found the power dial this season and then he turned it to max. Lowe set career highs with 18 taters, 70 runs and 62 RBIs. The 21-year-old also finished with four triples, 23 doubles, 30 stolen bases and 113 hits. The 2016 first-rounder patrolled all three outfield positions and sported a .993 fielding percentage. He followed up that season with a stellar showing in the Arizona Fall League, where he was named a Rising Star.
"He is a guy who has been young for his level all the way through and has had to take on some challenges that other guys his age or in his Draft class haven't, and he's really been able to pass those tests with flying colors," McLerran said. "I think we're really excited with the way he's continued to develop as a defensive outfielder, and we feel he has a lot of exciting tools and skills at the plate. The power really started to come through as well, but he has a swing that naturally leads to some power, so we think that will continue."
Honorable mention, Phoenix Sanders (Princeton 2017), Montgomery (37 games), Durham (eight games): The 2017 10th-rounder made it to the Minors' highest level this season. Sanders opened the year in the Southern League, where he posted a 1.81 ERA and struck out 57 over 49 2/3 innings. McLerran dubbed the right-hander "fearless." He spent two stints with the Bulls before his season was derailed by an injury suffered in an Aug. 25 game.