Introducing Huntington Park Movie Nights!
Starting Friday, July 10th, the expanded Huntington Park videoboard will show feature films on Friday and Saturday nights. Huntington Park will begin by showing Jurassic Park on July 10th and Frozen II on July 11th.
Both movies will begin at 8 PM with gates opening at 7 PM.
Guests can view the shows from the Huntington Park outfield in socially-distanced areas. Attendees are encouraged to bring blankets for seating on the field but no chairs will be permitted.
Guests may also sit in the grandstand on the third base side if you prefer a physical seat. Social distancing protocols will be applied to grandstand seats as well.
Seating will be first come first serve but Clippers staff will be on the field and in the stands to ensure proper social-distancing.
Tickets:
Tickets must be purchased in advance from clippersbaseball.com and tickets will be paperless on your smartphone to promote limited contact between guests and staff. We recommend downloading the tickets in advance of arrival to the gate. All members of your party should all arrive at the same time.
Capacity will be limited for these events in accordance with health code regulations.
Limited tickets will be available at the Home Plate Entrance. We recommend buying online in advance to ensure tickets are still available due to capacity limits. Ticket purchases will be cashless with credit or debit card.
Tickets for both shows will be available starting Thursday, July 2nd.
Ticket Prices:
Friday, July 10:
Saturday, July 11:
Adults - $5
Kids - $4 (ages 3-14). Children 2 and under do not require a ticket.
Parking and Entry Gate:
Parking will be available in H-The Brodbelt Lot at the corner of Huntington Park Lane and Brodbelt Lane. This lot is controlled by LAZ Parking and parking can be prepaid via the Park Mobile app or at the machine in the lot.
All guests will enter the Home Plate Entrance at Huntington Park directly across the street from the Brodbelt Lot.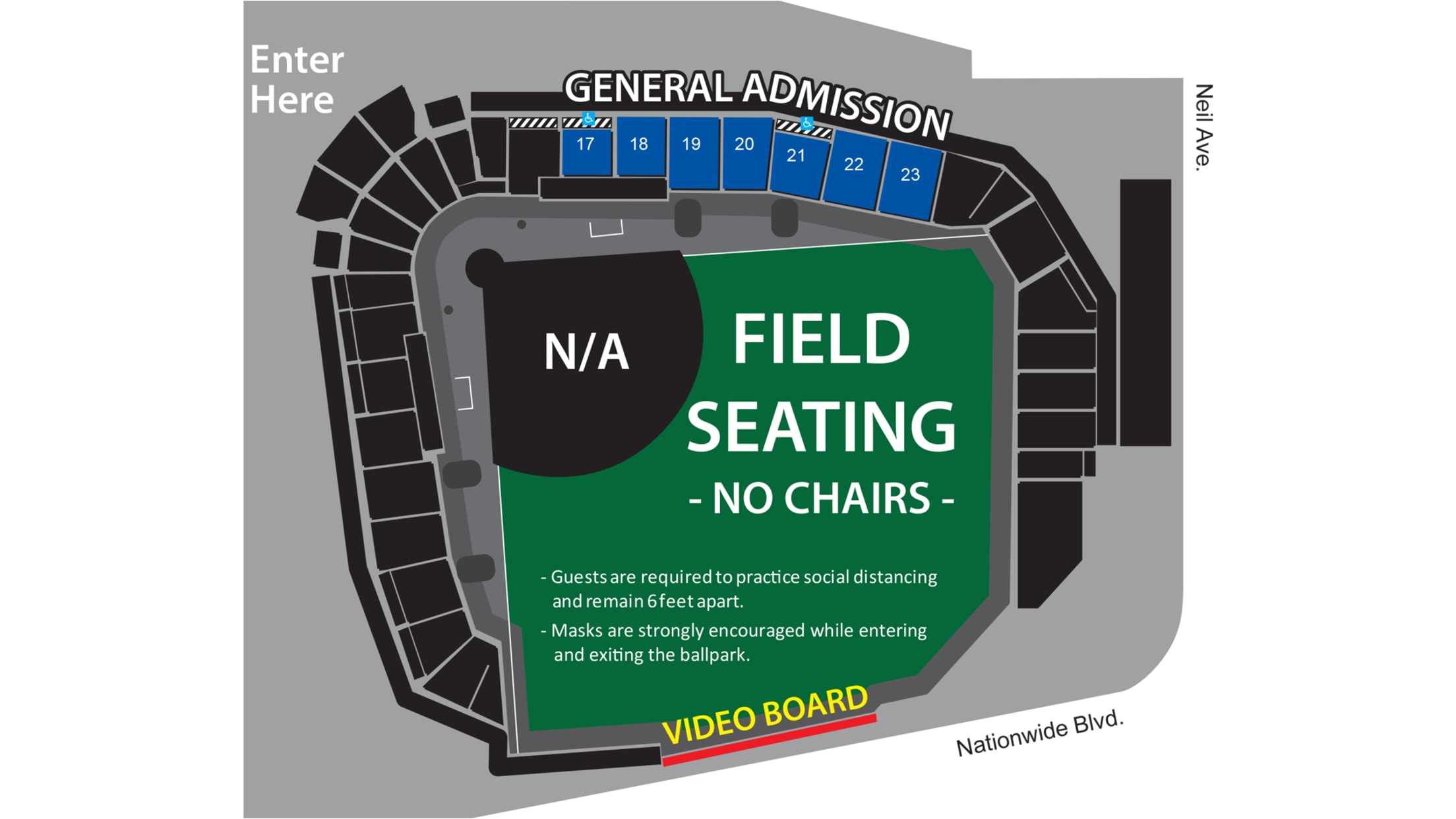 Health Considerations:
If you exhibit symptoms of COVID-19, please stay home. These include but are not limited to: coughing, shortness of breath, difficulty breathing, fever, headache or sore throat.
Every guest is required to sign a waiver. To expedite the process, please download, print and complete the waiver in advance. Click HERE for printable waiver.
Do not gather in groups of more than 10.
Guests entering Huntington Park will be subject to temperature screenings for temperatures of 100.4 or above.
Huntington Park will have hand sanitizing stations and restrooms available for guests to practice personal hygiene.
Per order by the Ohio Department of Health, masks are now required in Franklin County public spaces where social distancing cannot be maintained. Please wear a mask when entering and exiting Huntington Park and when on the concourse. Masks may be removed once you get to your space on the field or to your seats as long as at least six feet or more are maintained between you and individuals who are not members of your household.
Guests are asked to maintain proper social distancing when entering and exiting Huntington Park and the grandstand/field areas.
To practice social distancing we ask all fans to remain in their selected seats or space on the field. We ask fans not roam about the ballpark other than going to and from the restrooms and concessions.
Signage, markings, stanchions and announcements will be used to encourage social distancing.
All guests will be required to leave the ballpark in a timely fashion after the movie has concluded.
Workplace
Huntington Park and the Columbus Clippers will comply with all appropriate local, state and federal regulations regarding COVID-19.
Face coverings will be mandatory for all employees dealing with the public.
All restroom facilities will be frequently disinfected.
High traffic areas, including seats, railings, trash cans and counters will be frequently disinfected.
Columbus Clippers employees will be continually monitoring the ballpark to make sure guidelines are being met.
Ballpark Guide and Regulations:
Stairwells will be designated for entry and exit to the field.
A limited concessions menu will be available. Concessions will be cashless and only accepting card payments.
Guests are permitted to bring in their own snacks and drinks.
You can only bring in the following food and beverage items: Beverages in plastic bottles of 16 oz. or less, juice boxes, and small snacks. ONLY soft-sided, personal-sized coolers are permitted.
No alcohol, aluminum cans or glass bottles will be allowed.
Service dogs or service dogs in training are welcome to Huntington Park. All other animals are prohibited.
No bug spray on the field, please apply it before entering field level.
Strollers are permitted to be brought into Huntington Park but must be stored on concourse level and will not be permitted on the field. The Clippers are not responsible for strollers left on the concourse. Wagons are not allowed.
There will be wheelchair spaces in our regular handicap-accessible sections WC16, WC17 and WC21 along with chairs for your guests. Clippers staff will be available to escort anyone in a wheelchair down to field level.
All forms of tobacco and e-cigs will not be permitted inside Huntington Park.
Questions? Please email [email protected]