Chukars Halt Voyagers' Winning Streaks
Idaho Falls Ends Six-Game Slide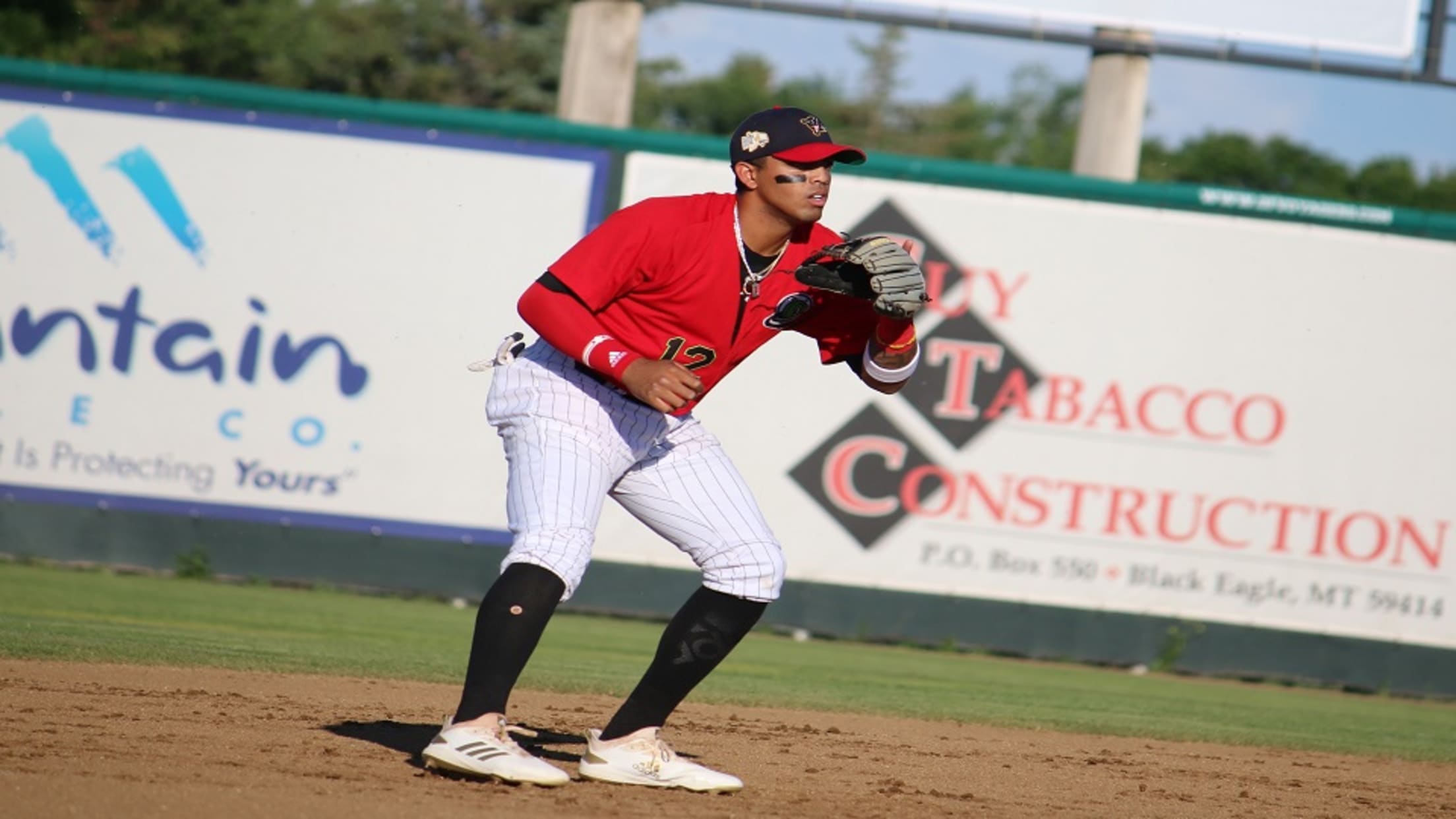 Lency Delgado registered three hits with a double in the loss at Idaho Falls Wednesday night.
Idaho Falls, ID-The Voyagers recent mastery of Idaho Falls ended Wednesday night in a 6-2 loss to the playoff-bound Chukars at Melaleuca Field.
Idaho Falls, ID-The Voyagers recent mastery of Idaho Falls ended Wednesday night in a 6-2 loss to the playoff-bound Chukars at Melaleuca Field.
Great Falls (13-15, 28-37) dropped to 11-22 on the road this season. The Chukars (8-21, 29-37) stopped a six-game losing streak and improved to 16-15 at home. They had lost five straight to Great Falls. The Voyagers still lead the season series 8-to-6 going into Thursday night's rubber match.
Idaho Falls opened the scoring with a two-run bottom of the third that saw seven batters come the plate. Tyler Tolbert singled to center in his first-ever Chukars' at-bat. Tolbert later stole second. With two outs, Clay Dungan brought in the first run with an RBI single to right. After Travis Jones singled to left, Rhett Aplin grounded a ball to first. A wide throw to first with the pitcher covering allowed Dungan to score from second and it was 2-0.
A three-run fifth proved to be rather large for Idaho Falls. Another seven batters produced four base hits in the inning. Jose Marquez led off with a bunt single to third. Clay Dungan lined a single to center. Travis Jones scored both runners with a triple lined to the wall in right-center. Jones later scored on a wild pitch for a 5-0 Chukars' cushion.
Both teams scored runs in the sixth. The Voyagers first run of the game came on a Luis Mieses' sacrifice fly to left that plated Caberea Weaver tagging from third. Great Falls loaded the bases in the inning with an error, a walk, and a hit-by-pitch, but managed only one run with two left on base. An RBI double by Jose Marquez in the home half pushed the Idaho Falls' lead back to five at 6-1. The Voyagers used back-to-back doubles by Lency Delgado and Mieses in the eighth for the game's final run.
Idaho Falls outhit Great Falls 11-to-6. The Voyagers stranded eight and went just 1-for-6 with runners in scoring position. Lency Delgado finished 3-for-3 and reached base all four times. Jose Marquez and Travis Jones both collected three hits for the Chukars. The top three in the Idaho Falls lineup went a combined 8-for-14 with four RBIs and four runs.
On the mound, Cody Davenport picked up the win in relief. Davenport (3-3) allowed an unearned run on two hits with two strikeouts and two walks. Sean Thompson suffered the loss. Thompson (2-7) lasted five in his start and gave up five runs (four earned) on eight hits with six strikeouts and one walk.
Great Falls plays the series finale at Idaho Falls Thursday night. First pitch at Melaleuca Field is scheduled for 7:15. The team will return to Centene Stadium Friday for their last home series against Billings. Game one of four is Friday night at 7 o'clock. For Voyagers season tickets and promotional information, call 406-452-5311 or visit www.gfvoyagers.com.