Over 100 Years of Baseball in Great Falls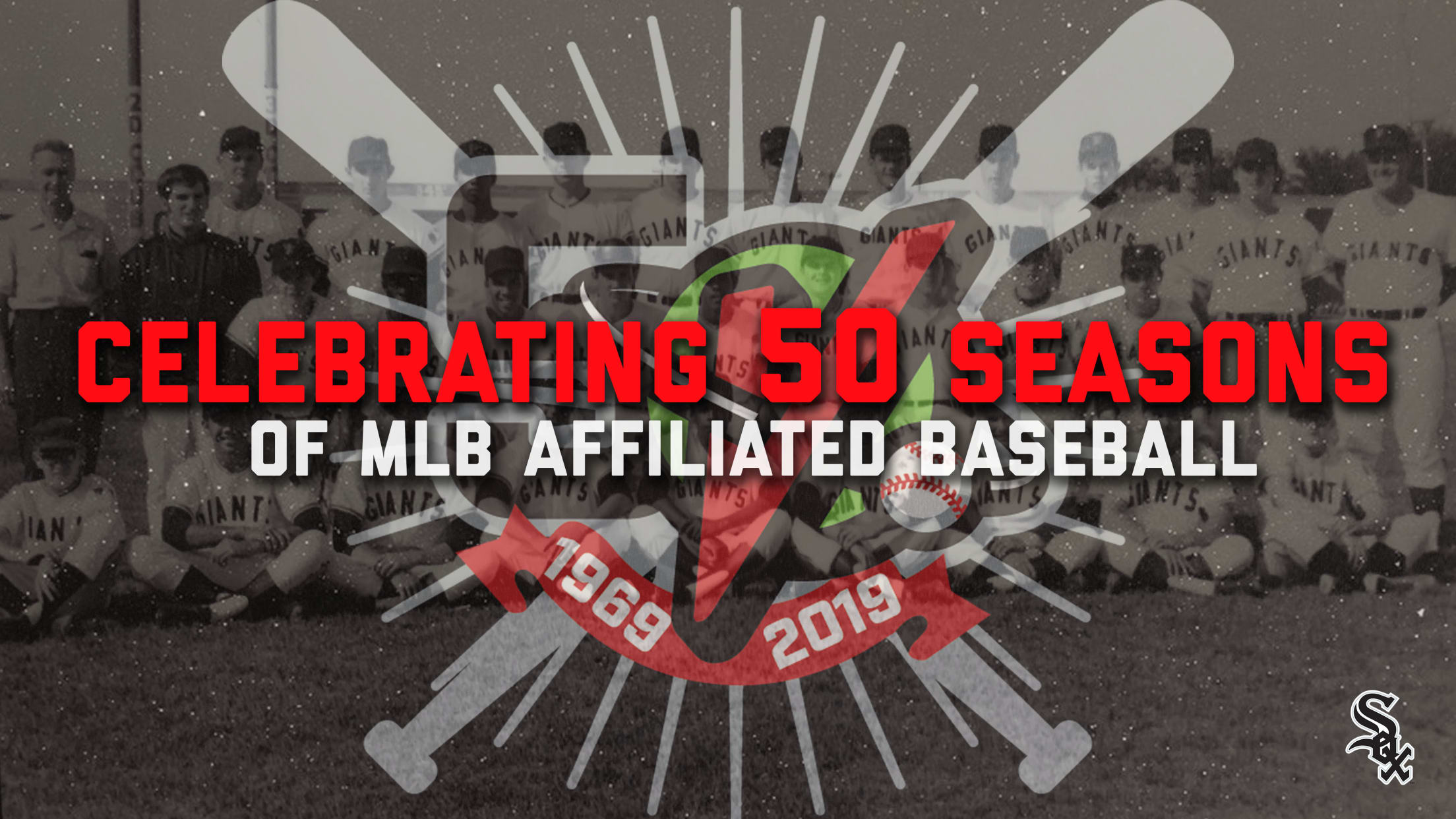 2019 is an exciting year for the Great Falls Baseball Club, as we celebrate our 50th consecutive year of affiliated baseball. Fifty years is a significant feat for the club because, though the sport has existed in Great Falls since the late 1800s, professional baseball here struggled for consistency in
2019 is an exciting year for the Great Falls Baseball Club, as we celebrate our 50th consecutive year of affiliated baseball. Fifty years is a significant feat for the club because, though the sport has existed in Great Falls since the late 1800s, professional baseball here struggled for consistency in the early days.
The first baseball game ever played in Great Falls was a pick-up game thrown together by enthusiasts on May 19, 1887. It was played on the uneven ground of Gibson Park with interference from a nearby frog pond, and ended with a score of 8-0 before even reaching the 9th inning.
Highlights of the game were the wild pitching of a plasterer who admitted he hadn't thrown a ball since '72 but proved adept at hurling "outward" and "inward" curves; a "home run without an error" although it came on a missed third strike and balls handled by the right fielder, second baseman, left fielder and third basemen; a single which landed in the frog pond and let up three runs before it could be retrieved; a strikeout on two pitches, and a two-bagger "which astonished everyone, including the batter." ("Sports Play a Big Part in City's History", Newspaper article featured here)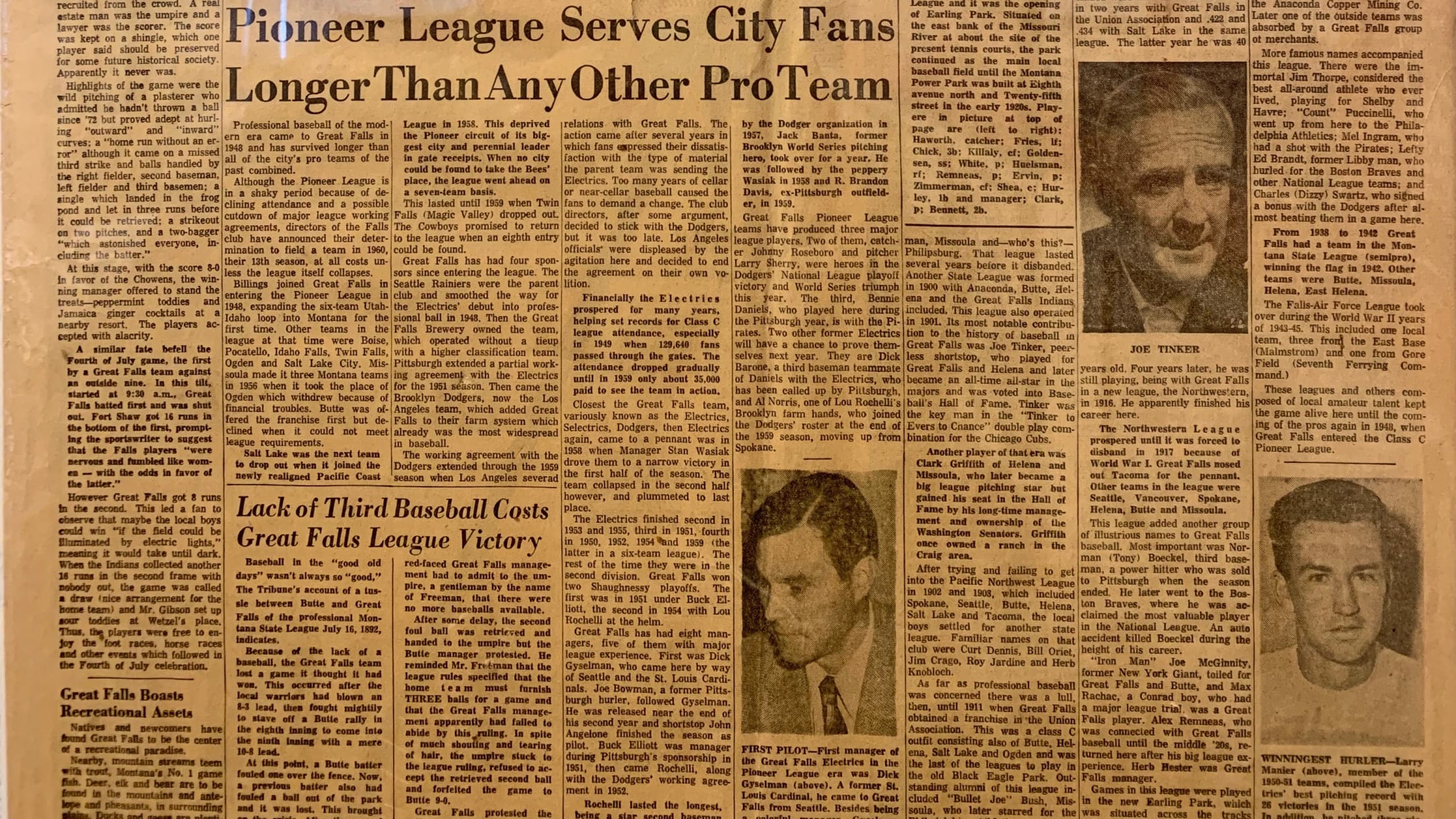 The first game ever held in Great Falls against an outside team occurred on July 4th later that summer. It ended similarly, with the opposing Fort Shaw Indians scoring 32 runs by the second inning to Great Falls' measly eight. By the end of that inning the game was declared a draw, much to the benefit of the home team. Fortunately, the Club's playing ability has improved much since then (flashback to our recent 2018 Pioneer League Championship win).
Baseball in the professional sense came to Great Falls in 1892, when the "Great Falls Indians" joined the Montana State League. From there, the team (known as the Great Falls Electrics after 1911) bounced in and out of the pros for decades, joining different pro leagues, taking hiatuses due to World War I, and even settling as a semi-pro team for several years due to the financial drain on Great Falls merchants. Finally, in 1969, the Great Falls Baseball Club rejoined the Pioneer League and, despite affiliation and name changes, has remained a member club ever since.
To celebrate our 50th year of affiliated baseball, on Opening Day, June 14, we will be throwing it back to 1969 with music, trivia, and Voyagers history. ACE and Howard's will also be sponsoring the night with some awesome giveaways, including ACE's wooden nickels and Howard's 2019 Voyagers Magnet Schedule.
Baseball in Great Falls may have had a wobbly beginning, but today's club celebrates many years of success and a rich history. The Voyagers would like to extend a special thank you to our team historian, Jim Eaklund, and his son Keith, for all of the time and hard work they've committed to uncovering the rich history of baseball here in Great Falls. If you're interested in learning more about how Great Falls Baseball came to be, make sure to visit Jim in the Logan Hurlbert Hall of Fame room on the third floor of Centene Stadium, an hour before game time every home game.