Bucs blast past Reds, take series, 11-0
Reniel Ozuna reaches base three times in second-straight defeat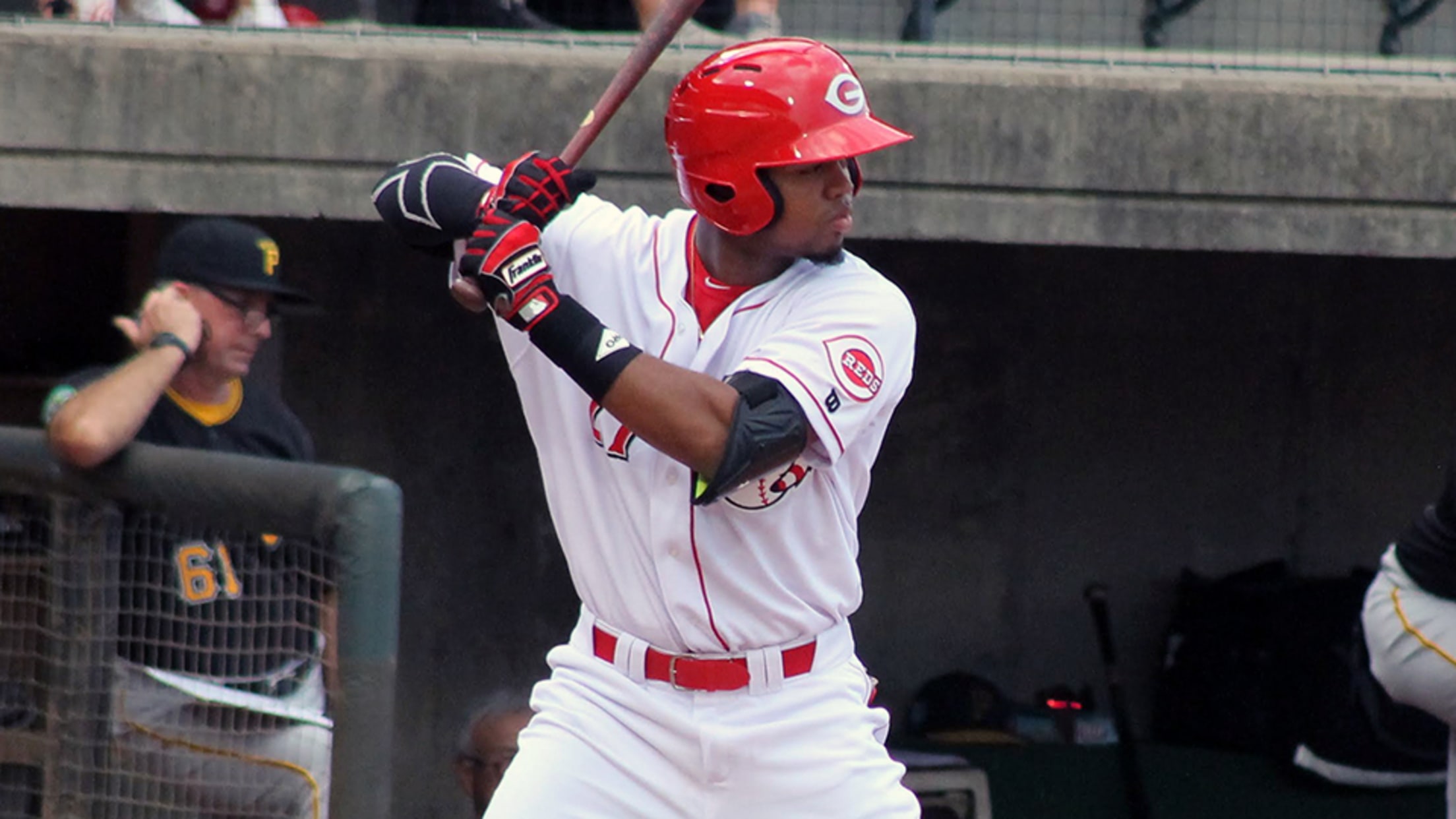 RF Reniel Ozuna reached base all three times he came to the plate on Wednesday night, but the Bristol Pirates defeated the Greeneville Reds, 11-0, at Pioneer Park. (Sally Fletcher)
GREENEVILLE, Tenn. - The Reds had no answer for the Pirates' offensive juggernaut on Wednesday night, as Bristol racked up 16 hits to knock off Greeneville and capture the series with an 11-0 victory in front of 1,216 fans at Pioneer Park.With the loss, the G-Reds fall to 0-2 on the
GREENEVILLE, Tenn. - The Reds had no answer for the Pirates' offensive juggernaut on Wednesday night, as Bristol racked up 16 hits to knock off Greeneville and capture the series with an 11-0 victory in front of 1,216 fans at Pioneer Park.
With the loss, the G-Reds fall to 0-2 on the season, while BriBucs victory improves their overall mark to 2-0.
Bristol wasted no time getting on the board, dropping four runs in the opening frame. SS Victor Ngoepe (2-6, R, 2B, SO) ignited the game with a leadoff double to right and moved to third on a single by CF Yondry Contreras (1-6, R, 2 SO). Following a strikeout, Ngoepe crossed the plate on a wild pitch to give the Pirates a 1-0 lead.
Two batters later, RF Conner Uselton (2-3, 2 R, 2B, 2 RBI) smashed a double into the left-center field gap. A pair of runners scored - including the latter on a missed catch at the plate - to stretch Bristol's lead to 3-0. LF Eddy Vizcaino (3-4, R, 2B, 2 RBI, BB) followed with a run-scoring single to extend the early advantage to four.
The Pirates would proceed to put the game out of reach over the next several innings. In the third, Bristol loaded the bases on back-to-back singles and a walk with one out. C Gabriel Brito (1-3, 2 RBI, 2 BB) drew a walk to force in a run, while 2B Francisco Mepris (1-5, RBI, SO) chased home another tally with an RBI groundout to make it a 6-0 Pirates advantage.
Bristol mustered another run in the fourth after another stretch of back-to-back one-out singles and a walk saturated the bases, as Uselton smacked a sacrifice fly to center, pushing the Bucs lead to 7-0.
In the sixth, the Pirates erupted again, racking up three runs on five hits courtesy of RBI doubles by Granberry and Vizcaino. Brito capped off the frame with a run-scoring single to right, giving Bristol a comfortable 10-0 edge.
The final run of the night came in the top of the seventh courtesy of a run-scoring groundout by 3B Sherten Apostel (2-4, R, RBI, SO).
RHP Shane Baz (5.0 IP, 4 H, 3 BB, SO) - Pittsburgh's No. 3 prospect according to Baseball America - mustered only one strikeout, but tossed five scoreless innings to register his first professional victory.
Greeneville's RHP Ricky Karcher (0.2 IP, 4 H, 4 R, 3 ER, 2 BB, SO) struggled at times with his command, failing to get out of the first inning. The 20-year-old was saddled with his first defeat of the season.
RF Reniel Ozuna (2-2, BB) led the offensive charge for the Reds, registering two of the team's seven hits on Wednesday night. The right-handed swinger reached base all three times he came to the plate.
C Hunter Oliver (1-2) and CF Brian Rey (1-2, BB) also collected their first professional base-knocks in their debut.
Four other relievers also made their pro première. RHP Doug Norman (1.1 IP, SO) - who was drafted in 2017, but did not pitch - retired all four batters he faced, while RHP Cory Heitler (2.0 IP, 2 H, R, ER, SO) and LHP Jerry D'Andrea (1.0 IP, SO) yielded just one run over the game's final three frames. RHP Josh Rich (2.0 IP, 6 H, 3 R, 3 ER, SO) recorded his first pro strikeout in his debut, as well.
The Reds wrap up their season-opening homestand on Thursday evening, as RHP Josiah Gray - Cincinnati's third selection in the 2018 MLB Draft - makes his first professional appearance. Bristol will counter with RHP Oliver Garcia .
The G-Reds Pre-Game Show will kick off the broadcast at 6:45 p.m. ET, leading up to the 7:00 p.m. ET start at Pioneer Park. Thursday night's contest can be heard on GreenevilleReds.com or via the TuneIn Radio and MiLB First Pitch apps.
Thursday will be the Greeneville Reds' first Thirsty Thursday presented by Coors Light of the season. Fans will be able to purchase $1, $2 and $3 draft beer specials at concession stands throughout the contest.
Season and single-game tickets are still available and can be purchased online at GreenevilleReds.com or by calling the Reds' Ticket Office at (423) 609-7400.