E-Twins edge out G-Reds, 4-1
Back-to-back homers to start game lead Elizabethton over Greeneville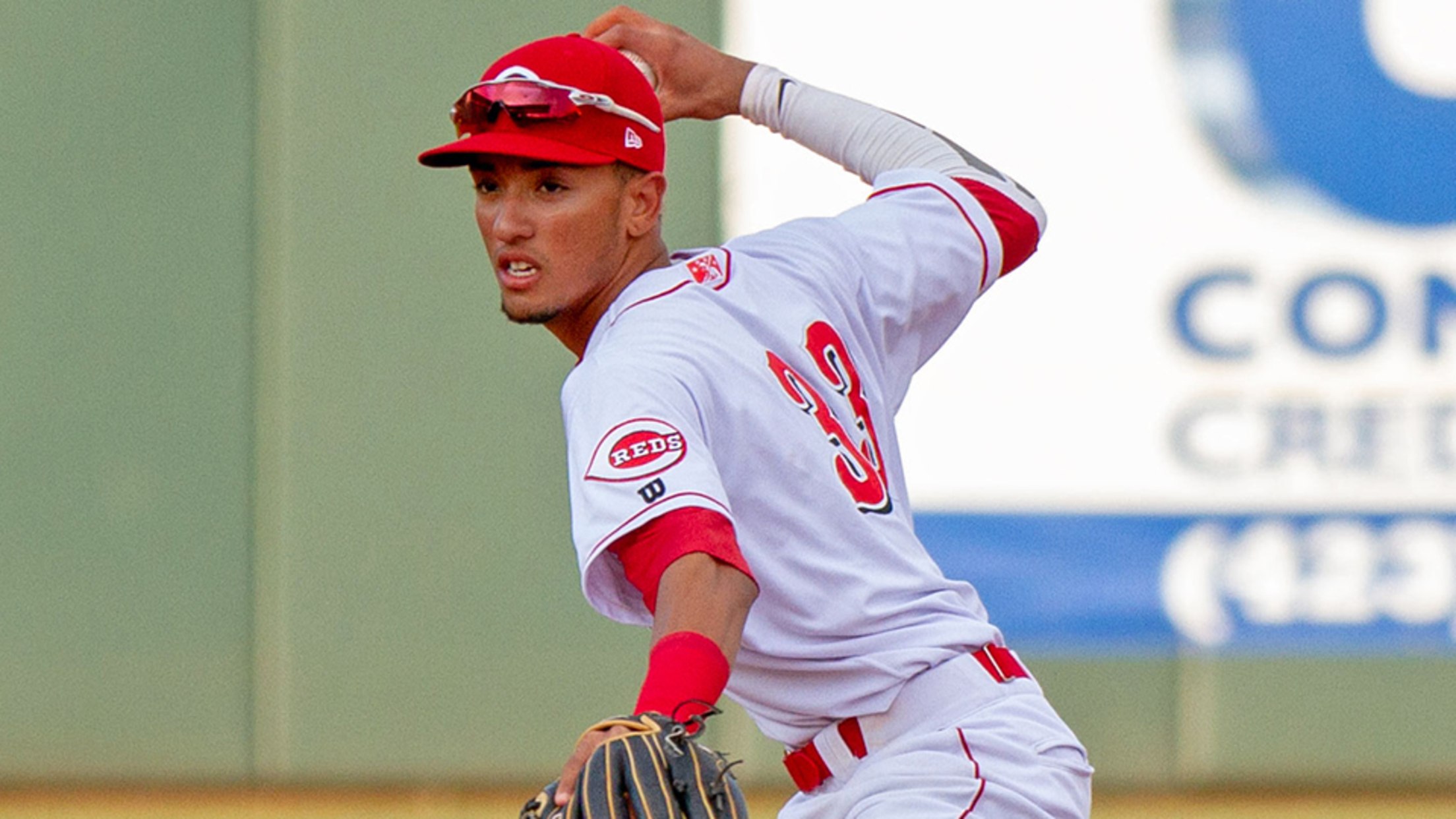 SS Miguel Hernandez picked up three hits and scored the team's only run, as the Greeneville Reds fell to the Elizabethton Twins, 4-1, in front of 1,119 fans at Pioneer Park on Monday night. (Doug Gray / RedsMinorLeagues.com)
GREENEVILLE, Tenn. -- SS Miguel Hernandez collected three hits, but Elizabethton got back-to-back home runs to lead off the ballgame, as the Twins knocked off the Greeneville Reds, 4-1, on Monday night in front of 1,119 fans at Pioneer Park.With the loss, Greeneville drops to 20-31 on the campaign. Elizabethton's victory improved their
GREENEVILLE, Tenn. -- SS Miguel Hernandez collected three hits, but Elizabethton got back-to-back home runs to lead off the ballgame, as the Twins knocked off the Greeneville Reds, 4-1, on Monday night in front of 1,119 fans at Pioneer Park.
With the loss, Greeneville drops to 20-31 on the campaign. Elizabethton's victory improved their overall mark to 28-21.
The Twins wasted no time in taking the lead, as LF Lean Marrero (1-5, R, HR, RBI) ripped the first pitch of the game over the right-center field fence for a home run. The blast - just his second of the year - gave Elizabethton a 1-0 edge. Five pitches later, SS Yunior Severino (1-4, R, HR, RBI, 2 SO) lofted a fly ball down the right-field line for another solo shot - his fifth - to make it 2-0.
Greeneville chipped into the Twins' advantage in the seventh. Hernandez (3-4, R, SO) started the inning with a single and moved to third on an errant pickoff throw. With one away, 3B Raul Juarez (0-2, RBI, SO) hit a deep drive to left, but it stayed in the park for a sacrifice fly, as the 19-year-old scored to trim the Reds deficit down to one, 2-1.
However, that would be as close as the G-Reds would get. A two-out walk and a fielding error in the top of the eighth set the stage for RF Jean Carlos Arias (1-4, 3B, 2 RBI, SO). The left-handed swinger smacked an offering down the line in right for a three-base hit - scoring both runners - to stretch Elizabethton's lead out to three, 4-1.
The Reds rallied in the bottom of the ninth, but could not complete the comeback. Hernandez reached on an infield single and C Rob Boselli (1-3, BB, SO) drew a walk with one down. RHP Johan Quezada (1.0 IP, H, BB, SO) buckled down and recorded a strikeout and a line out to third to end the game and seal his second save of the year.
RHP Alexis Diaz (6.0 IP, 5 H, 2 R, 2 ER, BB, 6 SO) tossed his third quality start of the year - striking out six over six innings - but suffered his second-straight defeat for Greeneville. E-Twins RHP Brian Rapp (4.0 IP, 2 H, R, BB, 6 SO) surrendered just one unearned run in four frames of relief to earn his first professional victory. LHP Kody Funderburk (4.0 IP, 4 H, BB, 2 SO) went four scoreless in a start for Elizabethton but received a no-decision.
The Redlegs will look to bounce back on Tuesday, as they will attempt to seal a series triumph in the rubber match. Greeneville's RHP Daniel De La Fuente (0-0, 0.00 ERA) is expected to make his first Appalachian League start. The Twins are projected to counter with recently acquired RHP Luis Rijo (3-1, 2.35 ERA).
The G-Reds Pre-Game Show will kick off the broadcast at 6:45 p.m. ET, leading up to the 7:00 p.m. ET start at Pioneer Park. Tuesday evening's contest can be heard on GreenevilleReds.com or via the TuneIn Radio and MiLB First Pitch apps.
It will be a $2 Tuesday at the ballpark, as fans can Bojangles and barbecue sandwiches, pizza, sweet tea, and select beer options for just two bucks.
Single-game tickets are still available and can be purchased online at GreenevilleReds.com or by calling the Reds' Ticket Office at (423) 609-7400.