Reds come from five down again to stun Mets, 12-9
Greeneville scores seven times, send 12 to plate in eighth-inning rally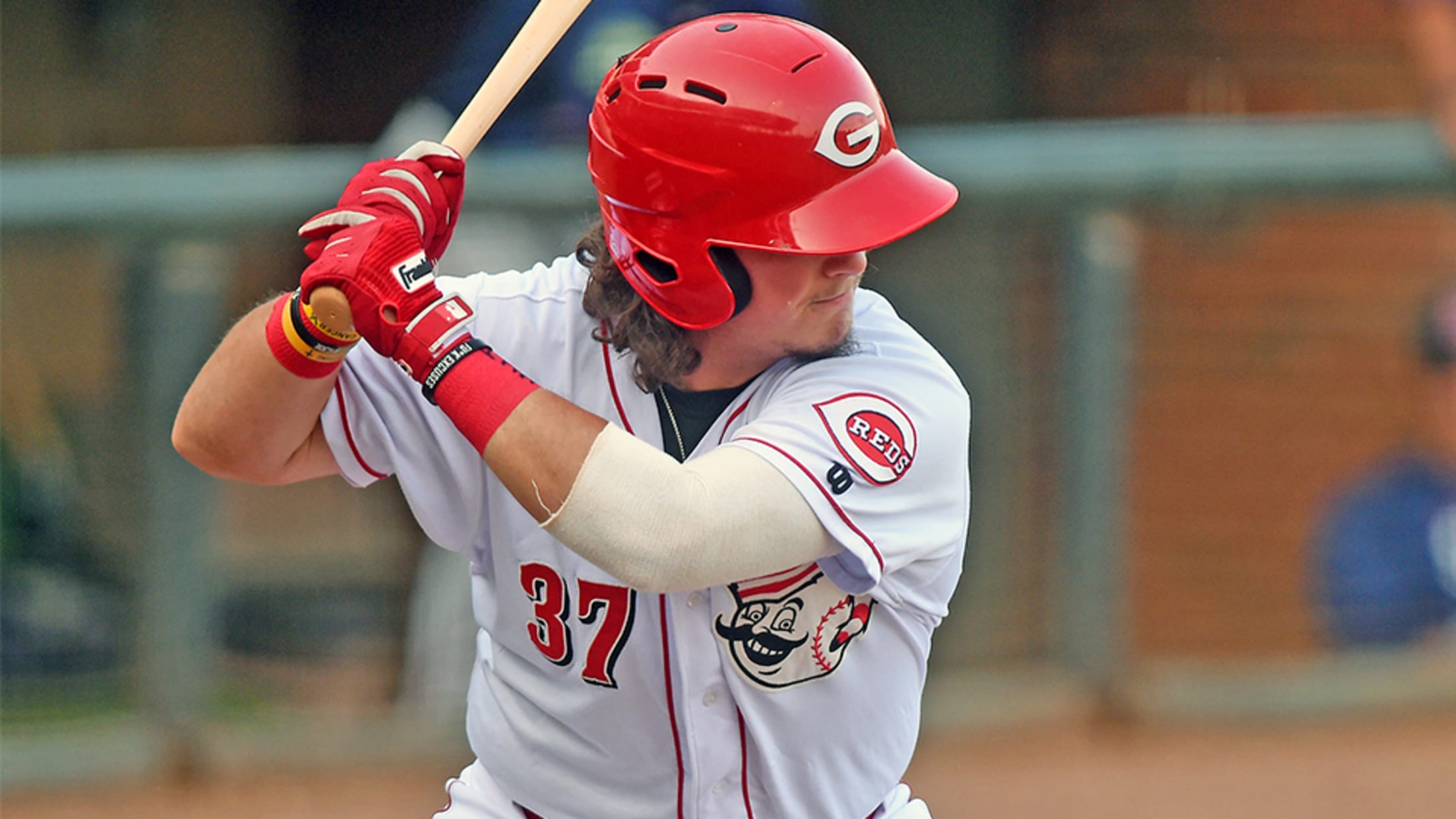 3B Rylan Thomas snapped an 0-for-17 skid with a go-ahead, two-run single, as a part of a seven-run eighth inning rally, as the Greeneville Reds erased two five-run deficits to defeat the Kingsport Mets, 12-9, in front of 922 fans at Pioneer Park on Monday night. (Brian McLeod / MiLB.com)
GREENEVILLE, Tenn. -- A night after they came from 5-0 down to collect their first-ever walk-off win, Greeneville completed the comeback trail an inning earlier. The Reds scored seven times in the bottom of the eighth to erase a pair of five-run deficits, as they stunned the Kingsport Mets, 12-9, in
GREENEVILLE, Tenn. -- A night after they came from 5-0 down to collect their first-ever walk-off win, Greeneville completed the comeback trail an inning earlier. The Reds scored seven times in the bottom of the eighth to erase a pair of five-run deficits, as they stunned the Kingsport Mets, 12-9, in front of 922 fans at Pioneer Park on Monday night.
With the win, the Redlegs have now won six of their last seven games and improved to 26-33 on the season. Kingsport's loss drops them below .500 at 29-30 on the year.
Trailing 9-5 going to the bottom half of the eighth, LF Edwin Yon (2-5, 2 R) started the rally with a single to right. SS Miguel Hernandez (3-5, 2 R, RBI) added a single to left and a fielder's choice plus a throwing error loaded the bags. 1B Raul Juarez (2-3, R, HR, 4 RBI) was plunked and C Jose Tello (2-3, RBI, BB) collected a knock to left, pulling the Reds back within to two, 9-7.
After a pitching change, 2B Claudio Finol (2-4, R, RBI, SO) stroked a sacrifice fly to left to make it a one-run game, 9-8. Subsequently after a walk that re-loaded the bags, 3B Rylan Thomas (1-5, R, 2 RBI, SO) delivered the go-ahead blow. On the first pitch he saw, the 21-year-old rifled a liner down the third-base line. Two runs scored on the single to give the G-Reds their first lead of the game, 10-9. Greeneville added two more insurance runs on a fielding error and an RBI single to left by Hernandez to snag a three-run advantage, 12-9.
RHP Connor Bennett (1.0 IP, H) entered for the top of the ninth and sealed the deal. Despite allowing a leadoff single, the Buford, Ga. native got three air outs to end the contest, earn his fifth save of the year, and complete the comeback.
It was all Kingsport early, as they held leads of 7-2 after five-and-a-half innings and 9-4 going to the bottom of the seventh.
In the second, the K-Mets scored four times on a two-run single by LF/2B Yoel Romero (3-5, 3 R, 2 RBI), a fielding error, and a tally-inducing double by CF Jarred Kelenic (2-4, R, 2B, 2 RBI, BB).
The Reds cut Kingsport's advantage to two, 4-2, on a Juarez RBI single to left in the second and a solo home run to left by RF Brian Rey (2-5, 2 R, HR, RBI) - the first of his pro career - in the fourth.
A fielder's choice and a cavalcade of throwing errors, plus a wild pitch, permitted the Mets to cross the plate three times in the fifth, making it 7-2. A two-run shot from Juarez - his second of the campaign - once again pulled the Reds to down three, 7-4.
Kelenic banged a run-scoring single and SS Shervyen Newton (1-3, R, 2 RBI, BB) lofted a sacrifice fly to expand the Mets advantage up to five in the seventh, 9-4. A sacrifice fly to right by DH Reniel Ozuna (1-3, R, 2B, RBI, BB, SO) trimmed it to 9-5 heading to the eighth.
Neither starter received a decision on Monday evening. RHP Daniel De La Fuente (5.0 IP, 3 H, 7 R, 2 ER, 4 BB, 2 SO) lasted five innings for Greeneville, while RHP Garrison Bryant (6.0 IP, 9 H, 4 R, 4 ER, BB, 3 SO) left in line for the win with Kingsport after six innings.
LHP Jerry D'Andrea (1.0 IP, BB, SO) hurled a scoreless eighth inning for Greeneville, earning his second victory of the season. RHP Allan Winans (1.0 IP, 4 H, 6 R, 3 ER) suffered his first professional defeat for Kingsport.
The Redlegs will look to continue their winning ways, as they hit the road to open up a three-game series against the Western Division-leading Elizabethton Twins on Tuesday night. RHP Josiah Gray (2-1, 2.66 ERA) - Cincinnati's No. 21 prospect according to MLB.com - is expected to take the mound for Greeneville. Elizabethton is projected to counter with RHP Luis Rijo (5-1, 2.28 ERA).
The G-Reds Pre-Game Show will kick off the broadcast at 6:45 p.m. ET, leading up to the 7:00 p.m. ET start at Joe O'Brien Field. Tuesday evening's contests can be heard on GreenevilleReds.com or via the TuneIn Radio and MiLB First Pitch apps.
Following the road trip, the Reds will return home on Friday, August 24 for a contest against the Johnson City Cardinals. Fans are encouraged to arrive early and stay late, as the first 750 fans through the gates will receive a Scott Schebler Bobblehead and - after the final out - patrons can enjoy the final spectacular Firework Friday show of the 2018 season.
Single-game tickets are still available and can be purchased online at GreenevilleReds.com or by calling the Reds' Ticket Office at (423) 609-7400.