Reds top Twins in wild, rain-shortened affair, 11-9
Game called with tying runs on base in ninth due to downpour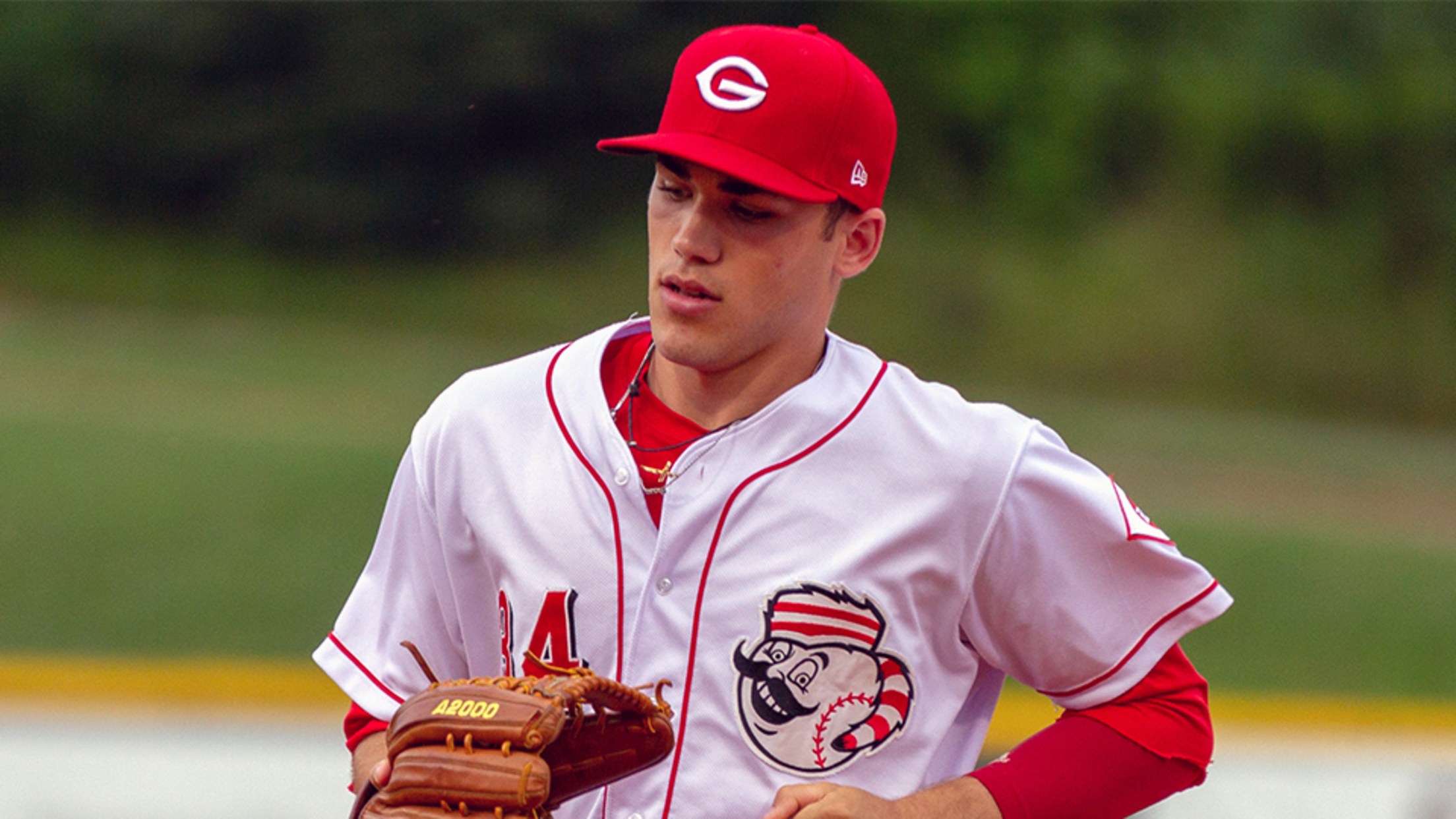 CF Mike Siani reached base all six times on Friday night - adding a solo home run in the ninth inning - as the Greeneville Reds topped the Elizabethton Twins, 11-9, in a rain-shortened affair at Joe O'Brien Field. (Doug Gray / RedsMinorLeagues.com)
ELIZABETHTON, Tenn. - Sometimes Mother Nature says enough is enough. After a 20-run, 29-hit contest, a torrential downpour brought a swift end to a 3-hour, 47-minute game, as the Greeneville Reds topped the Elizabethton Twins, 11-9, in a rain-shortened affair on Friday night at Joe O'Brien Field.With the win, the Reds
ELIZABETHTON, Tenn. - Sometimes Mother Nature says enough is enough. After a 20-run, 29-hit contest, a torrential downpour brought a swift end to a 3-hour, 47-minute game, as the Greeneville Reds topped the Elizabethton Twins, 11-9, in a rain-shortened affair on Friday night at Joe O'Brien Field.
With the win, the Reds have now won back-to-back series for the first time this year, improving to 11-17. With the loss, the E-Twins fall to 17-11 on the campaign.
After CF Mike Siani (2-3, 2 R, HR, RBI, 3 BB) smashed a home run to right - his second of his career and in as many days - to give Greeneville a two-run lead in the top of the ninth, Elizabethton put the tying runs on base with a walk and a single. Two pitches following a pitching change, the heaven's opened up.
Immense wind and rain made it impossible to pull the tarp on the field and the game was called, giving the Reds the triumph.
Prior to the severe weather, the Redlegs' offense was rolling, especially in the top of the first. An error, a walk and a single by 2B Jonathan Willems (1-6, R, 3 SO) loaded the bases to start the affair. A bases-loaded walk to 1B Rylan Thomas (1-5, R, RBI, BB, SO) and a single from DH Hunter Oliver (1-4, 2 R, RBI, BB, SO) brought in a pair to put the Reds in front, 2-0.
The attack did not stop there. RF Brian Rey (3-5, 3 R, 2 RBI, SO) added a two-run single to center and SS Miguel Hernandez (1-3, 2B, 2 RBI, 2 BB) sliced a multiple-tally double down the left-field line to cap off a six-run, four-hit opening inning.
Elizabethton would pull to within three, 6-3, with a run-scoring single from SS Yeltsin Encarnacion (4-5, 2 R, 2B, 3 RBI, BB), a bases-full free pass to 1B Chris Williams (0-1, RBI, 5 BB), and an RBI groundout before the Reds offense erupted once more.
In the fifth, 3B Jonathan India (0-2, R, RBI, 4 BB, 2 SO) drew a bases-loaded walk to force home a run, giving Greeneville a 7-3 edge. One inning later, LF Reniel Ozuna (2-5, R, RBI, 2 SO) laced a run-scoring single to right and C Rob Boselli (2-5, 2 RBI) followed with a scorching, two-RBI single to put the Reds up seven, 10-3.
Six-straight runs would allow the Twins to pull within one. RF Trevor Larnach (2-4, 2 RBI, 2 BB, SO) blasted a two-run single in the sixth and a wild pitch during the seventh, trimmed Elizabethton's deficit to 10-6. A two-run double from Encarnacion and an RBI single by DH Ryan Jeffers (3-5, R, RBI, BB, SO) in the eighth got the Twins as close as they would get, 10-9.
RHP Ricky Karcher (1.2 IP, 4 H, 2 R, 2 ER, 4 BB, 2 SO) looked strong in the first, but had command issues in the second for Greeneville, as he was stuck with a no-decision. The man who followed him - RHP Stephen Keller (2.1 IP, 2 H, R, ER, 2 BB, SO) - yielded one run over 2.1 innings for his first professional win.
Elizabethton's RHP Carlos Suniaga (0.2 IP, 4 H, 6 R, 5 ER, 3 BB, SO) was waxed for six runs (five earned) in only two-thirds of an inning, suffering his first defeat in the Appalachian League this year.
Greeneville returns home on Saturday night to open up a three-game series against the Burlington Royals. LHP Jacob Heatherly (0-2, 8.62 ERA) - Cincinnati's No. 15 prospect according to Baseball America - is expected to toe the slab for the Reds in the series opener. Burlington is projected to counter with LHP Austin Cox (0-1, 2.70 ERA).
The G-Reds Pre-Game Show will kick off the broadcast at 6:45 p.m. ET, leading up to the 7:00 p.m. ET start at Pioneer Park. Saturday evening's contest can be heard on GreenevilleReds.com or via the TuneIn Radio and MiLB First Pitch apps.
Fans are advised to arrive early, as the first 350 patrons through the gates will receive a Lee Landers Bobblehead in honor of his upcoming retirement as Appalachian League President.
Season and single-game tickets are still available and can be purchased online at GreenevilleReds.com or by calling the Reds' Ticket Office at (423) 609-7400.