Yard Goats Fall to Ponies 3-2
Binghamton 3, Hartford 2 WP-Connor Gray (1-0) LP- Will Gaddis (2-6) S- Eric Orze (2) T-2:46 A-5,547 Hartford, CT- The Hartford Yard Goats were denied a third straight win as they were defeated by the Binghamton Rumble Ponies 3-2 on Wednesday night at Dunkin' Donuts Park in Hartford. The Mets
Casey is Golden as Yard Goats Surge to Win
Hartford 6, Binghamton 5 WP-Matt Dennis (2-6) LP- Alan Winans (0-1) S- Reagan Todd (5) T- 2:45 A- 5,842 Hartford, CT- Yard Goats outfielder Casey Golden broke a 5-5 tie with a solo home run in the seventh inning, leading Hartford to a 6-5 victory against the Binghamton Rumble Ponies
Yard Goats to Host Nitro Circus on September 24th at Dunkin' Donuts Park
High-Adrenaline Live Entertainment will appear in Hartford for first time as Part of North American Tour Hartford, Conn- The Hartford Yard Goats Baseball Club, the Double-A Affiliate of the Colorado Rockies, will be hosting Nitro Circus for the first time at Dunkin' Donuts Park on Friday, September 24th at 7:00PM.
Yard Goats Pound Baysox with 18-Hit Attack, Win 13-6
Hartford 13, Bowie 6 WP- Michael Baird (1-0) LP- Blaine Knight (2-3) T- 3:13 A-1,823 Bowie, MD- Elehuris Montero and Coco Montes each blasted two home runs, and Jameson Hannah had four hits as the Yard Goats pounded the Baysox 13-6 on Sunday afternoon at Prince George's Stadium in Bowie,
Baysox Score Three in 9th to Drop Yard Goats
Bowie 6, Hartford 5 WP-Tim Naughton (2-2) LP- Reagan Todd (3-2) T- 3:24 A-4,248 Bowie, MD- The Baysox scored three runs in the ninth inning to come from behind and defeat the Yard Goats 6-5 on Saturday night at Prince George's Stadium in Bowie, Maryland. Former number one pick Adley
Baysox Shutout Yard Goats in Maryland  
Bowie 4, Hartford 0 WP-Diogenes Almengo (3-2) LP- Brian Gonzalez (1-2) T- 2:40 A- 1,953 Bowie, MD- Four Baysox pitchers combined on a six-hit shutout, as Bowie defeated the Yard Goats 4-0 on Thursday night at Prince George's Stadium in Bowie, Maryland. Starter Kyle Brnovich worked the first five innings
Baysox Use Six Homers to Beat Yard Goats 
Bowie 20, Hartford 7 WP-Tim Naughton (1-2) LP- Matt Dennis (1-6) T-3:50 A-1,258 Bowie, MD- The Baysox cranked six home runs, including two from former number one overall pick Adley Rutschman who also had 7 RBI, as Bowie defeated Hartford 20-7 on Wednesday evening at Prince George's Stadium in Bowie,
Five Run Inning Helps Yard Goats to Road Victory
Hartford 6, Bowie 3 WP- Karl Kauffmann (1-7) LP- Cody Sedlock (2-2) T-2:55 A-1,287 Bowie, MD- The Yard Goats scored five runs in the fourth inning, highlighted by back-to-back home runs by Sean Bouchard and Taylor Snyder, and defeated the Bowie Baysox 6-3 on Tuesday night at Prince George's Stadium
Manny Melendez Stays Hot at Plate in Yard Goats Loss
New Hampshire 7, Hartford 4 WP- Marco Reyes (1-0) LP- Nick Bush (0-2) S-Sean Rackowski (1) T-2:50 A- 4,735 Hartford, CT- The Fisher Cats scored seven runs in the fifth inning and defeated the Yard Goats by the score of 7-4 on Sunday evening at Dunkin' Donuts Park in Hartford.
Yard Goats Win on Sean Bouchard Walk-Off Three Run Homer in 10th  
Hartford 7, New Hampshire 5 (10) WP- Reagan Todd (3-1) LP- Mike Ellenbest (1-3) T- 3:18 A- 6,543 Hartford, CT- Infielder Sean Bouchard blasted a three-run walk-off home run in the bottom of the 10th inning to lead the Yard Goats to a 7-5 victory on Saturday night at Dunkin'
Fisher Cats Score Four in Eighth to Beat Yard Goats
New Hampshire 5, Hartford 2 WP- Graham Spraker (1-1) LP- Nick Kennedy (1-1) S-Kyle Johnston (1) T- 3:03 A- 5,690 Hartford, CT- The Fisher Cats smashed back-to-back home runs in the eighth inning to come from behind and defeat the Yard Goats 5-2 on Friday night at Dunkin' Donuts Park
Yard Goats Win Powered by Two Homers 
Hartford 5, New Hampshire 2 WP- Will Gaddis (2-5) LP- Simeon Woods Richardson (2-4) S-Reagan Todd (4) T-2:54 A-5,341 Hartford, CT- Infielders Taylor Snyder and Coco Montes each hit home runs leading the Yard Goats to a 5-2 victory against the New Hampshire Fisher Cats on Thursday night at Dunkin'
Capra's Late Inning Heroics Bite Yard Goats 
New Hampshire 10, Hartford 5 WP- Emerson Jimenez (1-1) LP- Julian Fernandez (2-2) S-Fitz Stadler (1) T- 3:19 A-4,790 Hartford, CT- Fisher Cats infielder Vinny Capra blasted a pair of two-run homers in the 8th and 9th innings leading New Hampshire past the Yard Goats 10-5 on Wednesday night at
Yard Goats Blast 3 Homers in Loss to Fisher Cats
New Hampshire 11, Hartford 5 WP- Johnny Barbato LP- Brian Gonzalez T-3:45 A-4,295 Hartford, CT- The Yard Goats blasted three home runs over the first three innings off former MLB pitcher Elvis Luciano but it was not enough as the New Hampshire Fisher Cats defeated Hartford 11-5 on Tuesday night
Willie Abreu 4 RBI Day Not Enough in Loss to Portland
Portland 7, Hartford 5 WP- Durbin Feltman (5-0) LP- Yoan Aybar (1-6) S- Seth Blair (2) T-3:07 A-5,397 Portland, Maine- The Sea Dogs scored seven unanswered runs to defeat the Hartford Yard Goats 7-5 on Sunday afternoon at Hadlock Field in Portland, Maine. The Red Sox affiliate used a four-run
Yard Goats Snyder Hits League Leading 16th Homer in DH Loss
Game 1: Portland 8, Hartford 2 WP- Kutter Crawford (2-2) LP- Garrett Schilling (1-6) T- 1:55 A- 6,058 Game 2: Portland 5, Hartford 3 WP- Tyler Olson (4-1) LP-David Hill (1-2) S- Zack Kelly (3) T-2:09 Portland, Maine- Yard Goats slugger Taylor Snyder cranked his league leading 16th home run
Sea Dogs Sink Yard Goats on Rainy Night in Portland
Portland 8, Hartford 3 WP- Andrew Politi (2-7) LP- Karl Kauffmann (0-7) T- 2:33 A-2,981 Portland, Maine- The Sea Dogs used a four-run second inning to get a jump on the Yard Goats, and defeated Hartford 8-3 on Thursday evening at Hadlock Field in Portland, Maine. Sea Dogs outfielder Devlin
Montero Two Homers Not Enough For Goats in Portland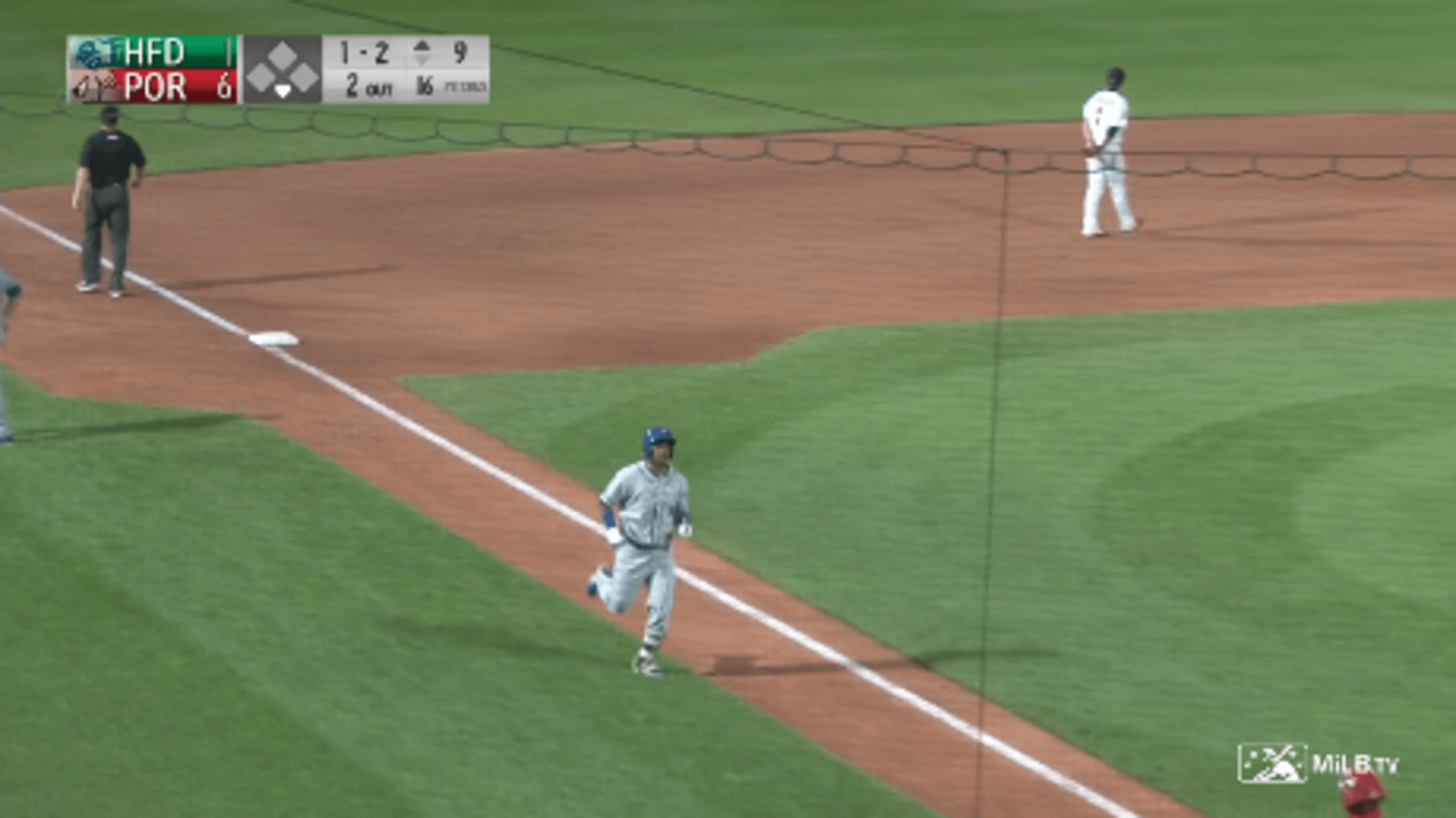 Portland 6, Hartford 2 WP-Denyi Reyes (3-1) LP- Nick Bush (0-1) T-2:32 A-4,098 Portland, Maine- Yard Goats infielder Elehuris Montero blasted two homers, but it was not enough as the Sea Dogs defeated Hartford 6-2 on Wednesday evening at Hadlock Field in Portland, Maine. Montero hit a pair of solo
Yard Goats Three Game Win Streak Snapped in Portland  
Portland 4, Hartford 3 WP- Josh Winckowski (4-1) LP- Ryan Feltner (1-1) S-Zach Kelly (2) T- 2:38 A- 3,703 Portland, Maine- Sea Dogs infielder Ryan Fitgerald hit a go-ahead two-run double in the sixth inning leading Portland past the Yard Goats 4-3 at Hadlock Field in Portland, Maine. Sea Dogs
Montero Leads Yard Goats to 4th of July Victory  
Rockies prospect Montero goes 4-4 with home run, 3 RBIs for Yard Goats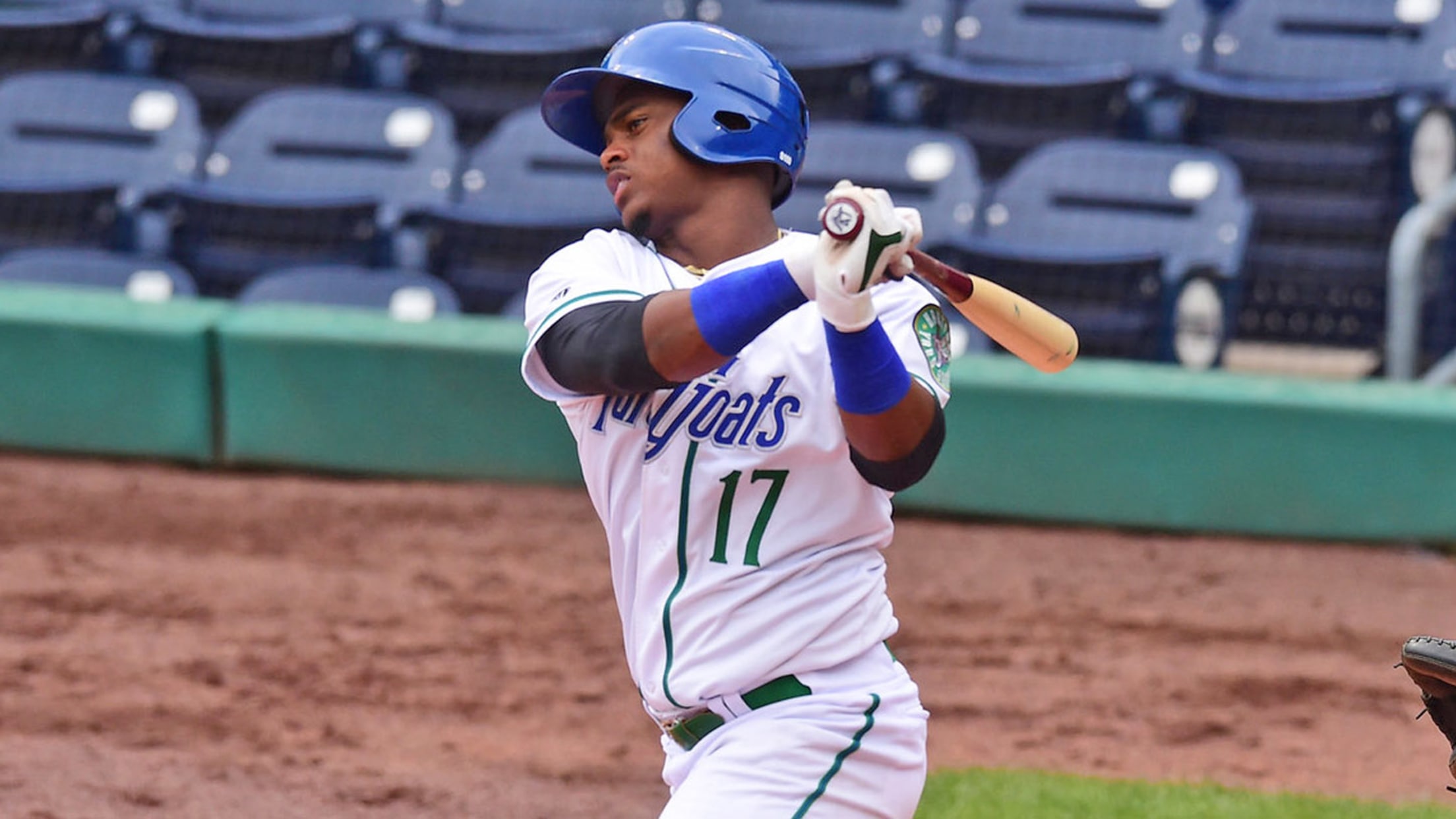 Hartford 9, Altoona 6 WP- Will Gaddis (1-5) LP- Will Gardner (1-4) S-Reagan Todd (3) T-3:23 A-6,850 Hartford, CT -- Yard Goats infielder Elehuris Montero went 4-4, including a home run and 3 RBI leading Hartford to a 9-6 victory against the Altoona Curve on Sunday night in front of
MacIver's Three Homer Game Highlights Doubleheader Sweep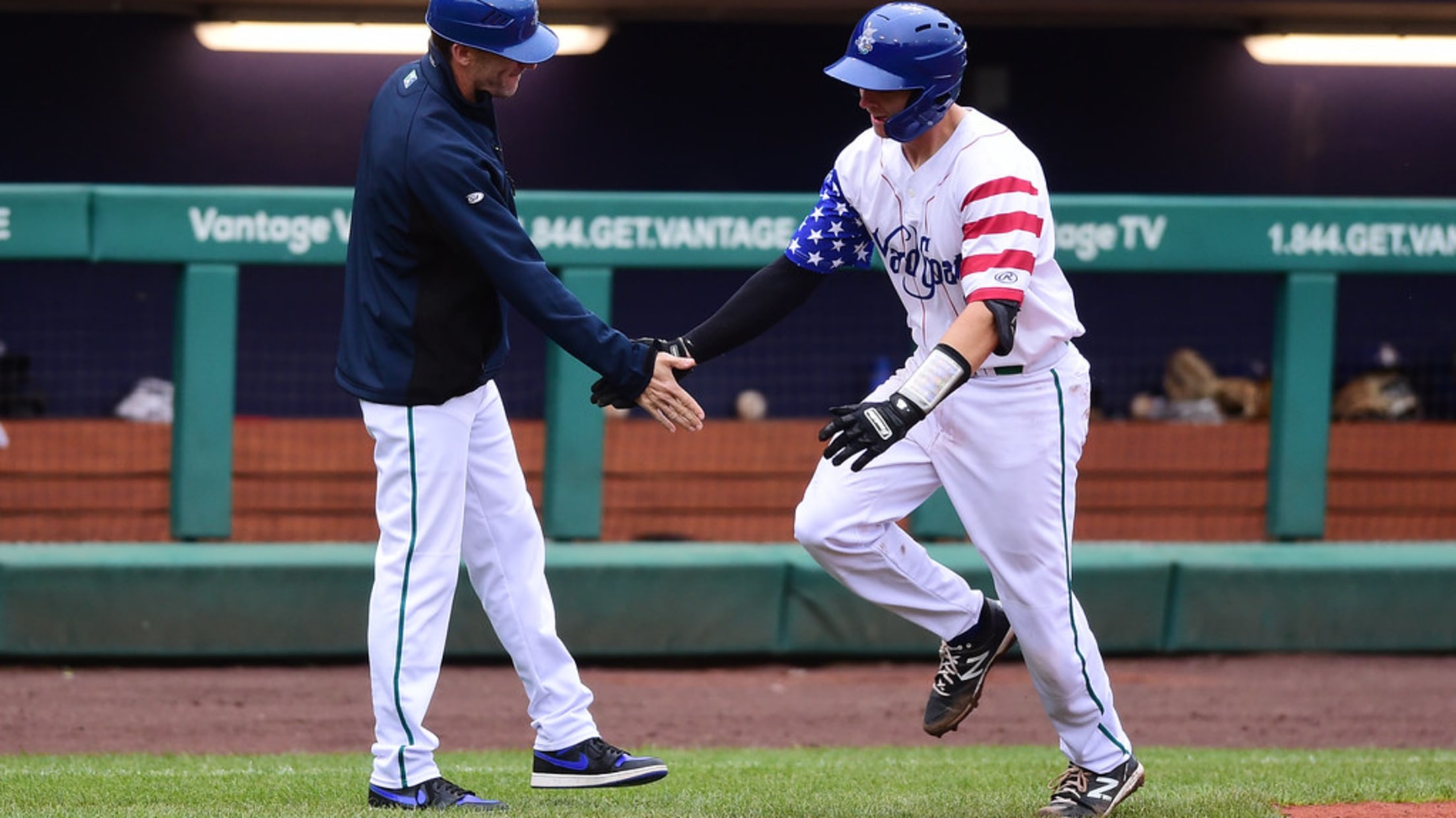 MacIver's Three Homer Game Highlights Doubleheader Sweep GM 1: Hartford 7, Altoona 5 WP- David Hill (1-1) LP- Osvaldo Bido (2-1) S- Reagan Todd (2) T-2:00 A- 5,524 GM 1: Hartford 2, Altoona 1 WP- Matt Dennis (1-5) LP- Omar Cruz (0-1) S-Julian Fernandez (1) T-2:01 Hartford, CT- Yard Goats
Yard Goats Drop One-Run Game to Curve   
Altoona 2, Hartford 1 (5 innings) WP- Trevor McGough (1-2) LP- Garrett Schilling (1-5) T-1:42 A- 4,922 Hartford, CT- Altoona Curve starter Trevor McGough hurled five innings and allowed just one run with nine strikeouts, as the Pirates affiliate defeated the Hartford Yard Goats 2-1 in a five-inning rain-shortened game
Coco Montes 4 Runs Not Enough for Yard Goats 
Altoona 15, Hartford 7 WP- Trevor McGregor (2-1) LP- Karl Kauffmann (0-6) T-3:35 A- 3,873 Hartford, CT- Yard Goats infielder Coco Montes tied a franchise record by scoring four runs, but it was not enough as the Altoona Curve defeated Hartford 15-7 on Thursday evening at Dunkin' Donuts Park. Montes
Yard Goats to Host Negro Leagues Day Celebration at July 15th Game
Autographs and Photos with Sean Gibson, great grandson of legendary Negro League Player Josh Gibson Hartford, Conn- The Hartford Yard Goats Baseball Club, the Double-A Affiliate of the Colorado Rockies, will be hosting a Negro Leagues Day Celebration at its home game on Thursday, July 15th (7:05 PM vs New
Yard Goats Score Three in 8th for 6-3 Win 
Hartford 6, Richmond 3 WP- Julian Fernandez (2-1) LP- Joey Marciano S- Reagan Todd (1) T- 2:47 A- 6,314 Hartford, CT- Infielder Taylor Snyder had three hits, including a single, RBI double and league leading solo home run, leading the Hartford Yard Goats past the Richmond Flying Squirrels by the