2018 Prospect Projections: AL East rookies
Yankees' Andujar, Torres could fill open infield spots in the Bronx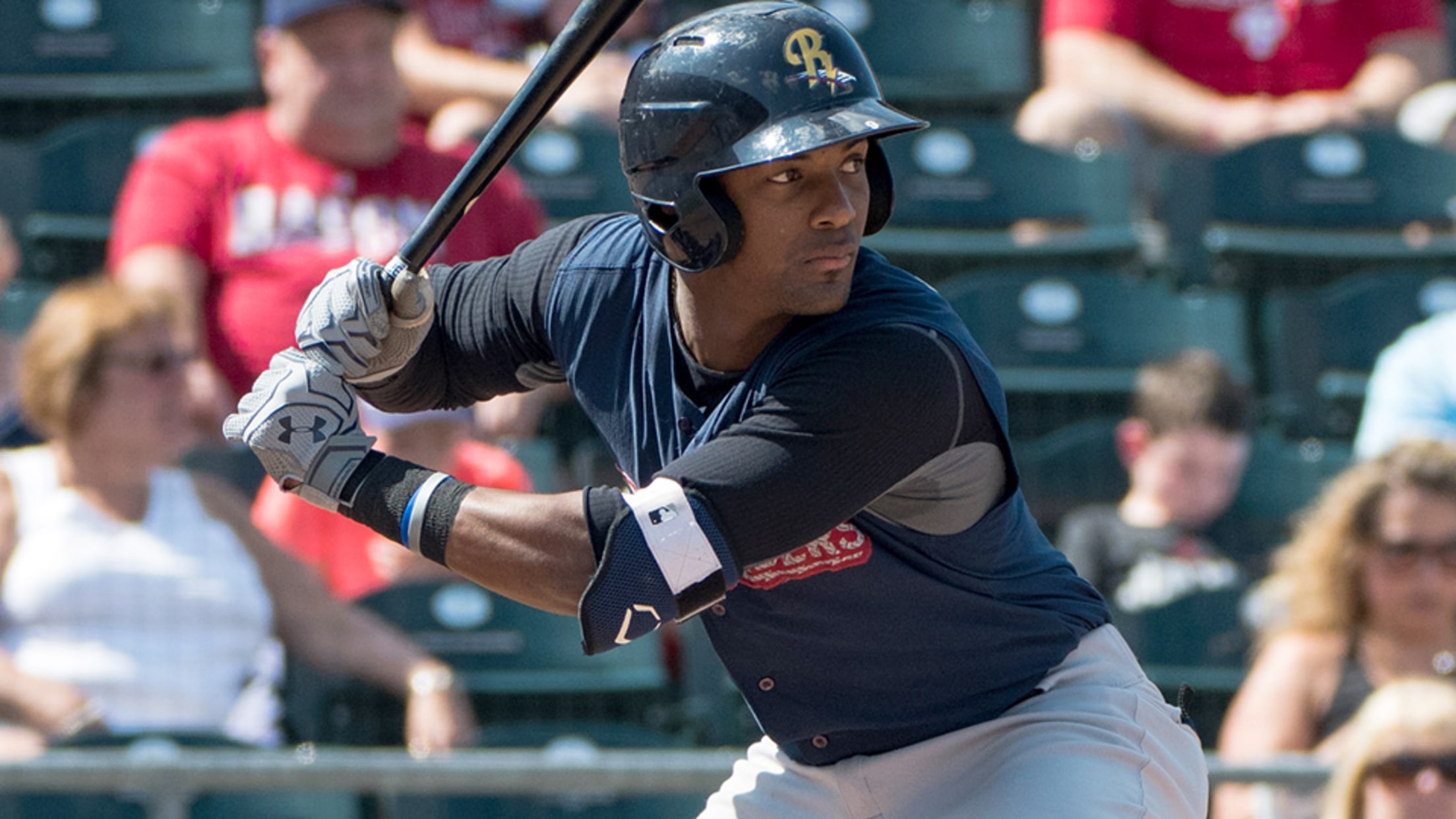 Miguel Andujar set a career high with 16 home runs between Trenton and Scranton/Wilkes-Barre last season. (Terrance Williams/MiLB.com)
This is the first in a six-part series that uses FanGraphs' Steamer600 projections to look at how prospects would fare over a full Major League season. The system bases its forecast on 600 plate appearances for position players, 450 plate appearances for catchers, 200 innings for starting pitchers and 65
This is the first in a six-part series that uses FanGraphs' Steamer600 projections to look at how prospects would fare over a full Major League season. The system bases its forecast on 600 plate appearances for position players, 450 plate appearances for catchers, 200 innings for starting pitchers and 65 innings for relievers -- taking into account age, past performance and previous Minor League levels, among other factors.
The Yankees have some holes in their lineup.
Strange to say about a club that recently traded for the National League MVP and already boasts the American League MVP runner-up, arguably the best young catcher in the game and a shortstop coming off a 25-homer season -- but it's rather undeniable.
New York's move to include Starlin Castro in its deal for Giancarlo Stanton leaves a space open at second base, while Todd Frazier's free agency and Chase Headley's trade to the Padres have created an opening at third. This being the Yankees, the easy prediction would be a dip into the free agent market. According to MLB.com's Bryan Hoch, that remains a possibility, including the return of Frazier to the Bronx.
But what makes the current Yankees different is that potential replacements may already be in place internally in the form of No. 5 prospectMiguel Andújar at third base and top prospect Gleyber Torres at second -- moves that would be in line with the team's recent reliance on youngsters such as Aaron Judge, Gary Sanchez and Luis Severino.
Using Steamer, Andujar looks like the more ready of the two, and that makes a lot of sense, given their recent histories. The 22-year-old third baseman was an offensive force in 2017, hitting .315/.352/.498 with 16 homers, two triples and 36 doubles over 125 games at Double-A Trenton and Triple-A Scranton/Wilkes-Barre. He made his Major League debut on June 28 and played five games in The Show total, going 4-for-7 with two doubles and four RBIs in limited duty.
Steamer likes enough of what it saw to project the right-handed slugger would produce a .266/.311/.426 line with 19 homers, if he was given 600 plate appearances. That'd be good enough for a slightly below-average 94 wRC+ and a 1.8 WAR, significantly better than Ronald Torreyes (78 wRC+) or Tyler Wade (79 wRC+) -- both of whom have also been mentioned as possibilities at the hot corner.
Where Andujar could fall short is with the glove. General manager Brian Cashman has mentioned that the organization would like to see him become more consistent defensively before giving him regular playing time at the hot corner. It's worth mentioning, though, that Torreyes was worth -2 Defensive Runs Saved in 149 innings last season at third, and Wade has yet to play the position with the big club.
With Torres, the situation is less cut-and-dry.
The 21-year-old is no doubt talented enough to see the Majors at some point in 2018. During his first season as a pinstriped prospect, the Venezuela native hit .287/.383/.480 with seven homers and seven steals in 55 games between Trenton and Scranton/Wilkes-Barre, showing off the offensive profile that made him MLB.com's top overall prospect. But in mid-June, he suffered a torn left elbow ligament that required Tommy John surgery and knocked him out for the remainder of the campaign. While the injury was on his non-throwing elbow and position players require a shorter Tommy John rehab than pitchers, the Yankees will be hesitant to toss a recovering player straight into the fire of the Major Leagues.
What's more, Torres is a shortstop with only 11 games of second-base experience under his belt in the Minors. Because it's much more likely for him to stick at the keystone next to Didi Gregorius, he'll no doubt need more time there in the spring and in the Minors.
Steamer seems to think this would be a decent call. Torres was given a projection of .247/.314/.378, 13 homers, 18 steals, an 85 wRC+ and 1.1 WAR. Those would be solid numbers for a rookie, but New York shouldn't treat a talent such as Torres like any other rookie. As opposed to Andujar, it's much more likely Torres is kept in the Minors until he bangs down the door with his bat as either Torreyes or Wade keeps his seat warm at second.
Below are rookie predictions for each of the five American League East clubs. To be considered, a prospect must be ranked among the top 30 in the organization by MLB.com and must have spent a significant portion of the 2017 season at Double-A or above. (Exceptions were made for some top-100 overall prospects, who are consistently the topics of "When are they coming up?" questions.)
New York Yankees
HITTERS
Pitchers
Most ready: Andujar and Torres.
Give it time: Not to be lost in the depth of pinstriped position player prospects, the Yankees have a pair of strong arms in Chance Adams and Justus Sheffield, both of whom are looking at potential Major League debuts in 2018. Adams, who threw 115 1/3 effective innings at Triple-A last season, would appear to be the closest of the pair. Funny enough, though, Steamer believes they'd provide almost equal value if called up right away. That's not to say it'd be great value right away; organizations don't call up top-100 prospects to post ERAs north of 5.00. While Sheffield's stuff has allowed him to pass Adams on most lists, Steamer makes the case that you could flip a coin without much worry. Both are slated to headline Scranton/Wilkes-Barre's rotation in the spring regardless. The fact that Adams' name has been more prominently discussed in trade rumors involving Gerrit Cole should tell everyone plenty about which prospect New York would rather keep, though.
Wild cards: For all that talk of top-100 names, Domingo German is actually the Yankees prospect Steamer likes most for 2018. If the projections had their pick, the 25-year-old right-hander would actually be the club's opening No. 5 starter behind Luis Severino, Masahiro Tanaka, Sonny Gray and CC Sabathia. It helped that he posted a 2.88 ERA with 119 strikeouts and 32 walks in 109 1/3 innings at Triple-A and Double-A and held his own over seven relief appearances with the big club. The fact that the Yanks never gave German a start could tell everyone plenty about their view of his future role, but he's got three solid pitches and impressive control to at least get more looks as a starter. Should he continue to thrive, Steamer shows he's worthy of rubbing elbows with Jordan Montgomery for that fifth spot, which New York likely didn't see coming from a prospect who was ranked outside the top 30 at the start of 2017.
Top-100 talent: Estevan Florial was arguably the breakout prospect of the system last season, playing at three levels (including Double-A Trenton in the playoffs) and rising from No. 17 to 3 in the system's MLB.com rankings. The Yankees' outfield is already incredibly crowded with the addition of Stanton, but hey, it's fun to think about what Florial could do if he made an even bigger jump this spring. Steamer tells us it's good to pump the brakes, however. Florial's power-speed combo would be solid with 16 homers and 16 steals, but little else would be. What the above table doesn't show is that he projects for 205 strikeouts over those 600 plate appearances, crushing his overall profile. That's a problem Florial had in 2017, and he'll have to show he can make more consistent contact against upper-level arms before even getting a crack at putting Steamer to the test.
Baltimore Orioles
HITTERS
PITCHERS
Most ready: The O's have been preparing for the day when Chance Sisco would be their everyday catcher for quite some time, and it should come to pass this spring. Surprising 2017 standout Welington Castillo signed with the White Sox this offseason, leaving the backstop position to Sisco and Caleb Joseph barring any other signings. Of the two, Sisco's projections are significantly better than Joseph's (75 wRC+ and 1.2 WAR over 450 plate appearances). Sisco's bat has always been his strength, but his work behind the plate could determine how much time he gets right away. Baltimore has long stated that the 22-year-old has improved with his glove and arm, and Steamer doesn't see him as being horrible back there, although that's based on only 40 innings of Major League catching work. The O's could also prefer to use the veteran Joseph, given the youth of a pitching staff led by Dylan Bundy and Kevin Gausman. But for now, Steamer is clear that Sisco is the better option right away.
Give it time: Ryan Mountcastle was right there with Austin Hays as the standout of the system to begin 2017, hitting .314/.343/.542 with 51 extra-base hits in 88 games at Class A Advanced Frederick, but those numbers took a significant hit (.222/.239/.366) after a promotion to Double-A Bowie. Appropriately, Steamer still doesn't see him as pushing Tim Beckham or Manny Machado for Major League time when he enters Spring Training. What the projection system doesn't see is that the 20-year-old still faces several defensive questions -- the Orioles moved him from shortstop to third base at Bowie and the Arizona Fall League -- and it's the glove that is more likely to keep him from a quick ascent. Nevertheless, the 2015 first-rounder will be entering just his third full season, and barring an offseason blockbuster move of Machado, the O's are well covered on the left side of the infield. Should Machado be moved at the trade deadline, however, Mountcastle could be on the short list of replacements by then.
Wild card: Watch Tanner Scott pitch, and two things jump out -- his velocity and his wildness. The velocity, which can hit triple digits in short stints, allowed him to post a 2.22 ERA with 87 strikeouts in 69 innings at Double-A Bowie last season and gave him a Major League look in September. The wildness caused him to walk 46 in those 69 frames and 11 free passes (vs. seven strikeouts) over 9 1/3 innings in the Arizona Fall League. Those control issues, and a two-pitch mix that includes a slider, are likely enough to keep him in the Major League bullpen. That said, he could be a very good reliever in time. By WAR, Steamer believes he would the Orioles' sixth-best reliever right now, even with a 6.2 BB/9. Because of his stuff, Scott does have late-inning potential, and both Brad Brach and Zach Britton have had their names pop up in trade rumors this offseason. It's likely that Baltimore returns Scott to the Minors to help him find the zone, but they could try to get his fastball back in the Majors quickly should some bullpen spots open up.
Top-100 talent: At No. 89, Hays is one of two top-100 prospects in the O's system with Sisco (No. 45), and both are currently penciled into the Opening Day lineup. Hays used a .958 OPS and 32 homers to power his way from Frederick all the way to Baltimore in his first full season in 2017 and has a good chance to be the starting right fielder. His spot in the above table might seem precarious, however. He's projected for 22 homers and a 102 wRC+ over 600 plate appearances -- solid numbers for a player with prospect status. But Steamer is down on his defensive work after he was worth -2 Defensive Runs Saved and a -154.1 UZR/150 over 144 1/3 innings in a Major League outfield. That contradicts scouting reports that say he can cover plenty of ground on the grass and has a plus arm. In that case, best to take this projection with a grain of salt for now. But don't assume Buck Showalter will just give the slugger the job either.

Boston Red Sox
HITTERS
PITCHERS
Most ready: No one who's followed the Red Sox system will tell you that this is the strongest or deepest it's been in recent memory. That's especially true at the top. When it comes to actual readiness, first baseman Sam Travis and utilityman Tzu-Wei Lin have already reached Fenway, but Steamer doesn't see either as moving the needle much. (Lin might be getting a bit short-shifted by a rough defensive rating that doesn't match up with impressive reports for his work in the middle of the infield.) Both are also behind several other members of the 40-man roster on the depth chart. Travis, in particular, was hurt by the organization's move to bring back Mitch Moreland on a two-year deal. Both have a shot to make it back should injuries pile up, but there's unlikely to be a Andrew Benintendi-esque rookie season in Boston in 2018.
Give it time: A player that posts a .910 OPS with 31 homers, finishes the regular season at Double-A and enjoys a solid AFL campaign -- and does so for a big-market system -- is usually going to face plenty of questions about how quickly he can get to the highest level. Steamer only adds to those questions by giving Michael Chavis the best projection of any prominent Sox prospect here. Boston's power outage has been well-documented, and Chavis could help out there -- his projected 24 homers rank third among Red Sox players behind Hanley Ramirez (27) and Mookie Betts (25). But there just isn't roster space, even if they wanted to push him. Former top prospect Rafael Devers has a momentary lock on third base, so Boston gave Chavis time at first base in the AFL. Again, Moreland's comeback complicates matters there. If Chavis' bat is as good in 2018 as it was in 2017, the Sox will find a place for him. But a 1.4 WAR projection over 600 plate appearances doesn't require an immediate push either.
Wild card: Brian Johnson is out of options, and to keep their 2012 first-rounder in the organization, the Red Sox have already announced that he will move to the bullpen to help him from being designated for assignment. That may make his projection moot, but given that Steamer thought he would be replacement-level anyway, it only helps make the case that a move to relief should be helpful. What's more, Boston's bullpen is looking right-handed-heavy, so the 27-year-old lefty should have a better chance to stick, even if it's just as a long man to start. Johnson won't overpower anyone, even in shorter outings, but he does have four pitches he can throw for strikes. Yet all 109 of his professional outings have been starts, so he's the ultimate Wild Card in that no one knows what he'll be like as a reliever until he comes out of the 'pen for the first time.
Top-100 talent: There have been times in the past when this column included all top-100 prospects in the table, regardless of their proximity to the Majors. In the case of Jay Groome -- the Sox's only other top-100 prospect outside Chavis -- that practice wouldn't do much good. The 19-year-old left-hander pitched only 55 1/3 innings between Class A Greenville and Class A Short Season Lowell due to a lat strain and posted a combined 5.69 ERA over that span. His projection wasn't pretty. Indeed, the southpaw is at least two seasons away from the Majors and has to show his plus fastball and curve survived a rough first full campaign.
Tampa Bay Rays
hitters
Pitchers
Most ready: The Rays could have at least one rotation spot opening soon, should the team add Chris Archer and/or Jake Odorozzi to the sell list started by last month's trade of Evan Longoria. According to Steamer, there are some replacements ready and waiting to fill the role. The projection system is still a fan of Jose De Leon, even though he only pitched 41 innings last season due to forearm issues. His Triple-A stats of a 3.11 ERA, 1.03 WHIP, 125 strikeouts and 26 walks in 98 1/3 innings dating back to his time with the Dodgers certainly helps the case. Ryan Yarbrough was much more of a workhorse in 2017, posting a 3.43 ERA and 1.16 WHIP with 159 strikeouts and 39 walks over 157 1/3 frames at Triple-A Durham. The 26-year-old left-hander may not have a true plus pitch, but Steamer still slots right him behind De Leon in WAR projection. In fact, the pair is projected to have the fourth- and fifth-best 200-inning seasons, beating out even Odorizzi, who sits eighth with a 1.4 projected WAR. While selling teams usually enter extensive rebuilding periods, that won't necessarily be the case with Tampa Bay.
Give it time: The trade of Longoria leaves the Rays' infield without its anchor, so it might be easy to look toward top-100 prospects Willy Adames and the newly acquired Christian Arroyo to see if they're ready to fill the talent void immediately. Steamer cautions that that might not be the best approach. Arroyo may be the one who's already seen the Majors, but after some struggles at the highest level, Steamer has him at about the same level as Adames. Arroyo is more likely to fill the Longoria hole at the hot corner because of his limitations defensively, but it'll take a few more Triple-A plate appearances to prove to his new organization that he's ready for another Major League look. Adames doesn't have a whole lot to prove, but a bump from his .277/.360/.415 line would go a long way toward proving the shortstop's readiness. Both could be up by June -- just hold off any "Will they break an Opening Day lineup" thoughts during Grapefruit League play.
Wild cards: Brandon Lowe has only 95 at-bats of Double-A experience, but the 23-year-old second baseman is here because he can flat out hit. Lowe produced a .311/.403/.524 line with nine homers, three triples and 34 doubles in 90 games at Class A Advanced Charlotte before getting the bump to Montgomery. That's enough for Steamer to put him next to Adames and Arroyo in its WAR projections. The Rays' infield situation seems to be in constant flux, and right now it looks like Daniel Robertson and Joey Wendle might be competing for the keystone this spring. Neither is particular exciting, so if Lowe can bring his impressive bat to levels higher than the Florida State League, the gig could be his for the taking by the second half.
Top-100 talent: The Rays currently have seven top-100 prospects, so there's a good amount to go through here. Unfortunately, Steamer gave Brent Honeywell a reliever projection despite the fact that he was one of the most electric starters at Triple-A last season. That'll hold us back from examining his chances of cracking the Tampa Bay rotation, at least from a projections standpoint. The overall numbers for No. 73 overall prospect Jake Bauers would be solid for any rookie, but his WAR gets dragged down by the fact that they don't quite stand out for a first baseman. Even after a full season at Durham, the 22-year-old requires a bit more seasoning. He's on the 40-man roster and could be a quick call-up should the club need help in the outfield or at first. Jesus Sanchez was a post-season All-Star in the Midwest League last season and remains on course for a 2019 debut.
Toronto Blue Jays
HITTERS
PITCHERS
Most ready: Vladimir Guerrero Jr. and Bo Bichette get plenty of play in this system for good reason, and they will get more in this column shortly. That said, don't sleep on Danny Jansen. The Jays' No. 17 prospect hit .323/.400/.484 with 10 homers and a 40/41 K/BB ratio across three levels last season. Those numbers pit him as Steamer's second-favorite catcher on the Toronto depth chart behind only Russell Martin. Luke Maile may have more of an inside track to the backup job, given his Major League experience, and that would allow Jansen to get more regular at-bats in Buffalo. But the Jays shouldn't be afraid to bring up the 22-year-old should he pick up where he left off in the International League, especially now that he's on the 40-man.
Give it time: You knew this was coming, both the projection and the caution. Guerrero is on the radar to become the No. 1 overall prospect after he hit .323/.425/.485 with 13 homers and a 62/76 K/BB ratio as an 18-year-old at Class A and Class A Advanced. Steamer loves him for that, giving him the fifth-highest WAR projection among Jays players along with a 103 WRC+ that says he'd already be an above-average Major League hitter. It's possible given his skill set that Guerrero could see a late-2018 debut, especially if fellow third baseman Josh Donaldson is dealt by the deadline. But the Jays aren't planning their 2018 around the young slugger just yet, and they won't push him to The Show until he's fully ready. That could be August. It could be June 2019. It won't be this April, as much as everyone wants to see it.
Wild cards: Anthony Alford can be one of the most exciting players on any field he steps on. He just has to stay on the field. The 23-year-old outfielder has played more than 100 games just once in his Minor League career since moving to baseball full-time. In 2017, he missed significant time with a broken left wrist suffered in the Majors -- a freak accident more than anything worrisome about the viability of his long-term health. Steamer still doesn't think he's ready to return just yet, and indeed, he's only played three regular-season games at Triple-A, so a move to Buffalo makes a ton of sense. That said, don't be surprised if his plus-plus speed and improved bat gets him a long look in the spring and a quick call soon after.
Top-100 talent: Steamer isn't quite as high on Bichette as it is Guerrero. He might be third in the table when it comes to WAR, but he'd still be a below-average Major League bat right away. If that seems rough for a player who won the Minor League batting title with a .362 average and also produced a .988 OPS, just remember he still hasn't cracked Double-A. Guerrero hasn't either, of course, but the third baseman earns points over Bichette for being a year younger and having much better strike-zone discipline. Bichette struck out 81 times and earned 42 walks in his 110 games at the same levels. The pair should stick together to begin 2018, and the shortstop's slightly diminished Major League projection shouldn't throw anybody off his still-promising offensive future.

Sam Dykstra is a reporter for MiLB.com. Follow and interact with him on Twitter, @SamDykstraMiLB.