2018 Prospect Projections: NL Central rookies
Brewers' toolsy Brinson looks ready to be added to outfield mix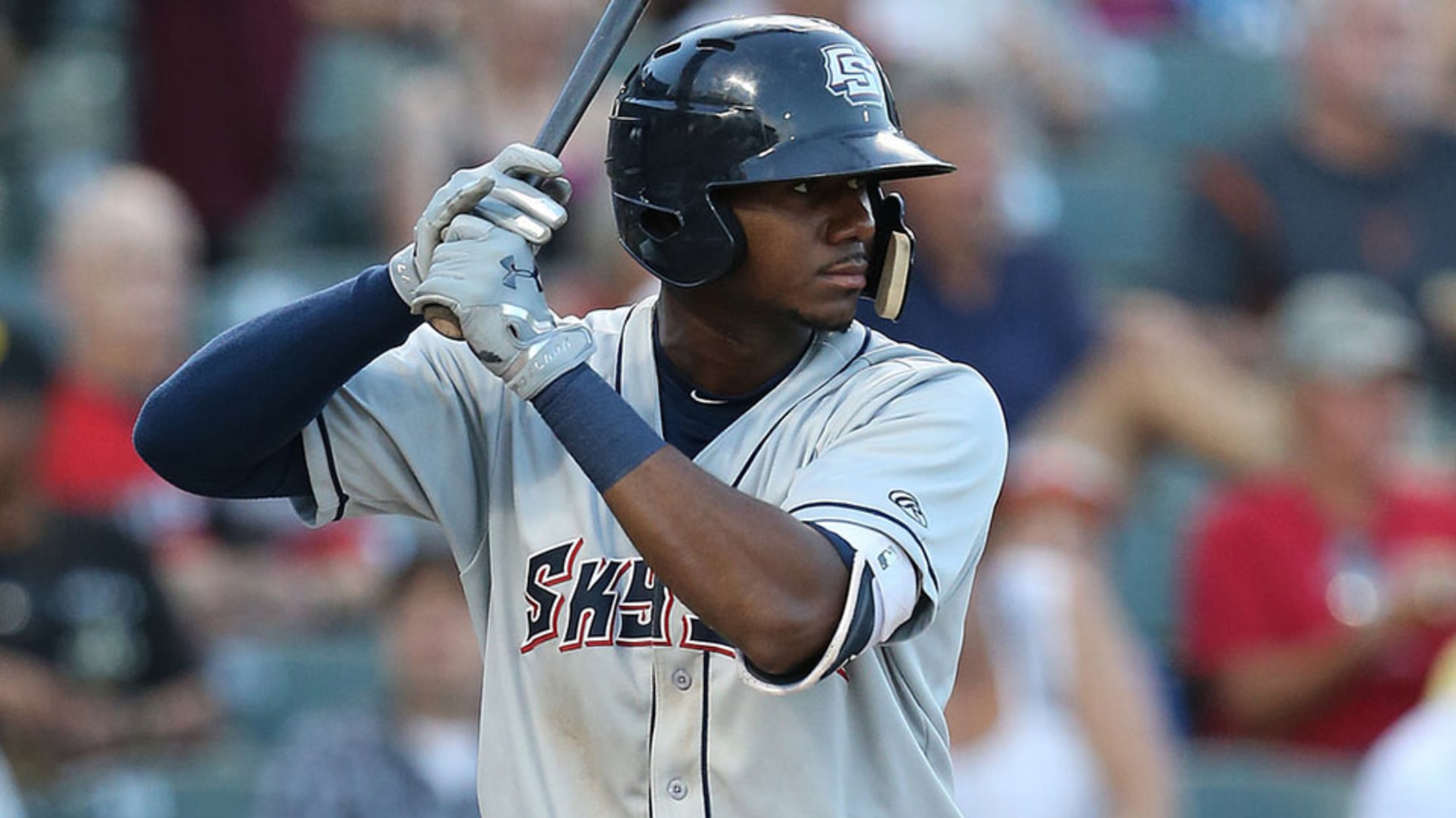 Lewis Brinson hit 13 homers and stole 11 bases in 76 games for Triple-A Colorado Springs in 2017. (Jamie Harms/MiLB.com)
This is the fourth in a six-part series that uses FanGraphs' Steamer600 projections to look at how prospects would fare over a full Major League season. The system bases its forecast on 600 plate appearances for position players, 450 plate appearances for catchers, 200 innings for starting pitchers and 65
This is the fourth in a six-part series that uses FanGraphs' Steamer600 projections to look at how prospects would fare over a full Major League season. The system bases its forecast on 600 plate appearances for position players, 450 plate appearances for catchers, 200 innings for starting pitchers and 65 innings for relievers -- taking into account age, past performance and previous Minor League levels, among other factors.
The Brewers have a good problem. They have a surplus of outfielders. That's why Milwaukee popped up in reports over the weekend regarding use of that depth on the grass in a potential upcoming deal. It also helps that they have one of the game's top outfield prospects in Lewis Brinson, who already has 21 games of Major League experience and should be ready to return to The Show in 2018.
But just how ready is he? So ready, in fact, that Steamer expects the 23-year-old outfielder to get a starting spot right away, even if there are no trades between now and Opening Day.
Acquired from the Rangers in 2016 in a deadline deal for Jonathan Lucroy, Brinson has been nothing short of a five-tool monster since joining the Brewers system. In 107 games at Triple-A Colorado Springs over the past two seasons, the right-handed slugger has produced a .349/.409/.574 line with 18 homers and 18 steals. Even though those numbers came mostly at high altitude in a league known for offense, it's still mighty impressive that his 146 wRC+, which takes offensive environment into account, ranked eighth among the 124 Pacific Coast League batters with at least 300 plate appearances in 2017.
A member of the 40-man roster since 2016, Brinson had two stints in the Majors last season in June and July/August for a Brewers club that surprised many with the way it fought for contention. But in sporadic playing time, the 6-foot-3 center fielder didn't enjoy the same success with the big club, producing just a .106/.236/.277 line with two homers in 21 games and 55 plate appearances. A left hamstring strain in mid-August back at Colorado Springs ended his season prematurely and kept him from improving on those numbers when rosters expanded in September.
Even taking his small-sample Major League struggles into account, Steamer still believes he'd be one of the Brewers' three best outfielders right now, on par with sluggers Ryan Braun and Domingo Santana and ahead of fellow center fielders like Brett Phillips and Keon Broxton. Here's how Brinson's Steamer600 projections hold up against current potential Brewers outfield options.

Brewers Outfielders on 40-man roster
While Steamer doesn't believe Brinson's bat would be Major League-average just yet, his defensive projection allows him to be on the same level as Braun and Santana, neither of whom would be confused for a Gold Glove winner at this stage in their careers. What's more, Steamer is probably a little low on Brinson's glove. By most reports, he's got plenty of range to cover center field admirably and an above-average arm that could make him work as well in right, where he played six games while in Colorado Springs last season. What probably makes more sense though is to keep Brinson in center and use Phillips in right, where he can continue to show off the cannon of an arm that produced a 104.7 mph laser in September.
The overall readiness of Brinson and the defensive readiness of Phillips could make Santana the one on the block. The 25-year-old right fielder has perhaps never been more valuable as he comes off a campaign in which he set career bests in home runs (30), OPS (.875), wRC+ (126) and WAR (3.3). He still hasn't entered his arbitration years and wouldn't become a free agent until after the 2021 season. Milwaukee may prefer to trade the more expensive Braun, who is due $56 million over the next three seasons and has a $15 million option/$4 million buyout for 2021, but it'll be tougher to find a taker or an exciting return for a 34-year-old coming off a 1.5-WAR season.
Regardless if they make a move or not, the Brewers should have Brinson in the starting lineup before long this summer, even if it means a brief return to the PCL. With Corey Ray and Monte Harrison also in the pipeline, it might not be long before Milwaukee has another good problem on the grass.
Below are rookie projections for each of the five National League Central clubs. To be considered, a prospect must be ranked among the top 30 in the organization by MLB.com and have spent a significant portion of the 2017 season at Double-A or above. (Exceptions were made for some Top-100 overall prospects, consistently the subject of "When are they coming up?" questions.)
Milwaukee Brewers
HITTERS
PITCHERS
Most ready: Brinson. See above.
Give it time: There's a case to be made that Corbin Burnes should be in the above category, at least when it comes to WAR. Who could blame Steamer for its lofty projection after he sported a 1.67 ERA and a 0.95 WHIP with 140 strikeouts and 36 walks in 145 2/3 innings last season? Steamer is based on stats, after all, and the 2016 fourth-rounder put up some of the best in the Minors in his first full season. They also came at Class A Advanced Carolina and Double-A Biloxi, however, meaning Burnes is at least a few months away from bursting through the Major League door. A move to Colorado Springs is likely before that talk can begin in earnest. Should his above-average fastball and slider and impressive control play well in the PCL, those discusssions may not be too far off.
Wild cards: Second base wasn't a position of strength for the Brewers in 2017. Opening Day starter Jonathan Villar was below-replacement-level, and the team ended up acquiring Neil Walker at the deadline, only to see him enter free agency this offseason. Eric Sogard re-signed under a one-year deal but figures to fit more of a utility role. Could Mauricio Dubon be an option? The 23-year-old, who came over last offseason from the Red Sox, split his time in 2017 between second and short but won't be a threat to Orlando Arcia. Dubon is a speedster with a good hit tool as a career .297 batter in the Minors. He already spent 58 games at Colorado Springs in 2017 as well. For its part, Steamer isn't convinced he's an immediate solution up the middle, but should neither Villar nor Sogard seize the position in the first couple months, Milwaukee might give him a solid look at the keystone.
Top-100 talent: Brandon Woodruff already has eight Major League starts under his belt, producing a 4.81 ERA with 32 strikeouts in 43 innings in that span, but unfortunately was given a reliever projection here. He'll be in the rotation discussion this spring and faces an uphill battle, even if Milwaukee doesn't add another starter before camp opens. Ray, Keston Hiura, Isan Diaz and Luis Ortiz round out the Top-100 contingent using MLB.com's end-of-season rankings, and all four are below-replacement-level as expected, given how far they are from the Majors. Same goes for Monte Harrison, who is expected to be a Top-100 prospect when lists are updated later this week.
Chicago Cubs
HITTERS
PITCHERS
Most ready: Victor Caratini sure can hit. The 24-year-old backstop produced a .342/.393/.558 line with 10 homers in 83 games at Triple-A Iowa last season, all while he was going up and down between the PCL and the Majors in his first season on the 40-man. His numbers weren't quite as great in the Majors (81 wRC+, 0.0 WAR in 31 games/66 plate appearances), but he's still expected to be Willson Contreras' backup come March. Steamer has no qualms with that, projecting him for a 92 wRC+. Should Contreras go down with an injury, the switch-hitter, who also has time at first base, could at least fill in offensively, even if there are some questions about his defensive acumen.
Give it time: Adbert Alzolay has that "next big big-market prospect" feel to him. The 22-year-old right-hander broke out with a 2.99 ERA, a 1.10 WHIP, 108 strikoeuts and 34 walks in 114 1/3 innings at Class A Advanced Myrtle Beach and Double-A Tennessee after a velocity jump in which he started to hit the mid-90s. That's exciting news for a contending club that doesn't have a homegrown starter in its rotation. But Alzolay, who was added to the 40-man in November, is still too far, as Steamer shows. A return to the Southern League is likely, meaning a second-half debut looks like his best option if it's going to happen at all in 2018.
Wild cards: Dillon Maples got himself on the fast track in 2017, climbing from Class A Advanced Myrtle Beach to the Majors thanks a 2.27 ERA, .192 average-against and 100 strikeouts in 63 1/3 innings across three Minor League levels. The 25-year-old right-hander averaged 97 mph with his fastball in the Majors and has earned impressive grades for his breaking pitches as well. But his lack of control is what holds him back. Maples walked six of the 27 batters he faced (22.2 percent) in the Majors and had a 13.5 percent walk rate in the Minors last season. Steamer still believes he could rack up enough strikeouts to be useful, and indeed, his 3.91 FIP projection is lower than that given to left-hander Brian Duensing, who just signed a two-year, $7 million deal to stay on the North Side. But Maples will need to show the Cubs he can find the zone with more regularity before the reigning division champs give him a prominent role in the Major League bullpen.
Top-100 talent: The Cubs have no Top-100 prospects.
Cincinnati Reds
HITTERS
PITCHERS
Most ready: Cody Reed, Amir Garrett, Robert Stephenson, Brandon Finnegan -- all are Top-100 names who haven't quite worked out as the dominant starters they could have been in Cincinnati. Luis Castillo provided some hope for internally promoted arms last season, and Tyler Mahle could be set to do the same in 2018. The 23-year-old right-hander turned into a Top-100 prospect by posting a 2.06 ERA and a 0.96 WHIP with 138 strikeouts and 30 walks over 144 1/3 innings last season at Double-A Pensacola and Triple-A Louisville. He was brought up on Aug. 27 and did enough over four starts (2.70 ERA in 20 innings) to keep his name firmly in the rotation discussion this spring. Steamer backs that up, tying him with Sal Romano for the third-highest starter WAR projection behind Castillo (3.4) and Anthony DeSclafani (2.3). It's possible that Cincy could send Mahle back to Louisville, where he only made 10 starts last season, to begin 2018, but Steamer would argue that's unecessary given the state of the club's Major League options.
Give it time: If Nick Senzel had a real chance of being in the Majors at the beginning of 2018, he would lead not only this section but the whole column. That's because Steamer really likes the 2016 second overall pick. His projection of 2.3 WAR over 600 plate appearances is second-highest among all ranked position player prospects behind only Vladimir Guerrero Jr.'s 2.5 for the Blue Jays. That almost comes straight from the fact that Senzel produced a .340/.413/.560 line with 25 extra-base hits in 57 games at Pensacola, where he finished 2017. His 184 wRC+ there was the highest among any Double-A hitter with at least 200 plate appearances last season. General manager Dick Williams said in the ffall that Senzel is likely ticketed for Louisville, and the club will try to get him exposure topositions other than third base to get him out of Eugenio Suárez's shadow. It's that defensive movement that will have to keep him out of the Majors, though, because Steamer doesn't believe he needs to show much more with the bat.
Wild cards: The Reds have plenty of speed in their starting outfield in Billy Hamilton. They'll also likely find it on the bench in the form of Phillip Ervin. The 2013 first-rounder didn't show much with the bat in either Louisville or Cincinnati in 2017, and Steamer appropriately doesn't see much coming from him offensively, projecting an 80 wRC+ over 600 plate appearances. His speed, however, is a different story. Ervin swiped 27 bases between Triple-A and the Majors last season and had at least 30 steals in each of 2014, 2015 and 2016. Steamer expects him to add 27 thefts over 600 plate appearances in 2018, tying him with José Peraza for the second-highest steal projection among Reds position players. (Hamilton has almost double that at 52.) Barring other moves, Ervin probably will head to the regular season as a fourth or fifth outfielder on the Major League roster, and both he and the Reds will need to see that speed if he's to stick there.
Top-100 talent: The Reds seem pretty intent on making sure 2018 is the year in which Jesse Winker finally latches onto a full-time Major League spot. It's tough to blame them after he produced a .298/.375/.529 line with seven homers in 47 games with the big club last season. After seeing his power drop in two seasons at Louisville, the 24-year-old corner outfielder's tool showed up at the game's highest level. Steamer isn't quite convinced yet that last season's production is sustainable. The system still believes Winker will be a solid bat with a 105 wRC+ projection, second to only Joey Votto's 147 among Reds, but he's still only projected for 16 homers. Without much of a speed or defensive projection, that still works out to 1.0 WAR over 600 plate appearances. Winker has done enough to earn a longer Major League chance. How much he'll do with that is up in the air.
Pittsburgh Pirates
HITTERS
PITCHERS
Most ready: The Pirates grabbed headlines last week by dealing franchise cornerstones Gerrit Cole and Andrew McCutchen to the Astros and Pirates respectively. That provided a boost to their farm system, even if they didn't receive any Top-100 prospects in return. The argument at least for the Astros deal was that the club received multiple controllable, Major League-ready youngsters, one of whom was third baseman Colin Moran. The way things stand, Moran, who is coming off a .308/.373/.543, 18-homer season at Triple-A Fresno, should slide right into the starting spot at the hot corner. But Steamer isn't buying that he'll be valuable right away. The system has him pegged to below-average with the bat (84 wRC+) and not even worth one win with a 0.8 WAR over 600 plate appearances. The system says David Freese (95 wRC+, 0.9 WAR because of worse defense) might be the better option. The fact Moran still earns the "most ready" distinction says a good amount about where the farm system stands even after the trades. (Note: Joe Musgrove also came over from the Astros and projects to be the Pirates' No. 2 starter, per Steamer, but is no longer considered a prospect.)
Give it time: To get a much rosier look at the Pirates, go one step down to Mitch Keller, who received the highest WAR projection among ranked prospects despite the fact he's only made six starts at Double-A Altoona. The 21-year-old right-hander continued to be one of the game's most exciting right-handed prospects in 2017 by putting up a 3.03 ERA and a 1.00 WHIP with 116 strikeouts and 32 walks in the Minors last season, and that mix of high strikeouts and relatively low walks is rewarded with a solid 2.1 WAR projection over 200 innings. Well, solid for a rookie pitcher. The Bucs are likely to send the 2014 second-rounder back to the Eastern League with an eye at a debut in the second half. Keller, who turns 22 at the start of the season, will have to show he can stay healthy first; he missed time in 2017 with a back injury but made up for lost time with 23 2/3 innings in the Arizona Fall League.
Wild cards: There's a chance the big league club won't see much of Nick Burdi, so anyone can forget the 60-inning projection here. The Bucs grabbed the former Twins right-hander in the Rule 5 Draft because of his triple-digit fastball and plus slider that helped him average 12.3 K/9 during his time in the Minnesota system. The catch is he underwent Tommy John surgery last May and likely won't be throwing again until midseason. That gives him Rule 5 stash potential, though he will have to be on the active roster for 90 days for him to stick. Should he come back fully healthy and live up to his potential, Burdi is projected to be an OK reliever by Steamer's standards. The reason his projection isn't higher is that he's only thrown 20 Double-A innings in his past two seasons, but there's little doubt his stuff could play at the highest level right away.
Top-100 talent: In a dream world for the Bucs, McCutchen's departure means that Austin Meadows can slide right into the Major League lineup, where he'd remain for many happy and healthy years to come. Unfortunately, Meadows has experienced injury issues and has yet to put together a string of sustained productivity at the Triple-A level. That comes across in the projections that have him as a below-replacement-level player entering 2018. Instead, it's Jordan Luplow who is likely to be the outfield prospect who will crack the Opening Day roster in 2018, with Adam Frazier moving into a starting outfield spot. Meadows has the plus speed to be a Major League asset and has shown a good bat at the lower levels. He doesn't turn 23 until May either. There are reasons to still be high on the 2013 No. 9 overall pick. Just don't include this projection as one of those reasons.
St. Louis Cardinals
HITTERS
PITCHERS
Most ready: Free Carson Kelly. He might not put it that way, but someone should. The 23-year-old backstop recently was named the No. 2 catching prospect in baseball by MLB.com. He showed he can be a solid hitter with a .283/.375/.459 line and 10 homers in 68 games at Triple-A Memphis last season. He's become a defensive asset behind the plate, even after being a full-time third baseman as recently as 2013. He has 44 games of Major League experience. His Steamer projection doesn't scream immediate All-Star, but it's good for a prospect. He has everything to set up to be a Major League full-time catcher. Except for the fact that he sits behind Yadier Molina on the Cardinals' depth chart and Molina is signed for three more seasons. The Cards see Kelly as good depth, especially when their starter at a physically demanding position is 35 years old. But boy, it would be fun to see what the younger catcher could do with more playing time. (Same goes for Andrew Knizner, but he'll have to wait even longer.)
Give it time: This should be a no-brainer. Alex Reyes underwent Tommy John surgery last February, and therefore will just be getting back to pitching when he returns to Spring Training next month. Cardinals general manager John Mozeliak told the St. Louis Post-Dispatch in November that the club was eyeing May 1 as a return date. It remains up in the air how the Cardinals would use the 23-year-old right-hander. With three above-average offerings, he has the stuff to be a starter, but an innings limit could put him in the bullpen out of the gate. Steamer believes he could be a promising reliever with a 3.83 ERA and a strikeout rate well above one per inning. Just don't be surprised if it takes some time for a post-surgery Reyes to show his dominant form again, regardless of role.
Wild cards: It's been a busy offseason in the St. Louis outfield. Marcell Ozuna is in; Randal Grichuk and Stephen Piscotty are out. That net negative could be positive news for Harrison Bader or Tyler O'Neill -- two Top-100 prospects who played 120-plus games in the Pacific Coast League last season. Bader has the Major League experience, and that could give him the edge over O'Neill in the race for the fourth outfield spot. Steamer doesn't see too much difference between the pair. Bader's slight advantage in WAR comes down to the fact that Steamer has seen (and liked) his defense in the Majors, while it has nothing to go off in that category for O'Neill. That said, Bader has a chance to play multiple outfield spots, making him a better candidate for now. The Cards should take comfort in their options.
Top-100 talent: Jack Flaherty is the team's other Top-100 prospect, but even after making 30 starts between the Minors and Majors in a breakout 2017, he was given a reliever projection by Steamer. Nonetheless, the 22-year-old right-hander is likely ticketed for a return to Triple-A Memphis after he posted a 6.33 ERA over 21 1/3 frames in the big leagues last season. (The signing of Miles Mikolas out of Japan should round out the St. Louis rotation.) Don't be misled by Steamer's projection: Flaherty's future is very much in a rotation, and the Cardinals won't be afraid to turn to him early in 2018 if injuries require them to.

Sam Dykstra is a reporter for MiLB.com. Follow and interact with him on Twitter, @SamDykstraMiLB.