2018 Prospect Projections: NL East rookies
Braves' Gohara leading charge in system full of top arms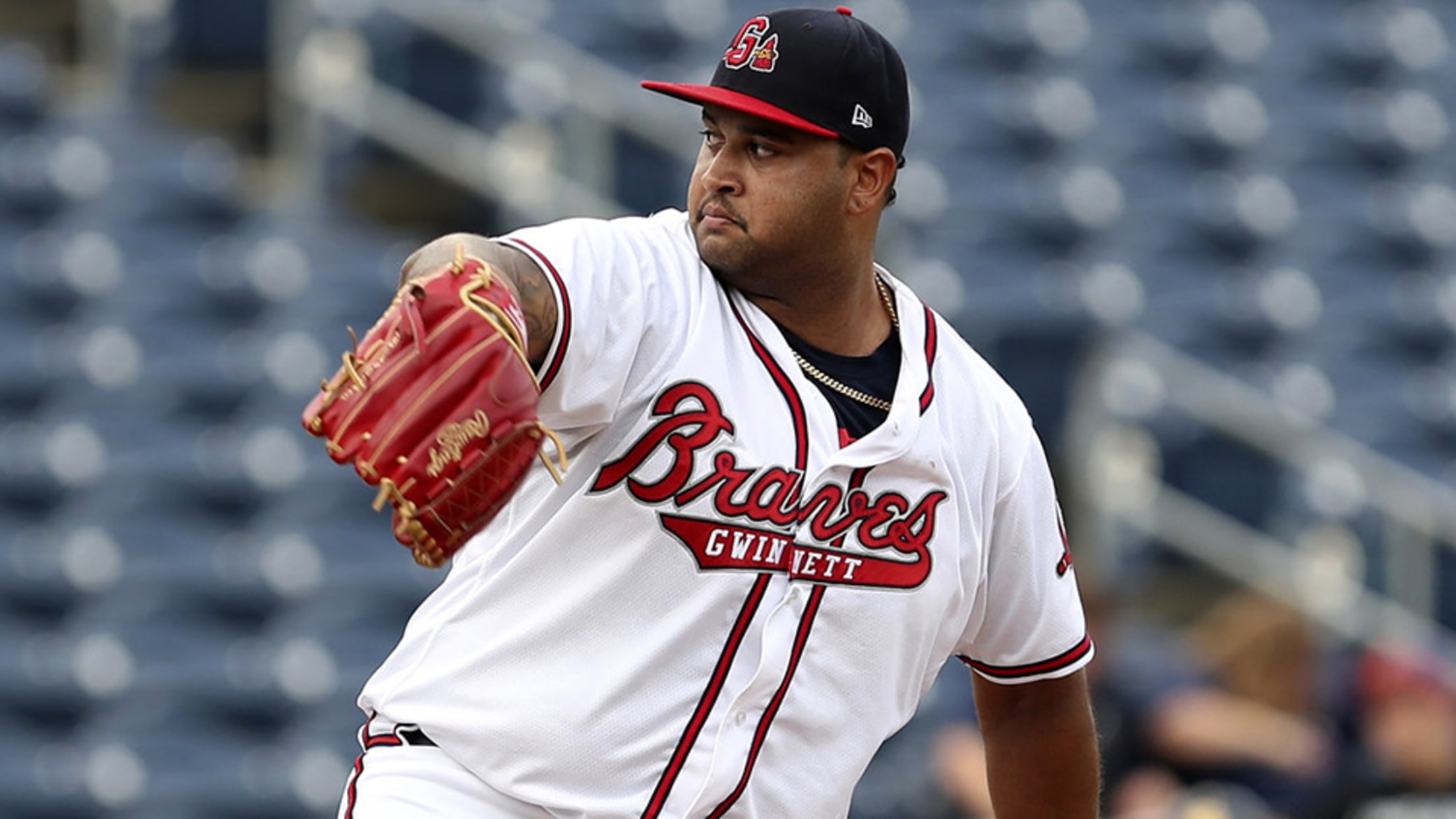 Luiz Gohara's 147 strikeouts ranked fourth among Braves farmhands last season. (Mark LoMoglio/MiLB.com)
This is the second in a six-part series that uses FanGraphs' Steamer600 projections to look at how prospects would fare over a full Major League season. The system bases its forecast on 600 plate appearances for position players, 450 plate appearances for catchers, 200 innings for starting pitchers and 65
This is the second in a six-part series that uses FanGraphs' Steamer600 projections to look at how prospects would fare over a full Major League season. The system bases its forecast on 600 plate appearances for position players, 450 plate appearances for catchers, 200 innings for starting pitchers and 65 innings for relievers -- taking into account age, past performance and previous Minor League levels, among other factors.
Back at the Winter Meetings, Braves manager Brian Snitker was asked how he thought his 2018 rotation would shake out. He rattled off four quick names, using the end of last season as a guide, before saying the club was probably still looking for its fifth starter. That became the headline from both a Major and Minor League perspective. Would a 2017 debutant such as Lucas Sims or Max Fried be given another chance? Would one of the young guns like Kolby Allard or Mike Soroka get thrown into the fire? Would Atlanta, in the middle of its youth movement, turn to a veteran? That question was answered when the Braves acquired starters Brandon McCarthy and Scott Kazmir from the Dodgers last month. McCarthy should become the No. 5 while Kazmir, who didn't pitch in 2017, seems to be more of a lottery ticket serving as depth.
But let's not skirt over the four names Snitker did drop -- Mike Foltynewicz, Julio Teheran, Sean Newcomb and the club's No. 6 prospect, Luiz Gohara. That's right. Gohara -- a pitcher who had only 64 innings of full-season experience entering 2017 -- seems to be guaranteed a Major League rotation spot in 2018. And according to Steamer, he could be the Braves' best starting option by the time things are said and done in the fall.
Start with what makes Gohara's story so special. The 21-year-old left-hander spent his first four Minor League seasons stateside in the Mariners system, showing promising stuff without quite translating that into results that sent him up the Seattle ladder. His 1.81 ERA and 81 strikeouts in 69 2/3 innings in 2016 were positive signs, but they came between Class A Short Season Everett and Class A Clinton -- his third straight season at both stops. A solid Arizona Fall League campaign that autumn helped his cause, and at a time when the Braves were trying to add as many pitching prospects as they could, they grabbed Gohara and left-hander Thomas Burrows in a deal with the Mariners for outfielder Mallex Smith and right-hander Shae Simmons a year ago Thursday.
Becoming part of a mix MiLB.com called the best farm system for pitching prospects entering 2017, Gohara more than showed he could hold his own. After starting out at Class A Advanced for the first time, he pitched at three levels, posting a 7-4 record, a 2.62 ERA and a 1.21 WHIP with 147 strikeouts, 44 walks and only four homers allowed over 123 2/3 innings at Florida, Double-A Mississippi and Triple-A Gwinnett. The Braves saw fit to give him his Major League debut Sept. 6 and the 6-foot-3 southpaw didn't disappoint. His 4.91 ERA might look inflated, but his 2.75 FIP, 31 strikeouts and eight walks over 29 1/3 innings in the bigs speak much better to his success at the higher level.
Enter Steamer. The projection system gave Gohara, now ranked as MLB.com's No. 83 overall prospect, its highest WAR projection for potential Braves starters. Here's how Gohara's Steamer600 projection compares to those of the other pitchers Snitker mentioned and McCarthy.

Likely Braves Starters
It's not even particularly close. Gohara's stuff could back up that projection praise as well. He averaged 97 mph with his fastball in the Majors and showcased an above-average slider that induced swings-and-misses almost a quarter of the time. His changeup is still developing, but it's something that could be a serviceable third Major League pitch the more he throws it against upper-level competition.
It'll be interesting to see how the stuff holds up over the course of another full season in his attempt to reach the projected 200 innings; Gohara's 147 frames between the Minors and Majors in 2017 dwarfed his previous high of 81 2/3 the year before between the summer and fall. But in a system with Top-100 pitchers Allard and Soroka ready to knock on the door and two more not too far behind (Ian Anderson and Joey Wentz), Gohara looks set to lead the charge for a Braves team setting its sights on a return to contention soon.
Below are rookie projections for each of the five National League East clubs. To be considered, a prospect must be ranked among the top 30 in the organization by MLB.com and must have spent a significant portion of the 2017 season at Double-A or above. (Exceptions were made for some Top-100 overall prospects, consistently the subject of "When are they coming up?" questions.)
Atlanta Braves
HITTERS
PITCHERS
Most ready: See Gohara.
Give it time: There are probably people asking why Acuna wasn't the main feature of this column. First, prospect fatigue is real, and Acuna has been covered over and over since the 2017 season came to a close. Second, Steamer simply doesn't like him as a Major League option as much as Gohara, at least right out of the gate. Even after Acuna's breakout 2017, the projection system still has the 20-year-old outfielder down as a league-average bat who would steal 29 bases while getting caught 18 times. Those baserunning errors and the assumption he'd be only average defensively limit his value to 1.0 WAR. Now that's still the second-highest WAR projection among Braves outfielders behind only Ender Inciarte (2.1), and the Braves certainly carved out a spot for Acuna by getting rid of Matt Kemp's massive contract. But if Atlanta wasn't going to bring up the No. 6 overall prospect last September when he had momentum, they're not going to have him up in March only to see him be a one-win player. A return to Gwinnett and a callup before the summer solstice are the most likely courses of action here. Patience until then.
Wild cards: A.J. Minter has gone from a risky pick coming off Tommy John surgery in his Draft year who had to be handled carefully to an impressive Major League reliever. Steamer is expecting more of the latter in 2018. In fact, it's going as far as to predict the 24-year-old left-hander, who posted a 3.00 ERA with 26 strikeouts and two walks over 15 innings with the big club last season, could be as good as Orioles closer Zach Britton when he returns to the mound. Minter is slated for a 3.17 ERA, a 3.25 FIP, 11.9 K/9 and a 0.9 WAR. Britton's projections are for a 3.08 ERA, a 3.27 FIP, 9.0 K/9 and a 1.0 WAR. (Note: Britton will be out until the middle of the summer due to a torn Achilles.)The trouble with the Braves left-hander will be keeping him on the mound to get his 60 innings. Minter was limited to 34 2/3 frames in 2016 coming off the elbow surgery, and a nerve issue in his left elbow allowd him to only toss 39 1/3 innings in the Minors and Majors last season. The Major League results and projections are promising enough, though, that Minter's spot in the Atlanta bullpen is all but locked up, assuming he can stay healthy.
Top-100 talent: Kolby Allard and Mike Soroka spent their entire 2017 seasons at Mississippi and are looking at 2018 debuts as 20-year-olds. Steamer gives the leg up to Soroka in the race to see who will get there quicker, but it'll come down to who can handle Triple-A batters best in their first trips to Gwinnett. Top-40 picks from 2016 Ian Anderson and Joey Wentz have only pitched at Class A Rome, and given all the talent above them, the Braves shouldn't be running to rush the hurlers this summer.
Miami Marlins
HITTERS
PITCHERS
Most ready: Back at the Winter Meetings, new Marlins director of player personnel Dan Greenlee said the club is prioritizing pitching as part of its rebuild. It's not hard to see why. Miami pitchers ranked 28th in the Majors with a collective 5.9 WAR last season. Without a top-line hurler in the mix, No. 8 prospect Dillon Peters has become Steamer's favorite Miami starter, beating out more established stalwarts like Dan Straily, Wei-Yin Chen and José Ureña. Peters' stellar numbers at Double-A Jacksonville (1.97 ERA, 0.96 WHIP, 40 strikeouts in 45 2/3 innings) are certainly the primary drivers there, despite the fact he was limited by a broken left thumb. The 25-year-old southpaw made six September starts with the big club and couldn't find close to the same success (5.17 ERA, 1.63 WHIP in 31 1/3 innings), but he's usually got two above-average pitches in his fastball and curveball and has impressive control when healthy. Mix it all together, and the Fish likely have their No. 4 starter coming in April. Steamer thinks he could be a little bit more than that by season's end.
Give it time: The Giancarlo Stanton deal garnered a plethora of headlines last month, but the return from the Marcell Ozuna trade to the Cardinals actually is more likely to make a Major League impact for the Marlins this season. Miami picked up hard-throwing right-hander Sandy Alcantara, speedy outfielder Magneuris Sierra and quick-rising right-hander Zac Gallen from St. Louis in the deal. Alcantara and Sierra made their big league debuts in 2017, but Steamer isn't high on either's chance to help the new club right away. All three are likely headed to Triple-A New Orleans to begin 2018, so while there might be a rush from fans to see what the new guys are made of, the Marlins won't be in a hurry.
Wild cards: This is a true wild card in this category. Rumors float almost daily about the possibility of the Marlins dealing outfielder Christian Yelich or catcher J.T. Realmuto or both as part of their offseason fire sale. Because of their low costs and years of control, either player would command a significant prospect return that would beat out the packages for the more expensive Stanton and Ozuna. It also would provide a massive boost to a farm system still far from sterling as evidenced by the following fact:
Top-100 talent: The Marlins have no Top-100 prospects.
New York Mets
HITTERS
PITCHERS
Most ready: Mets' starting pitching has gone from one of the strongest groups in the sport to one of its biggest question marks. Jacob deGrom and Noah Syndergaard are undoubtedly two of the best pitchers in the NL, but Steven Matz, Zack Wheeler, Robert Gsellman, Seth Lugo and Matt Harvey face questions of health, effectiveness or both. That could leave an opening for someone like No. 27 prospect Corey Oswalt, who Steamer likes quite a bit. The 24-year-old right-hander led the Eastern League with a 2.28 ERA over 134 1/3 innings for Binghamton last season, ranked third with a 3.31 FIP and added a 1.18 WHIP, 119 strikeouts and 40 walks. The 6-foot-5 hurler doesn't have a standout pitch per se, but his control is solid and he keeps the ball in the park (nine homers allowed). Because of that, Steamer gives him the fifth-best projection among Mets starters ahead of Gsellman (1.7 WAR), Lugo (1.7) and even Harvey (1.6). A 2012 seventh-round pick, Oswalt was added to the 40-man roster in November to protect him from the Rule 5 Draft, easing the path to a 2018 debut.
Give it time: There are plenty around Queens who weren't enthused by former Top-100 prospect Dominic Smith's introduction to the Majors last season, leading to speculation that the Mets could chase a free agent first baseman. It also just so happens there's another interesting first base prospect in the pipeline -- No. 7 prospect Peter Alonso. The right-handed slugger earned some attention for hitting 16 homers over 82 games in the pitcher-friendly Florida State League, and his .289/.359/.524 line between Class A Advanced St. Lucie and Double-A Binghamton is enticing. Steamer even thinks Alonso would hit more home runs than Smith (26 vs. 21) and be a slightly better overall hitter (97 wRC+ vs. 94) in the Majors right away. As exciting as that may all be, Alonso only has 11 games of Double-A experience under his belt and is likely headed back to the Rumble Ponies to begin the spring. There may be a time when he presses Smith or a separate signing for Major League time, but that isn't likely until the second half at the earliest.
Wild cards: This bumps into a slight problem with Steamer that we've accounted before; it doesn't include defensive projections for players who've yet to make a Major League debut. That's better than wildly guessing, of course, because Minor League defensive numbers are tough to come by. However, that ends up hurting somebody with a glove-first profile such as Luis Guillorme. The 23-year-old middle infielder has some of the quickest hands in the Minors -- anyone who saw him catch a bat with his bare hands in Spring Training last year can attest to that -- and has played both shortstop and second base. Amed Rosario isn't moving off short anytime soon, but that spot at the keystone could be Guillorme's. However, Steamer, like most scouting reports, is quite down on the bat right now. Guillorme has hit only two homers in 474 career Minor League games, and while he's a career .285 hitter, that's not enough to provide instant value at the plate at the highest level. The glove would need to be extra special, if he's to even be above replacement-level right away. Luckily for him, it is. Steamer just doesn't know it yet.
Top-100 talent: The Mets have no Top-100 prospects.
Philadelphia Phillies
HITTERS
PITCHERS
Most ready: J.P. Crawford's time at shortstop has come. The Phillies acknowledged as much when they traded Gold Glove finalist Freddy Galvis to the Padres this offseason. Riding a second-half surge at Triple-A Lehigh Valley, the 22-year-old debuted with the big club in September and posted some scattered results with a .214/.356/.300 line over 87 plate appearances. He walked plenty but hit for little power. Crawford had shown signs of more pop at Triple-A, finishing with a career best 15 homers last season, and Steamer takes that into account here. He split time between second, short and third in the Majors but will move back full-time to short, where he can be a plus defender. Even if Crawford replicates his projected slash line over a full season, expect a higher WAR total because his glove should be much better than its projection.
Give it time: So that's one part of the future double-play tandem down. What about the other? Scott Kingery is on the tip of many a Phillies fan's tongue after he hit 26 homers and stole 29 bases between Double-A Reading and Lehigh Valley in 2017, and he added a Minor League Gold Glove on top of that. Entering his fourth Minor League season, the 2015 second-rounder will be along in 2018 at some point. Steamer would caution it shouldn't be straight away however, especially with César Hernández (97 wRC+, 2.0 WAR) still in the mix. Despite Kingery's breakout, the projection system would like to see a little more sustained excellence at the Minors' highest level before it expects him to be even a league-average bat. It might not take long for that to happen -- Kingery started hot in 2017 -- but don't expect any Kingery on Opening Day roster stories this spring.
Wild cards: Do not take the first word of this category literally here. Because of his elite control, Tom Eshelman was an intriguing prospect when he came over from the Astros in December 2015 in the Ken Giles deal. After a down 2016, he did not enter 2017 among Philadelphia's top 30 prospects. He was back with a vengeance in 2017, however, finishing second in the International League with a 2.23 ERA and ranking first with a 0.94 WHIP. True to form, his 1.0 BB/9 was lowest among qualified hurlers at the Triple-A level. As expected with numbers like that, Steamer likes the 23-year-old right-hander to compete for a rotation spot at some point in the summer. Eshelman doesn't possess a true plus pitch, but he sure does throw strikes, showcasing a profile that could make him a back-end starter for quite a long time. If he dominates Triple-A again, the Phillies won't be able to keep him from the Majors for long.
Top-100 talent: Jorge Alfaro will enter spring competing for the starting catching spot, but Steamer would argue Andrew Knapp (1.2 WAR) and Cameron Rupp (1.0) are better options behind the plate right away. Sixto Sanchez has a legit claim to be the Phillies' top prospect when MLB.com's lists are updated next month. That said, he's only got five Class A Advanced starts under his belt. Expect his incredible arsenal to get him to the big leagues by 2019 at the earliest. Mickey Moniak, the top overall pick in 2016, will likely have to wait even longer after he struggled (.236/.284/.341) over his first full season at Class A Lakewood.
Washington Nationals
HITTERS
PITCHERS
Most ready: The Nationals have one of the most enviable rotations in baseball. Having two-time reigning NL Cy Young winner Max Scherzer followed by Stephen Strasburg and Gio Gonzalez in the first three starting slots is about as good as it gets. Despite a rough ERA, Tanner Roark is no one to sneeze at No. 4 either. But what of the fifth spot with Joe Ross still recovering from Tommy John surgery? As things stand, No. 4 prospect Erick Fedde is in the conversation, and Steamer likes his chances. The system actually thinks Fedde could be a similar pitcher to Roark right away. The pair have eerily similar ERA (4.31 vs. 4.34), WHIP (1.38 vs. 1.36), FIP (4.32 vs. 4.30) and WAR (2.5 vs. 2.3) projections. The Nats tried Fedde out as a reliever to hasten his trip to the Majors but ended up using him as a starter at the highest level in 2017, only to see him give up 16 earned runs and five homers in 15 1/3 innings. That means he's likely headed back to Triple-A Syracuse to start the spring, but Steamer would back him to get a longer look, especially over other options A.J. Cole and Austin Voth who haven't inspired much confidence in the highest levels.
Give it time: Boy, Victor Robles sure was exciting during his brief run with Washington last fall. The 20-year-old outfielder showed he was already one of the game's fastest on the basepaths and made at least one fantastic snag in the outfield. He's in the mix as the Minors' most exciting prospect with his true five-tool potential, and the concept of him playing with Bryce Harper and a healthy Adam Eaton is mouth-watering. Barring a blockbuster trade, that chance will come at some point in 2018. Steamer would still have us pump the brakes until Robles' power develops a little more. He's close to being a Major League average hitter, but a projection of only 11 home runs over 600 plate appearances -- based on the fact his career high is 10 -- holds him back here. Like with Guillorme, Steamer also doesn't have quite enough defensive data to give Robles the credit he richly deserves with the glove either. Michael A. Taylor, a defensive wizard himself, can keep the seat warm until Robles breaks down the door at Syracuse.
Wild cards: The Nationals are reportedly keeping an eye on the catching market, but should they decide to stick with Matt Wieters as their starter, there could be an interesting race for the backup backstop spot. Pedro Severino and Raudy Read, both 24, have almost identical projections, and both have already gotten some time with the big club. Severino has more, though, and is generally considered the superior defender, so he's got the inside track. But don't be surprised if Read gets a long look, coming off his 17-homer season at Double-A Harrisburg.
Top-100 talent: Juan Soto and Carter Kieboom are both exciting prospects who could be special in all aspects at the plate. They also combined to play only 71 games for Class A Hagerstown last season due to separate injuries and are both about two seasons away from a realistic Major League debut. Their rough Steamer projections confirm that.

Sam Dykstra is a reporter for MiLB.com. Follow and interact with him on Twitter, @SamDykstraMiLB.