2018 Prospect Projections: AL West rookies
Angels' Ohtani should stick out on mound more than at plate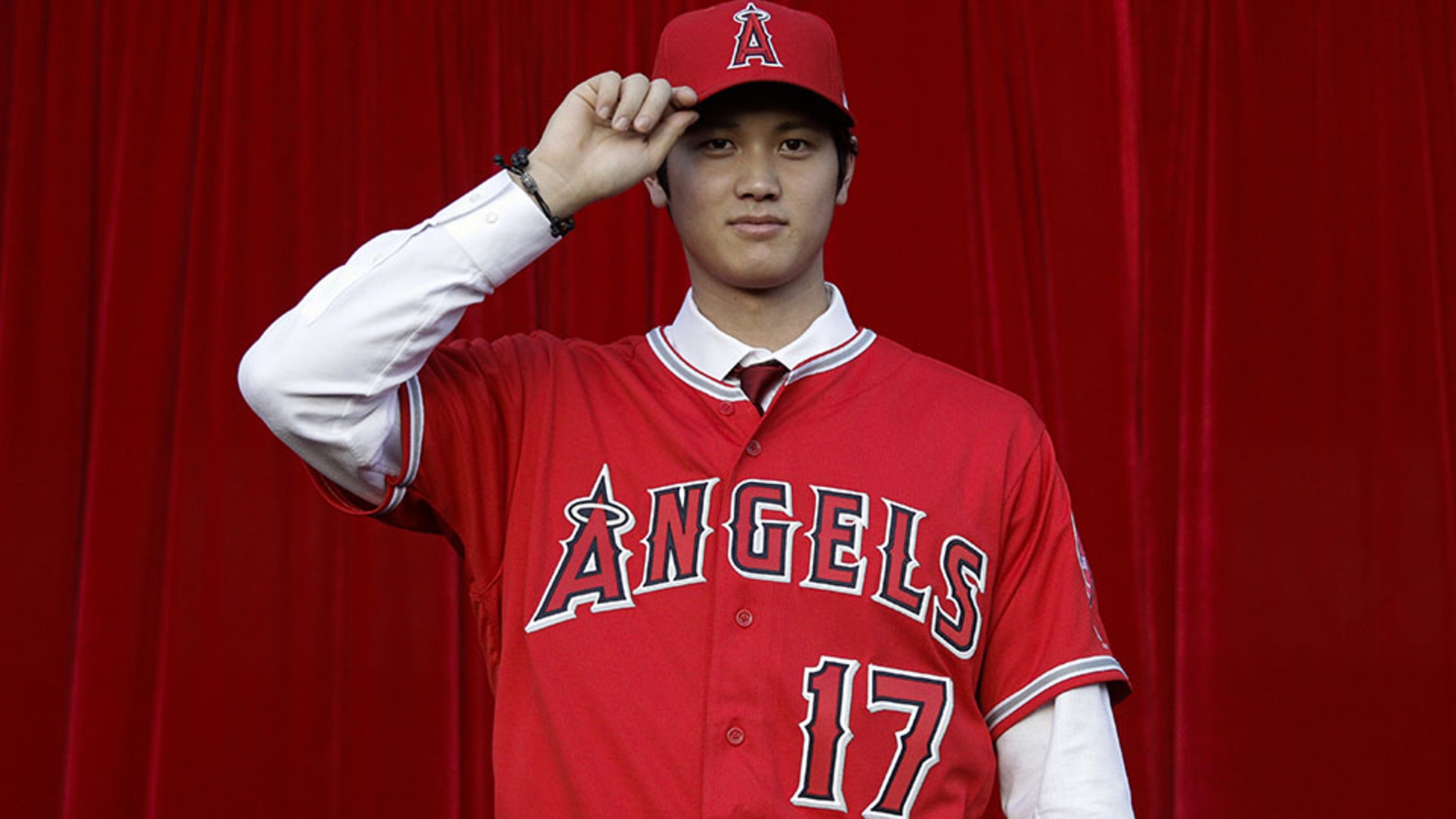 Shohei Ohtani chose the Angels out of a group of seven finalists back in December. (Jae C. Hong/AP)
This is the fifth in a six-part series that uses FanGraphs' Steamer600 projections to look at how prospects would fare over a full Major League season. The system bases its forecast on 600 plate appearances for position players, 450 plate appearances for catchers, 200 innings for starting pitchers and 65
This is the fifth in a six-part series that uses FanGraphs' Steamer600 projections to look at how prospects would fare over a full Major League season. The system bases its forecast on 600 plate appearances for position players, 450 plate appearances for catchers, 200 innings for starting pitchers and 65 innings for relievers -- taking into account age, past performance and previous Minor League levels, among other factors.
Major League Baseball is about to see something it hasn't in a very long time -- a legitimate two-way star in Angels rookie and MLB.com's top overall prospectShohei Ohtani. As seen during the sweepstakes for Ohtani's services earlier this offseason, the hype of the 23-year-old right-hander/outfielder is quite real. But does Steamer buy that? That's where things get complicated.
Start with Ohtani's most obvious strength -- his arm. The Oshu, Japan native would probably be the game's No. 1 prospect as a pitcher alone. He's been clocked above 100 mph multiple times. Even when he's sitting in the high-90s with his fastball, he'll compete with some of the game's hardest throwers. His slider and splitter received 65 grades from MLB.com on the 20-80 scouting scale. There's also a curveball and a changeup, just to keep hitters honest. Over his five seasons in Japan, he became one of the best hurlers in Nippon Professional Baseball. In 2016, he posted a 1.86 ERA and a 0.96 WHIP with 175 strikeouts and 45 walks in 140 innings for the Ham Fighters. He was limited to only 25 1/3 frames last season due to an ankle injury, but that didn't stop teams from chasing him this offseason, nor did it give Steamer much pause.
Using the success rate of previous players to make the jump from Japan, the projection system is a big believer in Ohtani's arm. Steamer projects that the Angels ace will be worth 4.3 WAR if given 200 innings, 12th-highest among all starting pitchers. His projection of 246 strikeouts over that span ranks fourth, behind Chris Sale (252), Max Scherzer (248) and Robbie Ray (248) and ahead of aces like Noah Syndergaard (241), Corey Kluber (231) and Clayton Kershaw (230). He'd post a 3.49 ERA, a 3.56 FIP and a 1.20 WHIP over those 200 frames. Garrett Richards (3.68 ERA, 3.82 FIP, 3.4 WAR) is the closest Angels pitcher in terms of Steamer projections, but he hasn't thrown more than 35 innings in a season since 2015.
It's clear Ohtani will be the Angels' ace the moment he makes his Major League debut.
What's not so clear is how he'll perform as a hitter.
Make no mistake, Ohtani can handle himself well with a bat. His power is prolific, as he showed when he broke part of the roof of the Tokyo Dome in November 2016. But it's not just the stuff of legend that convinced the Halos and others Ohtani could at least hold his weight at the plate on the other side of the Pacific. Batting from the left side, he hit .322/.416/.588 with 22 homers in 104 games in 2016. Even with the ankle injury, he still managed a .332/.403/.540 line with eight homers in 65 games for Nippon last season.
The Angels have already made it clear that, at least initially, the only way Ohtani is getting in the lineup when he's not pitching is as the team's designated hitter. As fun as it'd be to see Ohtani line up next to Mike Trout and show off how his plus-plus arm compares to recent Hall of Fame inductee Vladimir Guerrero, it's tough to blame the Halos on that course of action for a player they hope to have healthy for many years to come. So we must compare him to other DHs.
The following table shows the total stats for all Major League designated hitters in 2017, their average numbers over 600 plate appearances, Ohtani's Steamer offensive projections over 600 plate appearances and the 2017 numbers and 2018 projections for his DH competition, Albert Pujols. (Note: Because the plan doesn't allow for Ohtani to pitch and hit on the same day, it's unlikely he'll reach that number of plate appearances, but it's still interesting to see how his bat would hold up over a full season.)
The conclusion is Ohtani will be a better hitter than the typical DH, and he'll especially be better than Pujols was as the Angels' primary DH last season. Steamer expects the future Hall of Famer to bounce back some this season, but it's not a stretch to believe a 23-year-old still growing into his potential will be a bigger offensive threat than a 38-year-old well past his prime. Pujols still will get his at-bats with Ohtani sitting enough for his pitching duties, but at the very least, don't expect the younger slugger to be so ineffective that he loses at-bats for those reasons.
With a 1.3 WAR projection for his offensive ability over a full season, it's clear fans should expect Ohtani to be closer to Babe Ruth from his days as a Red Sox ace than those when he was a strictly a Yankees slugger. Still, if Ohtani could manage to meet expectations and be worth a combined 5.6 WAR in his rookie season, there might be even more hype still to come.
Below are rookie projections for each of the five American League West clubs. To be considered, a prospect must be ranked among the top 30 in the organization by MLB.com and have spent a significant portion of the 2017 season at Double-A or above. (Exceptions were made for some Top-100 overall prospects, consistently the subject of "When are they coming up?" questions.)
Los Angeles Angels
HITTERS
PITCHERS
Most ready: Ohtani. See above.
Give it time: Jaime Barria had an exciting 2017, climbing from Class A Advanced Inland Empire to Triple-A Salt Lake and only turned 21 in July. The 6-foot-1 right-hander showed impressive control, walking 31 in 141 2/3 innings, and he carried his own at the Minors' highest level by allowing only four earned runs with 13 strikeouts and three walks in 13 2/3 frames. He was added to the 40-man roster in November. All of that leads to reasonable questions about when he might be able to join the big club. Steamer says it should still be a while. Barria would be just about replacement-level if he opened 2018 with the big club, and that's not the goal for anyone involved. The Halos would love to see Barria pick up where he left off in the Pacific Coast League and keep it going for a longer sample before he can put himself in the rotation discussion.
Wild cards: Clubs looking to contend don't often make Rule 5 Draft picks, but the Angels took a relatively small risk in selecting right-hander Luke Bard from the Twins as a potential bullpen piece. Though the right-hander struck out 99 in 65 1/3 innings between Double-A and Triple-A last season, Steamer doesn't see him as being a huge difference-maker right away. What he does have going for him is experience as a multi-inning reliever. He went 1 1/3 innings or longer in 25 of his 41 appearances last season, and long-man duty could help his case to stick. Elsewhere, Michael Hermosillo is one of only four outfielders on the 40-man roster, giving him as a good chance as any for the fourth outfielder spot behind Mike Trout, Justin Upton and Kole Calhoun. Steamer doesn't think he'd be much help with the bat over a full season's worth of trips to the plate, but with a 23-steal projection, the system backs up the notion that the 23-year-old's speed could play right away.
Top-100 talent: A formerly down system, the Angels now claim four Top-100 prospects on MLB.com's latest list, highlighted by Ohtani in the top overall spot. No. 62 Jo Adell and No. 87 Kevin Maitan played a combined 91 games between them in 2017, and neither cracked a full-season affiliate, so a projection wouldn't be productive for either. No. 93 Jahmai Jones is the closest of the non-Ohtani trio, but as strong a year as he had offensively in 2017, Steamer knows he only played half a season at Class A Advanced Inland Empire and subsequently shows him being a well below-replacement-level Major Leaguer right now. The 20-year-old has plenty of time to grow before anybody should be realistically asking when he'll join Trout and company in Anaheim.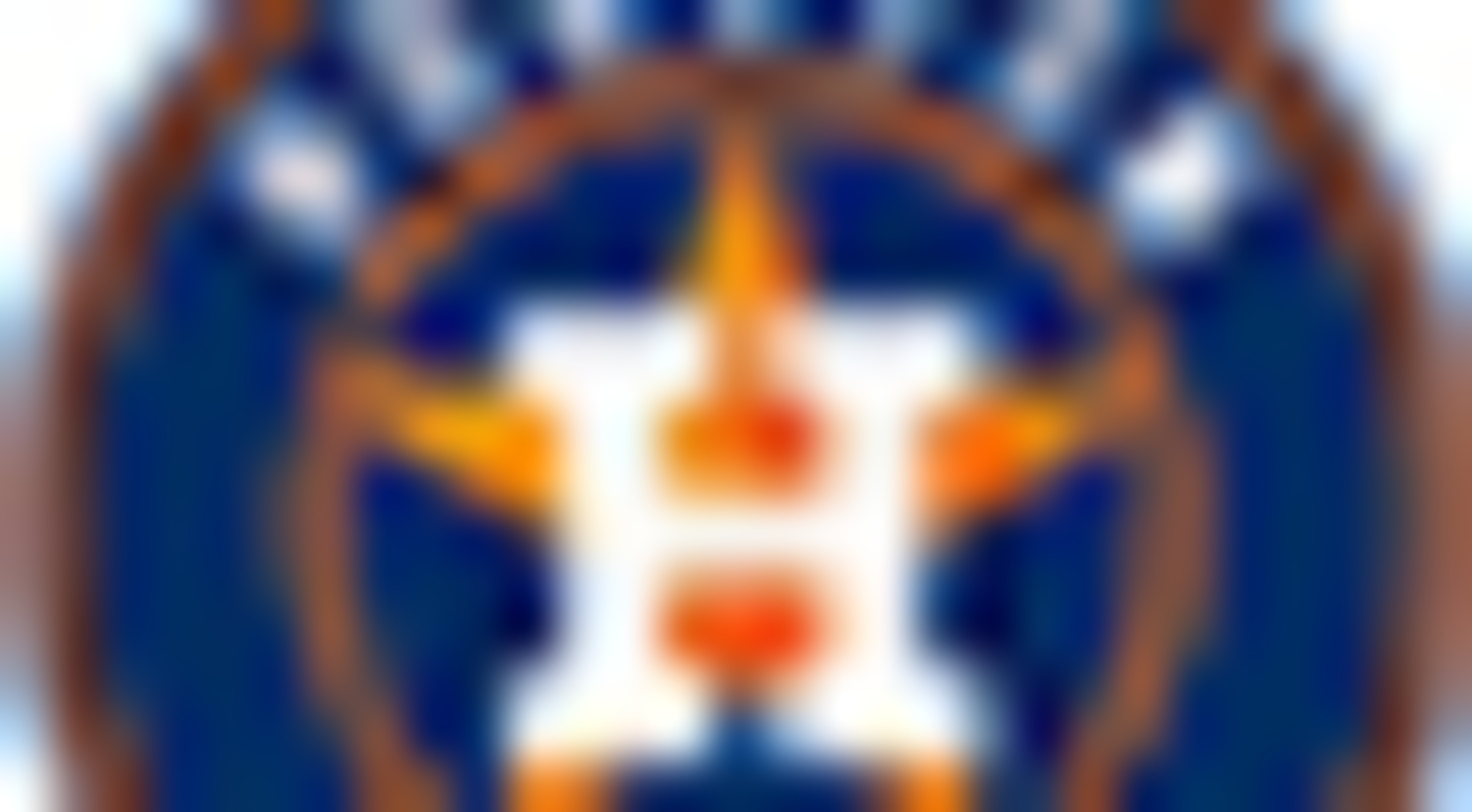 Houston Astros
HITTERS
PITCHERS
Most ready: The Astros sent third-base prospect Colin Moran to the Pirates in this month's deal that brought back Gerrit Cole. Part of the idea was because Alex Bregman has a lock on the hot corner in the long term. But it also helps that J.D. Davis should be ready to contribute at the position as well in 2018. The 24-year-old hit .282/.345/.527 with 26 homers in 103 games at Double-A and Triple-A last season and .226/.279/.484 in 24 Major League contests that resulted in a 100 wRC+. Davis' calling card, however, is his power. He belted 30 home runs between the Majors and Minors in 2017 with A.J. Reed and George Springer (34 apiece) the only Astros Minor and Major Leaguer players to hit more in the system. His 24-homer projection over 600 plate appearances is fifth-best in Steamer's system among Astros sluggers. Should Bregman get hurt at any point, the defending World Series champs won't be afraid to turn to Davis. He also has experience at first base, though there'd be more pressure to perform offensively there.
Give it time: Garrett Stubbs developed an intriguing profile as an impressive defensive catcher with enough speed to steal double-digit bases in his first two full seasons, and it'd be fun to see him put those skills on display in the Majors. Unfortunately, the bat isn't nearly as ready. The 24-year-old backstop hit just .232/.328/.321 with four homers in 98 games at Double-A Corpus Christi and Triple-A Fresno last season. That doesn't translate well to Steamer projections with Stubbs ranking fifth among potential Astros catchers when it comes to WAR. However, Steamer doesn't work in his defense because it hasn't seen it yet in the Majors, and there's little doubt Stubbs, who has thrown out 43.8 percent of attempted basestealers in the Minors, could provide some value on that end, especially for a club that used Evan Gattis behind the plate for 413 2/3 innings last season. That said, Stubbs has a long way to go with the bat before he can get his chance in The Show.
Wild cards: What to make of David Paulino? The 23-year-old right-hander has an impressive fastball and a curveball that has earned its fair share of raves, two offerings that garnered him 36 Major League innings since 2016. Unfortunately, he's been consistently limited during his three seasons in the Astros system. Last year, an 80-game suspension in July put a dent in his season, and elbow surgery late in late September officially ended it. The Astros reportedly expect him to be back to full health in Spring Training, though, so it's still worth a look at his Steamer projections. Like every other pitcher on the list, he receives a reliever projection, and while this column normally dismisses these for starters, it's worth noting it's a fairly solid projection and Houston might consider moving to the 6-foot-7 hurler to the bullpen if durability concerns persist. Paulino's career high in regular-season innings was 97 in 2016.
Top-100 talent: Forrest Whitley and Kyle Tucker ended their 2017 seasons at Double-A, making them candidates for placement in the above table, even if they didn't each place among MLB.com's top 20 on the overall list. Unfortunately, Whitley received a reliever projection from Steamer, even though he very clearly has a present and a future in a rotation. Tucker has a more promising projection with a near 20-20 season and an 88 wRC+ that considers him close to an average bat at age 21. The 2015 first-rounder will get a chance to show the Astros how ready he is when he reports to camp as a Major League non-roster invitee in a few weeks.
Oakland Athletics
HITTERS
pitchers
Most ready: There are actually a few A's prospects who have a real shot at competing for a Major League role this spring. The one Steamer likes most right away is Renato Nunez. The slugger, who will turn 24 on April 4, tied for second in the Pacific Coast League last season with 32 homers -- an impressive number given he played half his games in a pitchers' park in Nashville. Steamer certainly sees that power translating right away with a 24-homer projection, but little else about Nunez's offensive game does. That makes sense for a player with a career Triple-A OBP of just .298. However, the A's don't need Nunez to be starter quality. He's blocked at his natural position of third base by Matt Chapman, and Matt Olson's power outbreak ensures he'll be the Opening Day first baseman. Considering he also spent some time in left field, Nunez could be used as a utilityman off the Oakland bench and flex his power in pinch-hit opportunities to begin 2018. Then again, that possibility may have taken a hit Monday when the club acquired veteran Brandon Moss from Kansas City.
Give it time: Diagnose Franklin Barreto with prospect fatigue. It feels like the talented shortstop has been a prospect forever, and yet, he still only turns 22 on Feb. 27. He'll be in his sixth Minor League season when other players his age are competing in their senior seasons of college. So before thinking Barreto is entering a make-or-break year, consider he's still well above the curve. Steamer still thinks he could use some extra time anyway, especially after he hit just .197/.250/.352 with two homers in 76 Major League plate appearances last season. For one thing, the A's will have to find Barreto a positional fit. Normally a shortstop, he split his time between there and second base in the Majors, but Marcus Semien and Jed Lowrie should have those spots covered initially. Either with the glove or bat, it's clear Barreto is a ways away from being considered ready to be a Major League regular, so don't be surprised when he heads to the PCL for a third straight season.
Wild cards: Dustin Fowler was one of the breakout prospects of the first half of 2017, batting .293/.329/.542 with 13 homers and 13 steals in 70 games at Triple-A Scranton/Wilkes-Barre in the Yankees system when he got called up for his Major League debut on June 29. Not even one full inning into that debut, the breakout year was over when Fowler suffered a season-ending knee injury on a slide in foul territory in right field. Even after the injury, he was traded a month later to the A's as part of a three-player return for Sonny Gray. Now even with the breakout baked in, Steamer still hasn't seen enough from Fowler to consider him Major League-ready. The A's would argue otherwise and have said the 23-year-old will be in the mix for the starting spot in center this spring. Steamer prefers Boog Powell (2.0 WAR) in that position. But if Fowler is indeed fully back up to speed in February and March, don't rule him out after the gains he made last season.
Top-100 talent: A.J. Puk might be the A's most interesting pitching prospect since Gray graduated, especially after he finished third in the Minors with 184 strikeouts in 125 innings between Class A Advanced Stockton and Double-A Midland. Unfortunately, he received a reliever projection here, but the 22-year-old left-hander's future very much remains as a starter. A debut in the second half of 2018 shouldn't be out of the question. Jorge Mateo, who also came over from the Yankees in July, is also back as a Top-100 prospect at No. 72. The 22-year-old shortstop's top-of-the-line speed would no doubt play in the Majors straight away, but he has to show his Double-A breakout with the bat is real over a longer term before that discussion can begin in earnest. A potential Mateo-Barreto double-play pairing at some point in Nashville should be fun to think about in the meantime.
Seattle Mariners
HITTERS
PITCHERS
Most ready: The Mariners system is in rough shape. So maybe it makes sense that the most Major League-ready prospect in the system is also a Rule 5 pick. Seattle grabbed Mike Ford from the Yankees after he was coming off a season in which he hit .270/.404/.471 with 20 homers at Triple-A Scranton/Wilkes-Barre and Double-A Trenton. A high OBP and good power is a good way to attract the attention of Seattle general manager Jerry Dipoto. Then again, trying to find a spot for Ford to stick is tough. The club already acquired Ryon Healy to play first base this offseason, and Ford doesn't have the positional flexibility to find time elsewhere. Also, Dan Vogelbach is a first-base-only type that they already have in the system at Triple-A Tacoma. The Mariners clearly liked Ford enough to take a risk, but they're going to have like him even more than Steamer to justify keeping him on the Major League roster for a full season.
Give it time: Standing at 6-foot-8, Max Povse can be fun to look at on the mound. His 2017 numbers make for much worse sights. The 24-year-old right-hander posted a 7.39 ERA, a 1.67 WHIP and a .315 average-against in 31 2/3 innings while working as both a starter and reliever at Triple-A Tacoma and gave up three earned runs on nine hits and a walk in 3 2/3 innings of relief in The Show. Steamer stuck with a reliever projection here, saying he'd be basically replacement-level in that role. However, Seattle did move him back to working as a starter in five of his last six outings in the PCL. He'll likely get another long look in that role because that's where he's found the greatest success, dating back to his days in the Braves system.
Wild cards: Nick Rumbelow had some of the most eye-popping numbers a Minor League reliever can have in 2017. The 26-year-old right-hander posted a 1.12 ERA, a 0.79 WHIP, a .150 average-against and 45 strikeouts in 40 1/3 innings at Double-A and Triple-A. The Mariners saw enough to acquire Rumbelow from the Yankees in November for two other prospects, making him the centerpiece of an otherwise small trade -- a notable achievement for a player who had signed as a Minor League free agent the previous offseason. Steamer doesn't entirely see Rumbelow jumping out of the gate in the Majors with his new club, but if he can even come close to replicating his results -- especially against right-handers whom he held to a .121 average at Triple-A in 2017 -- his chance to prove the system wrong shouldn't be far away.
Top-100 talent: Kyle Lewis is the lone Seattle representative on the new Top 100, but it's looking like it'll be a long time before the 2016 first-rounder makes his way to the Emerald City. Lewis was limited to 49 games last season due to knee injuries and only got two games in the Arizona Fall League before similar issues sent him home. When he's on, the 2016 Golden Spikes Award winner can be an offensive force with a good hit tool and plus power. Steamer, like most who have followed Lewis' brief career, just hasn't seen those come through yet.
Texas Rangers
HITTERS
PITCHERS
Most ready: It'd be tough to find a prospect outside Ohtani on this list who is more ready for the Majors come Opening Day than Willie Calhoun. MLB.com's No. 53 overall prospect, who was dealt from the Dodgers to the Rangers in July, hit .300/.355/.572 with 31 homers in 128 games in the Pacific Coast League last season, showing he doesn't have much less to prove at Triple-A. The Rangers basically agreed and he debuted there in September. Steamer backs that up now. Calhoun's 110 wRC+ projection is third-highest among Rangers hitters behind Joey Gallo (119) and Adrián Beltré (114). The issue will be finding out whether Calhoun can provide value defensively. The 23-year-old was rough at second base during his time with the Dodgers. The Rangers moved him to left field in an attempt to get him into the lineup, but he's still more than just a work in progress out there. Calhoun might be as close as we get to a straight DH prospect these days, and that puts a lot on his bat to provide his value. Luckily with plus hit and power tools, he should be up to the task.
Give it time: In 2016, Yohander Mendez began at Class A Advanced High Desert and ended up in the Majors. Yet he still needs more time to show Major League readiness and for good reason. The southpaw posted a 3.79 ERA with 124 strikeouts and 43 walks in 137 2/3 innings in his return to Double-A as a 22-year-old last season. Those are OK numbers, but they don't scream immediate advancement. He also gave up seven earned runs in 12 1/3 innings in the Majors after September roster expansion, so it was even clearer then he needs more refinement before getting a long-term role in the bigs. Steamer backs that up, saying he'd be a replacement-level reliever. It doesn't take too much math to determine he'd be even rougher in his more traditional role as a starter. The good news is he tossed a career high in innings in 2018, erasing some doubts about his durability. Mendez and his impressive changeup should go back to Round Rock for the first time in two seasons this spring but will have to show a little more before he can get called back up and potentially get rid of his prospect eligibility.
Wild cards: There are a few reasons to like Ronald Guzman. The left-handed slugger was recently named MLB.com's No. 8 first-base prospect, thanks to an above-average hit tool and the potential of decent power. He showed some offensive promise as a 22-year-old in the PCL last season, hitting .298/.372/.434 with 12 homers and a 112 wRC+ in 125 games for Round Rock. That might lead us to think he points to some semblance of Major League readiness. Steamer puts the brakes on that, believing Guzman would be below replacement-level if he began 2018 in the Majors. His position doesn't help the case here. Guzman's 85 wRC+ isn't that terrible generally, but first baseman have a higher offensive bar to clear. The Rangers have Gallo to man first now, so there's no big rush to get Guzman up. But he'd be an interesting bet to beat his projection whenever he does get the call in 2018.
Top-100 talent: Leody Taveras is Texas' only other Top-100 representative. He'll be 19 for almost all of 2018 and is coming off a season in which he hit .249/.312/.360 in 134 games at Class A. He's miles away from the Majors.

Sam Dykstra is a reporter for MiLB.com. Follow and interact with him on Twitter, @SamDykstraMiLB.