Conley, Beloit bullpen combine to no-hit Bees
Oakland prospects pitch sixth no-hitter in Snappers history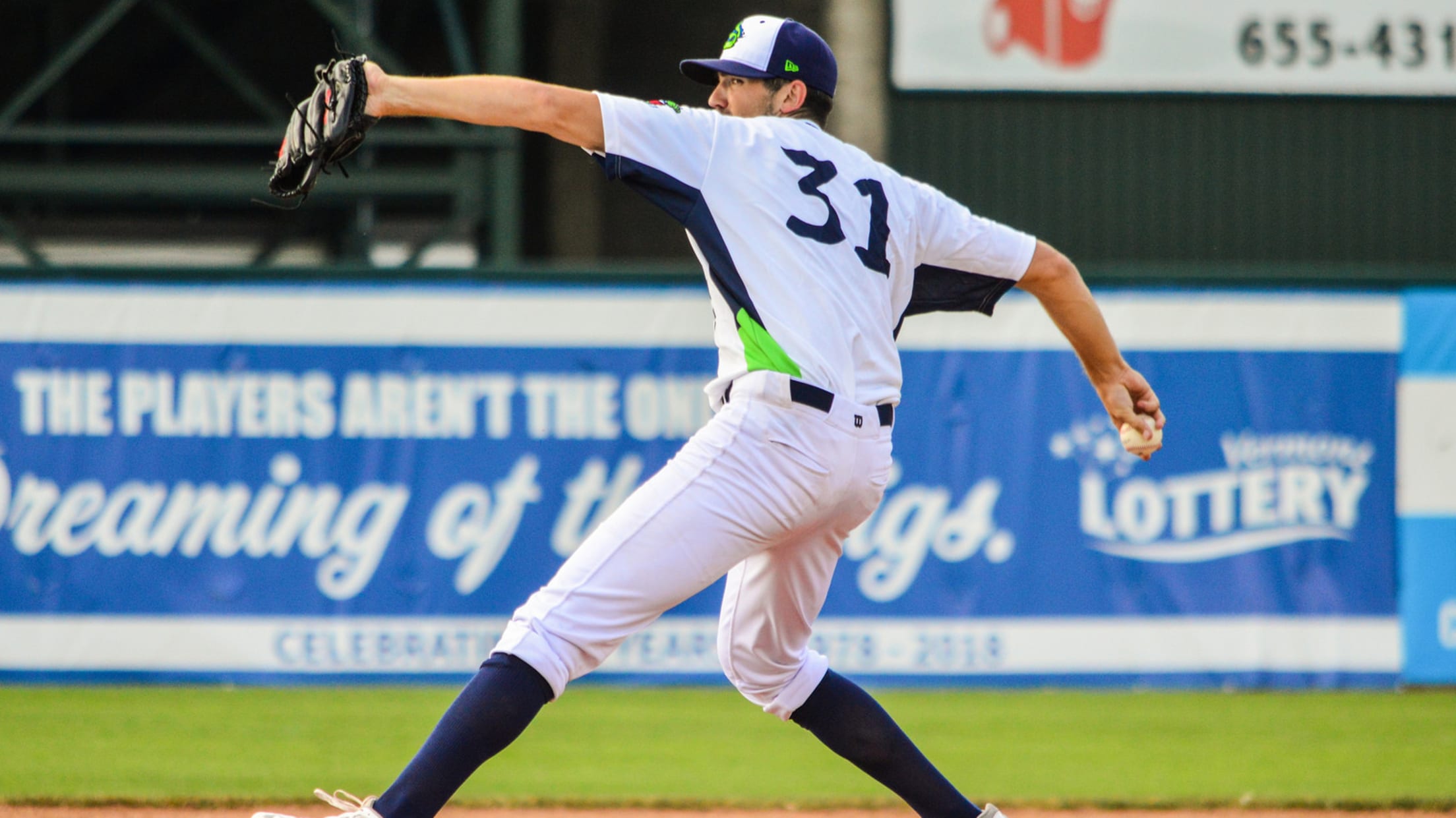 Bryce Conley has thrown 10 hitless innings in his first two Midwest League starts. (Greg Bessette)
Bryce Conley's phone lit up after the final out of the ninth inning on Thursday afternoon, although it may take him a while to respond to everyone."I actually haven't looked at my phone too much, but got a bunch of congratulatory texts from close friends and family and it's definitely
Bryce Conley's phone lit up after the final out of the ninth inning on Thursday afternoon, although it may take him a while to respond to everyone.
"I actually haven't looked at my phone too much, but got a bunch of congratulatory texts from close friends and family and it's definitely good to make them proud," Conley said.
The A's prospect had good reason to be excited -- he combined with two relievers to throw the first no-hitter of the Minor League season Thursday as Class A Beloit blanked Burlington, 2-0.
• Gameday box score
Conley (1-0) struck out four and walked one before Ty Damron and Josh Reagan combined to finish off the final three innings of the Snappers' win.
"It feels good, but I couldn't have done it without my bullpen," Conley said. "This was definitely a team effort, so it feels good to come out of a game not giving up any hits."
Beloit has thrown six no-hitters in team history, with the last two coming quite recently -- the club's last one was last Aug. 23 against Quad Cities in one of the final weeks of the 2017 season. Conley's gem comes in the Snappers' ninth game of the 2018 schedule.
The performance was the first no-hitter in the Midwest League since Conner Grey threw a perfect game for Kane County last Sept. 1.
"It's cool to throw a combined no-hitter, but you're always pulling for your boys in the bullpen," Conley said. "They can make or break a game, but I wasn't more nervous today than a normal 2-0 game with a couple hits. I was definitely pulling for the our boys in the bullpen and they pulled it out."
Conley has enjoyed a hot start to his first full season with eight strikeouts in 10 hitless innings. He held Wisconsin to one walk over four innings in his first start on April 7 after going 0-3 with a 6.12 ERA in 15 games -- four starts -- last year with Class A Short Season Vermont.
The 23-year-old Conley was Oakland's 22nd-round pick last June out of Georgia State, where he totaled 128 strikeouts in 119 1/3 innings over two years after pitching for Chattahoochee Valley Community College in Alabama. He saw time as both a starter and reliever with Georgia State, wrapping up his time there with seven wins and a pair of saves.
"My catcher Skyler Weber called a really great game, I didn't have to shake him off but a couple times," said Conley. "We had a good game plan going in. I got ahead of hitters and kept them guessing. My slider was on point, my fastball command was there as well. I was getting ahead of guys and trying to put them away late."
The Bees couldn't manage anything against Conley until the bottom of the sixth, when Gleyvin Pineda drew a two-out walk. Conley got Spencer Griffin swinging to end the inning before handing the ball off to Damron, who worked a 1-2-3 seventh and then pitched around two walks and a wild pitch in the eighth to keep the no-hitter alive. Reagan worked a perfect ninth, catching Torii Hunter Jr., the 22-year-old son of the longtime Major Leaguer of the same name, on a called third strike to seal the victory.
"We rushed the field kind of," Conley laughed. "It's definitely a team effort win today and the hitters pushed across two runs and the pitchers threw well. It was fun going out celebrating on the field and then in the locker room with the music. It was a good time."
The Snappers gave their starter a lead in the first when Nick Allen began the game with a double to center and scored on a fielder's choice grounder from Austin Beck. Beck then tripled to leadoff the fourth and came home when Miguel Mercedes hit a fielder's choice with one out against starer Luis Madero (0-2), who was charged with two runs -- one earned -- on three hits and three walks over five innings for the Bees.

Bryce Conley struck out four in six frames on Thursday in Burlington. (Quintin Parker)
"The gameplan is always to get ahead, one pitch at a time," Conley said. "In the past, I've had some command issues -- walks have been up there -- so a big focus for me in the offseason and Spring Training was to fill up the strike zone, limit the walks. I have two on the year, which is down from last year already. Hopefully I can keep that up. That's been the game plan the first two outings."
Conley said he hopes the early success will continue as the season gets into full swing this month.
"Momentum is huge in baseball. When you've it, it's a great thing. Momentum is huge, so hopefully we can carry this over into Kane County and my next start next week," he said.
Conley also said he enjoys pitching as a starter, although for now he's subject to the Athletics' system of starting and relieving every other outing.
"This Spring Training I was labeled a starter, so we have a piggyback system now where my first outing I came in in the sixth and finished the game. It looks like I'll be a starter for the time being, but things can change," he said. "They're two different styles of pitching , two mindsets -- I prefer starting, you're on a routine and you can prepare."