Civale takes big step forward for Akron
Tribe's No. 10 prospect allows one hit over seven shutout innings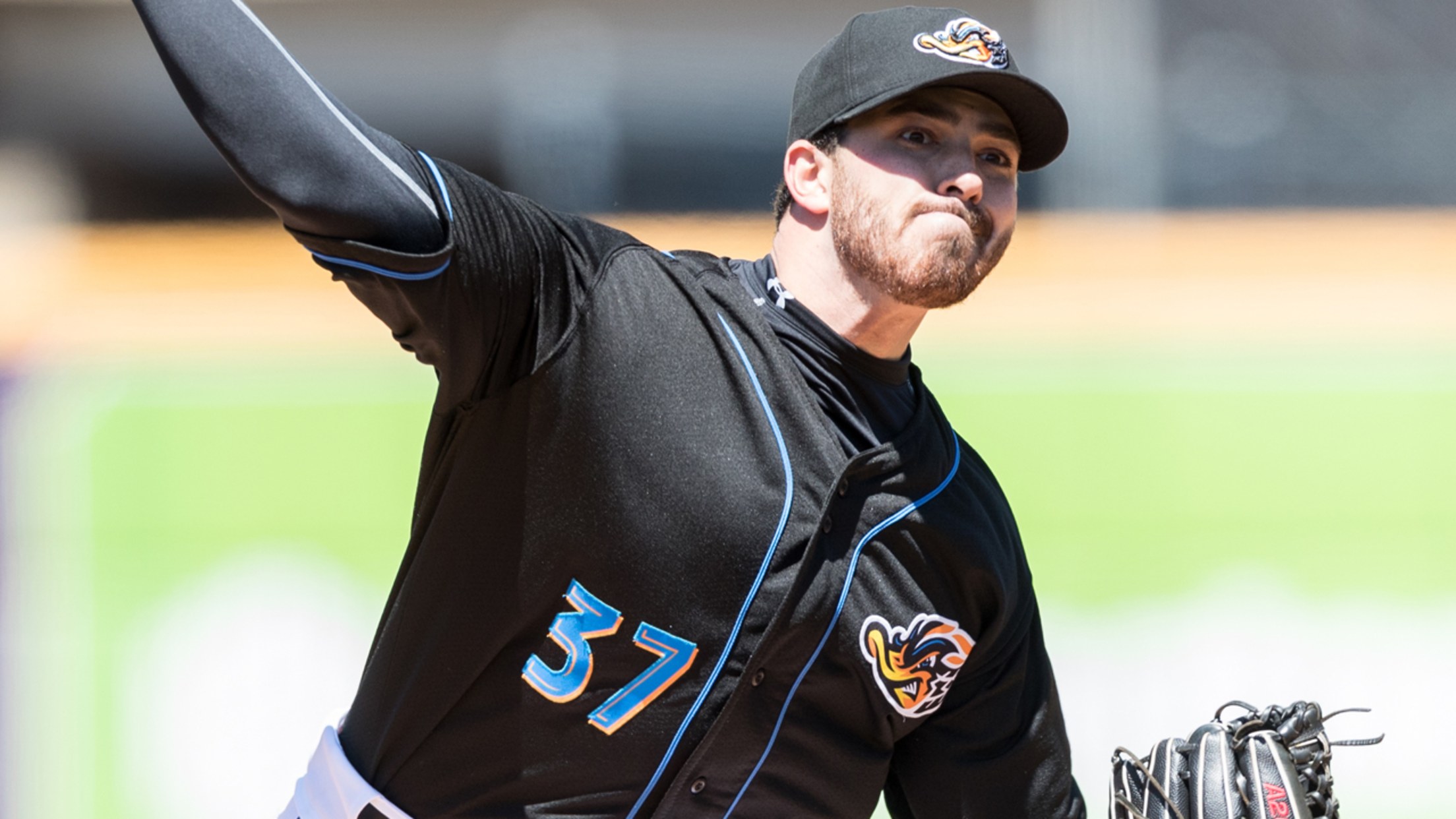 Aaron Civale didn't walk more than one batter in four of his five April starts for Akron. (David Monseur/MiLB.com)
Aaron Civale doesn't see his great start as strictly a personal accomplishment. His Sunday afternoon gem was more a sign of appreciation to his teammates.Buoyed by an offense that scored early and often, Cleveland's No. 10 prospect faced one over the minimum in seven shutout innings, allowing just one hit
Aaron Civale doesn't see his great start as strictly a personal accomplishment. His Sunday afternoon gem was more a sign of appreciation to his teammates.
Buoyed by an offense that scored early and often, Cleveland's No. 10 prospect faced one over the minimum in seven shutout innings, allowing just one hit and matching a season high with seven strikeouts as Double-A Akron finished off a three-game sweep of Bowie with a 7-1 win.
Gameday box score
"The offense put up a lot of numbers early, so it was easy for me to go out there and pitch comfortably," Civale said. "I was clicking on the same page with 'Loopy' (Akron catcher Sicnarf Loopstok) behind the plate and great defense has been there. It makes my job easier to go up there and attack."
The right-hander wasn't having any trouble attacking before being staked to a 2-0 lead after two innings. Civale set down the first five batters he faced before a two-out double to center Mike Yastrzemski in the second. The 2016 third-round pick rebounded to fan Adrian Marin, striking out the side in the second and beginning a string of 16 straight batters he'd retire to finish his day. Yastrzemski was the only baserunner to reach in the first seven innings for the Baysox.
"This is an aggressive lineup," he said of Bowie. "I've seen some of those players last year in (Class A Advanced) Frederick. We played them quite often in the Carolina League. I was just kind of using their aggressiveness to my advantage. We had a good gameplan going in, and that was the third game of the series, so I had seen how [fellow starting pitchers Shao-Ching Chiang and Shane Bieber] attacked them the two days before. I took what my strengths were and what I saw from them and was on the same page with Loopy and went from there."
While throwing 66 strikes in his 88 pitches, Civale generated six outs in the air to five on the ground. Between the second and third, he fanned five straight batters and added whiffs in the fourth and seventh.
The RubberDucks got on the board in the second due to some Baysox miscues. Cleveland's No. 3 prospect Bobby Bradley singled to short leading off the inning and went to third when Dorssys Paulino reached on a throwing error by Bowie shortstop Erick Salcedo. The pair scored when Ka'ai Tom reached on a two-out fielding error charged to Baysox center fielder Cedric Mullins.
"When we score, I try my best to make sure that they don't score the following inning," Civale said. "That's one of my goals every time out there. We scored in multiple innings, so my challenge every time I was out there was just to keep a zero on the board. I was just trying to keep us in the game, give us a chance to win. They were playing great behind me, so I was giving them my best to give them the opportunity."
Tom drove in another run on a single to center in the fourth, cashing in a two-out double to left by Mark Mathias. Akron broke things open in a four-run fifth capped by Paulino's two-out, two-RBI single to left.
Civale dropped his ERA to 2.22 in his second win of the season and ended the month of April feeling confident with where he's positioned after five Double-A starts.
"All the off-field stuff, comfort-wise, the coaches are pretty much the same staff as Lynchburg last year," said the 22-year-old, who went 11-2 with a 2.59 ERA in 17 Class A Advanced starts in 2017. "A lot of the players are similar to Lynchburg last year. That makes the adjustment so much easier. Not that it's easy, but all of that is easier. After that, it's just baseball. At the end of the day, it's me on the mound throwing to a catcher, and there's a hitter in there hitting.
"The comfort is there. The clubhouse is awesome, a lot of great guys I'm playing with and playing for. Instead of just going out there for me, it's fun to go out there and try to win the game for them."
Tyler Maun is a contributor to MiLB.com. Follow him on Twitter @TylerMaun.