Haseley hammers in debut for IronPigs
Phillies No. 3 prospect collects three hits, drives in two runs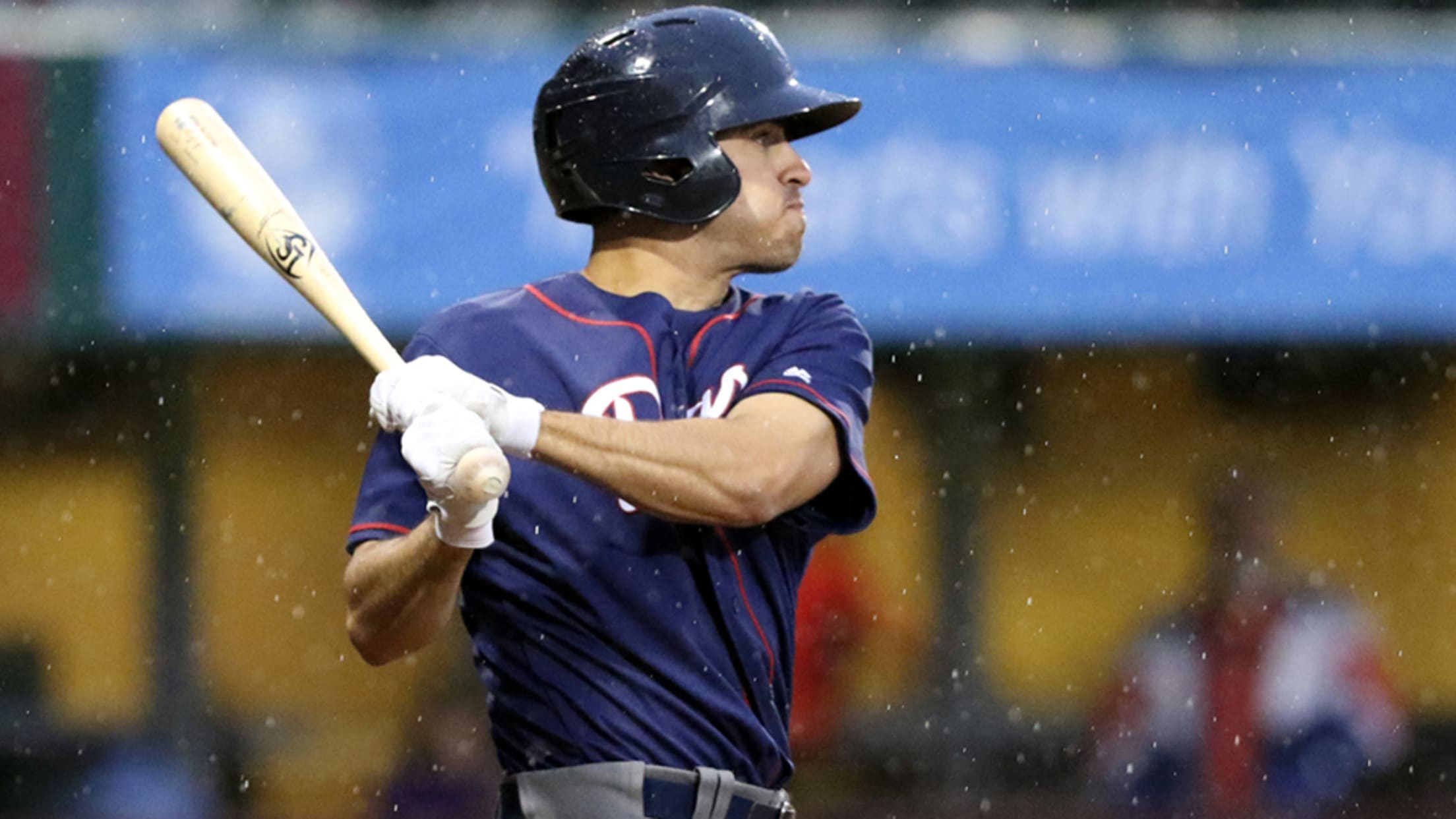 Adam Haseley has registered four games of at least three hits through almost two months this season. (Louriann Mardo-Zayatt)
Adam Haseley didn't expect to hear his phone buzz at 6:30 a.m. ET Wednesday, but when he answered the wakeup call, it was Double-A Reading manager Shawn Williams with some good news. The outfielder was heading up to Triple-A, joining Lehigh Valley in Pawtucket for Tuesday's twinbill.So after a day
Adam Haseley didn't expect to hear his phone buzz at 6:30 a.m. ET Wednesday, but when he answered the wakeup call, it was Double-A Reading manager Shawn Williams with some good news. The outfielder was heading up to Triple-A, joining Lehigh Valley in Pawtucket for Tuesday's twinbill.
So after a day filled with plenty of nerves, adrenaline and 300 miles of travel, Haseley was ready to catch some rest ahead of another start Thursday.
"We have an early game tomorrow, so it'll be a quick turnaround, but I'll be excited to lay down tonight," Haseley said with a laugh.
Even if he felt a little tired before the contest, it didn't show as Philadelphia's third-ranked prospect collected three hits -- including two doubles -- and drove in two runs to lead Lehigh Valley to a 3-1 win over Pawtucket in the nightcap of Wednesday's doubleheader at McCoy Stadium.
"The whole day has felt like it's been non-stop, it's just that feeling you get when you go to a new team and a new level and all of that," Haseley said. "I was nervous, excited, all of the emotions -- I think I still have all of them. But yeah, it's exciting."
The message from Williams meant traveling from Reading to Philadelphia International Airport, a flight to Providence and a 25-minute Uber ride to McCoy Stadium. He got to the ballpark around 2:30 p.m., grabbed some food and took a couple of swings in the cage. He didn't play in the first game of the doubleheader, a 7-3 PawSox victory, but he was ready to go for the second contest.
After all, the 23-year-old sported a .268/.356/.471 slash line with seven homers and 16 extra-base hits in the Eastern League this season. A slow start in April in which his average dipped to .171 tempered his numbers, but Haseley turned the corner in May with a .337 average and a .994 OPS.
The eighth overall pick in the 2017 Draft felt pretty comfortable with his new teammates, many of whom Haseley played with during Spring Training this season.
"You get that weight lifted off your shoulder a little bit," he said of the three hits. "I wasn't in big league camp for a majority of the time, but I was there for a little bit and hung out with these guys. I knew a good majority here. Like anything, it'll take time to build the camaraderie and the friendships and everything like that."
When Lane Adams led off the game with a double, Haseley had an early chance to drive in his first run in the International League. The outfielder did just that, smoking a two-bagger into the left-field gap off Pawtucket southpaw Jeremy Bleich. He scored two pitches later on Andrew Romine's single.
"Obviously, have a bunch of adrenaline knowing what's going on," Haseley said. "But I've been playing for a week, week-and-a-half in a row now, so I just tried to treat it like any other game and not try to psych myself out or anything. My approach is the same way and I felt more and more comfortable as the game went on."
Gameday box score
Haseley fell behind in the count, 0-2, against Bleich one frame later, but again went to the opposite field for another double to drive in Adams for the second time. It marked his second game with two doubles, the first coming on April 16 against Portland.
PawSox lefty Dan Runzler didn't have much more success against Haseley, who also laced a two-strike single to center in the fourth. The University of Virginia product has three consecutive multi-hit efforts, registering seven hits across the stretch.
"For whatever reason, it's where a lot of my swings lead to," Haseley said of hitting to the opposite way. "It's just something that's always been that way. So it's always a constant battle to hit it further out, to hit it up the middle and pull the ball. I guess with a two-strike count, I'm trying to see the ball a little deeper and that's where the ball kind of ball ends up."
Haseley came into the night hitting .315 against southpaws this year and tallied three more knocks against lefties Wednesday. He's not utilizing an exact science against lefties, but feels his overall approach has proven to be the key this season.
"It's just kind of the way it's shaken out," Haseley said. "We did a lot of work at Virginia, trying to prepare for different righties or lefties, so I credit a lot to that time. I don't have any kind of special approach to it, I think it's just the way it's unfolding the first two months of this year. It's kind of a mind-set where you know you have to prepare for that at-bat a little differently, and I feel my approach has been good."
With a chance for a fourth hit in the sixth, Haseley fanned against lefty Bobby Poyner.
Between the two levels, the Florida native is hitting .280 with an .855 OPS and 10 doubles in 42 contests.
Left-hander Tom Windle (3-0) picked up the win in relief, allowing a hit and fanning one in a scoreless frame.
Bryce Brentz lifted Pawtucket to victory with a grand slam in the opener.
Andrew Battifarano is a contributor to MiLB.com. Follow him on Twitter, @AndrewAtBatt.