De Jongh belts Dodgers into AZL Finals
Outfielder collects career-high four hits during bid for cycle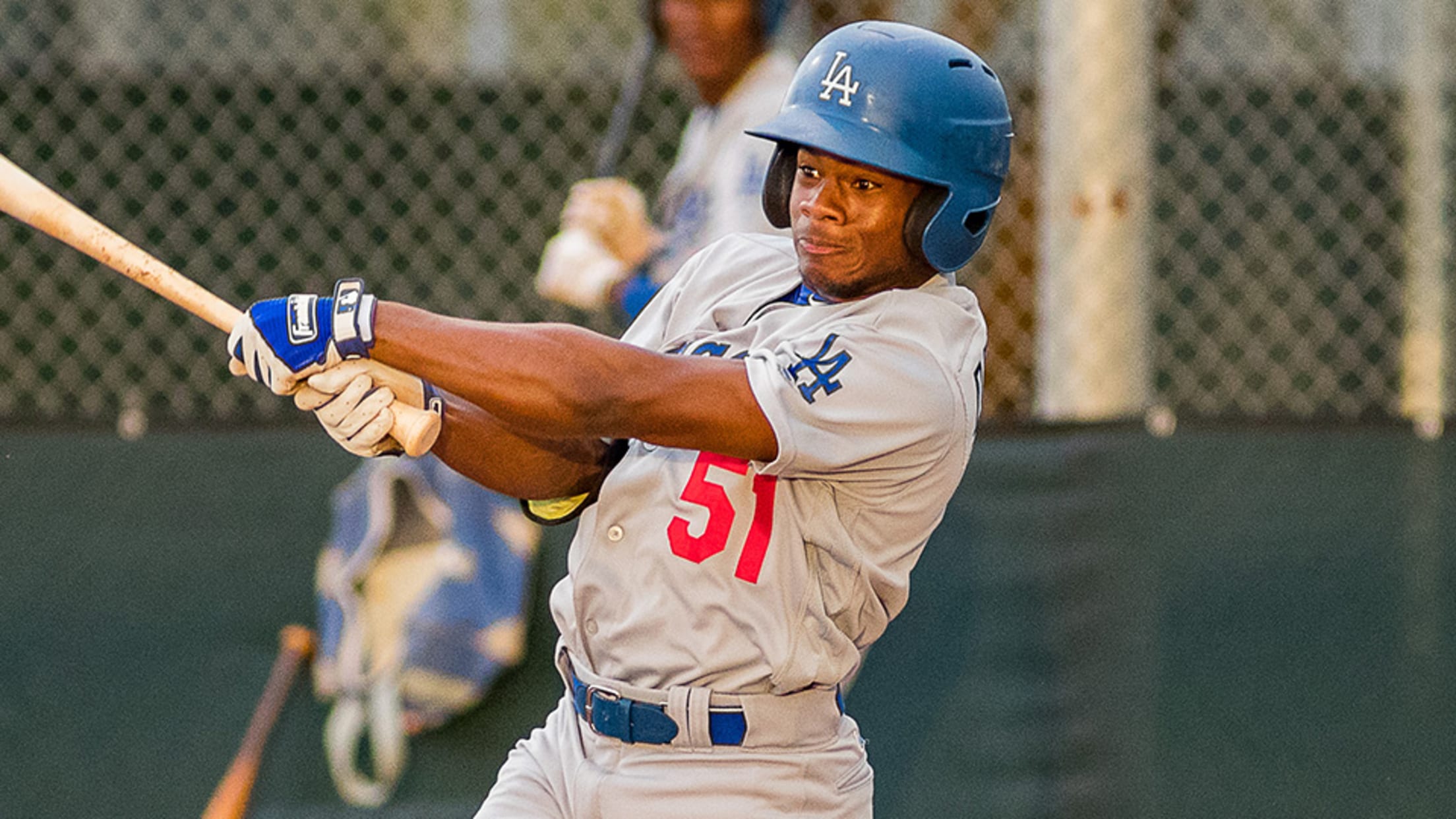 Aldrich De Jongh rebounded from a slow start to hit .342/.381/.526 in August. (Freek Bouw/Phrake Photography)
It wasn't the most glamorous professional debut for Aldrich De Jongh, but the payoff in his first postseason game made up for it.The Los Angeles outfield prospect finished a home run shy of the cycle while collecting a career-high four hits to help the Rookie-level Arizona League Dodgers rally past
It wasn't the most glamorous professional debut for Aldrich De Jongh, but the payoff in his first postseason game made up for it.
The Los Angeles outfield prospect finished a home run shy of the cycle while collecting a career-high four hits to help the Rookie-level Arizona League Dodgers rally past the Indians 2, 9-8, on Wednesday night at Camelback Ranch to reach the Finals for the first time since 2013.
De Jongh, who scored three times, helped get the offense going in the bottom of the first inning.
Box score
The 19-year-old smacked a leadoff ground-rule double to left field off Indians starter Carlos Vargas and scored on an RBI single by Andy Pages. He grounded out to end the second, but helped tie the game in the fourth when he tripled to right and scored on Leonel Valera's sacrifice fly.
De Jongh beat out a bunt single to first base in the seventh and raced home with the tying run on Juan Paredes' wild pitch. Needing a home run to complete the cycle, the Curacao native instead reached on an infield single for his career-high fourth hit before he was switched out of the game in the ninth.
Selected in the 17th round of this year's Draft out of Hillsborough Community College in Florida, De Jongh batted .221/.269/.326 with six extra-base hits, 12 RBIs and 11 runs scored in 23 games in the Arizona League. He ended the regular season with three multi-hit efforts in his last 10 games while batting .342/.381/.526.
Sauryn Lao went 3-for-3 with a double, two RBIs and a run scored while Valera chipped in two hits, two runs and two RBIs.
Dodgers reliever Ricardo Hernandez (1-0) struck out three in two scoreless innings to pick up the win.
Indians No. 28 prospectQuentin Holmes hit a two-run homer and finished with three RBIs. Billy Wilson doubled twice during a career-high four-hit night. The club's 28th-round Draft pick scored twice, drove in two runs and stole a base.
Paredes (0-1) retired two batters in the seventh and was charged with three runs on four hits.
The Dodgers and Cubs 1 will begin the best-of-3 Arizona League Finals on Thursday night.

In other playoff action:
Cubs 1 8, Rangers 7 (10 innings)
Kevin Moreno walked to force in
Josue Huma
with the winning run as the Cubs rallied from an early five-run deficit to reach their second consecutive Arizona League Finals.
Yonathan Perlaza
finished with three hits, including a double, and an RBI while
Orian Nunez
doubled twice and drove in a run. Niels Stone (1-0) earned the win despite allowing an unearned run in the top of the 10th inning. Rangers 11th-round Draft pick Billy Layne Jr. surrendered two runs -- one earned -- on four hits and two walks with a career-high eight strikeouts in five innings.
Box score