All-Star derby image storms way to MiLBY award
Ground-level shot of Great Lakes' Rincon voted Photo of the Year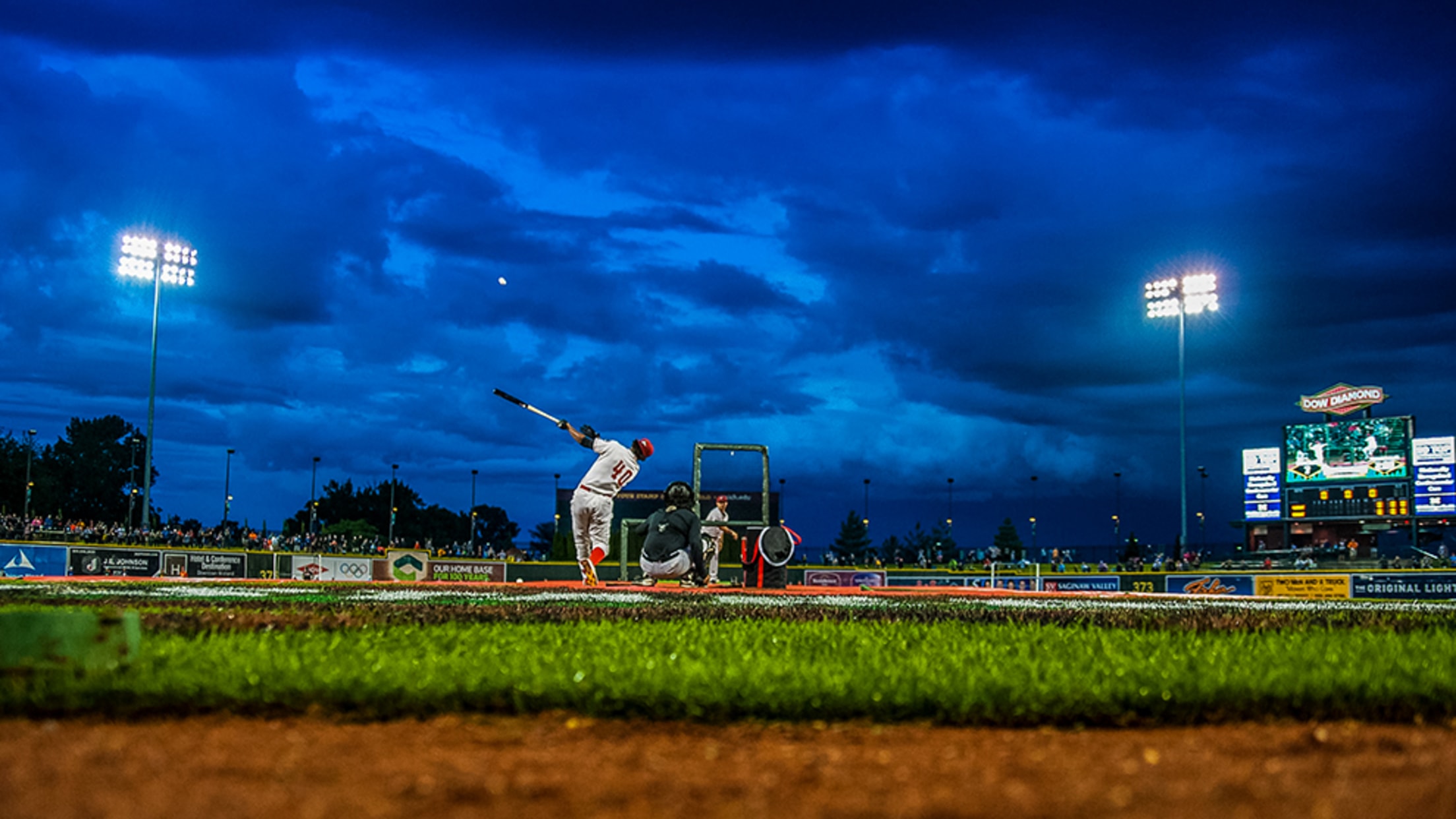 Kaitlyn Cole had to get a little dirty to get the winning shot this year."I was lying on the ground, right on the dirt in front of the seats behind home plate," she said.Cole captured Great Lakes slugger Carlos Rincon mashing his final tally in the 2017 Midwest League Home
Kaitlyn Cole had to get a little dirty to get the winning shot this year.
"I was lying on the ground, right on the dirt in front of the seats behind home plate," she said.
Cole captured Great Lakes slugger Carlos Rincon mashing his final tally in the 2017 Midwest League Home Run Derby on June 19, a shot that earned him a victory and, months later, gave Cole a win, too. Her image of the Dodgers prospect under a stormy blue sky was voted Photo of the Year by fans in the 2017 MiLBY awards.
"Honestly, it's the best feeling ever," said Cole, a senior at Northwood University. "I'm still in school, I'm a full-time student and I've been working 24/7 to try to perfect my skills and my career, so to see my hard work pay off is the most awesome feeling ever."
Cole's image edged two other primary contenders: a photo of a mother and daughter at an Indianapolis Indians game taken by Whitney Anderson and another of White Sox prospect Yoán Moncada signing autographs for Charlotte Knights fans, captured by Dave Wegiel. Cole's photo won with 26 percent of the vote, while the Indianapolis family shot came in at 22 percent, just ahead of the 21 percent for the Moncada snap. An image of a sunset in Durham by Faith Inman finished fourth.
Cole's pic of Rincon launching a ball toward left field under the lights and cloudy blue sky combined with an unusually low perspective to bring viewers into the scene.
"I would say that it's eye-catching, has good color, contrast and it was a night to remember," said Cole, who was hired by the Loons to photograph the All-Star events at Dow Diamond that week.
"That was the home run winner, his very last home run, and a couple hours before the picture was taken, it was super stormy and rained a lot, so that made the sky a dark blue," she said. "Everything about that night is encompassed into that one photo, which is what I really like about it."
Cole said she used a Nikon D700 camera and a 28-75mm f/2.8 lens for the image. She took the photo from grass level, creating a unique perspective and composition.
"Any time you shoot an athlete from a lower angle, it gives an effect of dominance and that feeling -- at eye level, it's not as powerful," Cole said. "I wanted to get a lower perspective and a lot of people don't get low like that. I'm always looking for how to be unique. It wouldn't have been the same effect if you took it looking at eye level."
"Kaitlyn was one of a few photographers and videographers we had working the All-Star festivities over the two days," said Matt DeVries, the Loons' assistant general manager. "What she was able to capture, particularly during Rincon's championship round, was magnificent. The angle behind home plate, positioned in front of the protective netting on the warning track, is one that you rarely achieve during regular game play."
Cole credited DeVries with nominating the image, and she later spread the word on social media to garner votes.
"I posted on my Facebook page and had friends and family vote, and I voted a couple times myself as well," she said.
Cole, a senior majoring in entrepreneurship at Northwood, has been trying to build a portfolio with an eye on photography, video and graphic design. She photographed the Detroit Lions last season in the NFL and said she's appreciative of the Loons opening another door for her this summer.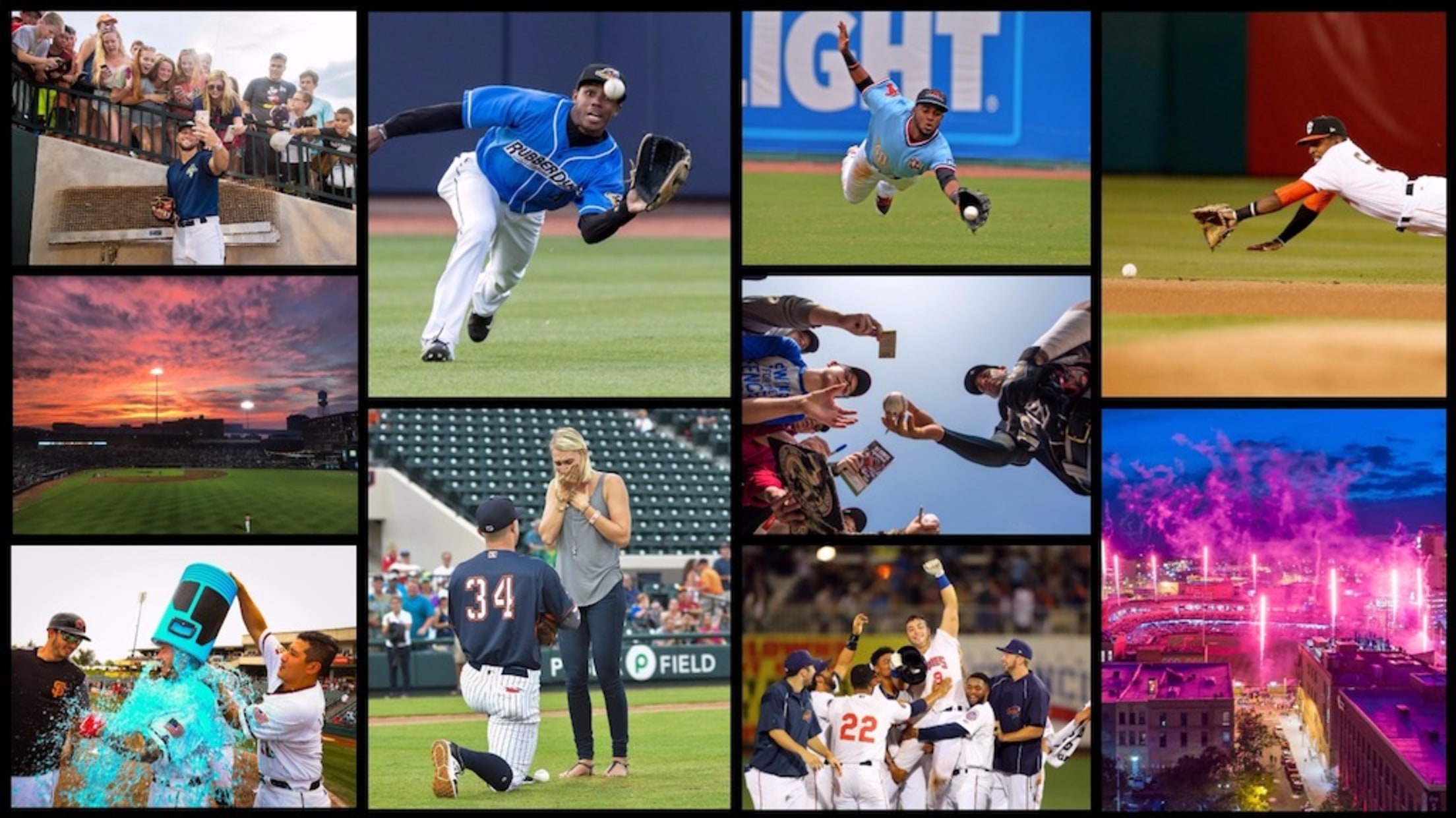 Some of the other nominees for MiLBY Photo of the Year. (MiLB.com)
"I really appreciate the Loons giving me a shot to do this and showcase my talents and skills," she said.
The MiLBY Photos of the Year field included a variety of imagery -- diving catches, ballpark sunsets, firework spectacles and unique moments like Tim Tebow's final selfie with fans in Columbia and a Yankees pitcher proposing to his girlfriend on the field.
Cole was confident she had the best image of the bunch, though.
"Honestly I thought there were three other ones that were good competition," she said. "Some of the other ones I didn't feel I had much competition against. But honestly since it was the whole U.S. voting, I wasn't sure how many people would vote or the process. Just getting nominated was an honor and I'm so happy."