Carter, Bakkum twirled dueling no-hitters
Pair of walks, sacrifices saddled Winter Haven starter with loss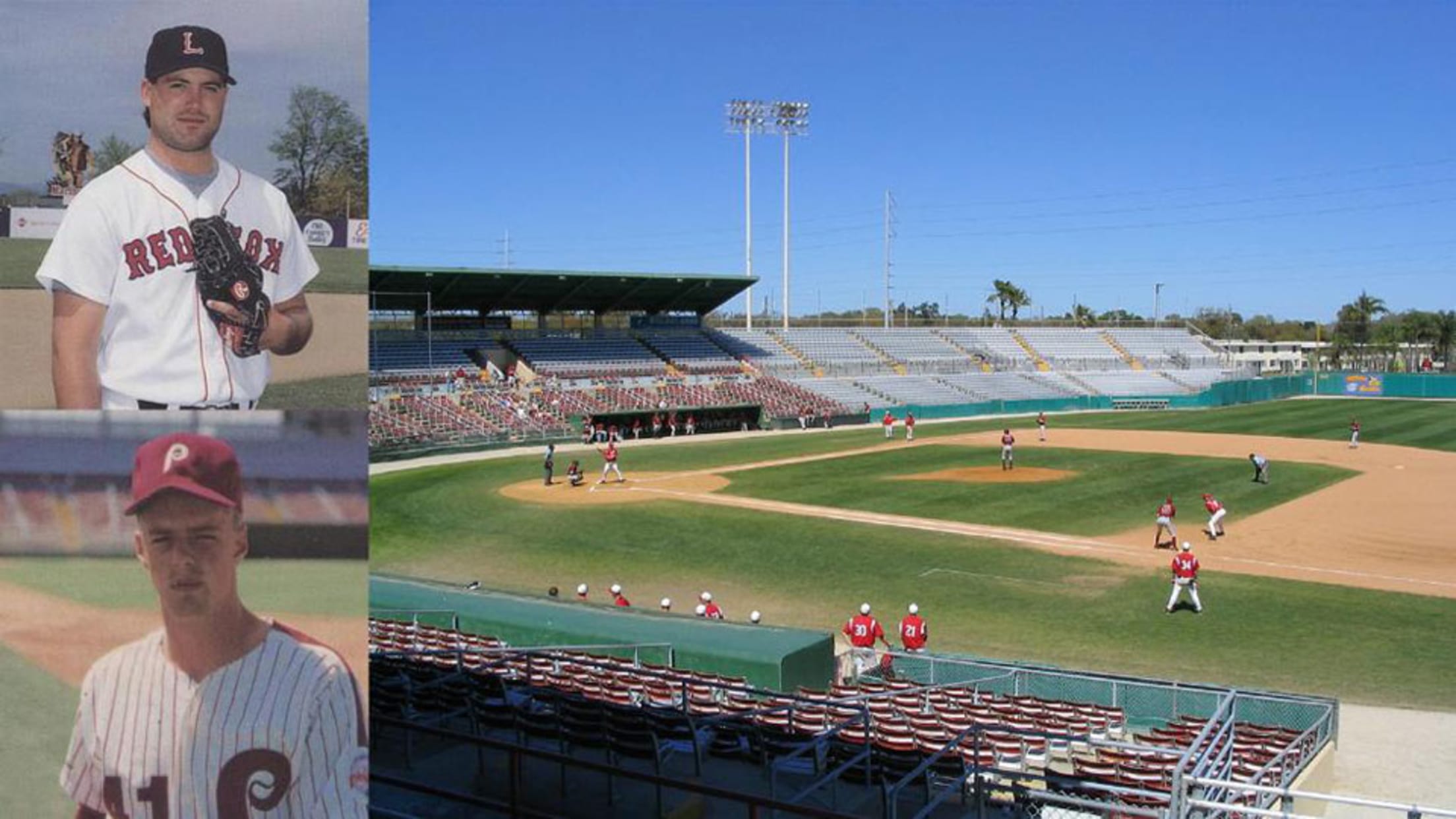 With Hurricane Andrew moving in on Florida, Scott Bakkum and Andrew Carter twirled their way into the history books.
Minor League Baseball is known for its rich history dating back more than 100 years. While much has been written about the best teams and top players who have graced the Minors, there remain many stories either untold or largely forgotten. Each week, MiLB.com will attempt to fill that gap
Minor League Baseball is known for its rich history dating back more than 100 years. While much has been written about the best teams and top players who have graced the Minors, there remain many stories either untold or largely forgotten. Each week, MiLB.com will attempt to fill that gap and explore these historical oddities in our new feature, "Cracked Bats."
Throwing a no-hitter is one of baseball's rare feats. Seeing two pitchers toss one in the same game, well, that's almost unheard of. Unless the conversation turns to Andrew Carter and Scott Bakkum.
This unlikely duo combined to dazzle a sparse crowd on a rainy Sunday afternoon at Jack Russell Stadium in Clearwater, Fla., taking an otherwise dreary late summer day and turning it into something magical. There probably weren't more than 1,000 people in the stands on Aug. 23, 1992, but those who were there got to see Carter and Bakkum spin twin gems, with the latter taking the loss despite not giving up a hit.
Clearwater topped Winter Haven, 1-0, in the riveting affair, scoring its only run in the seventh inning on a pair of walks and two sacrifices. Carter earned the victory while Bakkum was left with the bittersweet memory of taking the loss, in what was probably the grandest moment of his career.
According to Lloyd Johnson, historian and author of the Minor League Encyclopedia, the two previous dueling no-hitters happened more than 40 years apart. The last dual no-hitter was on Aug. 20, 1952, when Bradford's Frank Etchberger defeated Batavia's Jim Mitchell, 1-0, in a New York-Penn League game. On Sept. 15, 1910, one occurred in a six-inning scoreless title between Huntington and Wabash in a Northern State of Indiana League game. Prior to that, two pitchers hurled hitless ball in a 1908 Three-I League game.
The Carter-Bakkum game was also played under some unusual conditions because of an impending natural disaster. Hurricane Andrew, a devastating storm, was within 24 hours of making landfall on Florida's southeastern coast. When it eventually did touch down, it cut a path across the state, wreaking havoc, taking lives and causing billions of dollars in damage.
While the hurricane didn't impact this game, per se, there was a rain delay early in the contest, one that lasted nearly 45 minutes. While both pitchers came back out after the rain stopped, Bakkum said that he and his teammates were well aware of the storm's impeding arrival and were hoping to be back on a bus to Winter Haven sooner rather than later.
"We were ready to get the game over with," Bakkum said. "We didn't even shower after the game. We just got right back on the bus. We woke up the next day, and it was like it was the middle of the night. We didn't get much rain in Winter Haven, but we got the dark skies and wind. During the game, though, we weren't thinking about anything other than trying to win."
Bakkum did just about everything he could that day to help his team. He walked three and struck out three, allowing the game's only run in the seventh inning. Phil Geisler, who is now an area scout for Seattle, led off the inning with a walk and went to second when Troy Rush walked. Both runners moved up on a sacrifice fly by Gene Schaal before Ken Sirak's suicide squeeze scored Geisler.
"I was mad that they scored, but you try to keep it at a one-run deficit and come back and win the game," Bakkum said. "Obviously no one was saying anything about the no-hitter during the game, but it hit me on the bus ride home and it was like, 'Wow!'
"I've watched the tape of it a few times, over the years. It's nice to have that to look back at when someone doesn't believe what I was a part of. I show them, and it's a strange game to watch. I still get goose bumps when I realize what happened."
Carter experienced the wow-factor postgame, as well, but having won, the feeling was obviously more upbeat. He encountered no troubles such as the one Bakkum faced in the seventh inning, though he did walk a pair of batters in the game. He also struck out four, cementing his place not only in Florida State League history, but in that of Minor League Baseball.
"It was probably the fifth or sixth inning before I realized that I had a no-hitter," Carter said. "I remember my stuff wasn't that great. I was throwing a lot of low sinkers away. I didn't throw too many breaking balls.
"And someone said in the last couple of innings that he [Bakkum] had a no-hitter, too. We were just concentrating on winning, though, because no one really thought that it was going to happen."
The Hall of Fame came calling the next day and requested balls used in the game, as well as jerseys and hats from both pitchers. Carter said his parents have traveled to Cooperstown and seen the exhibit, though he's never made the trek.
"It was definitely weird," said Carter, who also pitched a no-hitter for Spartanburg of the South Atlantic League in 1988. "I didn't do anything in my Major League career. I was there for only, what, 90 days? So to have something like that get in there is odd. It's definitely a highlight, though. I've got a story, a picture and a signed ball in the Hall of Fame. I got there without ever doing anything in the Major Leagues."
Carter, whom the Phillies drafted in 1987 (37th round), moved on to Double-A Reading later that season and eventually reached Philadelphia in 1994. He saw action in 24 games with the Phils over parts of two seasons, going 0-2 with a 4.75 ERA before moving on to play independent ball and overseas. He currently owns his own business in Orlando, clearing trees for new housing developments.
Bakkum was drafted twice by the Red Sox, the first time in 1988 and then again in 1992 (30th round). He made it as high as Triple-A with the Sox before getting dealt to Philadelphia, before his career came to an abrupt end in 1997 after he tore an elbow ligament. He's now a carpenter in Wisconsin.
"After that day, I never saw Carter again," he said. "And I only heard a few mentions of him when I got traded to Philadelphia. My next game after that no-hitter, though, I got my first win. I went six or seven innings, and I beat the Tampa Yankees."
There weren't too many victories for Bakkum during his career. It's a loss, though, that probably stands out as much as any game he won.
Kevin Czerwinski is a reporter for MLB.com.