Landers adds King of Baseball to his many kudos
Appy League president reflects on his six-decade career in Minors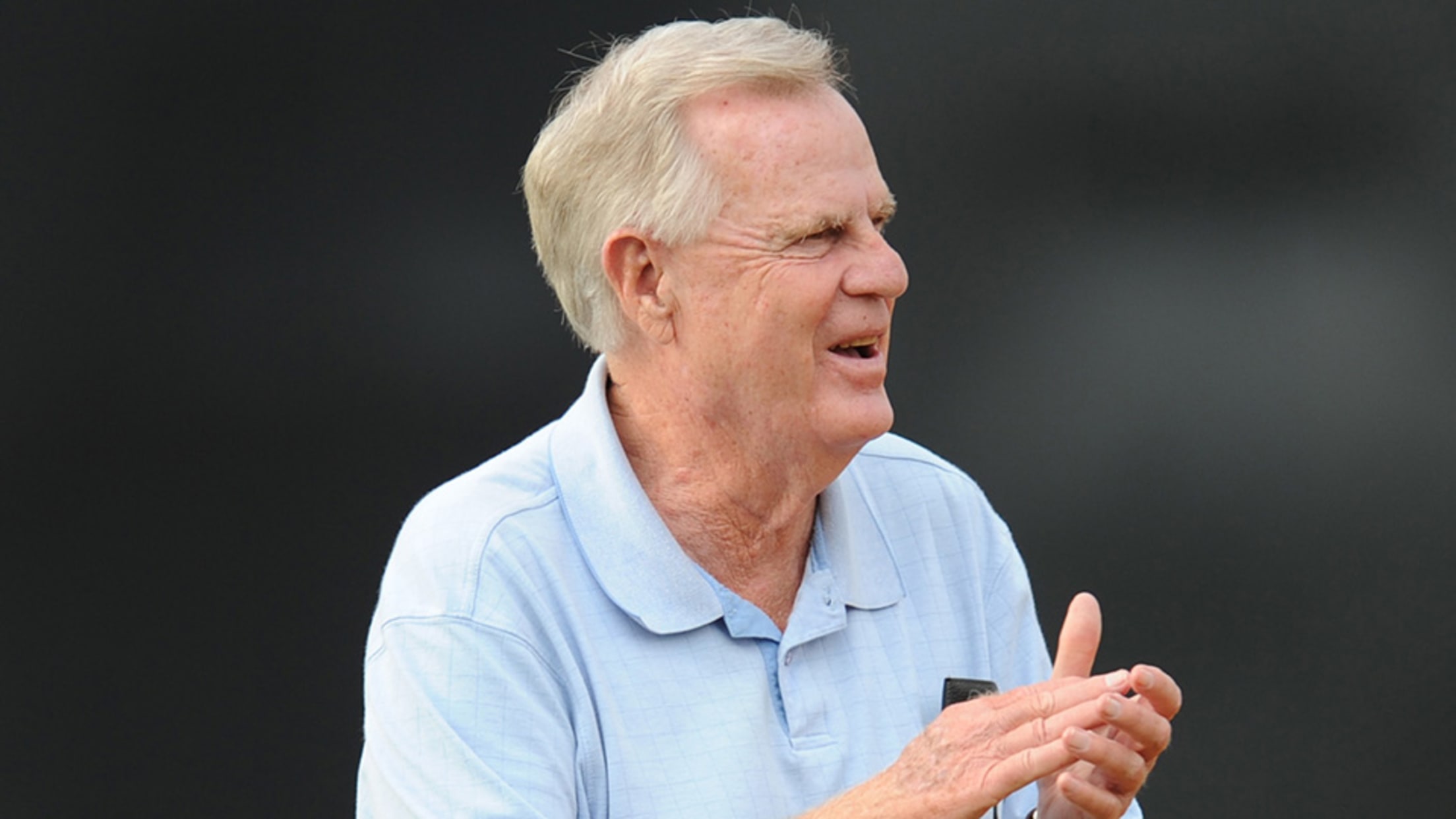 Lee Landers has been president of the Appalachian League since 1996. (Tony Farlow/Four Seam Images)
Lee Landers wears the compliment like a badge of honor, earned from over 58 years of toiling in the Minor Leagues, beginning as a trainer and evolving to general manager and eventually president of the Appalachian League. Six decades in a profession will garner numerous accolades, but there's one compliment
Lee Landers wears the compliment like a badge of honor, earned from over 58 years of toiling in the Minor Leagues, beginning as a trainer and evolving to general manager and eventually president of the Appalachian League. Six decades in a profession will garner numerous accolades, but there's one compliment Landers particularly appreciates.
"I've been told that I can tell somebody to go to hell and he'd look forward to the trip," said Landers, named today as Minor League Baseball's annual King of Baseball.
That means he's firm, but fair. He's smooth, like Tennessee whiskey, befitting of the man who turned around the Appalachian League.
"It's the highest individual honor of the Minor Leagues," said Minor League Baseball President and CEO Pat O'Conner. "What makes Lee so unique is that he's virtually done it all. Some of the senior guys call him 'The Professor.'"
"It's stunning," said Landers of the award from his home in Redington Shores, Florida, where he resides with the former Bobbi Williams, his wife of 59 years. "It's very humbling. It's a tremendous honor. I've been blessed to do something I've loved for so long, and to do it with her next to me for all these years."
They met at Walla Walla University, a private Christian liberal arts university in College Place, Washington, where he was a physical education major.
"I don't think he was thinking about being in baseball," said Bobbi about Lee's career path, which began as a trainer, with stickers on his suitcase from places like Fresno and Modesto, California, and Twin Falls, Idaho.
"Back then, they'd ask if you could drive a bus," said Landers. "If you said yes, they'd say, 'OK, you can be a trainer.'"
In 1968, Landers was hired by the St. Louis Cardinals as a trainer and traveling secretary in their Minor League system. He worked in Modesto, Little Rock, Tulsa and New Orleans before heading to Springfield, Illinois, in 1978, where he was named general manager of the Cardinals' expansion Minor League affiliate.
Bobbi worked with him in the Springfield office, much like she does now. When not working in baseball, they've raised five children and helped raise 10 grandchildren and a great granddaughter.
Landers spent a dozen years in Springfield of the Midwest League, where the accolades mounted like Aaron Judge's home run totals. He won the Midwest League's Executive of the Year, Promotional Award of Excellence and the Gold Award for excellence in operations.
Eventually, the Cardinals came to the conclusion Bobbi had known for decades, "that he has just a brilliant mind … he handles people really well," and named him a vice president in their Minor League system.
While with the Cardinals, Landers picked the brain of Max Schumacher, now Chairman Emeritus of the Indianapolis Indians, on promotions that basically kept his Springfield operation afloat.
"I saw a guy who stepped into a different career path who liked the community and was very devoted to making it work," said Schumacher. "His word is his bond. If he says something, you don't have to worry about it getting done."
Unfortunately -- or fortunately, depending on one's outlook -- the Cardinals weren't committed to making it work in Springfield and sold the franchise. Landers was on the way out, but he knew he had years to go and too much to accomplish.
Landers stayed close to the sport doing consulting work and was eventually named the president of the Appalachian League in 1996. It was a struggling league, and Landers has turned it into prominence, gaining national respect.
He did so by giving the league "curb appeal," a real estate term saying if a prospective buyer of the house likes the outside, he might come inside.
George McGonagle, president of the Bluefield Blue Jays, has known Landers for over 25 years. He's seen how the Appalachian League has grown and developed. The ballparks have evolved from being a diversion on a summer's night to a destination point in the respective towns.
"He's brought financial stability to the league," said McGonagle. "Back when he first came into the league, there were no baseball park standards. It's different now. We built a new home clubhouse and remodeled the visitors. But, that was for the players.
"We've put in a new irrigation system and a video board. We've remodeled the restrooms and the entrance."
It's that way throughout the Appalachian League.
Ownership of a franchise requires a commitment. It requires an appreciation of the economics of the towns in which they reside. It requires getting involved with the community.
"We've gotten away from ownership that wasn't involved," Landers said. "For our employees, it is more than just a summer job. They take pride in what they do.
"We now have staffs that work hard and are dedicated to what they do year-round. You can't expect your community to get involved with you if you don't get involved in the community. We aren't carpet baggers. If we can keep it affordable and keep coming up with new ideas, the future is very bright."
Staff meetings throughout the league occur right after the season, where there is brainstorming on what went wrong during the summer and the introduction of new promotional ideas. Meetings continue at the annual Winter Meetings in early December, where all the Minor Leagues are under one roof.
"I've known Lee for over 15 years," said Mahlon Luttrell, president and general manager of the Bristol Pirates. "He has brought professionalism and cohesiveness to the league. Teams used to guard their secrets [promotions and operations]. He's gotten everybody to open up and share their ideas.
"He gives everybody the same attention. He doesn't play any favorites. He can be your friend, yet kick you in the tail if you need it."
Brian Paupeck, general manager of the Kingsport Mets, is a relative newcomer to the league, but Landers' easy style has made him feel welcome.
"He's very easy to talk to," said Paupeck of Landers' management style. "He definitely doesn't show favoritism and interacts with everybody. He's definitely passionate at what he does."
Landers' day in Florida begins around 6:30 a.m., with a cup of coffee with Bobbi. Landers then reads his email, which includes a Daily Devotional from the Baseball Chapel.
During the season, he'll fly to Tennessee, Virginia, North Carolina or West Virginia, rent a car and live out of a suitcase for over two weeks. He visits everybody during the summer, taking notes on everything from promotional ideas and concessions to park cleanliness. He's a stickler for the latter.
"We are competing with other sources in the town," Landers said. "We want to project a clean, wholesome atmosphere. We can control having a clean ballpark. If you have a dirty ballpark, if you have a pigsty, why should they come back?"
All the clubs have theme nights, whether it be concessions -- Greek food one night, Italian the next -- or community nights, where neighboring towns are featured. There are giveaway items and bands playing music in the parking lot.
There's always something new.
"We aren't afraid to try new ideas," Landers said. "We want to put the fans in a festive mood. If we're doing our jobs right, we want to put them in a festive mood before they get to their seats."
"Doing our jobs right," is something Landers said at least a dozen times over an hour.
And, Landers has been doing his job right for six decades.
John Delcos is a freelance writer for Minor League Baseball.