D-backs Prospect Primer: Duplantier leads way
Righty looking to build on big year; Smith ready for full-season test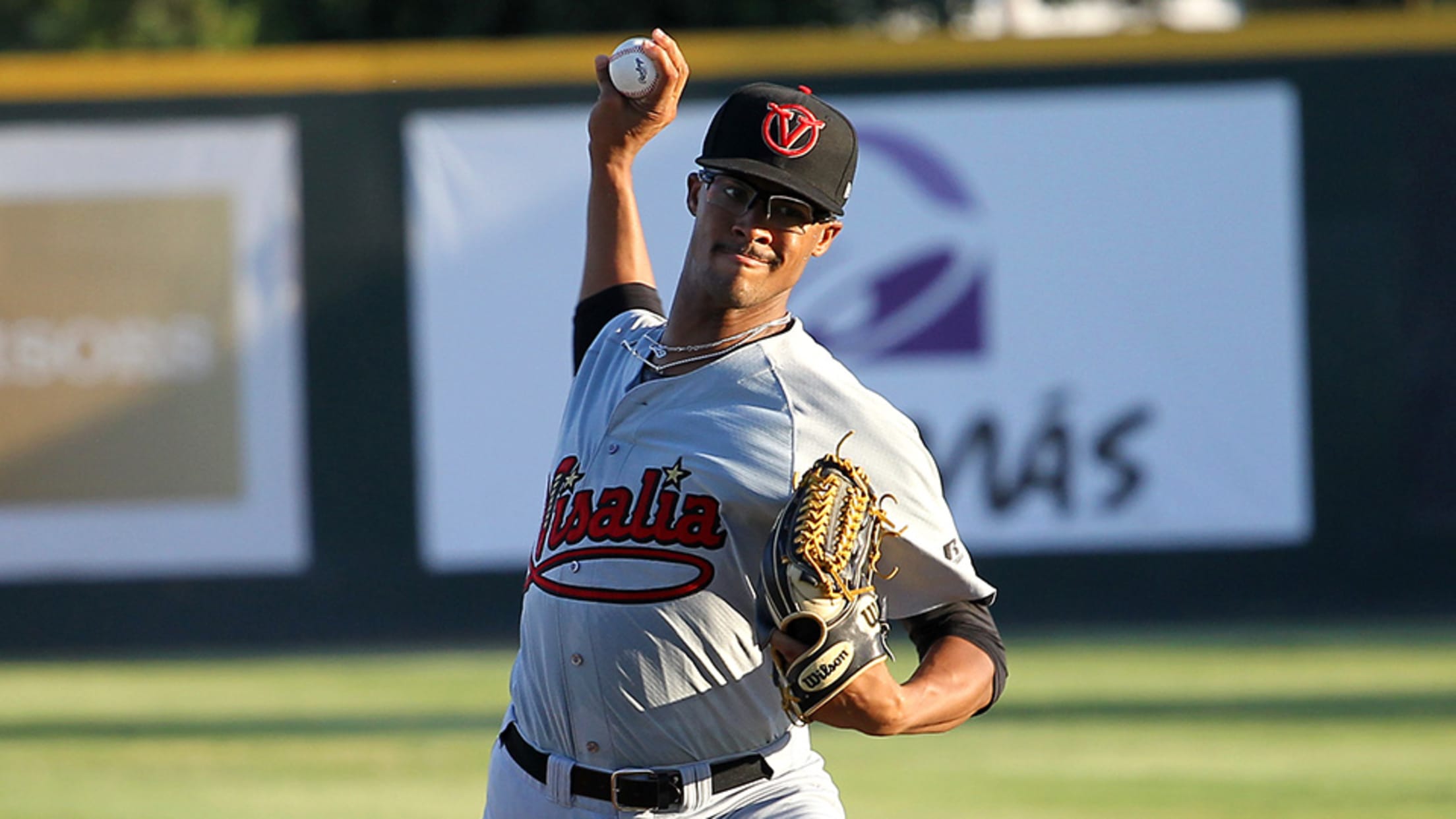 Jon Duplantier allowed three hits or less in 12 of his 24 starts last season across two Minor League levels. (Ben Sandstrom/MiLB.com)
Some players are on the verge of stardom, others are entering a crucial phase of their development and still others are getting their first tastes of full-season ball. With the 2018 season approaching, MiLB.com takes a look at the most intriguing prospects from each MLB organization.Shining star: Jon Duplantier, RHPFor
Some players are on the verge of stardom, others are entering a crucial phase of their development and still others are getting their first tastes of full-season ball. With the 2018 season approaching, MiLB.com takes a look at the most intriguing prospects from each MLB organization.
Shining star: Jon Duplantier, RHP
For all intents and purposes, 2017 was Duplantier's first season as a Minor Leaguer. After pitching one inning for Class A Short Season Hillsboro during his pro debut in 2016, the D-backs' top prospect turned in one of the finest all-around seasons by a starter in the Minors.
Duplantier led all Minor League starters with a 1.39 ERA in 25 appearances, including 24 starts, holding opponents to one run or less 18 times. The right-hander did not allow his first earned run until his fifth start on May 2 and carried an ERA under one into his last start with Class A Kane County on June 15. Overall, Duplantier struck out 165 batters in 136 innings across two levels while holding opponents to a .192 batting average. The 23-year-old fashioned a 0.91 WHIP, and his 12 wins tied for the organizational lead with Arizona's No. 7 prospect, Taylor Clarke.
"I wanted to silence some of the doubt around my durability," Duplantier said. "And I wanted to have success while doing it. I knew I could go out there and do it, but being so consistent each time out was great. It's fun to look back on now. I didn't get caught up in it during the season."
Duplantier, MLB.com's No. 73 overall prospect, will likely begin 2018 with Double-A Jackson after finishing last season with a 1.56 ERA in 12 starts with Class A Advanced Visalia. He participated in the 2017 Future's Game in Miami and earned a 2017 MiLBY award as Top Starting Pitcher.
"I'm not going to be one of those guys who goes out there and tries to upgrade everything. So many want to do more in their routine, but I'm going to stick with what's gotten me here. The biggest thing is to be as consistent as possible, pick up where I left off last year and carry it over."
Full-season debutant: Pavin Smith, 1B
The D-backs appear set at first base for quite some time thanks to the presence of five-time All-Star Paul Goldschmidt, but it never hurts to have a little extra in reserve. That's where Smith steps in, coming off a productive professional debut in 2017. The seventh overall pick in last year's Draft hit .318/.401/.415 with 27 RBIs in 51 games for Hillsboro. Although he didn't homer during 195 regular-season at-bats -- he went deep once during the postseason -- Arizona is convinced their second-ranked prospect will develop the power expected of a corner infielder. His 28 career home runs at the University of Virginia is tied for the sixth-highest total in the program's history.
"He's a great player and a really, really good hitter," Arizona vice president of player development Mike Bell said. "He's good defensively at first, and we expect he'll hit for a high average with plenty of power. Pavin is an extremely mature kid who understands his game, and we anticipate him having a great year for us."
An advanced hitter thanks in large part to his three-year collegiate career, Smith carried over his patient approach in the box to the pros, where he walked 27 times compared to only 24 strikeouts. At 22 years old, it's a safe bet MLB.com's No. 3 first base prospect, and No. 91 overall, will start the year in a full-season circuit, mostly likely with Kane County in the Midwest League.
Loudest tool: Kevin Cron, 1B
Loud is the operative word in the case of Cron, whose 6-foot-5, 245-pound frame supplies a thunderous amount of power. Arguably the best power hitter in the system, the D-backs' 20th-ranked prospect has gone deep 90 times over his three-plus seasons as a pro. Discounting his debut in 2014, when he played in only 64 games between Rookie-level Missoula and Hillsboro, Cron has hit at least 25 homers for three straight seasons and topped 90 RBIs twice in that span.
The younger brother of Angels first baseman C.J. Cron hit .283/.357/.497 with 25 long balls, 91 RBIs and a career-high 35 doubles in 138 games with Jackson. Cron's All-Star campaign helped him earn Arizona's Minor League Player of the Year. Cron will almost certainly begin 2018 in Triple-A Reno, a notorious hitter's haven.
"Kevin had a monster year, his second in Double-A," Bell said. He's hit [51] homers in the Southern League, which is a big number in a pitcher's league. One thing we were pleased about [in 2017] was the uptick in his on-base percentage. Kevin reached base at a much higher clip after changing his approach and working with it throughout the season. He came to camp in great shape, and we're trying him at third base a little this spring to increase his versatility. He's a talented hitter and just a good player. It'll be fun to see him continue his progression in 2018."
Back and healthy: Jasrado Chisholm, SS
A native of the Bahamas, Chisholm remains high on the club's prospect list despite a season lost to injury. The 20-year-old debuted with a breakout campaign in 2016 for Missoula, hitting .281/.333/.446 with 22 extra-base hits in 62 games. Promoted directly to Kane County last year, Chisholm struggled in April before turning things around in May. Unfortunately for the club's No. 3 prospect, a torn meniscus in his right knee ended his season after just 29 games.
Now fully recovered, Arizona is understandably excited to see what Chisholm can do over a full season. Despite his relative inexperience against top-notch pitching, his soft hands and strong arm leave little doubt he can succeed defensively at shortstop. How Chisholm progresses in the batter's box in 2018 and beyond will be a determining factor in his rise toward the Majors.
"Just a very, very talented player," Bell said. "He has all the tools you look for, plus he runs well and is great at shortstop. He's got plenty of arm for the position, and at the dish he's got the potential for true power. Jasrado is a guy that's a joy to watch, and he proved he's healthy during instructs in the Dominican Republic. He's ready to go."
Major League-ready: Jared Miller, LHP
The fact that Miller is a southpaw certainly helps his cause, but make no mistake, he's on the precipice of a Major League debut because of his talent. Arizona's 18th-ranked prospect turned in a solid, if unspectacular, three months in Double-A. But after earning the call to Triple-A in early July, Miller kicked his season into high gear.
The 24-year-old posted a 3.89 ERA with Jackson, but sliced that mark to 1.72 with Reno while holding opposing batters to a .147 average. Overall, Miller had a 2.93 ERA, 1.09 WHIP and 94 strikeouts in 70 2/3 innings. Although he's expected to begin the season in the Pacific Coast League, there is little doubt his left arm will be a valuable addition to the D-backs' bullpen in 2018.
"Jared's got really nasty stuff," Bell explained. "He can come at you in a number of different ways and generates a lot of strikeouts. He's not just a lefty-lefty guy either. He can give you several innings, if need be. He's got a funky delivery with good deception and he's put himself in position to be called up when there's a need."


Others to keep an eye on: Right-hander Jose Almonte took a giant leap forward in 2017 in just his second full-season campaign. The 22-year-old spent the entire season in the California League and finished sixth in the system in ERA (3.55) and third in strikeouts (162). ... If not for season-ending shoulder injury last year, Domingo Leyba might have found himself competing for a Major League job this spring. Instead, he's looking to bounce back and put himself back on the fast track to the bigs after playing in just 23 games last season. ... After reaching Triple-A for the first time, right-hander Taylor Clarke is knocking on the door of "The Show." The 24-year-old is coming off his second straight 12-win campaign, which included a 3.35 ERA and 138 strikeouts in 145 innings between Jackson and Reno.
2018 organization predictions:
Most home runs: Cron
Most stolen bases: Anfernee Grier
Most strikeouts: Almonte
Current prospect to get most Major League playing time: Jack Reinheimer
Non-Top-100 prospect to end 2018 in the Top 100: Almonte