Rockies' Pint exits season debut due to injury
No. 100 prospect summons Tourists trainer in rough first frame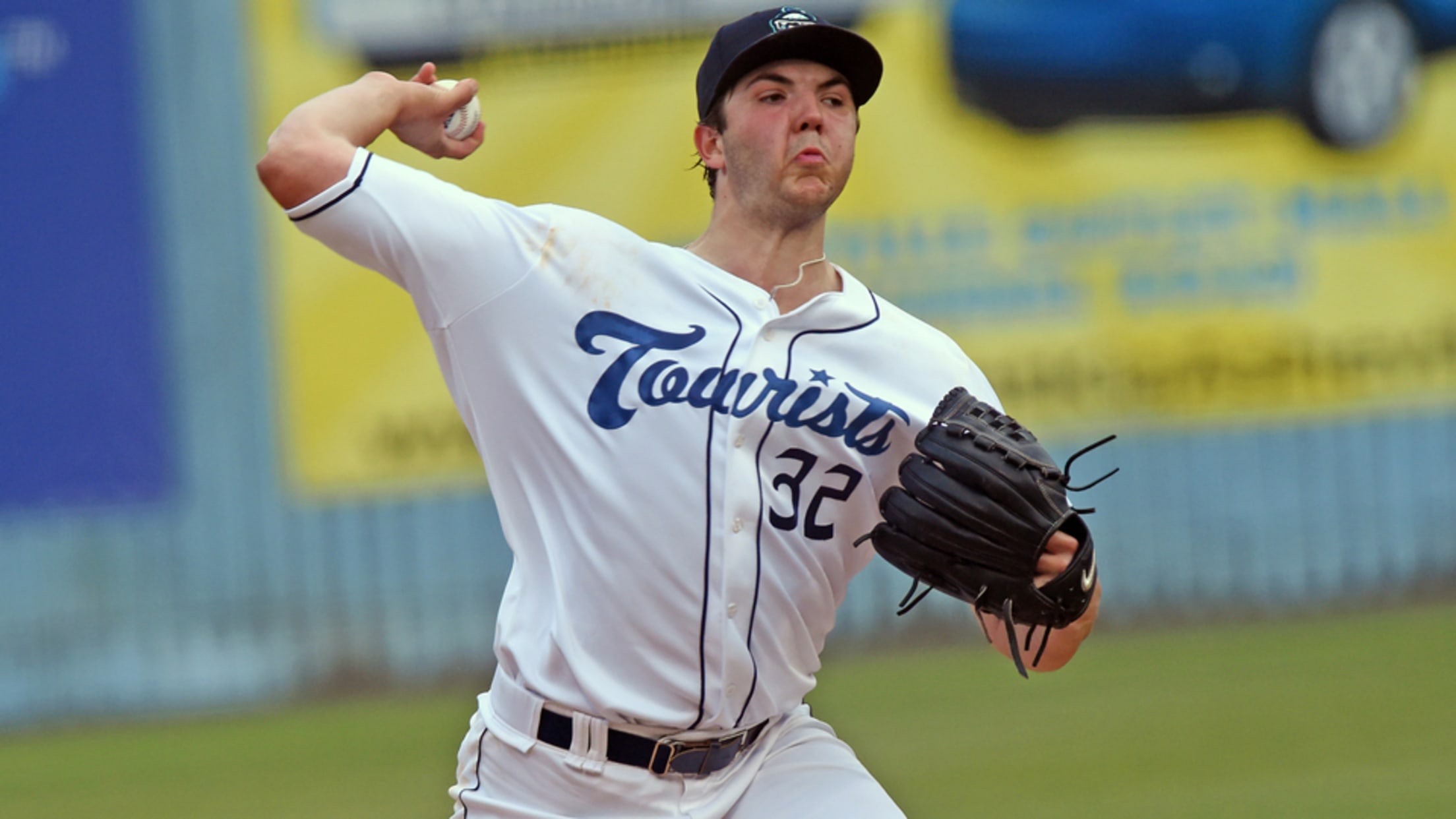 Riley Pint works with a fastball that usually sits in the mid-90s and has been ratcheted up to 102 mph. (Brian McLeod/MiLB.com)
The 2018 season could scarcely have gotten off to a rougher start for fourth-ranked Colorado prospectRiley Pint.Getting the ball for the first time this year, the 20-year-old right-hander gave up five runs -- three earned -- on two hits and two walks before exiting with an apparent forearm injury. He
The 2018 season could scarcely have gotten off to a rougher start for fourth-ranked Colorado prospectRiley Pint.
Getting the ball for the first time this year, the 20-year-old right-hander gave up five runs -- three earned -- on two hits and two walks before exiting with an apparent forearm injury. He recorded one out and was charged with the loss as Class A Asheville fell to host Delmarva, 14-9, at Arthur W. Perdue Stadium on Sunday.
Gameday box score
The No. 100 overall prospect surrendered a leadoff single to T.J. Nichting, then made an errant pickoff throw that sent the center fielder to second base. No. 29 Orioles prospectMason McCoy followed with a five-pitch walk and Pint got Branden Becker to fly out to left field. Another five-pitch walk put Will Robertson aboard and Seamus Curran reached on a throwing error by shortstop Ryan Vilade.Trevor Craport then knocked a triple to right field.
At that point, Pint waved for a visit from Tourists trainer Kelsey Branstetter and was removed from the game. Delmarva's postgame notes described the ailment as "a forearm injury."
A native of Lenexa, Kansas, the fourth overall pick of the 2016 Draft was featured in The Arm, Jeff Passan's book exploring the rash of arm injuries that have led to an increase in Tommy John surgeries over recent years. Passan highlighted a teenage Pint as a rare phenom who reduced the risk of overuse by not pitching year-round.
He went 1-5 with a 5.35 ERA over 11 starts for Rookie-level Grand Junction in his debut summer and he was 2-11 with a 5.42 ERA over 22 starts for Asheville last year.
Josh Jackson is a contributor to MiLB.com. Follow and interact with him on Twitter, @JoshJacksonMiLB.