Anderson posts more zeros for M-Braves
No. 39 overall prospect pitches six scoreless innings, fans 10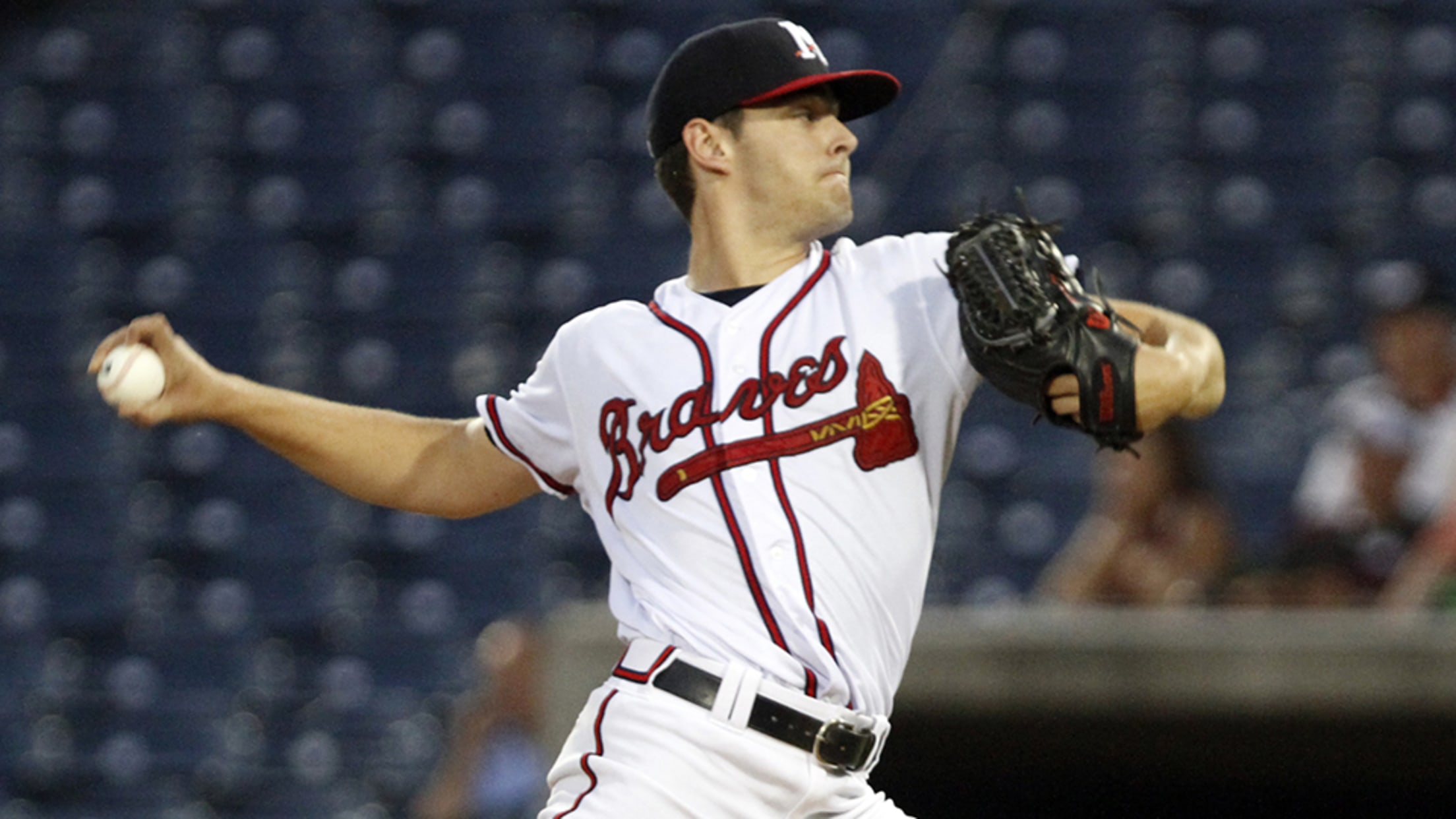 Ian Anderson has given up five hits over 12 2/3 scoreless innings in his last two starts for Mississippi. (Ed Gardner/MiLB.com)
Ian Anderson saved his best Southern League starts for his final two.The third-ranked Braves prospect fired his second consecutive scoreless start, striking out 10 while giving up two hits and two walks over six innings as Double-A Mississippi blanked Jacksonville, 3-0, in the first game of Saturday's doubleheader at the
Ian Anderson saved his best Southern League starts for his final two.
The third-ranked Braves prospect fired his second consecutive scoreless start, striking out 10 while giving up two hits and two walks over six innings as Double-A Mississippi blanked Jacksonville, 3-0, in the first game of Saturday's doubleheader at the Baseball Grounds of Jacksonville.
Gameday box score
"He's got great stuff, as you can tell with the 10 strikeouts tonight," said Mississippi pitching coach Dennis Lewallyn. "But his first two starts here, he really struggled, and he even admitted he was trying to be too fine out there and giving the hitters too much credit."
After Anderson's first two Southern League starts, when he surrendered five runs on nine hits over 6 2/3 innings, Lewallyn charged his right-hander with making a conscious effort to come out showing confidence in his skills and no fear of the bats he would face.
In his third start with the M-Braves, Anderson struck out five of the first eight batters he faced and twirled 6 2/3 scoreless with nine strikeouts and just three hits allowed. The 2016 first-round pick stormed out just as quickly Saturday in his final start of 2018. He fanned his first two batters and four of his first five before Eric Jagielo poked a single to right field in the second. An inning later, he worked around a leadoff walk to Anfernee Seymour by striking out Marlins No. 11 prospect Brian Miller and top-ranked Monte Harrison.
Anderson (2-1) gave up his second hit to Marlins No. 21 prospect Joe Dunand, who singled to right in the fourth, but got Brian Schales to fly to right before getting Jagielo swinging. MLB.com's No. 39 overall prospect picked up his final two strikeouts in the fifth and, after walking Harrison with one out in the sixth, induced 26th-ranked Bryson Brigman to ground into an inning-ending double play.
On both hits, Lewallyn said the right-hander simply floated smart pitches over the middle of the plate, and his opponents took advantage. With both of his walks, Anderson flashed brief signs of his inexperience, where he charged ahead for 0-2 and 1-2 counts but focused on the strikeout instead of setting the batter down any way he could.
"He was just trying too hard to fan them there and ended up with a walk," Lewallyn said. "You see that a lot with young pitchers. It's a sign of immaturity, but he'll get better with that. He's not wild, but sometimes he just throws too many careless pitches that aren't real competitive that guys won't chase.
"If he can get more consistent with his fastball command, which I think will just come with more innnings, and understand his stuff is good enough, he can do a lot here."
Braves No. 20 prospect Thomas Burrows picked up his fifth Double-A save, yielding one hit while striking out three in the seventh.
Alejandro Salazar put Mississippi on the board with an RBI single in the third and Luis Valenzuela tacked on two more with a two-out single in the seventh.
Dustin Beggs (1-2) took the loss, despite pitching his second complete game of the season. He gave up three runs -- two earned -- on seven hits and a walk with seven strikeouts.
In the second game of the doubleheader, Jacksonville right-hander Robert Dugger (7-6) picked up the 1-0 win, firing a one-hit shutout with just one walk while striking out nine. The Marlins No. 22 prospect has tossed consecutive complete games, and he's given up two runs over his last 30 innings spanning five starts.
Nathan Brown is a contributor to MiLB.com. Follow him on Twitter @NathanBrownNYC.