Wright shines in debut for Stripers
No. 2 Braves prospect throws 5 2/3 hitless innings, fans five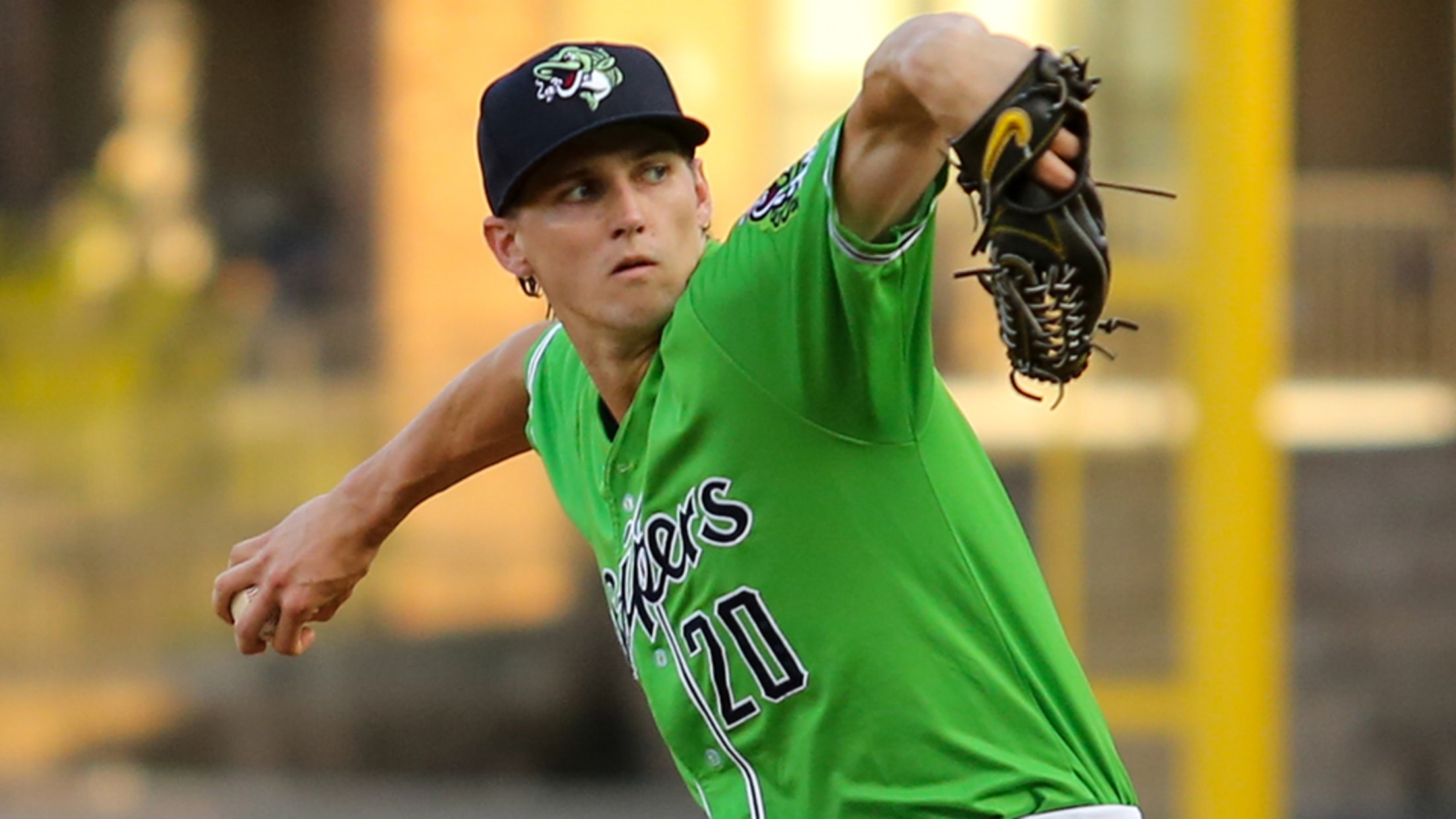 Kyle Wright has pitched into the sixth inning in each of his last nine starts. (Taylor Botta/Gwinnett Stripers)
Kyle Wright learned of his promotion to Triple-A on Monday, but rain pushed back his International League debut to Friday. Finally on the mound in his first crack at the circuit, the second-ranked Braves prospect made it worth the wait.Wright tossed 5 2/3 hitless innings, yielding two runs on four
Kyle Wright learned of his promotion to Triple-A on Monday, but rain pushed back his International League debut to Friday. Finally on the mound in his first crack at the circuit, the second-ranked Braves prospect made it worth the wait.
Wright tossed 5 2/3 hitless innings, yielding two runs on four walks while striking out five, as Gwinnett topped Norfolk, 5-4, at Coolray Field. It was his first win at the Minors' highest level and third in his last five starts overall.
Having previously spent time with catcher and No. 28 Braves prospect Alex Jackson with Double-A Mississippi, Wright felt comfortable for most of the outing and didn't shake off his backstop. Though he admitted he felt some fatigue that caused trouble in the sixth inning, it was an overwhelmingly positive start for MLB.com's No. 24 overall prospect.
"Early on, I felt just about everything was working," Wright said. "I had good command with both my fastball and changeup. Even my cutter/slider was pretty good, too. My breaking ball wasn't as good, but I was able to make some pitches with it."
Starting his second professional season with the M-Braves, Wright (1-0) went 6-8 with a 3.70 ERA, 1.34 WHIP and .249 batting average against in 20 starts. The Vanderbilt product amassed 105 strikeouts in 109 1/3 innings, which still ranks 10th in the Southern League.
He had his best statistical month of the season in July, going 2-1 with a 2.33 ERA and 1.00 WHIP over 27 frames. That month also included a trip to Washington, D.C., where Wright threw a scoreless inning and earned a hold for the U.S. squad in the Futures Game.
Gameday box score
Wright chalked up his recent success to getting ahead early in the count with quality strikes. And with that mentality, he's racked up 26 punchouts to 11 walks over the last 32 2/3 innings.
"I think I've tried to simplify my game a little bit and attack hitters better," he said. "Really since I've done that, I've had more success and I've been able to pitch deeper in ballgames. Whenever you're pitching good, the game is a lot more fun. I've been throwing the ball much better than I did to start the season -- I've been controlling it. Really, it's just attacking hitters. Early in the year in Double-A, I couldn't really do that. I had a ton of walks and not as many strikeouts. I was just sometimes trying to be too fine and nitpick too much.
"Working with my pitching coach in Double-A, Dennis Lewallyn, I was just working to have a better attack mindset. Ever since that, I've pitched a lot better and gone a lot deeper in ballgames."
Taking the bump Friday, Wright threw 58 of 98 pitches for strikes while recording nine outs on the ground and three in the air. And for the 15th time this season, he notched at least one out in the sixth inning or later.
No. 25 Orioles prospectDJ Stewart was the first batter to reach, getting hit by a pitch with two outs in the first, but he was the only blemish on Wright's start through five innings. The right-hander set down 13 batters in a row before encountering control problems in the sixth.
He walked the bases loaded and Breyvic Valera got the Tides on the board with a sacrifice fly. Norfolk added a run when Jackson made an errant throw to second on ninth-ranked Orioles prospectCedric Mullins' steal attempt, allowing Rubén Tejada to score from third.
Wright recorded one more out on a fielder's choice before issuing a two-out walk to Pedro Álvarez to end his night. Philip Pfeifer got the final out of the frame by inducing Chance Sisco to fly to center.
Whether it was the nine-day layoff between starts or a rising pitch count, Wright felt that he was running out of gas.
"I definitely noticed [the no-hitter], but at the end of the day, your job is just to give your team a chance to win," the Alabama native said. "That's really what I did, and I wanted to see how long I could go and keep a zero on the board. I kind of felt myself getting tired in that [sixth] inning and I tried to maybe make too perfect of a pitch, and that's kind of where I ran into some walks -- that's where the runs came."
Heading into the final stretch of the season, the hurler hopes he can keep his momentum going.
"I'm trying to remain consistent," Wright said. "I feel like I've gotten a feel of all four pitches when I need. So now it's trying to remain consistent and work deep in games -- save the bullpen arms. I'm just trying to eliminate really bad outings and control damage even if I don't have my stuff that day."
Hitless through 7 1/3 innings, Norfolk broke through when Mullins singled softly to second base in the eighth. Wes Parsons recorded a three-inning save, allowing two runs on four hits and a walk with four strikeouts.
No. 4 Braves prospect Austin Riley supported Wright with two doubles and three RBIs, while Carlos Franco belted his 15th homer, a solo shot.
Andrew Battifarano is a contributor to MiLB.com. Follow him on Twitter, @AndrewAtBatt.