Southern notes: Braves' Pache does it all
Atlanta's No. 5 prospect becoming full package in Mississippi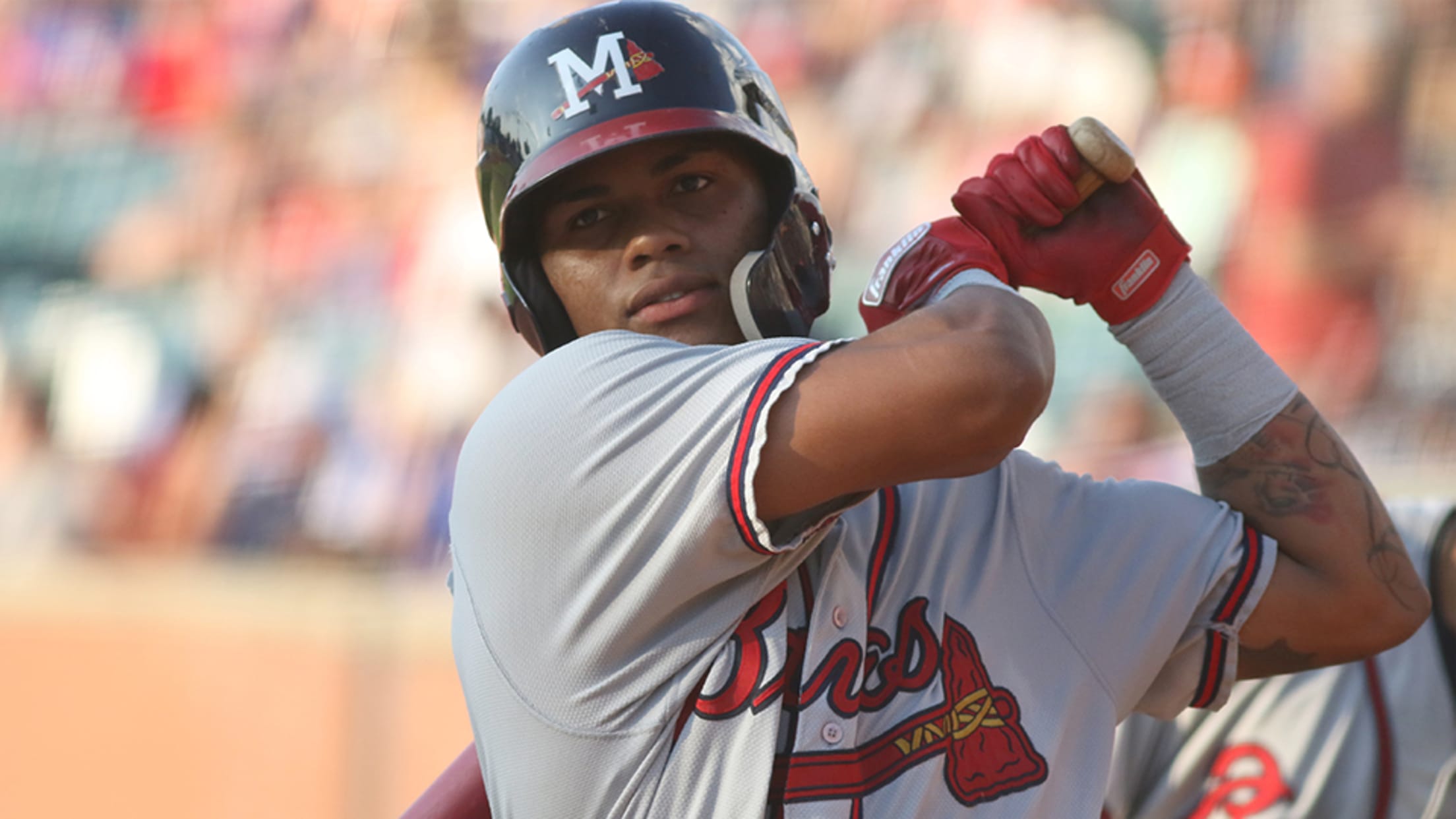 Cristian Pache has posted a .322 average over his first three weeks in the Southern League. (Andy Grosh/MiLB.com)
Center fielder Cristian Pache wowed the Atlanta Braves with his defense early in Spring Training, drawing high praise from Hall of Fame manager Bobby Cox and 10-time Gold Glove winner Andruw Jones.Then, the 19-year-old native of the Dominican Republic showed the potential he has at the plate just before the
Center fielder Cristian Pache wowed the Atlanta Braves with his defense early in Spring Training, drawing high praise from Hall of Fame manager Bobby Cox and 10-time Gold Glove winner Andruw Jones.
Then, the 19-year-old native of the Dominican Republic showed the potential he has at the plate just before the start of the Major League season, crushing two home runs off Sean Newcomb during an intra-squad exhibition at SunTrust Park in Atlanta.
"I'm very happy. This is definitely one of the best games I've ever had," Pache said after that game through a translator. "To have two home runs in one game, that's never happened to me before. I'm just glad it happened."
Actually, the 6-foot-2 right-handed hitter hadn't homered at all in 689 at-bats over his first two Minor League seasons, making the power outburst in his future ballpark even more memorable.
Pache, promoted from Class A Advanced Florida to Mississippi on Aug. 1, doesn't bill it as the only highlight of the season, though.
"It was one of the biggest moments, but so was getting called up to Double-A," he said through a translator. "Now I'm closer to getting to Atlanta."
Second baseman Ozzie Albies joined the Braves at 20 years old last season, and outfielder Ronald Acuña Jr. did so at the same age this year. Pitchers Mike Soroka, Kolby Allard and Bryse Wilson, all 20, have started games for National League East-leading Atlanta in 2018.
The Braves are loaded with young talent in both the Majors and Minors, and Pache, given a signing bonus of $1.4 million in 2016, is certainly one of the fast-trackers. Pache is ranked as the Braves' No. 5 prospect and No. 57 overall.
"He's got all the tools and he's played really well since he got here," Mississippi manager Chris Maloney said.
After hitting .285 with 33 extra-base hits and 15 stolen bases in the Florida State League, Pache posted a .322 average over his first three weeks in the Southern League while commanading the leadoff spot in the Mississippi lineup.
Of course, it's defensively where Pache really turns heads.
"He gets great jumps, he can run the ball down and he can really throw," Maloney said. "He can really do it all out there -- very athletic."
That's why some have even gone so far as to compare Pache to a young Andruw Jones. Pache, who worked with Jones during Spring Training, doesn't buy into the comparison out of respect for the five-time All-Star.
"There's only one Andruw Jones," he said.
Being labeled as the best defensive outfielder in the Braves organization when Gold Glove winner Ender Inciarte is manning center field in Atlanta offers a positive glimpse into the future.
"When you watch him out there, he's really impressive," Braves manager Brian Snitker said during Spring Training.
Four of the five tools are already on display. The power is still to fully come.
Pache, who worked on shortening his swing with Atlanta hitting coach Kevin Seitzer during Spring Training, hit eight home runs in the pitcher-friendly Florida State League and went deep for the first time with Mississippi on Tuesday during his 16th Double-A game before rain suspended play.
"Power is the last thing to develop for most players," Maloney said. "He's a big strong kid and he's got some power qualities in his swing. The power is going to come down the road. We're not worried about trying to make him hit for power right now."
Albies and Acuña have brought youthful energy to the Atlanta lineup. Pache is of a similar mold.
"It's nice to have another young, athletic guy on the way," Snitker said. "They say this kid could probably play [defensively] in the big leagues right now. He's just a gifted kid. He runs, he throws ... and he's just starting to fill out. What a specimen."

In brief
Back on the hill:
Zack Brown
, the Southern League's ERA leader, returned to the Biloxi rotation four weeks after suffering a sprained ankle trying to stop a comebacker and worked four innings in a no-decision against Pensacola. The right-hander allowed five hits and a run while striking out five and walking no one, reaching his pitch count after four frames.
Milwaukee's No. 9 prospect
is 9-0 with a 2.33 ERA and 1.06 WHIP this season. The 23-year-old has 112 strikeouts in 115 2/3 innings, and opponents are batting .206 against him. Brown is two off the league lead in wins despite his missed time.
Late-season turnaround:
Jacksonville second baseman
Justin Twine
has stayed hot since being promoted to Double-A. Miami's second-round pick in the 2014 Draft batted .402 in his first 28 games with Jacksonville after hitting .235 in 70 games in the Florida State League. He had an 11-game hitting streak upon being promoted and then put together a separate 15-game streak. Twine, 22, has 10 extra-base hits, 21 RBIs and 18 runs scored for the Jumbo Shrimp.
No sharing needed:
Outfielder
Aristides Aquino
has the Pensacola single-season home run record all to himself after belting his 18th long ball at Mobile shortly before getting his first promotion to Cincinnati on Aug. 17 when Joey Votto landed on the disabled list. Aquino, 24, smacked 17 homers last season with the Blue Wahoos to tie Juan Duran for the team record. The
16th-ranked Reds prospect
had a .249/.313/.452 slash line and drove in 49 runs in 107 games when promoted to Cincinnati.
Rough first impression:
Jacksonville left-hander
McKenzie Mills
, acquired by Miami from Philadelphia for veteran first baseman Justin Bour, was much better in his second start than his first. Mills, 22, was 2-5 with a 3.51 ERA for Class A Advanced Clearwater before the trade and didn't make it out of the first inning in his Double-A debut, giving up five runs at Pensacola. The
Marlins' No. 29 prospect
again allowed five runs in his second start but completed five innings against Birmingham.
Guy Curtright is a contributor to MiLB.com.