Meadows' hat trick sends Bulls to playoffs
Rays outfielder knocks three long balls in IL division clincher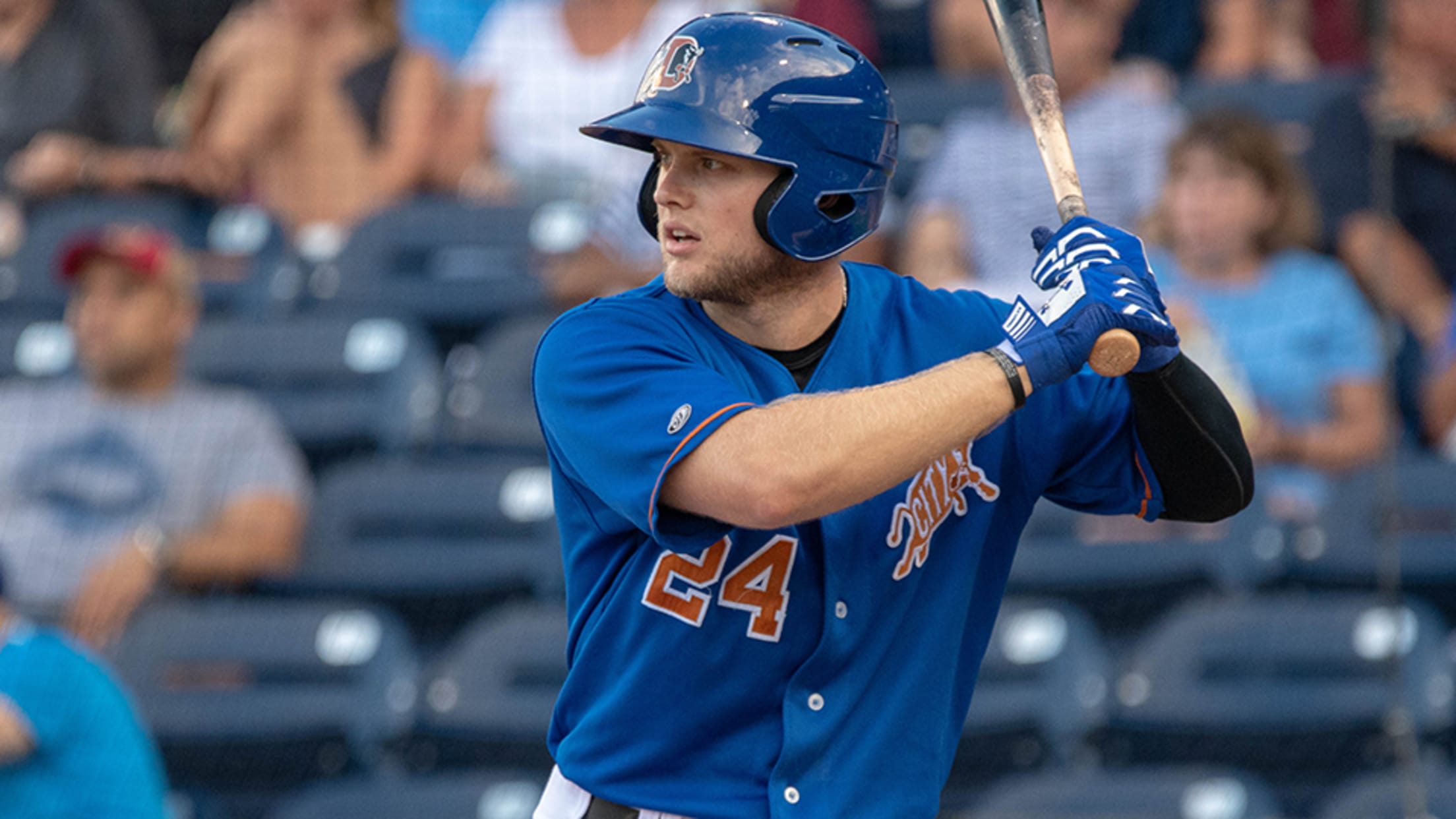 Eighteen days after his first career two-homer game, Austin Meadows produced his first three-homer effort. (Joseph Dwyer)
Three weeks ago, Austin Meadows was just settling in with the Rays organization when he recorded his first two-homer game in dramatic fashion. On Wednesday night, he took things one step further when his new teammates needed it most.Meadows recorded his first career three-homer game and tied his personal best
Three weeks ago, Austin Meadows was just settling in with the Rays organization when he recorded his first two-homer game in dramatic fashion. On Wednesday night, he took things one step further when his new teammates needed it most.
Meadows recorded his first career three-homer game and tied his personal best with five RBIs as Triple-A Durham beat Charlotte, 9-4, at BB&T Ballpark to clinch its second straight International League South Division title.
A year ago, the Bulls rode the South crown to their second Governors' Cup in five years. They also won the Triple-A National Championship Game, rallying to beat Pacific Coast League-champion Memphis.
"I feel like we have this winning tradition with the Bulls, and that's from a trickle-down effect from what the organization has been doing from a winning standpoint," Durham manager Jared Sandberg said. "For us to win another division title, that's really special to be able to continue that winning tradition and give us a chance to get back into the playoffs and compete for a possible back-to-back championship. That's all anyone could ask for."
Gameday box score
Meadows has quickly emerged as a "quiet leader" for the Bulls since he joined the Rays organization July 31. He was acquired from the Pirates at the Trade Deadline along with right-hander Tyler Glasnow and a player to be named for right-hander Chris Archer. The Georgia native made his Major League debut on May 18 with Pittsburgh, where he put up a .292/.327/.468 slash line in 49 games. Before exhausting his eligibility, he was the Pirates' second-ranked prospect.
Since the move, Meadows is hitting .319/.370/.670 with 10 homers in 27 games with the Bulls.
"I knew he was a special talent coming in, because I know what the Pirates organization is all about, but I thought from day one that he would flourish in our environment. It's really about guys being themselves and letting their abilities come out," Sandberg said. "For him to come over in a trade, he's done great at trying to not do too much to impress us. He's relaxed and he's flourished so far with some huge hits.
"On a night where if we win, we clinch a title, to hit three pretty spectacular balls in impressive at-bats, that's great to see."
Meadows got off to a quick start on his milestone night, launching a 3-2 pitch from 20th-ranked White Sox prospect Jordan Stephens (3-7) over the right-field wall with two outs in the first inning. After he poked an RBI single to right in the third, the 2013 first-round pick smacked a two-run shot to right off the right-hander in the fifth to give Durham a 6-2 lead.
On Aug. 11, Meadows came through in the clutch, blasting a two-out, two-run shot to give the Bulls a 10-9 triumph over Scranton/Wilkes-Barre. In his first shot at a three-homer game, the 23-year-old outfielder jumped on a 2-1 offering from reliever Carson Fulmer for a leadoff jack in the seventh.
"When he stepped up there [in the seventh] he was still the same guy, and kudos to him for being even-keeled throughout," Sandberg said. "He was very relaxed and focused on what he was doing at the plate, and it shows the ability he has, to have calmness in the box and control his emotions and not try to do too much."
In the ninth, Meadows had a chance to record the IL's first four-homer game in seven years but was plunked by reliever Caleb Frare. The left-hander was ejected along with Knights manager Mark Grudzielanek. Meadows stayed in the game and celebrated the victory with his teamates, but he was taken to the hospital for X-rays after his left thumb swelled up.
The three-homer game marked the first for the Bulls since Richie Shaffer recorded a hat trick on June 12, 2015 against Louisville.
Adam Moore collected three hits, including a two-run homer, for Durham. Ryan Weber (9-6) picked up the win, allowing two runs on six hits and a walk with four strikeouts over 6 2/3 innings.
Ryan Cordell homered, singled and scored twice while Eloy Jiménez -- MLB.com's No. 3 overall prospect -- singled in five trips to the plate for Charlotte.
Nathan Brown is a contributor to MiLB.com. Follow him on Twitter @NathanBrownNYC.