Bahamas-born Fox finding his niche in Charlotte
Rays No. 7 prospect triples, drives in two runs on a four-hit day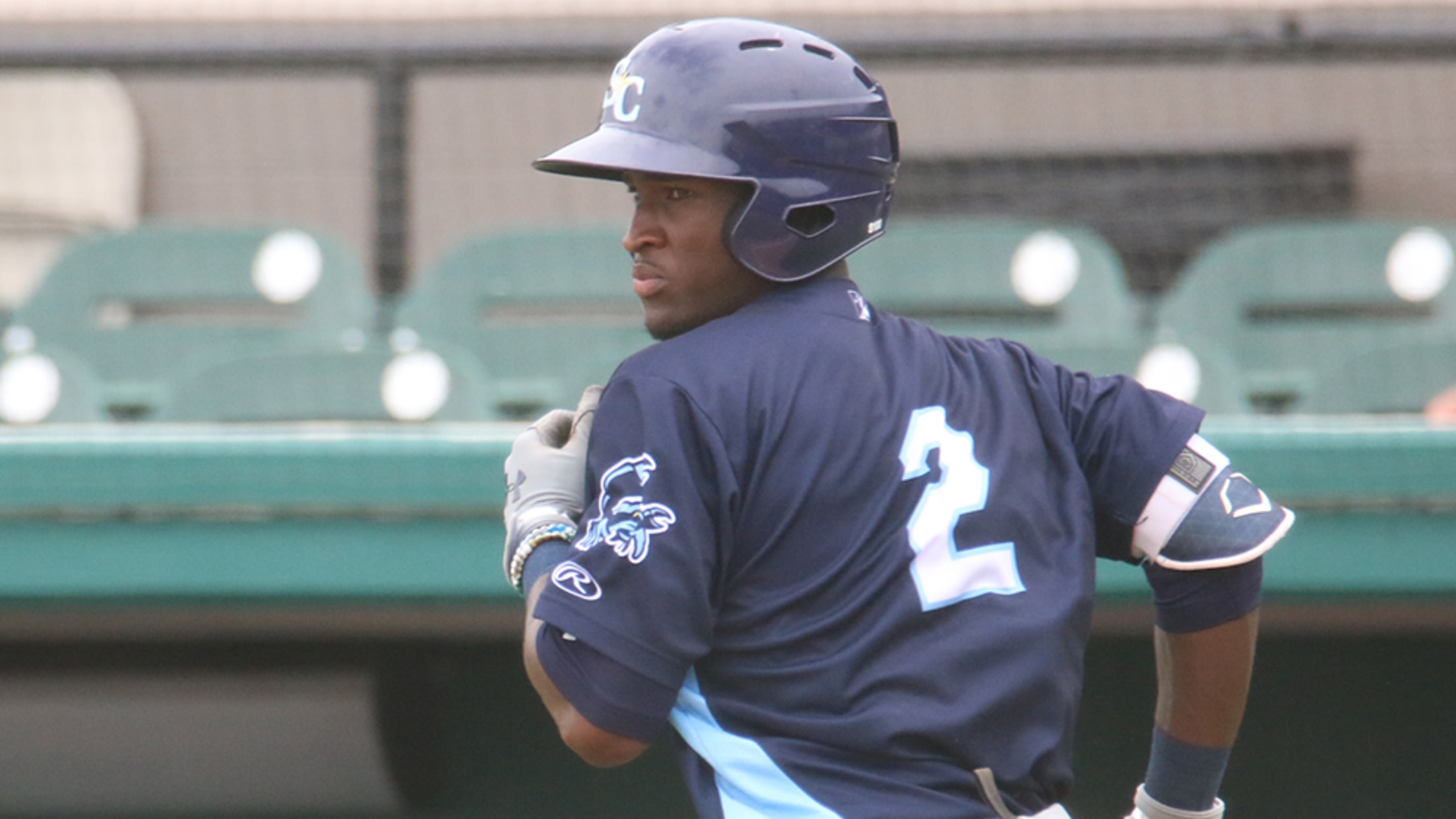 Charlotte's Lucius Fox has 23 hits in his first 15 games, the second-highest total in the Florida State League. (Joshua Tjiong /MiLB)
Coming from the Bahamas necessitated a crash course of sorts for Lucius Fox, who didn't play baseball competitively in his native country. It looks like he's getting the hang of it.The Rays' No. 7 prospect tripled, drove in two runs and tied his career high with four hits on Sunday as
Coming from the Bahamas necessitated a crash course of sorts for Lucius Fox, who didn't play baseball competitively in his native country. It looks like he's getting the hang of it.
The Rays' No. 7 prospect tripled, drove in two runs and tied his career high with four hits on Sunday as Class Advanced Charlotte held on for a 10-8 win over Palm Beach at Charlotte Sports Park. Fox also stole his fourth base of the season and boosted his slash line to .383/.456/.483 with seven RBIs in 15 games.
Gameday box score
"Preparation and what I do before the game is so key," said Fox, who's fourth in the Florida State League in batting. "I've developed a routine that I'm comfortable with and I'm taking that into the game. It's my third year in pro ball. With that comes experience and I've learned more about my swing and the type of hitter that I am, which has helped me get into the best position to hit the ball hard and find a nice balance once the games start."
That wasn't as easy as it might seem for the 20-year-old, given his comparatively limited baseball background. He signed after being seen at a showcase, laying the foundation for a path to the bigs. Now he hopes to go where only six other Bahamian-born players have gone.
"I wasn't playing in any games [at home]," the Nassau native said. "I worked on a lot of things, but it's not like playing in games and getting those reps. When I signed professionally, it was like starting baseball all over again. There's such a difference being out there competing rather than just practicing. I needed to make the adjustments to get back into the swing of things, trust in my ability and find that success."
The shortstop began the bottom of the first inning with a soft single to left field and stole second. He grounded out in the second but increased Charlotte's lead with a two-out RBI triple to center in the fourth. Fox singled to left to plate another run in the fifth and slapped a grounder into left again in the eighth for his first four-hit game since June 11 with Class A Bowling Green. The switch-hitter has nine multi-hit efforts in his first 15 games, including three in his last four.
"I'm up there concentrating on line drive swings," Fox said. "I don't necessarily try to hit the ball on the ground, but I'm also not trying to hit fly balls all over the yard. I want to hit low line drives and take what the defense gives me. If there's an opening on the right side, I'll try and push it through that hole. I'm not looking to hit homers or hit the ball far ... just hard."
Signed by the Giants as an undrafted free agent in 2015, Fox was dealt to the Rays in the Matt Moore trade the following year. He put together a .266/.350/.341 slash line and swiped 30 bags in 114 games with Bowling Green and Charlotte in 2017 and represented Tampa Bay on the World team at the All-Star Futures Game last July in Miami. Although he scuffled during his 30-game stint with the Stone Crabs after his promotion, that experience has paved the way for his hot start.
"The transition from [Class A to Class A Advanced] was big," Fox said. "The pitchers are tougher here and have a lot better command. They're able to throw multiple pitches for strikes and you don't see as many fastballs. You'll get that one pitch to hit each at-bat, but if you miss it, they'll make you chase and expand the zone. But coming off last year, I realized what they're trying to do, and I've adjusted. I feel much more comfortable at the plate."
Joey Roach went 3-for-4 with a double, three RBIs and three runs scored for the Stone Crabs, who built a 10-0 lead after five innings. Nathaniel Lowe added a two-run homer and a single to bring his average up to .385.
Charlotte starter Brock Burke (1-2) allowed one run and scattered six hits and a walk while striking out four over 5 1/3 innings for the win.
Shane Billings collected three hits for Palm Beach, while Jose Martinez, Ryan McCarvel and Brian O'Keefe drove in two runs apiece.