O's Mullins highlights first Players of the Week
No. 19 Baltimore prospect leads Minors in hits, runs, total bases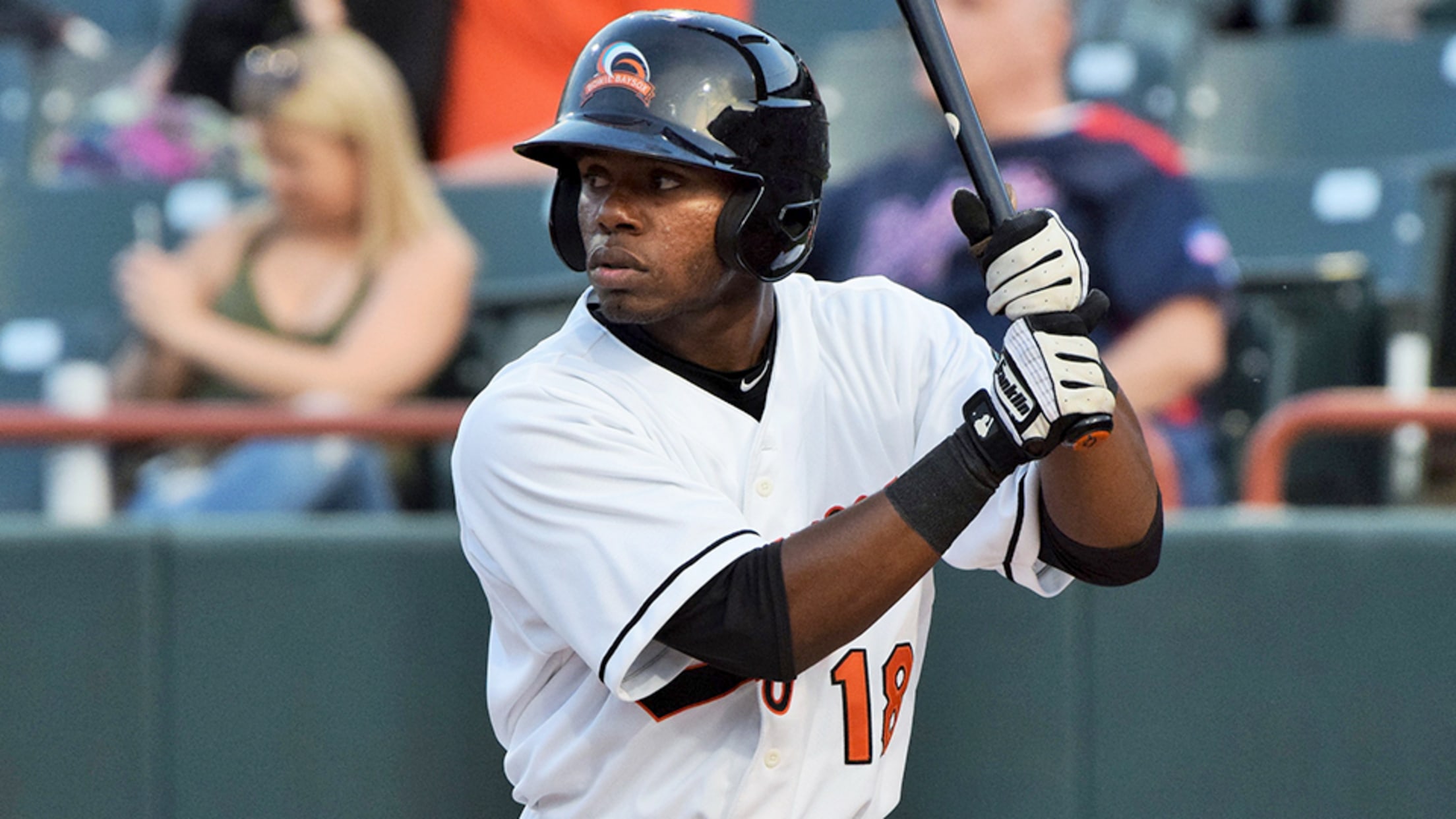 Nine of Cedric Mullins' 20 hits have gone for extra bases over his first 10 games with Double-A Bowie. (Patrick Cavey/MiLB.com)
Cedric Mullins waited until the very last week of Class A Delmarva's 2016 season to capture the South Atlantic League Player of the Week award. Now with Double-A Bowie, he made sure he won't have to wait nearly that long in 2017.The Orioles' No. 19 prospect was named Eastern League
Cedric Mullins waited until the very last week of Class A Delmarva's 2016 season to capture the South Atlantic League Player of the Week award. Now with Double-A Bowie, he made sure he won't have to wait nearly that long in 2017.
The Orioles' No. 19 prospect was named Eastern League Offensive Player of the Week for April 6-16 after going 20-for-44 (.455) with three homers, a triple, five doubles, eight RBIs and 15 runs scored in his first 10 games for the Baysox.
Among the 10 hitters rewarded by their respective league's Monday, Mullins' selection might have been the easiest. The 22-year-old outfielder leads the Minors in hits, runs and total bases (36) while leading the Eastern League with nine extra-base hits.
"It's a great accomplishment," Mullins said of the award. "To know all of the hard work from the offseason and in Spring Training that I put in is already paying off, that's huge."
Mullins could trace his fantastic start back to how he ended 2016. The 2015 13th-round pick finished his first full season by going 13-for-30 (.433) with three homers, three doubles, seven RBIs and three steals in his last seven games with the Shorebirds. That closed out an August in which he produced a .300/.346/.480 line over 24 games, the only month of the season in which he batted .300 or higher or produced an OPS above .800. (Compare that to last April when he hit .214/.325/.271 in 18 games.) Mullins could feel something click over those final weeks and felt like those improvements gave him some momentum, even if he wasn't on the diamond in the winter.
"You could say I got a little smarter in my at-bats," he said. "I was striking out a lot less. That was big. Basically, I knew what I was doing up there. They're going to have a scouting report on you, so you have to have a scouting report on yourself. In that last month, I think I started to know how to handle location a little better, and that's something I carried into the offseason."
• View the Pitcher of the Week winners »
The Orioles must have seen something, too. Though he didn't receive a formal invitation to Major League Spring Training, Mullins played in 14 Grapefruit League games, going 3-for-14 (.214) with a homer, triple, double and stolen base in some late-game appearances. Those aren't eye-popping numbers, but with each of his hits going for extra bases, the 5-foot-8 Mullins was able to show more pop than expected for someone with his frame.
Knowing how he'd performed at the end in the Sally League season, Mullins made it a goal to reach Double-A at some point in 2017. The Orioles decided he could achieve that on day one, assigning him to Bowie right out of the gate and skipping Class A Advanced Frederick entirely.
"Honestly, I had no clue," Mullins said of the jump. "They kept me in the dark about that, pretty much all through the entire Spring Training. I guess how I did with the big league team, bouncing back and forth between there and the Minor League camp, got them to say, 'OK, we'll give this guy a shot.' This has been an opportunity to prove they made the right decision."
So far, so good. Mullins roared out of the gate by going 4-for-5 with a homer, triple and four runs scored in a 13-7 win at Akron on Opening Day and hasn't looked back. He has hits in all 10 games he's played with the Baysox and multiple hits in six of those contests. With his plus speed, the Campbell University product is looking very much like a prototypical leadoff hitter.
While he knows this run is likely to end at some point, Mullins believes he has a plan to keep his stock soaring as the season progresses.
"First and foremost, I need to continue to be relaxed," he said. "Baseball being baseball, there will be struggles as the season goes along. I know that. It's all a matter of determining how I feel, how my body feels and staying within what I'm capable of."
Below are the rest of the 2017 season's first Offensive Players of the Week for April 6-16 (April 10-16 for the International League):
Sam Dykstra is a reporter for MiLB.com. Follow and interact with him on Twitter, @SamDykstraMiLB.